The Beginner's Guide to Shopping at a Farmers Market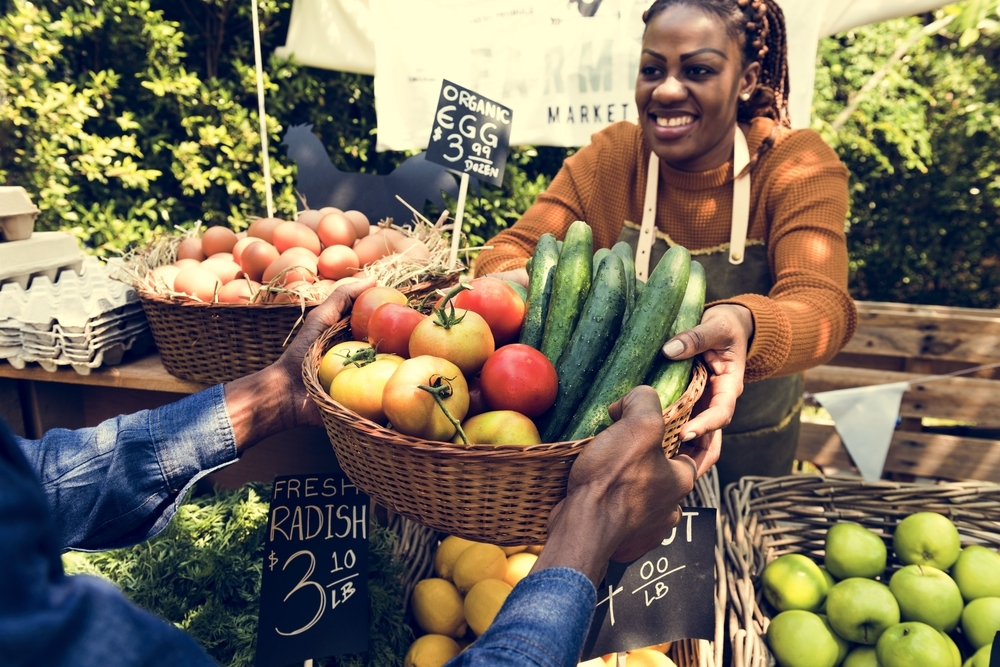 I was intimidated about visiting a farmers market long before I ever chose to. While the idea of purchasing locally grown foods and supporting local farmers and vendors seemed appealing, I felt I didn't know the "rules" or what to expect.
Turns out, farmers markets are delightful shopping experiences, but if you've never been to one, there are some things you should know first.
1. Have a plan
If it's your first time visiting a farmers market, it's great to show up just to see what's available. But if you're ready to start buying, you need to have a plan. Knowing how many vegetables you will realistically eat within a week is helpful. Probably the number one mistake that new farmers market visitors make is buying too much that doesn't go together for a recipe. If you want to buy, choose items that can work in a single dish. Salad greens and vegetables or fruits that you'd top it with is a good place to start. You can also get zucchini and other veggies you'd stir-fry with it, or focus on those that work in a soup or chili. When in doubt, buy a smaller amount than you think you'd need. You can always come back next week to try something new.
2. Only buy what you really need
When you decide what to buy, make sure that you're only getting what you will realistically eat within a week. The best way to do this is to have some idea of how you'll prepare the foods when you get home. Eggs can be scrambled, baked, or hard-boiled for convenience. Meats can be kept fresh in the refrigerator for a few days or frozen. Leafy greens might spoil fastest, so if you're buying them, be prepared to eat salad within a day or two for the freshest experience. If you buy items in bulk, like a quarter of beef or several bushels of tomatoes, then be prepared to process them appropriately. You'll need a chest freezer that's mostly empty to store lots of meat.
3. Be prepared with cash
While most vendors and small businesses these days offer credit card payments on-site, there are still many smaller town farmers markets that have only cash-pay vendors, so be prepared when you go to shop. The good news is that being forced to shop with cash will keep you on a budget and prevent over-buying of items you may not use. If you don't like to barter, most vendors will have set prices. However, if you love to bargain, some farmers market vendors will offer larger discounts if you buy bigger quantities—you just have to ask. Before you go in trying to make a deal, however, be sure to get to know the vendor a bit. You can also observe what others are doing as they shop.
4. Ask farmers for more information
When you're buying from a farmer or vendor, it's okay to ask questions. Be respectful, of course, but you can ask things like "Is this organic? Is this grass-fed and grass-finished?" Many local vendors don't go through the process of being certified organic, but you can find out about their farming and growing practices by asking about pesticides that are used. Farmers are proud of their work and will likely be happy to discuss the details with you. While you're at it, ask them if they have a website, flier, or brochure so you can be aware of what they typically have to offer and when in the season it's available. This will also help you remember where you bought items that you liked, so you can be a returning customer.
5. Make time for shopping
Until you're really familiar with your local farmers market, it probably won't be a quick in-and-out experience like running to the grocery store. If you aren't rushed, you'll enjoy it more and make the most of it by meeting new people, taking note of what's available, and really putting thought into what you purchase. Realize that because farmers markets are seasonal, you can't always expect to be able to buy something specific. But learning to eat what's in season is a skill that can pay off, resulting in lower produce costs throughout the year. Plus, you'll always be eating the freshest foods, which can improve meal quality and enjoyment of healthy options.
Pro Tips
If you aren't sure where your local farmers market is, check with local Facebook groups or do an internet search. These days, most locations have basic webpages or details on a social media account.
It's okay to price compare. You can do this by walking through the farmers market once, without buying, asking questions, and taking stock of what's available. When you've decided which vendor has the items that look appealing to you, you can make a second pass through to purchase.
If you don't have a local farmers market, you still have options for local foods. Search for CSAs (community-supported agriculture) in your area as well as food co-ops or local farms that sell directly to customers. Even if you aren't sure, a phone call or email might result in a great farm-to-table relationship.
The best Paleo items to buy at a farmers market
Depending on the season, there are numerous Paleo foods that can be found at farmers markets. Here's a list of the best items to search for:
Onions
Leafy greens
Radishes
Carrots
Eggplant
Fresh beef, pork, poultry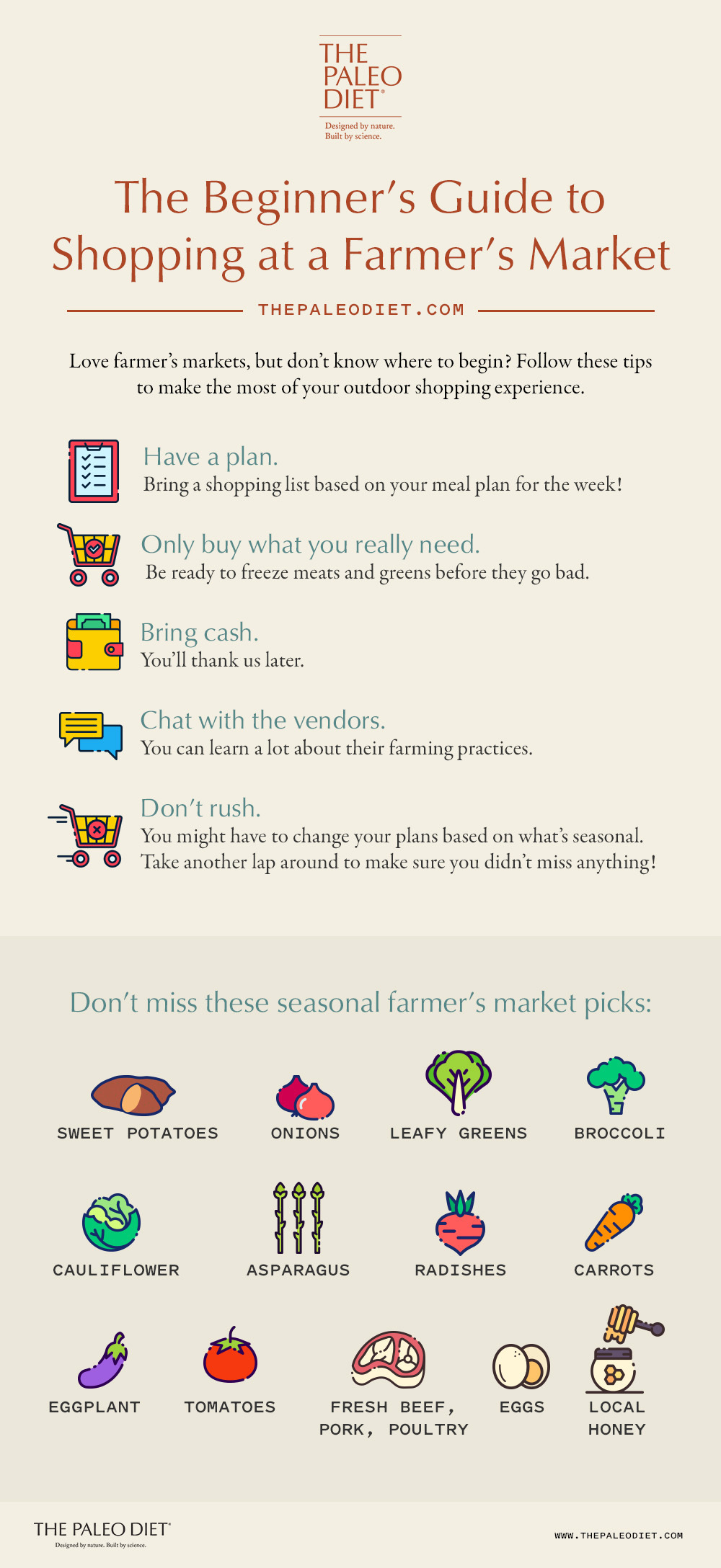 Aimee McNew
Aimee McNew is a nutritionist and writer who focuses on women's health, infertility, and postpartum wellness.
More About The Author