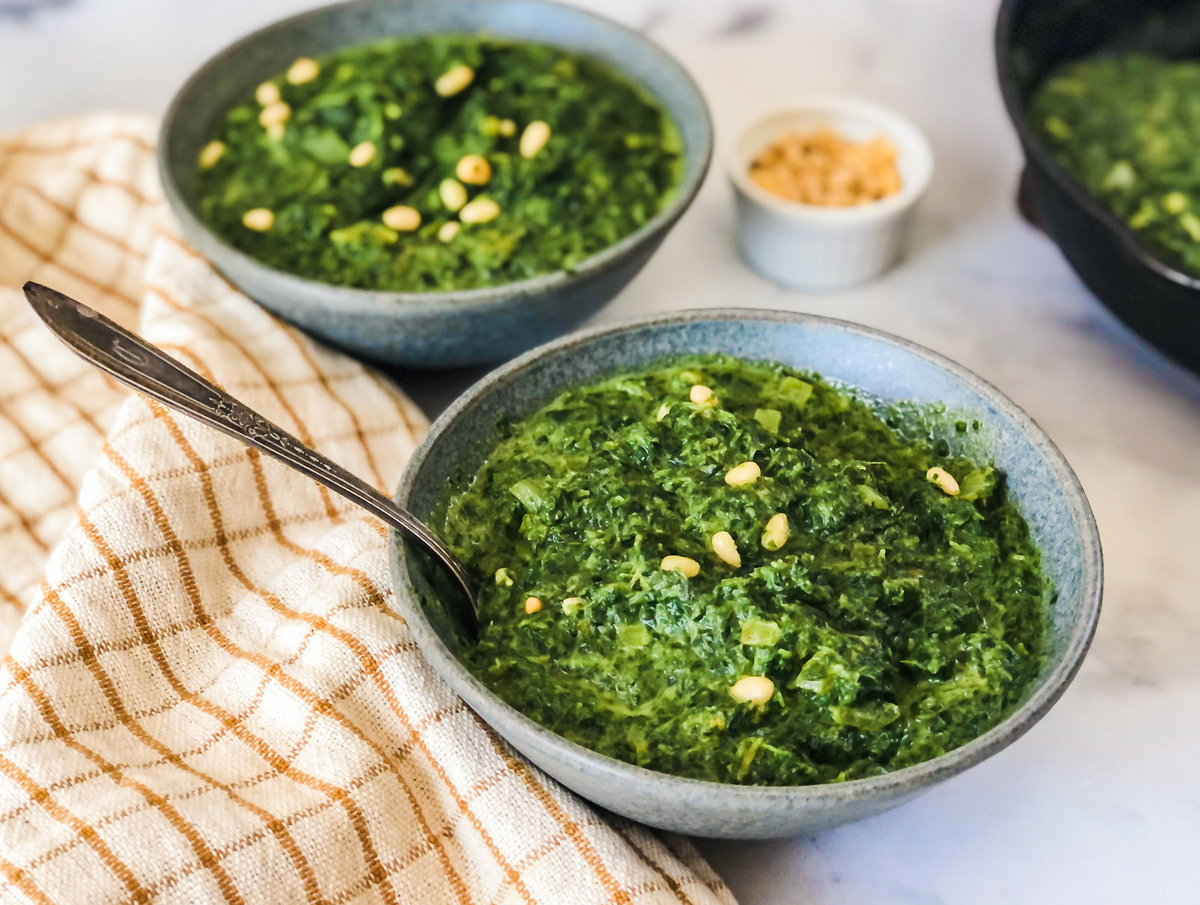 Indian saag, or spinach, is a tasty side dish often served with paneer, a type of cheese. To keep this dish Paleo, we nixed the cheese and used coconut, ginger, garlic, and warm spices to create a savory dish similar to an elevated creamed spinach.
Start with a package of frozen spinach. It's preferable over fresh spinach because you get better texture—and you would need about three bunches of fresh spinach to get the same amount! Warm it in a skillet with a bit of water to gently steam it, then strain out the excess water and blend in a food processor. Set aside.
Next, start building the flavors for the Paleo saag in the skillet. Saute onions, ginger, and garlic in coconut oil until soft and fragrant, about five minutes. Season with a homemade Moroccan spice blend of turmeric, cumin, allspice, cinnamon, and other flavors. (We recommend that you make a big batch, and save for seasoning all kinds of other dishes!)
Add the spinach to the skillet and stir in a can of coconut milk. If you want it extra creamy, you can even add in an extra cup of coconut cream. Stir as you cook for another five minutes or so, allowing the flavors to marry and the spinach to reheat fully. Add a bit of water to thin it out, as needed.
For a full meal, serve your Paleo saag over cauliflower rice, alongside chicken tikka masala. Garnish with pine nuts, or even a sprig of cilantro, and serve!
Want even more tasty Indian-inspired recipes? Try this Instant Pot butter chicken that only tastes like it was simmering all day—it cooks in under half an hour!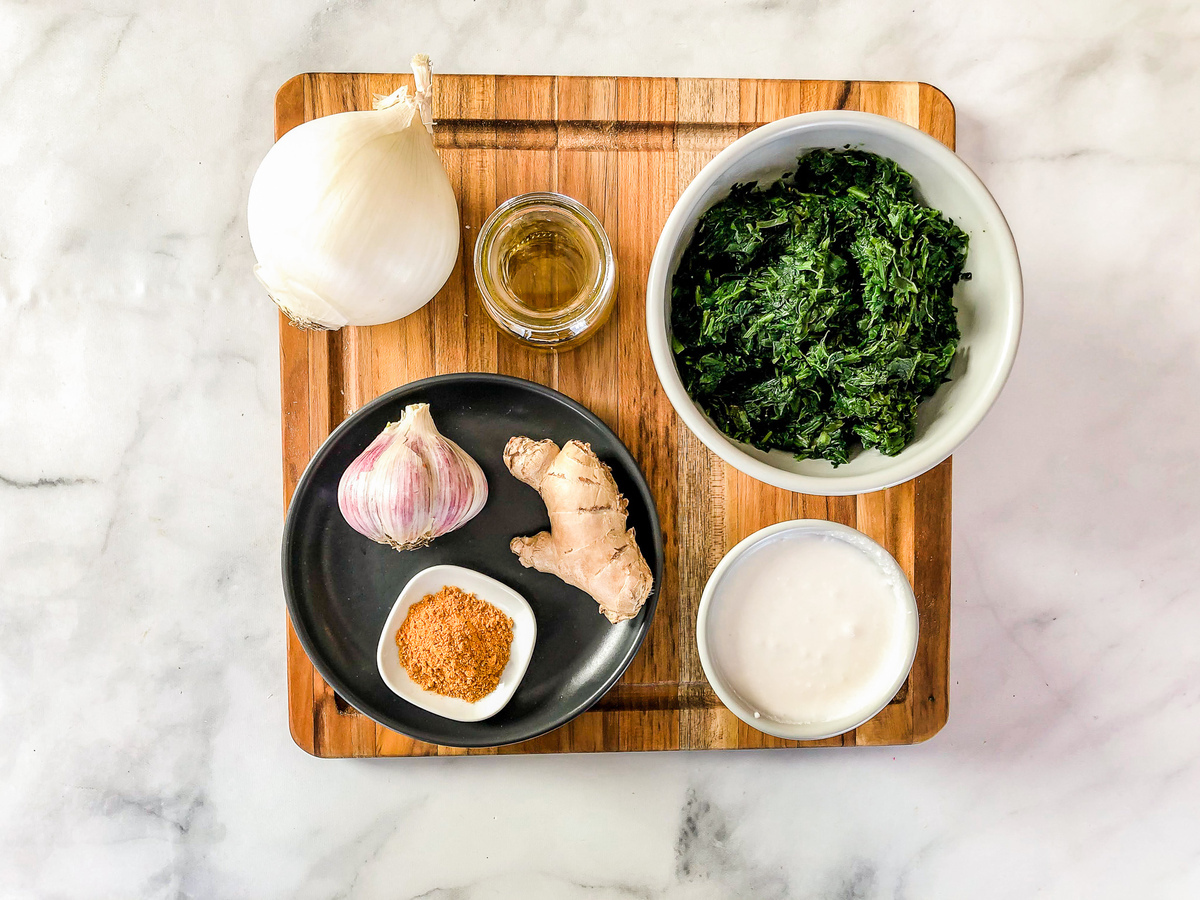 For hundreds of pure Paleo recipes be sure to check out  The Real Paleo Diet Cookbook  and  The Real Paleo Diet Fast and Easy.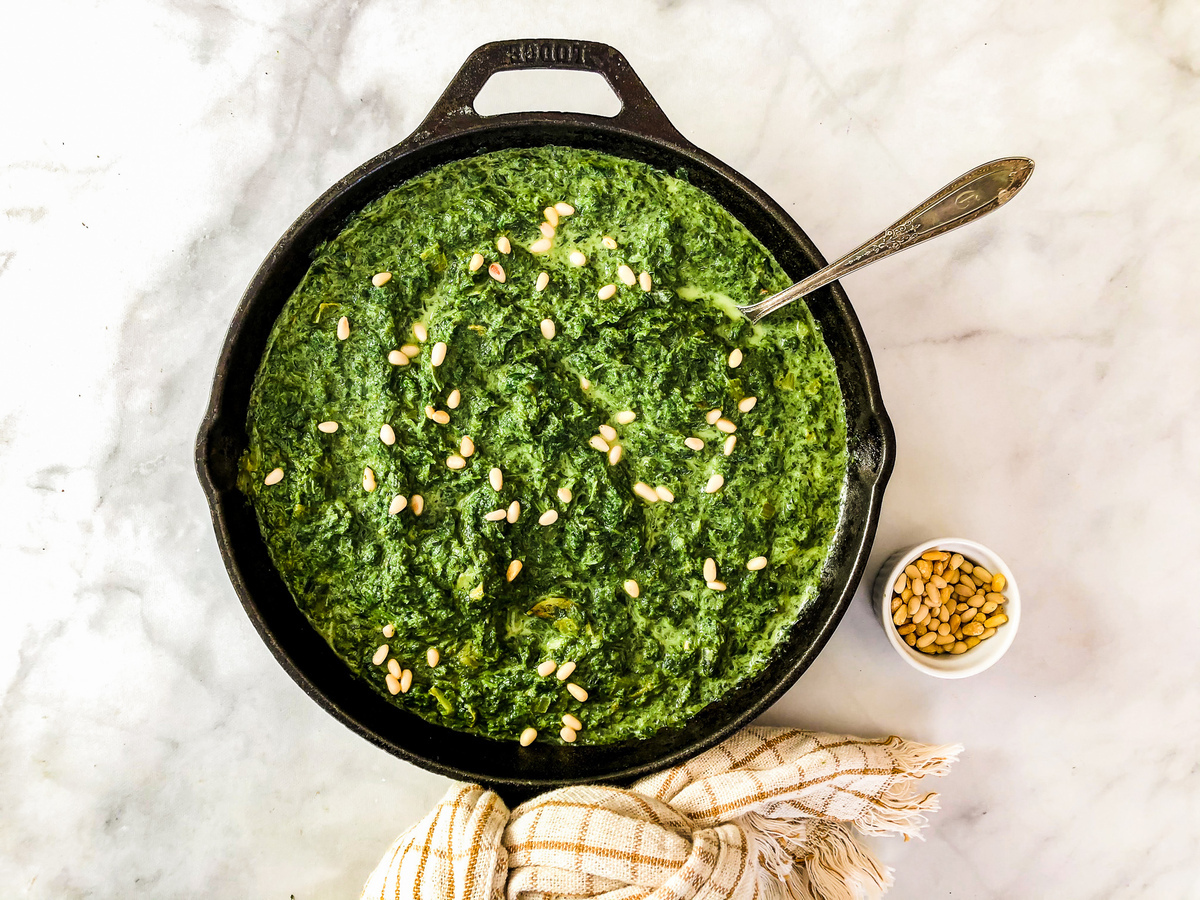 Details
Prep Time:

10 minutes

Cook Time:

15 minutes

Total Time:

25 minutes
Ingredients
2 12 oz frozen spinach packages

3 tbsp coconut oil, divided

1 small yellow onion, diced

2 tbsp ginger, grated

4 garlic cloves, minced

2 tbsp Moroccan spice

1 14.5 oz can coconut milk, full fat

Pine nuts for garnish
Directions
Heat the frozen spinach in a heavy large skillet over medium heat with a little bit of water until warmed through. Use a strainer to drain out any excess liquid, then add to a food processor and combine until pureed. Set aside.

Heat 2 tablespoons of the coconut oil in the same skillet over medium heat. Add the diced onions, ginger, and garlic, and cook, stirring constantly, until the onions deepen in color, about five minutes. Reduce the heat and add a tablespoon of water, if needed, to prevent burning.

Add the Moroccan spice blend and stir, cooking for 3-4 minutes until combined and fragrant.

Add the reserved spinach to the mixture and stir well. Add another tablespoon of coconut oil and pour in the can of coconut milk. Cook for about 5 more minutes.

Garnish with pine nuts and serve!