Granola bars are a convenient snack to have on the go, whether you're fueling a workout, eating on a hike, or enjoying at the office to keep your energy up. Unfortunately, the grains and additives found in conventional granola bars make them better suited for the "15" side of the 85/15 rule, but you can make your own grain-free nut bars at home to snack on whenever.
This recipe uses heart-healthy nuts and seeds that are also full of antioxidants, protein, and healthy fats. We then dip our bars in melted cacao for a decadent chocolate taste without the extra sugars. Feel free to add or substitute as many different nuts, seeds, or dried fruits to really make this recipe your own.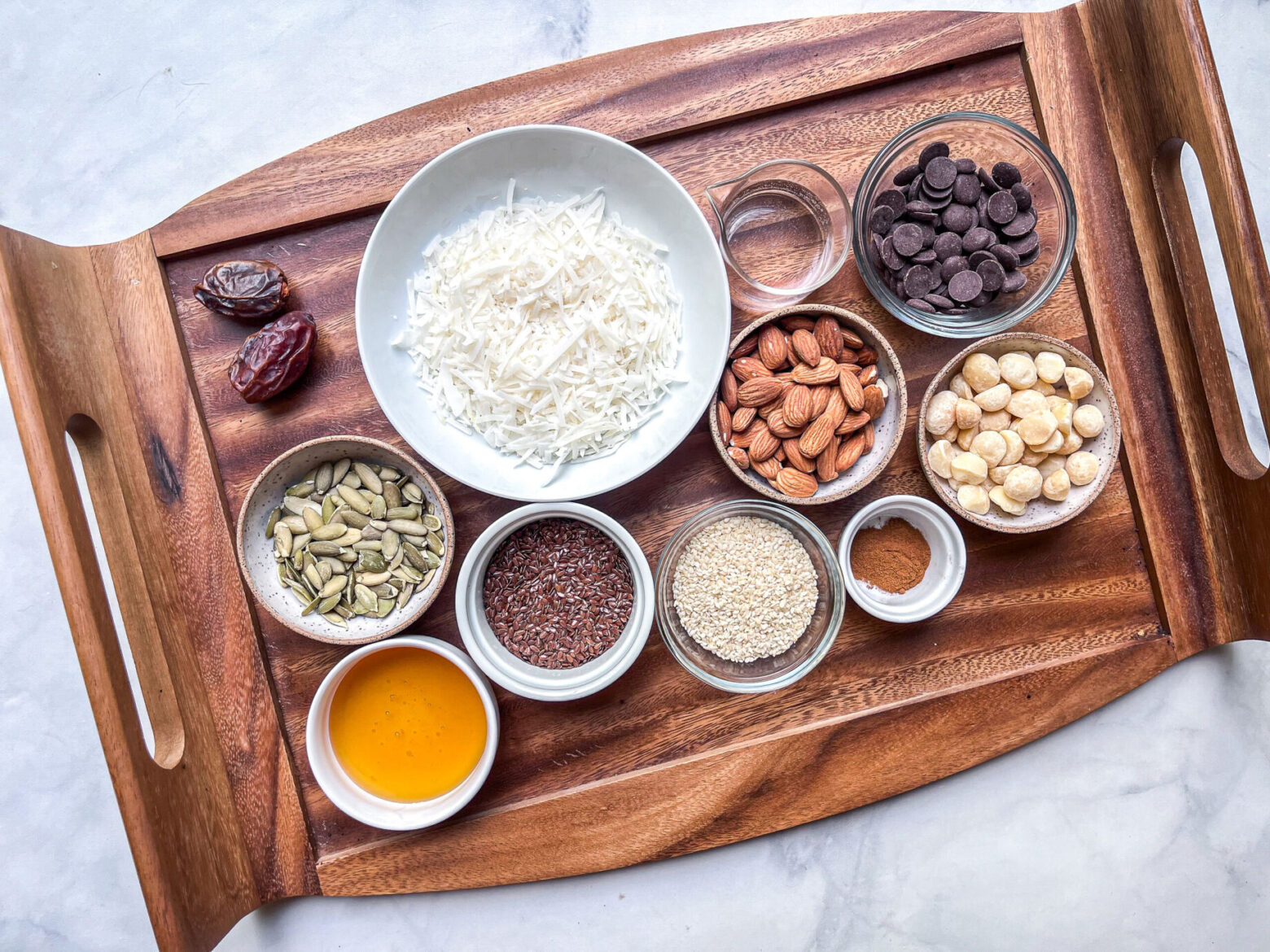 Love our recipes? Make going Paleo even easier and download our 7-Day and 28-Day digital meal plans!
Details
Recipe by: Jess Case
Serves:

24

Meal:

On the Go
Prep Time:

10 minutes

Total Time:

1 hour 10 minutes
Ingredients
3/4 cups shredded coconut

1/2 cups macadamia nuts

1/2 cups almonds

1/4 cups peptias

1/4 cups sesame seeds

1/4 cups flaxseed

2 dates (processed into paste)

1/4 cups raw honey

1/4 cups water

3 lb cacao wafers
Directions
Preheat a toaster oven or conventional oven to 350°F. Line an 8×8" pan with parchment paper and set aside.

On a separate baking sheet, place coconut, macadamia nuts, almonds, pepitas, and sesame seeds. Toast in oven until browned, about 5-7 minutes.

In a medium bowl, mix the toasted nuts and seeds, flaxseed, and date paste together.

Pour honey and water into a small, heavy-bottom saucepan and heat over medium heat. Use a thermometer (candy, if you have one) and cook until it reaches 285°F or you start seeing smaller, thicker bubbles forming, about 5-10 minutes.

Pour the syrup quickly over the nut mixture, combine well, then pour into the pan. With a greased spatula, spread and press down on the mixture until even.

Let sit at room temperature for an hour or chill in the fridge until hard. Cut into squares (makes about 20-24).

Melt the cacao wafers in the microwave or over a double boiler until smooth, stirring continuously.

Place bars on a cooling rack and drizzle melted cacao in a back-and-forth motion over each bar. Allow chocolate to set before storing in an airtight container. Leftovers will keep in the fridge for about a week.