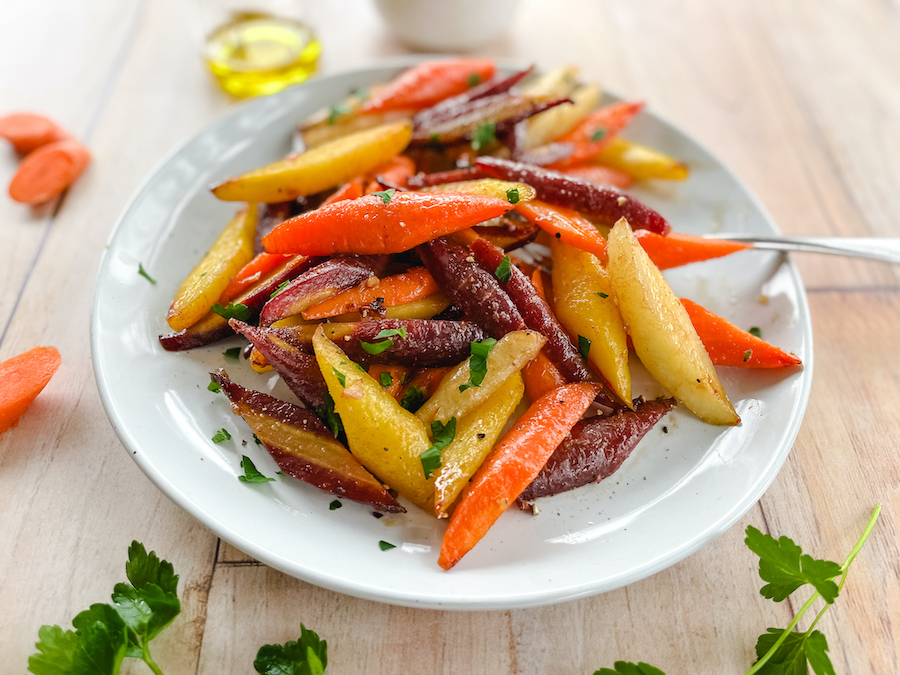 Healthier Honey Glazed Carrots
Bring out the natural sweetness of carrots by roasting them in a garlicky honey glaze. We use honey and olive oil, then roast in the oven for a flavor much better than boiled carrots.
Glazed carrots don't get much easier than in this single sheet pan recipe. Toss carrots in a five-ingredient honey sauce, and roast until saucy and tender. You can even use baby carrots to skip the chopping to make it even easier.
Most recipes for glazed carrots start by boiling carrots on the stovetop, then finishing them in a heavy butter and brown sugar sauce. In this recipe, we used honey and olive oil for a healthier glaze, then coated the carrots before roasting them in the oven. Roasting helps bring out the natural sweetness of the carrots, without the need for brown sugar or too much honey.
Start with a bunch of rainbow carrots. Slice them in half, then cut diagonally into even chunks. If the carrots are thin, you can skip slicing them in half. The most important thing is making sure all the carrots are sliced into similar sizes so they cook evenly.
To make the glaze, mix olive oil with honey, garlic, onion powder, and black pepper. You can also swap out the savory garlic and onion flavors for cinnamon and nutmeg.
Roast the carrots in a hot oven for 20-25 minutes, tossing them halfway through cooking. Sprinkle with freshly chopped parsley, and serve alongside your favorite Paleo entree!
Tip: These carrots will go fast, but if you happen to have leftovers, store them in an airtight container in the fridge for up to three days.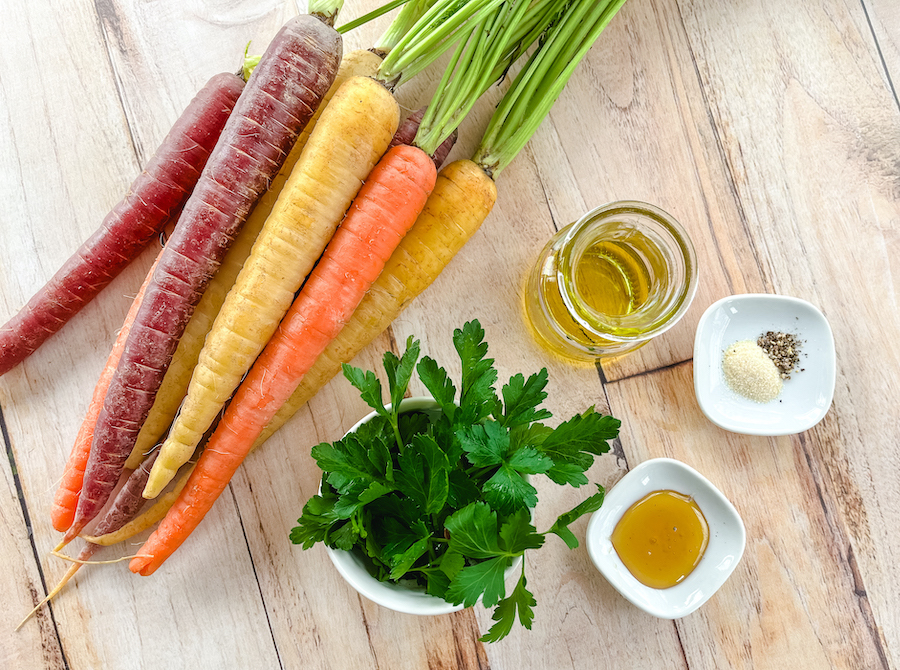 For hundreds of pure Paleo recipes be sure to check out The Real Paleo Diet Cookbook  and Real Paleo Fast and Easy.

Details
Prep Time:

5 minutes

Cook Time:

25 minutes

Total Time:

30 minutes
Ingredients
1 1/2 lb rainbow carrots, peeled and ends cut

1 1/2 tbsp olive oil

1 garlic clove, minced

1/4 tsp onion powder

1/8 tsp black pepper

3/4 tbsp raw honey

1 tbsp chopped parsley, for garnish
Directions
Preheat the oven to 400°F.

Using a sharp knife, slice the carrots in half, then slice again diagonally into one-inch pieces.

In a medium bowl, mix the olive oil, garlic, onion powder, black pepper and raw honey until it's well combined. Add the carrots and toss until well coated.

Spread the carrots onto a sheet pan in a single layer. Roast for 20-25 minutes, flipping them halfway.

Transfer the glazed carrots to a plate and garnish with freshly chopped parsley.