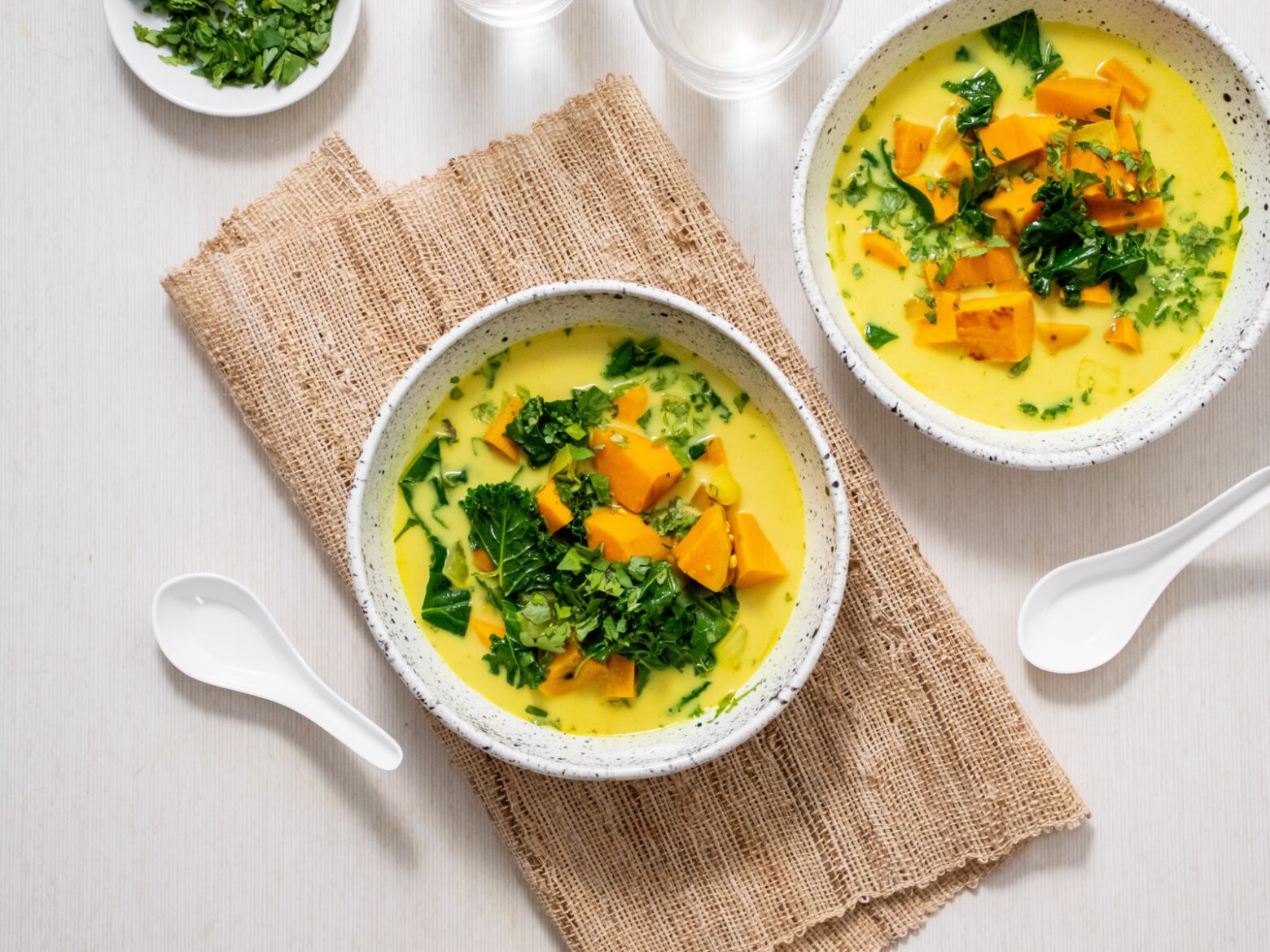 Gut Boosting Sweet Potato Turmeric Soup
Detox your digestive system with this healing, comforting soup made with gut-friendly ingredients like apple cider vinegar, chicken broth, coconut milk, and turmeric.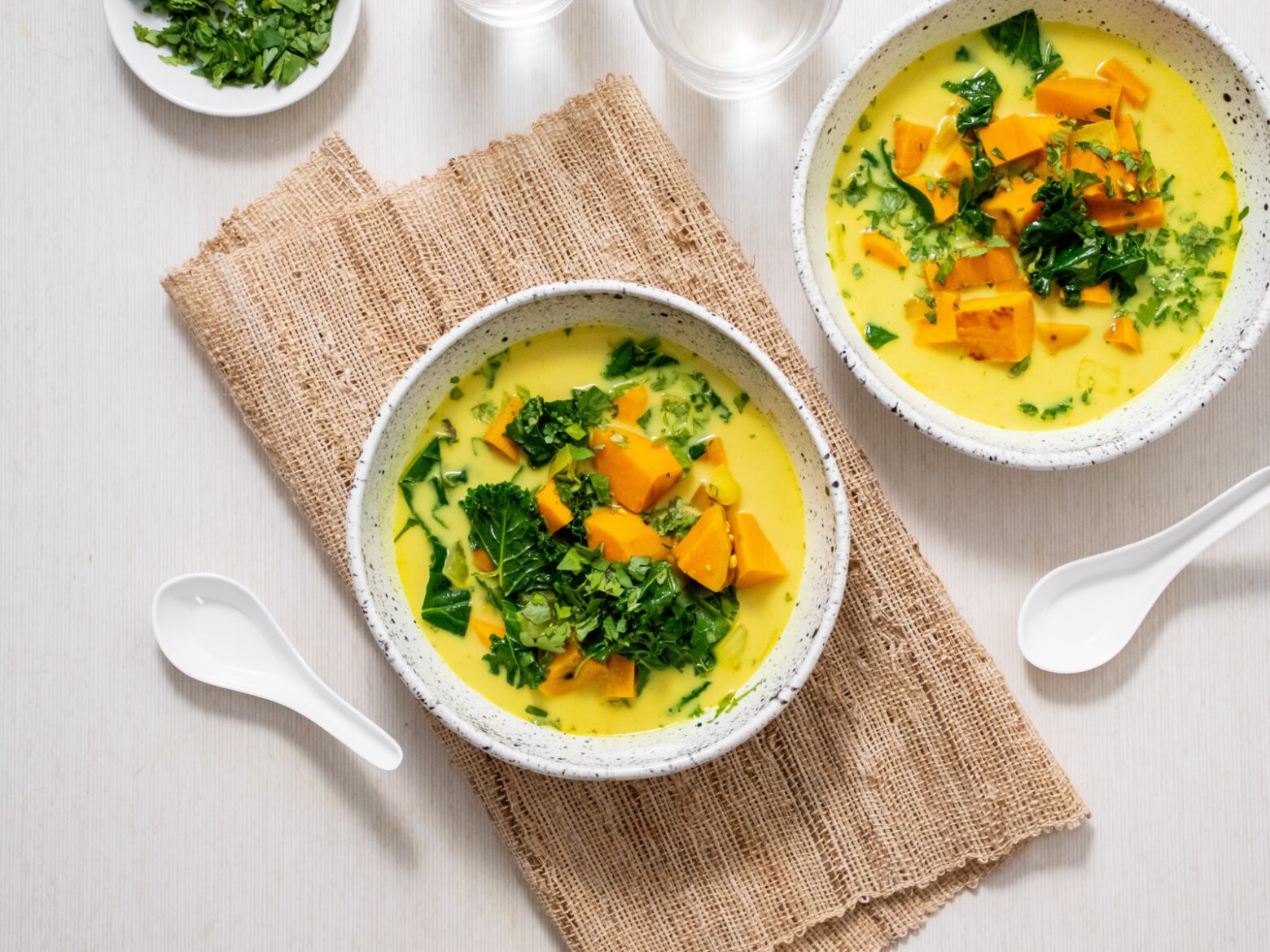 Give your digestive system a reset and ladle up this soup for dinner. Sweet potatoes simmer in a creamy, fragrant turmeric broth with a boost of healthy apple cider vinegar!
This easy, one-pot dinner is great for weeknights, as it comes together quickly and with minimal prep. You also don't need any special ingredients. Most of them are Paleo staples that you can find right in your pantry, especially if you grocery shop using our official Paleo Diet shopping list.
More importantly, this soup is also great for your gut health. It's filled with fiber from sweet potatoes, anti-inflammatory properties from the turmeric, and bloat-busting probiotics from the vinegar. Plus, a base of chicken stock (homemade bone broth is best) adds a boost of gut-healing collagen, while dairy-free coconut milk can help maintain healthy gut flora.
Start by cooking diced sweet potatoes with chopped onions in a large Dutch oven. Once softened, add ginger and garlic and stir until fragrant, then add chicken stock along with the turmeric and black pepper. Remember, the black pepper helps increase the absorption of the anti-inflammatory turmeric, so don't forget to add it.
Simmer your soup until the sweet potatoes are tender, then add the coconut milk, apple cider vinegar, and kale. Turn off the heat and let the hot broth cook the kale until just wilted, then serve right away with fresh chopped cilantro.
Tips:
You can add other gut-boosting vegetables like broccoli, cabbage, or cauliflower.
Use apple cider vinegar with "The Mother" for the most probiotics.
Autoimmune Protocol (AIP) omissions and substitutions are listed in the recipe ingredients.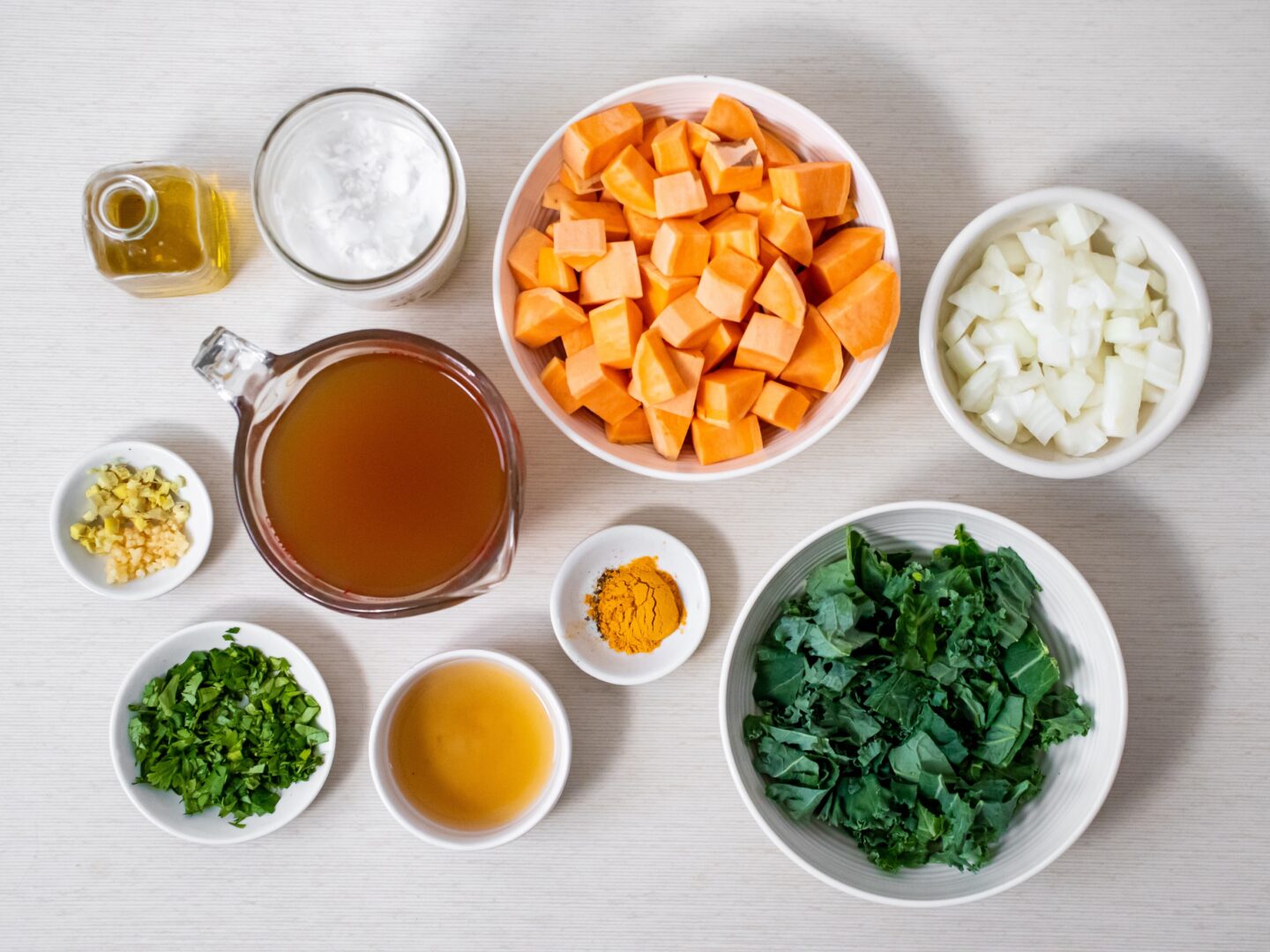 For hundreds of pure Paleo recipes be sure to check out The Real Paleo Diet Cookbook and  The Real Paleo Diet Fast and Easy.
Details
Serves:

4

Prep Time:

10 minutes

Cook Time:

25 minutes

Total Time:

35 minutes
Print this Recipe
Ingredients
2 tbsp olive oil

4 cups peeled chopped sweet potatoes

1 cups chopped sweet white onion

1 tsp minced garlic

2 tsp minced ginger

4 cups unsalted chicken stock

1 tsp ground turmeric

Cracked black pepper, to taste (AIP - substitute with ground ginger)

1 cups unsweetened full-fat coconut milk

2 tbsp apple cider vinegar

2 cups shredded kale

1/2 cups chopped cilantro for serving
Directions
Heat olive oil over medium heat in a large pot or Dutch oven. Add sweet potatoes and onion. Cover and cook for 10 minutes, stirring occasionally.

Remove lid and stir in garlic and ginger. Sauté one minute. Add chicken stock, turmeric, and black pepper. Bring to a boil and reduce heat to medium-low. Simmer 10-12 minutes longer, until sweet potatoes are tender.

Stir in coconut milk and apple cider vinegar. Turn heat off and add kale to wilt for two minutes longer. Ladle into bowls and serve hot topped with cilantro.