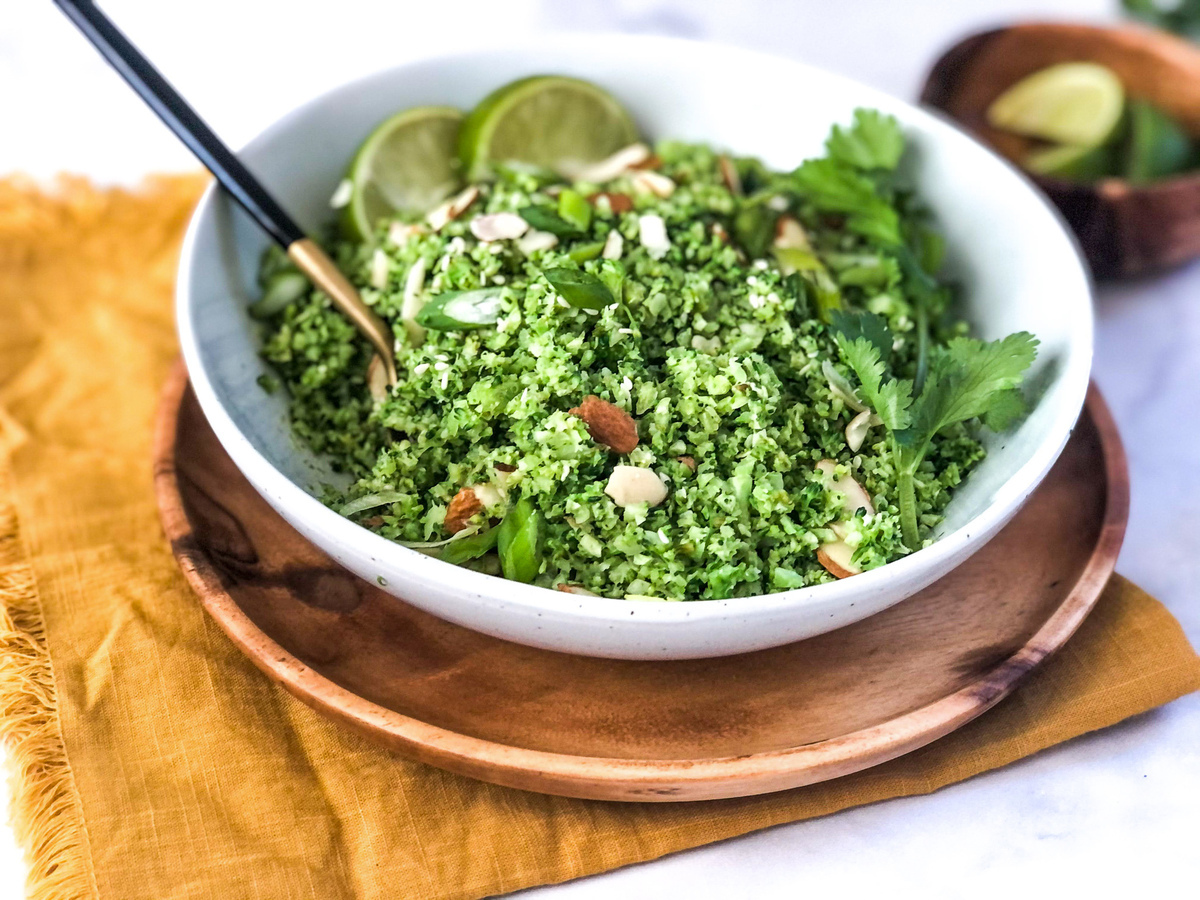 Cilantro Lime Broccoli Rice
Give broccoli a chance to shine as rice! In this easy side dish, we saute pulsed broccoli "rice" with garlic and ginger, then top with sliced almonds, cilantro, and a squeeze of lime juice.
You could argue that anything cauliflower can do, broccoli can do better. While both veggies are low in calories and high in fiber, broccoli contains higher amounts of certain types of vitamins, including vitamins C, K, and E. (Of course, cauliflower is also higher in certain minerals—so be sure to keep your diet varied!)
You can find riced broccoli at the store to make prepping this dish a snap, but it's also just as easy to make it at home. Start by trimming down the stalks on two large heads of broccoli. You can still use the tender stems—in fact, the variety of stems and florets makes for the best broccoli rice.
Chop the broccoli into even pieces before adding to a food processor to help ensure that it pulses into uniform "rice" sizes. Conversely, you can even use a box grater—just watch your knuckles!
Once you have your broccoli riced and ready to go, heat up a skillet with a little olive oil. Add the broccoli rice and sauté for a minute to soften, then add chopped garlic and cook another minute. Add in a small drizzle of avocado oil for a bit of nutty flavor, then add freshly grated ginger. Be sure not to overcook—you want your broccoli rice bright and crunchy, not mushy!
Serve your broccoli rice topped with sliced almonds, sesame seeds, sliced scallions, and cilantro.
Tips:
Top your broccoli rice with chicken, scallops, or shrimp for an easy, healthy bowl.
Add a pop of color with halved cherry tomatoes.
Make it spicy with a dash of curry powder.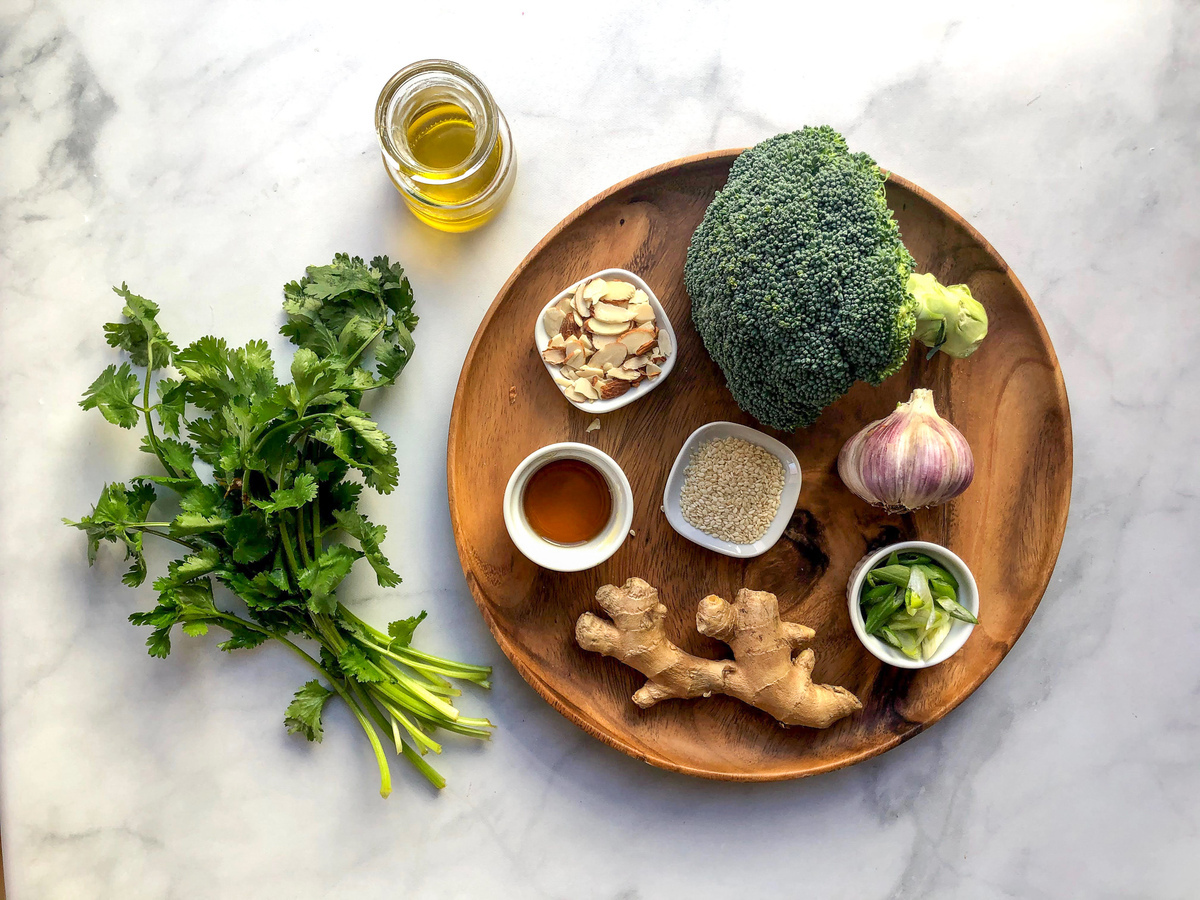 For hundreds of pure Paleo recipes be sure to check out  The Real Paleo Diet Cookbook  and  The Real Paleo Diet Fast and Easy.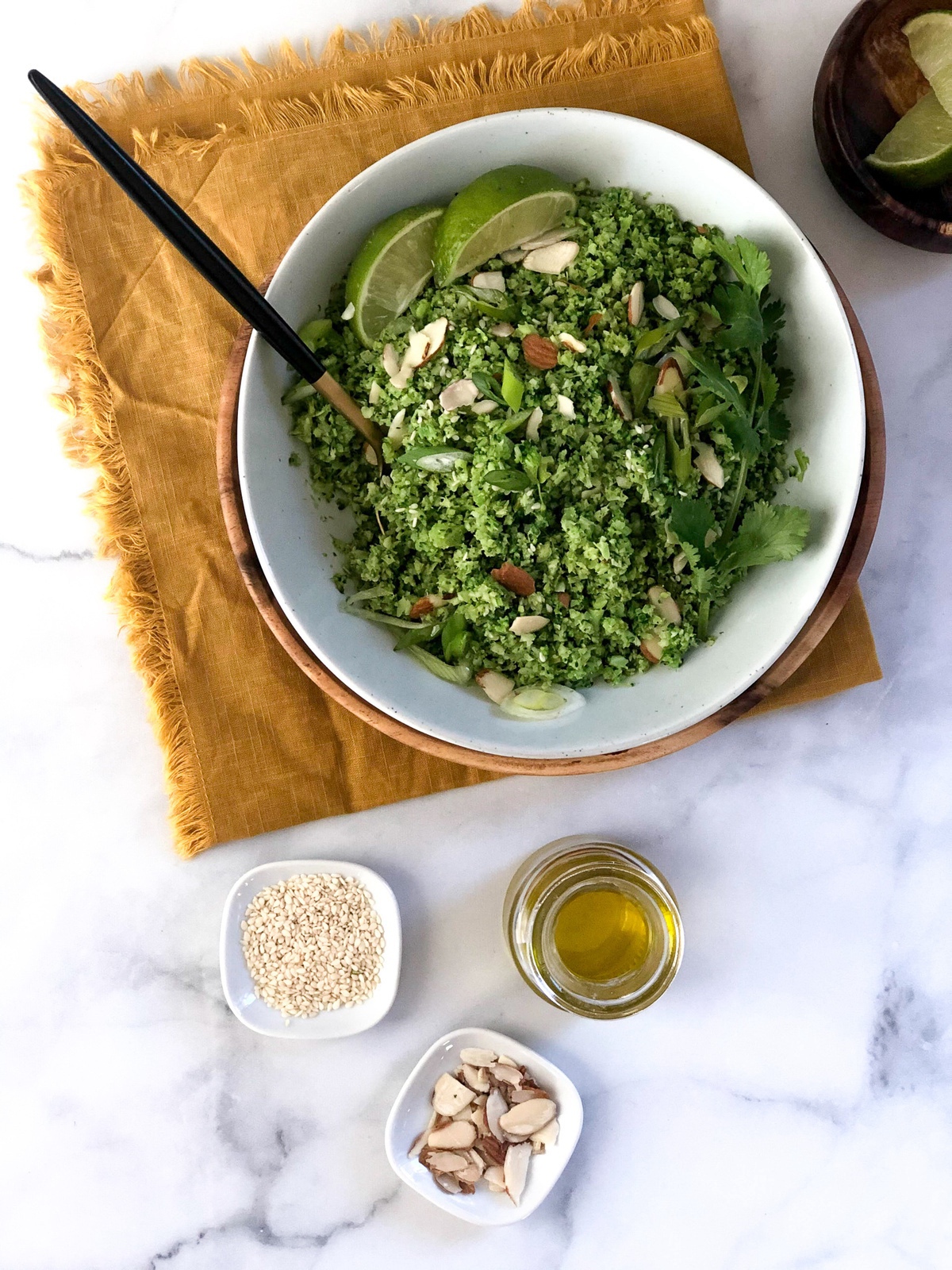 Details
Prep Time:

10 minutes

Cook Time:

5 minutes

Total Time:

15 minutes
Ingredients
2 heads of broccoli, chopped

2 tbsp olive oil

3 garlic cloves, chopped

1 tsp avocado oil

1 " fresh ginger, grated

1/4 cups green onions, chopped

1/4 cups cilantro, chopped

1/8 cups sliced almonds

1 tbsp sesame seeds

1 lime, quartered
Directions
In a food processor, pulse the broccoli florets until its rice sized.

Warm the olive oil in a skillet over medium heat. Add the broccoli rice and sauté for one minute. Add the chopped garlic and cook for another minute.

Drizzle in the avocado oil and sprinkle in the ginger. Cook for two more minutes, making sure not to overcook.

Serve hot garnished with green onions, cilantro, sliced almonds, sesame seeds, and the lime quarters.