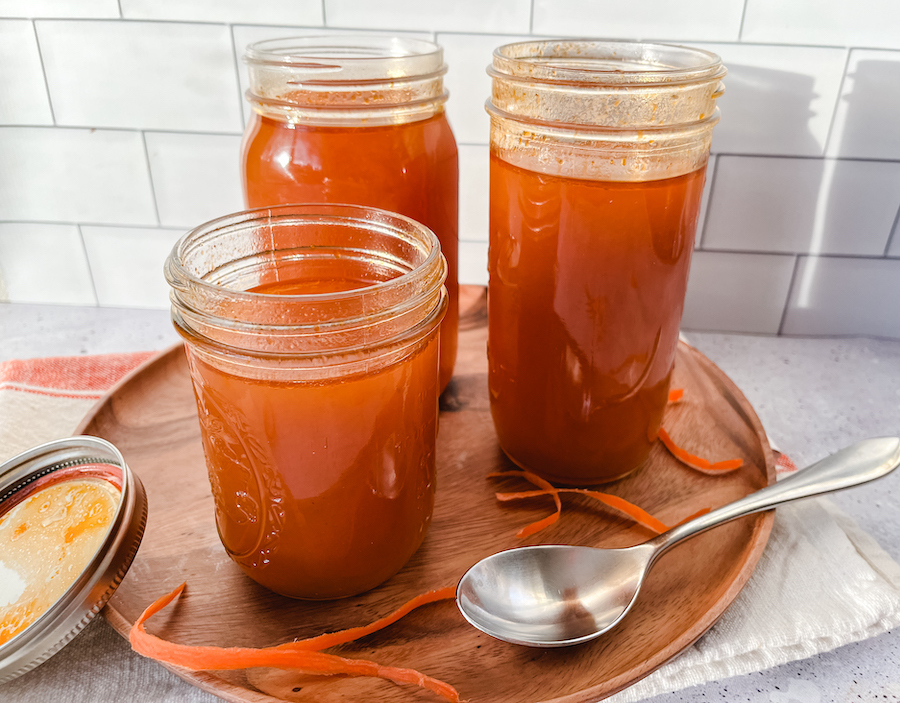 The Only Vegetable Broth Recipe You'll Ever Need
This no-added-sodium vegetable broth recipe is so easy to make and versatile, we think it will become the only veggie broth recipe you need.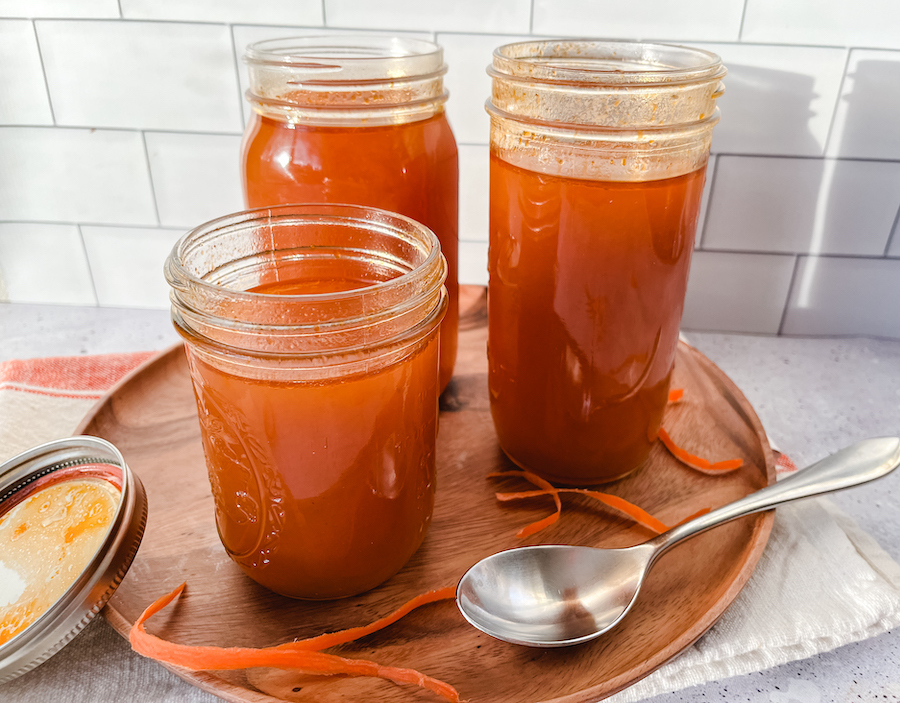 It isn't easy to find sodium-free veggie broth. Even the low-sodium varieties at the grocery store contain more salt than is healthy. This Paleo broth recipe is easy to make at home and packed with veggies and nutrients. There's zero added salt, making it the ideal ingredient for your favorite broth-based recipes.
Keep in mind that this recipe is really versatile, and you can use any vegetables you have on hand for this. The more variety, the better! Just be sure not to use any starchy vegetables like squash or sweet potatoes, as that will make the broth cloudy and thick.
When prepping, remember that you'll be straining out all the vegetables, so a rough chop will do the job nicely. You don't even need to peel anything! Depending on what you're using it for, you might want to add in the optional tomato paste. It adds a great depth of flavor that will work perfectly for tomato-based dishes like taco soup or tomato fennel soup. And if you have the time, you can simmer for two hours or so. The longer you simmer, the stronger the flavor will be.
Tips
Save leftover vegetable scraps for a few weeks and stash them in the freezer. Think: carrot tops, onion skins, or greens that you know you won't be able to use before they go bad. When you're ready to cook just dump them straight into the pot to sauté before you add the water. You may need to adjust which veggies you add from there to create a nice, well-rounded broth.
Autoimmune Protocol (AIP) omissions and substitutions are listed in the recipe ingredients.
Need some ideas for your homemade veggie broth? Try any of these recipes: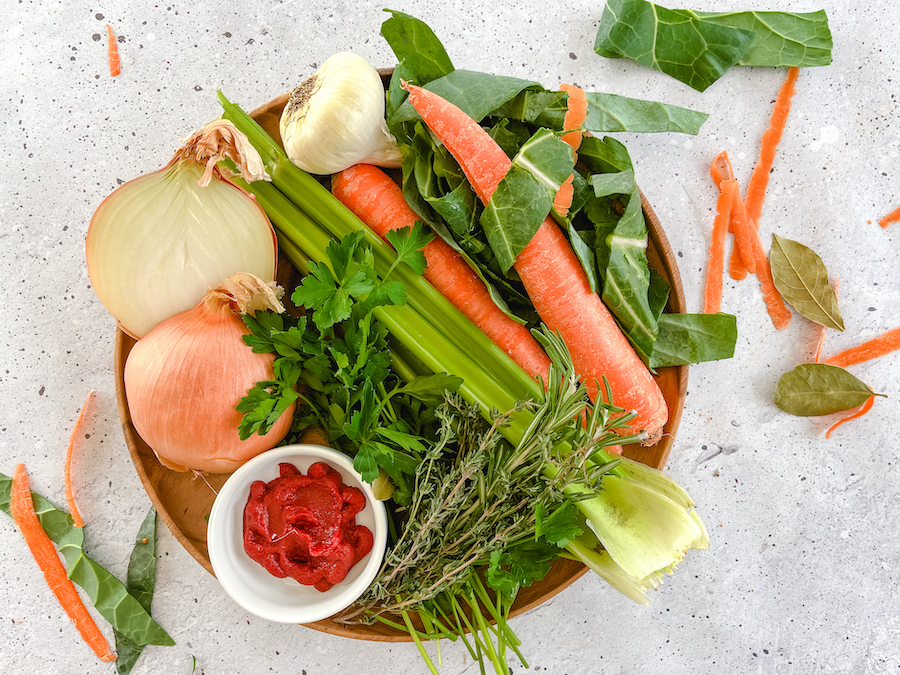 For hundreds of pure Paleo recipes be sure to check out The Real Paleo Diet Cookbook and The Real Paleo Diet Fast and Easy.
Details
Recipe by: Jess Case
Serves:

10

Meal:

Anytime
Serves:

10

Prep Time:

10 minutes

Cook Time:

1 hour

Total Time:

1 hour 10 minutes
Print this Recipe
Ingredients
2 tbsp olive oil

1 yellow onion, unpeeled and sliced

4 carrots, unpeeled and chopped

4 celery, chopped

5 cloves garlic, chopped

1 tsp whole peppercorns (AIP - omit)

10 cups filtered water

2 bay leaves

1 cups collard greens, chopped

1/4 cups fresh thyme

1/4 cups fresh rosemary

1/4 cups fresh sage

1/2 cups fresh parsley, chopped

3 tbsp tomato paste (optional, AIP - substitute with pumpkin purée)
Directions
Heat a large stockpot over medium heat and add olive oil. When it's hot, add onion, carrots, celery, garlic, and peppercorns. Cook and stir for 5 minutes or until softened.

Add the water to the pot and stir in the remaining ingredients. Bring the broth to a boil, then reduce the heat to low and cover partially with the lid. Let the broth simmer for 1 hour.

Remove from heat and let cool for at least 15 minutes. Strain the broth into another pot, then store in Mason jars or use right away. Leftovers will store in the refrigerator for up to 5 days or freezer for up to 1 month.