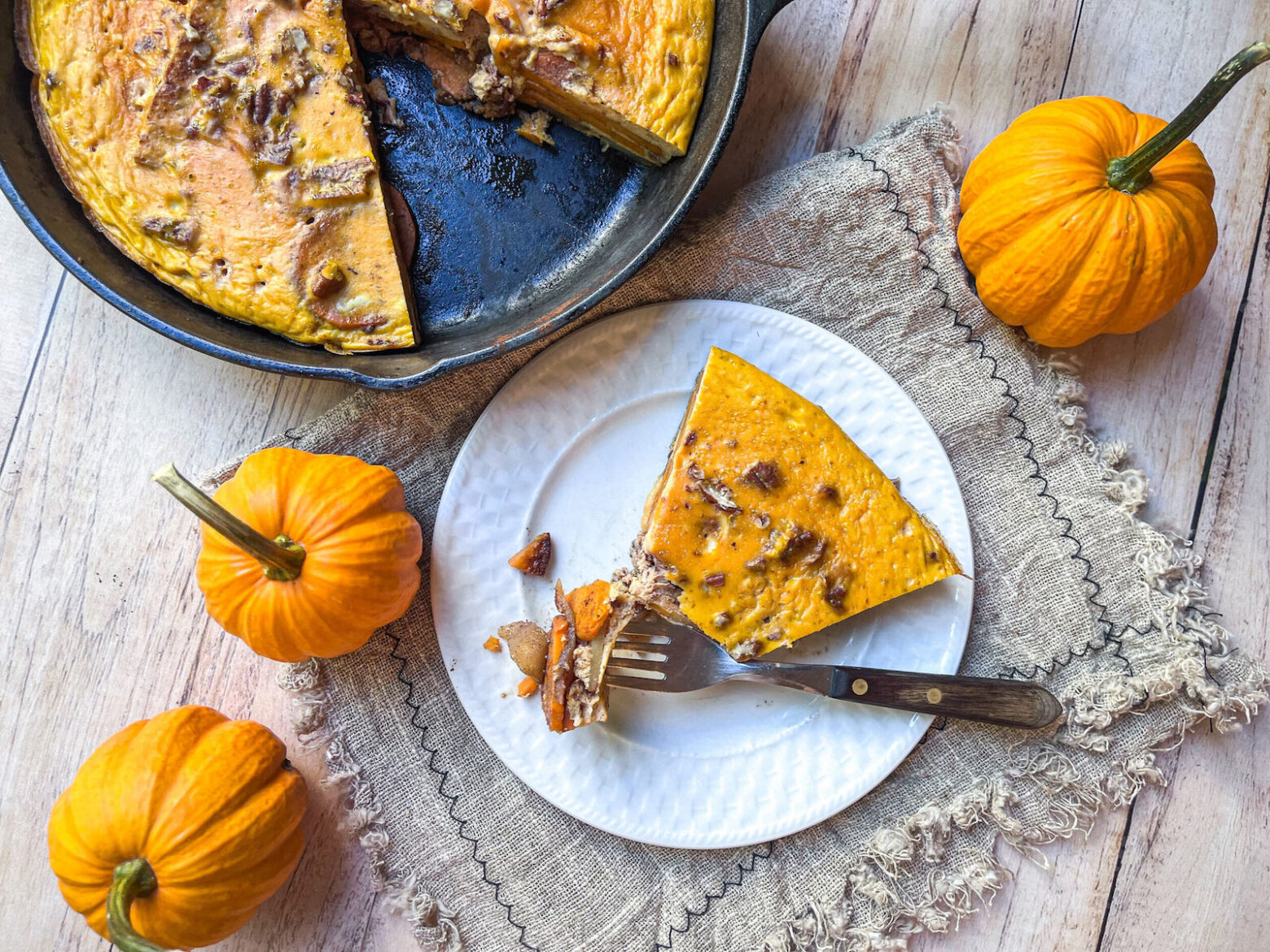 Pumpkin Apple Breakfast Bake

This hearty skillet breakfast is like a fall frittata with all your favorite autumn foods and spices. To make, layer seasoned apples and sweet potatoes within an egg and pumpkin batter and bake in a cast-iron skillet until done. Try it our way, or swap out the sweet potatoes for butternut squash to get an extra boost of eye-healthy vitamin A. 
This recipe uses pumpkin pie spice, which you can buy at the grocery store or make at home by mixing three parts ground cinnamon, two parts each ground ginger and nutmeg, and one part each ground cloves and allspice. Make without allspice for a AIP-friendly version of pumpkin pie spice. You only need a little for this breakfast bake, so save the rest to spice up your coffee, muffins, waffles, or even soup! 
On top of the pumpkin pie spice we add a little more nutmeg and cinnamon, two spices full of antioxidants and anti-inflammatory compounds. Combined with vitamin A-rich pumpkin and sweet potato, this is a healthy breakfast dish that will power you through your day.
Tips: 
Leftovers will store in the refrigerator up to four days. To reheat, warm in the microwave for 45 seconds. 
Autoimmune Protocol (AIP) omissions and substitutions are listed in the recipe ingredients.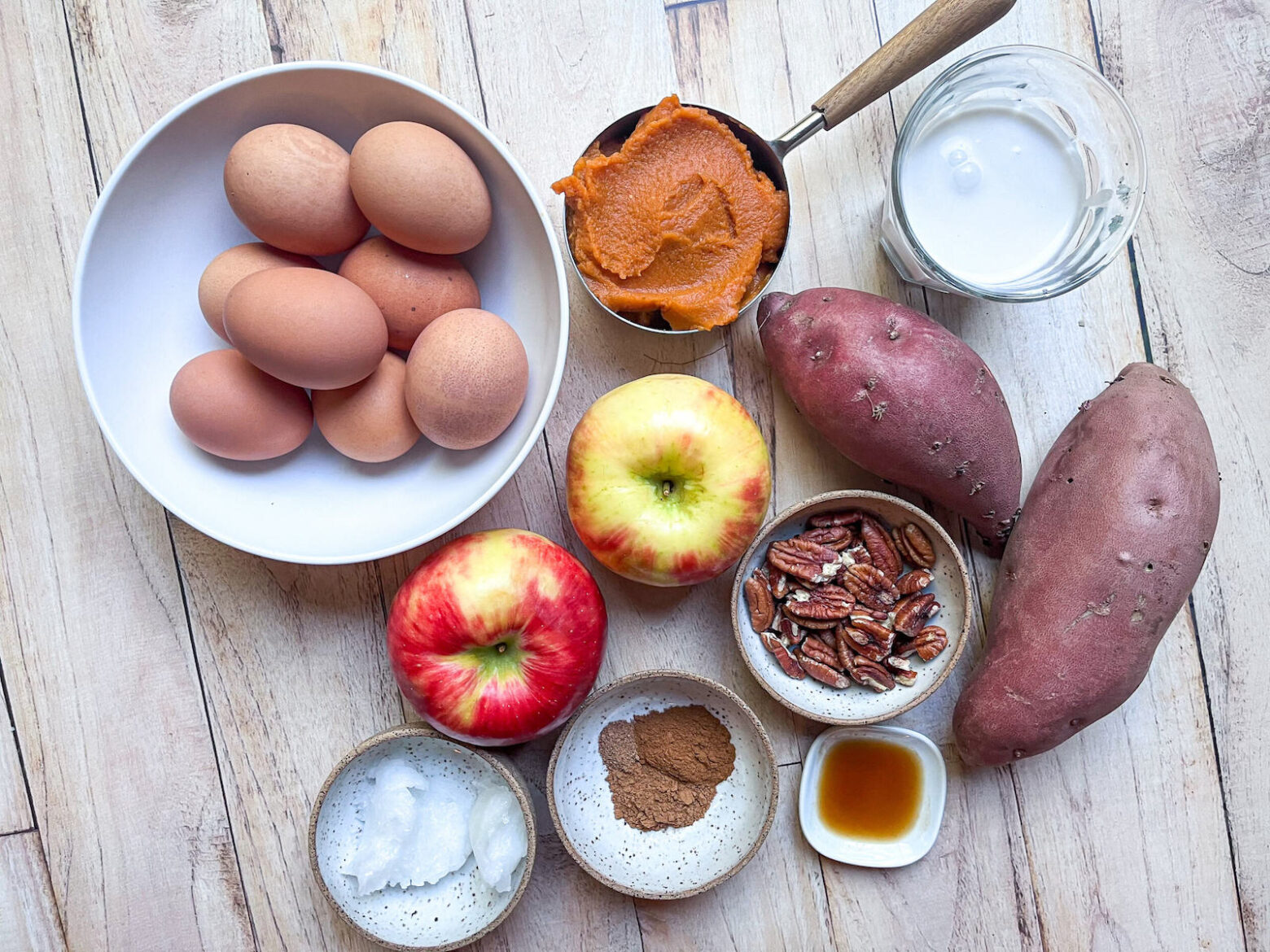 Love our recipes? Make going Paleo even easier and download our 7-Day and 28-Day digital meal plans!
Details
Recipe by:
Serves:

6

Meal:

Breakfast
Prep Time:

5 minutes

Cook Time:

35 minutes

Total Time:

40 minutes
Ingredients
2 medium apples

2 medium sweet potatoes

1/4 cups coconut oil

1 1/2 tsp cinnamon

1 1/2 tsp pumpkin pie spice (AIP - omit)

1/8 tsp nutmeg (AIP - omit)

1/2 cups pecans (roughly chopped)

1 cups pumpkin purée

8 eggs

1/2 tsp vanilla extract

1/2 cups full-fat coconut milk
Directions
Preheat the oven to 325°F. Core and thinly slice apples. Peel sweet potatoes and slice crosswise into ¼ inch-thick rounds.

In a large cast-iron skillet, heat coconut oil over medium heat. Add sweet potatoes and cook until softened, about 5-10 minutes.

Add apples, cinnamon, pumpkin pie spice, and nutmeg. Cook until the apples are softened, 10 minutes. Apples and sweet potatoes should be easily pierced with a fork.

Stir in pecans and cook for 2 minutes longer. Remove from heat.

In a medium bowl, whisk together eggs, pumpkin purée, vanilla extract, and coconut milk until smooth. Pour into the skillet with apples and sweet potatoes. Use a spatula to level out the mixture.

Bake for 20 minutes or until eggs are set. Serve immediately.