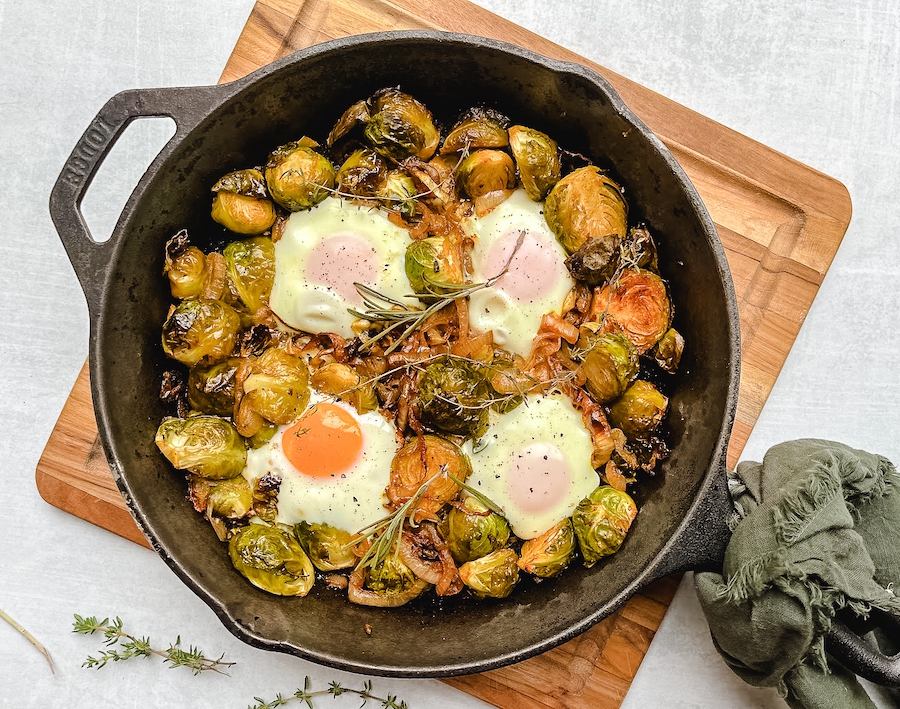 Oven Baked Eggs with Brussel Sprouts and Onions
Switch things up and have veggies for breakfast! This easy recipe pairs savory Brussels sprouts with sweet caramelized onions and fresh herbs for a brunch-worthy new favorite.
The best thing about this recipe is that it works great for leftovers. If you have cooked Brussels sprouts in the fridge, you can cut the roasting time in half, from 20 to 10 minutes. Don't feel limited to the sprouts, though—try leftover broccoli florets, cubed butternut squash, or sweet potatoes instead. It's a great way to breathe new life into leftover veggies!
Start by roasting the onions by themselves to get them nice and caramelized. If you have fresh veggies to prep, do it while the onions are roasting. After the onions start to get golden brown and fragrant, add the Brussels sprouts or other veggies to the pan, and mix in a bit of olive oil, garlic, herbs, and spices. We used a smoky and fresh combination of fresh sage and thyme, rosemary, fennel seeds, paprika, and black pepper, but you could also sub in red pepper, chili powder, Italian seasonings, or onion powder if you prefer.
Once the veggies are soft and nearly cooked through, use your spatula to create spaces in between the veggies, and crack an egg into each. Bake another 8 minutes, or until the whites are set and the yolk is cooked to your liking. Serve hot, garnished with your favorite fresh herbs.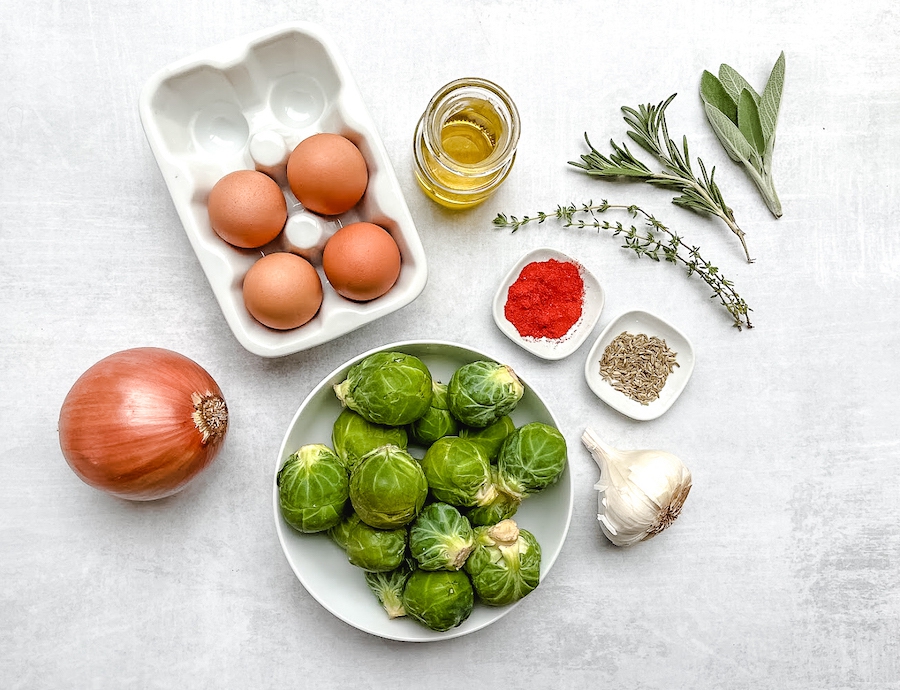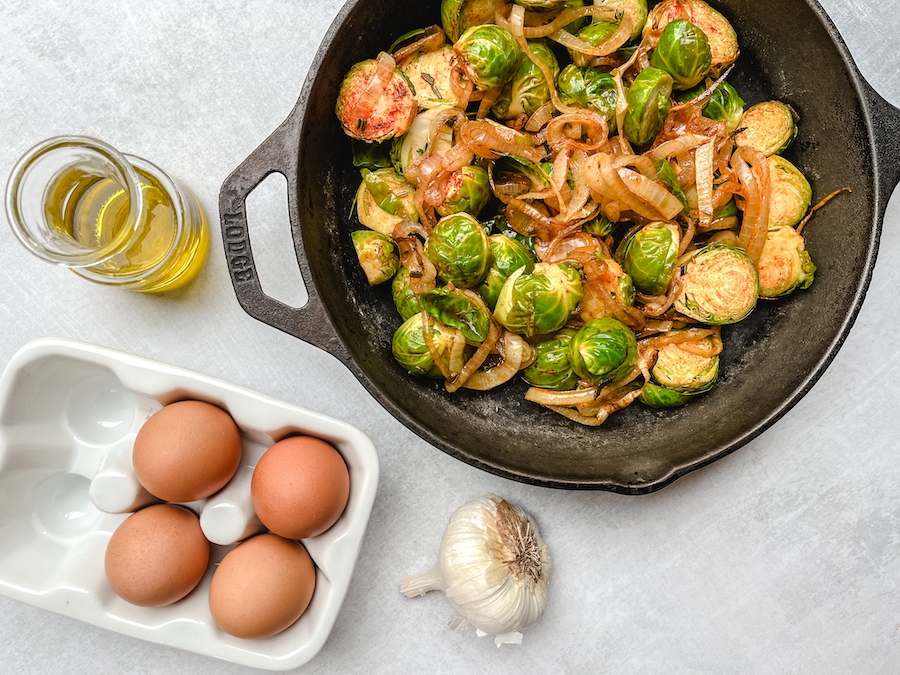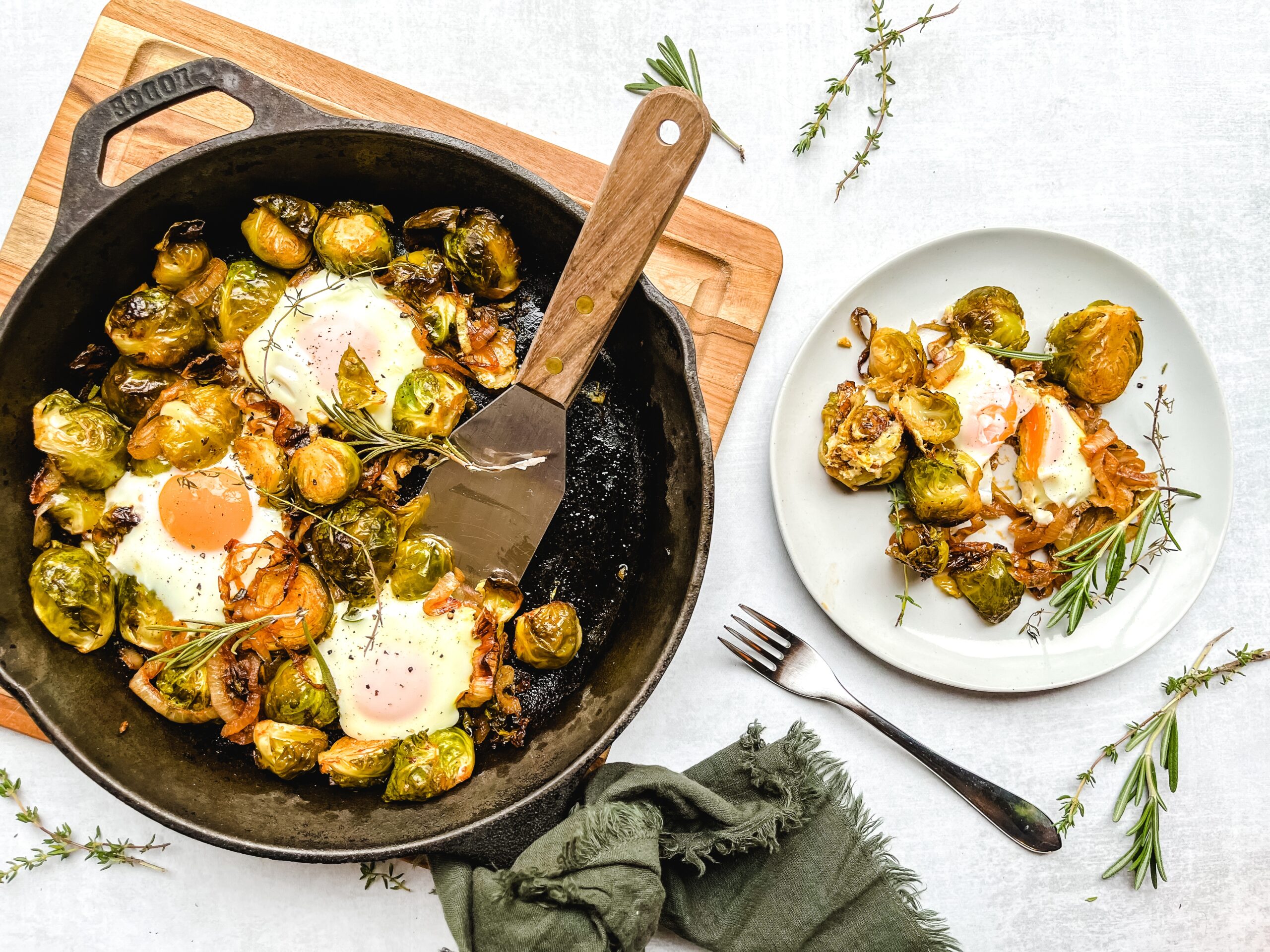 For hundreds of pure Paleo recipes be sure to check out The Real Paleo Diet Cookbook and The Real Paleo Diet Fast and Easy.
Details
Recipe by: Jess Case
Serves:

4

Meal:

Breakfast
Prep Time:

10 minutes

Cook Time:

40 minutes

Total Time:

50 minutes
Ingredients
1 yellow onion, sliced thinly

2 tbsp olive oil, divided

4 cups Brussel sprouts, halved

2 cloves of garlic, pressed or minced

1 tbsp fresh sage, chopped

1 tbsp fresh thyme, chopped

1 tsp rosemary

1/2 tsp fennel seeds

1/2 tsp smoked paprika

Black pepper, to taste

4 eggs
Directions
Preheat the oven to 400°F. Place the sliced onions on a baking sheet or cast iron pan, drizzle with one tablespoon of the olive oil, and toss. Roast for 10-15 mins.

Spread the Brussels sprouts into the pan with the onions. Add another tablespoon of olive oil and top with the garlic, herbs and spices. Return to the oven for 20 minutes, turning occasionally, until the sprouts are soft and turning golden.

Use a spatula to make four wells in the veggies. Crack the eggs into the wells and bake for another 8 minutes, or until the eggs are set.

Serve hot, garnished with extra herbs and black pepper if you like.