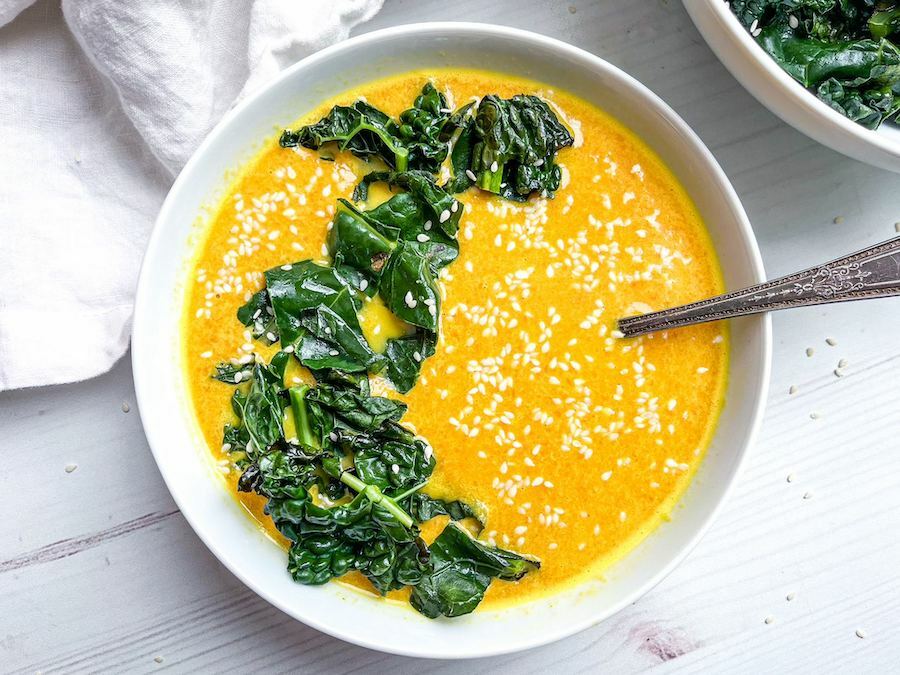 Trying to get that natural glow? What if we told you by eating a bowl of this hearty Golden Glow soup, you can be on your way to skin that glows like a movie star's. It's filled with ingredients that contain vitamin A, which is shown to trigger collagen production and reduce the look of fine lines and wrinkles.
This light, luscious, earthy, and heartwarming soup is packed with nutrients and can be ready in just under 30 minutes. As a bonus to giving your skin that much-needed radiance, this soup is also vegan-friendly.
Our golden glow soup is made with a base of carrots, leeks, and orange pepper puree. It's filled with antioxidants, vitamins, and coconut milk, which is known for its healthy fats and anti-inflammatory properties. Add in a nutrient-dense broth and a few tasty spices (like turmeric and coriander), and you've got a recipe for a delicious, winter-warmer meal!
To make the Golden Glow soup, start by sauteing the carrots, leeks, and peppers until they are translucent, then add the remaining ingredients and bring to a boil. Cover, reduce heat, and simmer for at least 20 minutes to meld the flavors—the longer, the better!
Once heated, use an immersion blender to mix it up into a creamy soup. Ladle your Golden Glow soup into bowls, then top with sauteed kale and sesame seeds. If you would like to add some protein to the soup, top it with some shredded chicken. For a finishing touch, add a drizzle of coconut milk on top. Serve it while it's hot and enjoy!
Tips: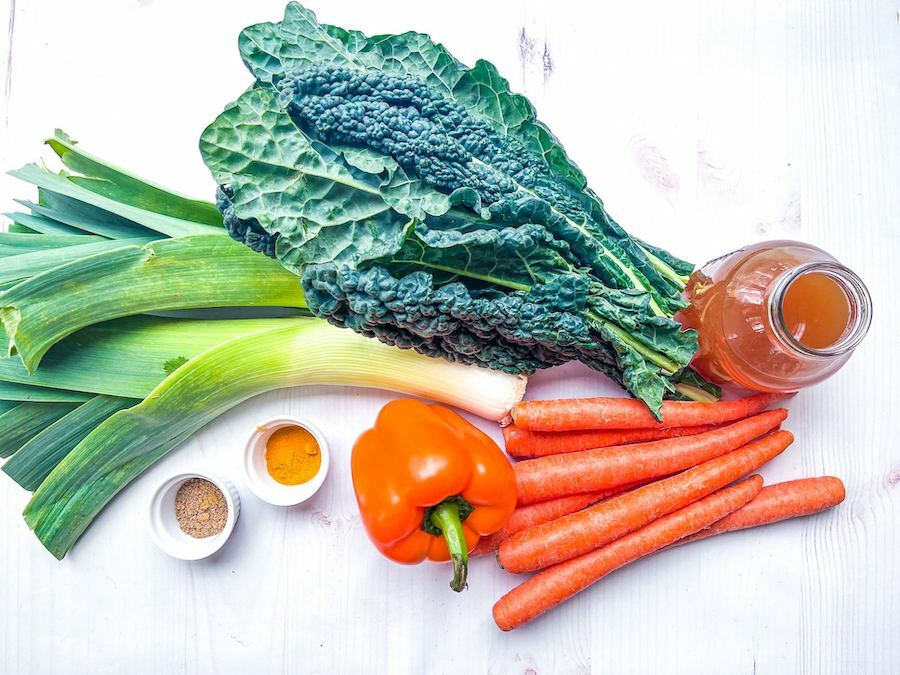 Details
Prep Time:

5 minutes

Cook Time:

30 minutes

Total Time:

35 minutes
Ingredients
3 tbsp olive oil

2 cups carrots, chopped

1 orange pepper, chopped and deseeded (AIP - substitute with yellow squash)

2 leeks, sliced

5 cups Paleo veggie broth

1 can coconut milk, full fat

1 tsp turmeric

1 tsp coriander

1 tsp ground ginger

Pinch of cayenne pepper (AIP - omit)

2 cups lacinato kale, chopped

1/4 cups sesame seeds

1/2 tsp fresh black pepper to taste (AIP - omit)
Directions
Use a large pot and heat with two tablespoons of oil on medium heat. Cook the chopped carrots, orange pepper, and leeks until they're soft and translucent—for about 10 minutes.

Add the Paleo broth, coconut milk, and spices, bring them to a simmer, and cover the pot for about 15-20 minutes.

While the soup is simmering, start cooking the kale in a pan with 1 tbsp of olive oil on medium heat. Cover and let the kale wilt, about five minutes, and leave aside.

When the soup is done simmering, use an immersion hand blender to puree the soup until it's smooth. Put some cooked kale on top and sprinkle with sesame seeds. Serve hot and enjoy!