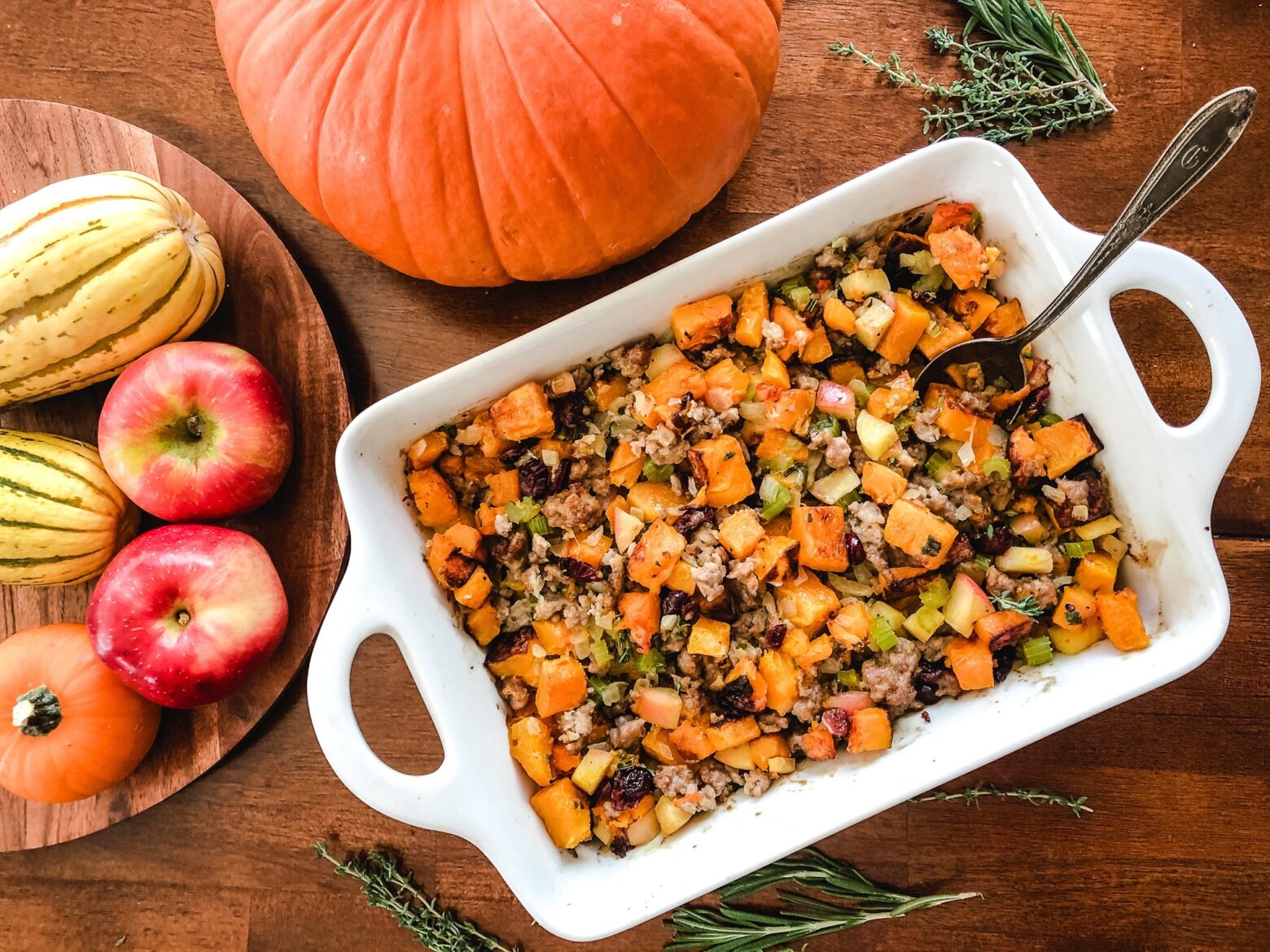 Paleo Thanksgiving Stuffing with Butternut Squash
You don't need bread to make a tasty Paleo stuffing! This recipe uses roasted butternut squash, ground pork, fresh herbs, apples, and cranberries for a festive Thanksgiving side dish with all the traditional holiday flavors.
Start by roasting a butternut squash, sliced into cubes. You can also buy it pre-cut to help save on prep time.
Meanwhile, brown ground pork in a large skillet. We recommend using an oven-safe skillet or cast iron pan so you don't need to transfer the stuffing to a baking dish later (unless you want to present it in the traditional casserole dish).
Be sure to use plain ground pork, as packaged sausage often contains extra salt and sugar. If you want, you can season the pork with black pepper, fennel seeds, garlic powder, paprika, and/or red pepper flakes to create your own homemade sausage.
Once the pork is browned, add chopped onions, garlic, carrots, and celery, along with fresh seasonal herbs like sage, rosemary, and thyme. Cook for a few minutes, then add chopped apples and optional dried cranberries. Since many prepackaged dried cranberries contain extra sugar, we suggest making your own. (It's easy if you have a dehydrator!)
Finally, mix in a scrambled egg to hold everything together, and bake. Serve at your Thanksgiving table garnished with lots of fresh herbs!
Tips:
Need to save on time? Roast the butternut squash a day or two before.
Swap pork for ground turkey for a leaner stuffing.
Have vegan guests? Replace the meat with mushrooms.
Add chopped and cooked chestnuts right before baking for even more seasonal flavor.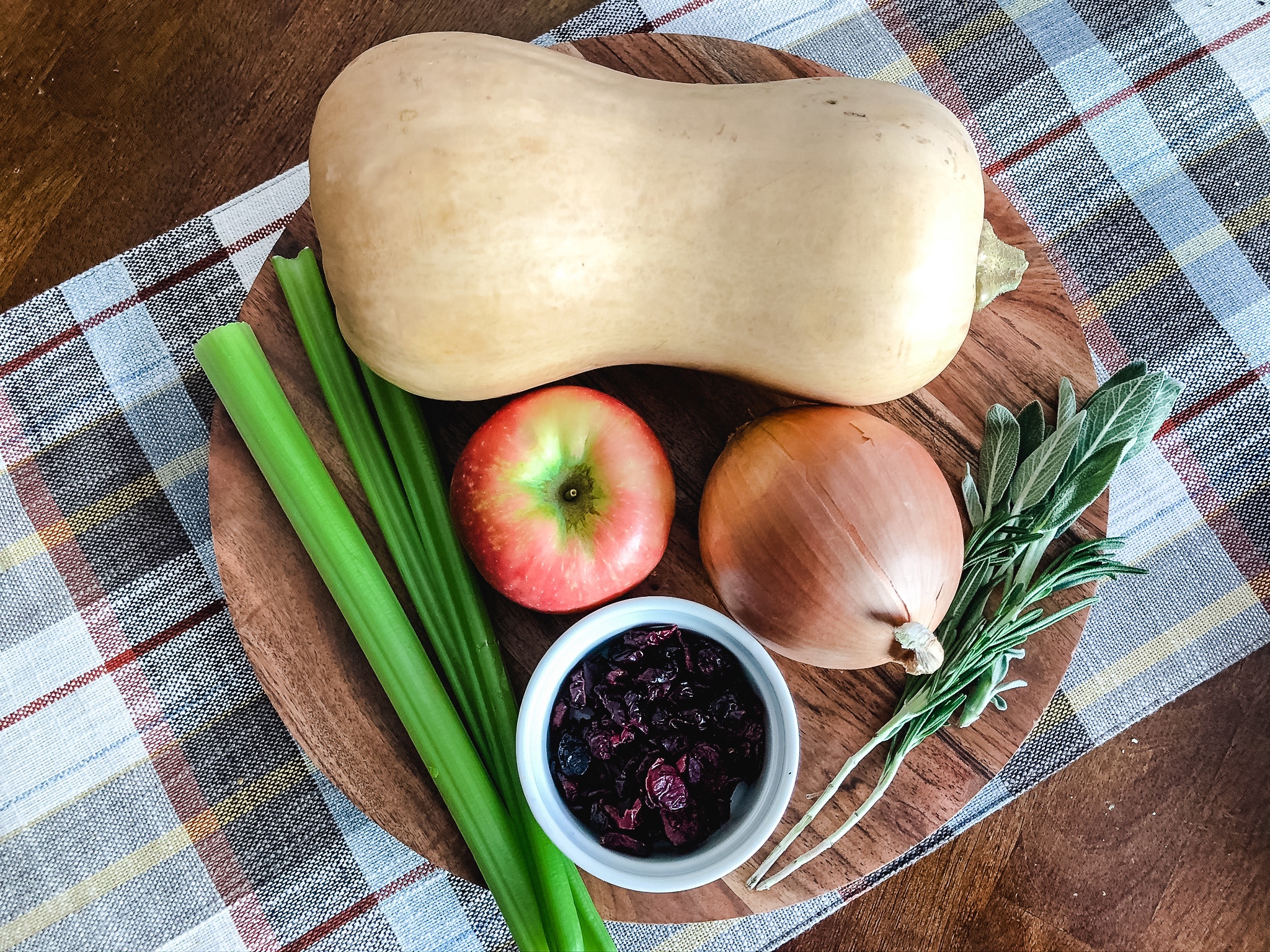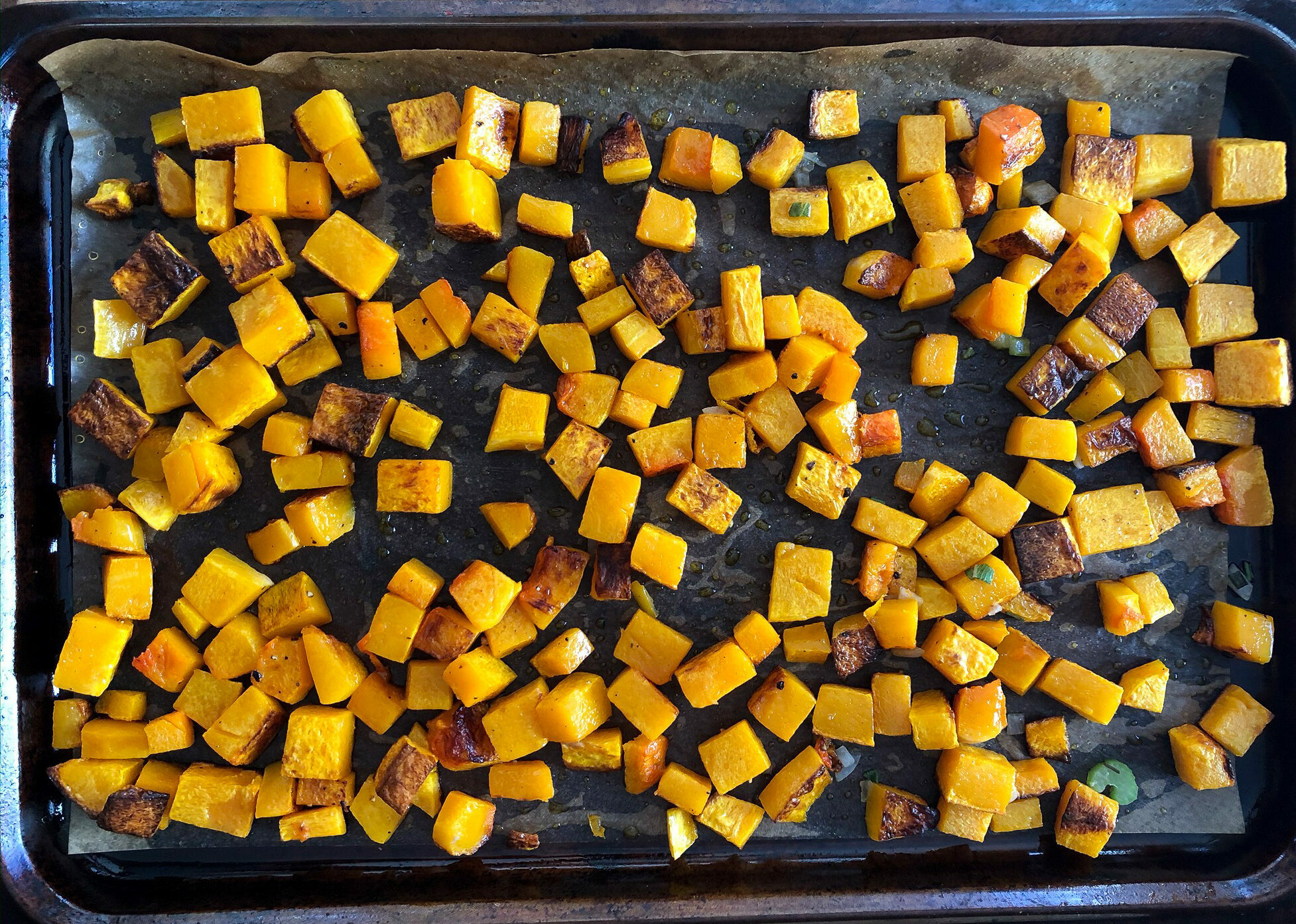 For hundreds of pure Paleo recipes be sure to check out The Real Paleo Diet Cookbook and The Real Paleo Diet Fast and Easy.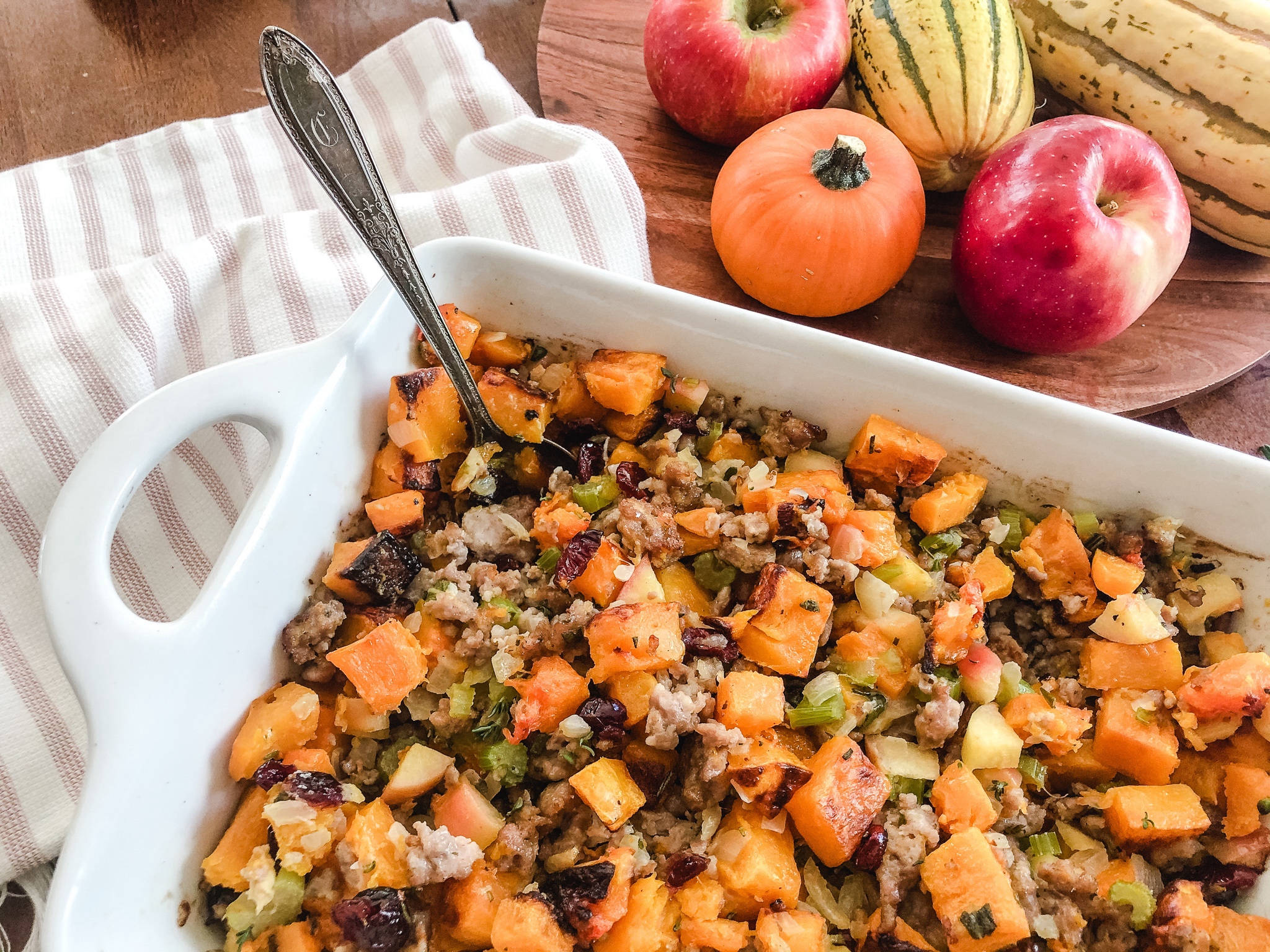 Details
Prep Time:

15 minutes

Cook Time:

1 hour

Total Time:

1 hour 15 minutes
Ingredients
1 large butternut squash, cubed (about 5 cups)

3 tbsp olive oil, divided

1 lb ground pork

1 small onion chopped

2 garlic cloves, minced

1 carrot, chopped

2 large celery stalks, chopped

2 tbsp fresh sage leaves, finely chopped (plus more for serving)

1 tbsp fresh rosemary leaves, finely chopped (plus more for serving)

1 tbsp thyme leaves, finely chopped (plus more for serving)

2 small apples, chopped and cored

1/2 cups dried cranberries, sugar-free (optional)

1 egg, whisked
Directions
Preheat oven to 425°F. Toss the butternut cubes with 1 tablespoon of the olive oil and spread it out on a large baking sheet. Bake for about 30 minutes, until golden and crispy. Remove the squash and lower the oven temperature to 375°F.

While the squash is roasting, heat the remaining 2 tablespoons of olive oil in a large skillet over medium-high heat. Add the pork and cook for 6-8 minutes, until browned. Add the onion, garlic, carrot, celery, sage, rosemary, and thyme, and cook for about 3 minutes more.

Add the chopped apples and cook until just softened, about two more minutes. Remove from the heat.

When ready, add the roasted butternut squash and dried cranberries and toss until it's combined. Carefully add the whisked egg and use a spatula to gently fold together. Transfer the stuffing into a baking dish and spread it out evenly.

Bake for 30 minutes. Sprinkle with fresh herbs and serve!