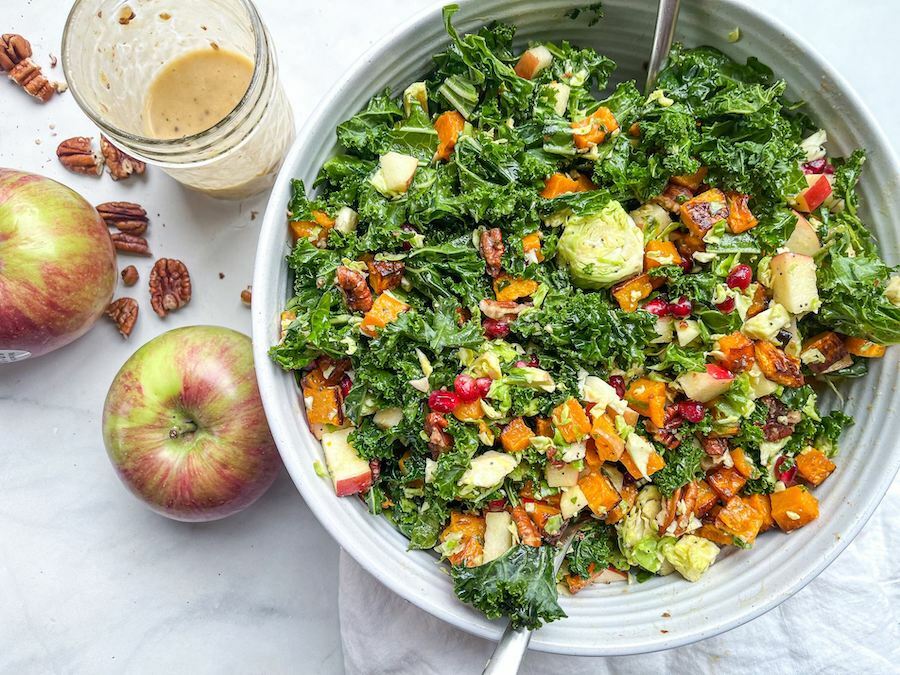 Butternut Squash Salad with Poppy Seed Dressing
Warm salads are extra comforting in the fall and winter! This hearty butternut squash salad mixes kale, shredded Brussels sprouts, pecans, apples, and pomegranates for a sweet-savory blend of flavors. Drizzle it with a zesty poppy seed dressing for a salad that's anything but boring!
When your body needs a good reset, give it the nutrients it craves in one colorful, healing bowl of goodness. You'll get plenty of antioxidants from the butternut squash, vitamin A and folate from kale, immune-boosting vitamin C from Brussels sprouts, and fiber from apples and pomegranate seeds. We bet you'll be feeling stronger after just one serving!
It's really easy to bring this warm butternut squash salad together. Start by roasting butternut squash cubes in the oven until soft and golden brown, about 25 minutes. To help cut down on prep time, you can buy them pre-chopped at the store.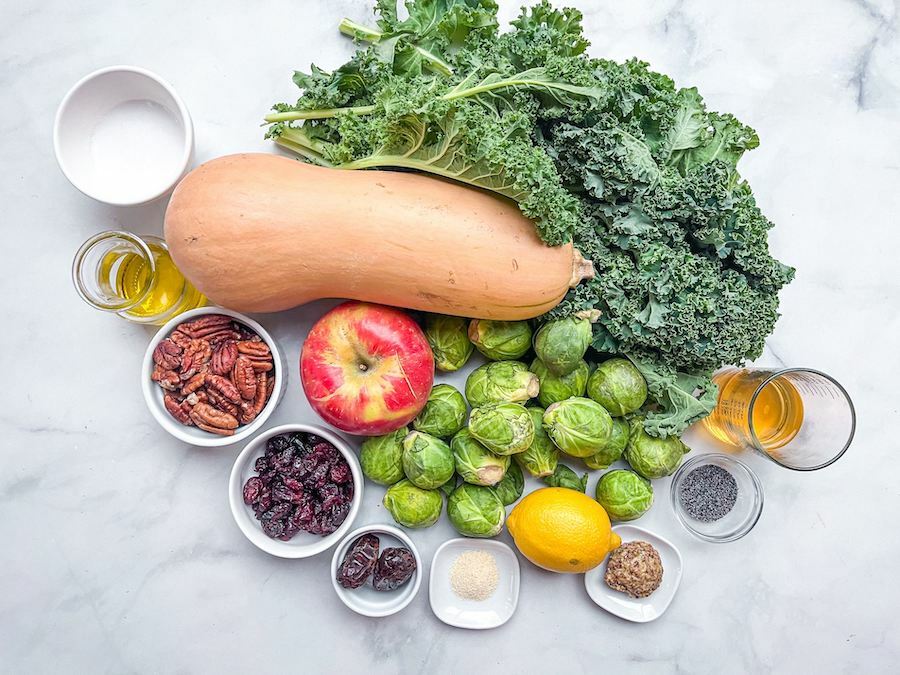 While the butternut squash is roasting, mix up the dressing. It's made with a sweet-zesty combination of apple cider vinegar, dates, mustard, almond milk, and onion powder. For best results, be sure to soak the dates in hot water for at least a few minutes to help soften them, so they blend into the dressing easier.
Next, prep everything you need for the raw salad ingredients. Start by massaging the kale with a bit of olive oil. This helps tenderize it, breaking down that tough exterior. Just be sure not to go overboard – you don't want mushy kale, either.
Next, add shredded Brussels sprouts (again, easiest to buy pre-shredded!), chopped apples (any kind will do), pomegranate seeds, and pecans. We like to toast our pecans lightly in a skillet for a moment or two, until just fragrant, taking care not to let them burn. You can skip this step if you want – the pecans will be great raw and crunchy, too!
Toss all the raw ingredients together, then add the cooked (and slightly cooled) butternut squash and mix gently to combine. Add the dressing a little bit at a time and toss. You may not want to use all the dressing. You can store any leftover dressing in a Mason jar in the fridge for up to four days.
Serve your butternut squash salad with leftover dressing on the side. Dig in and enjoy!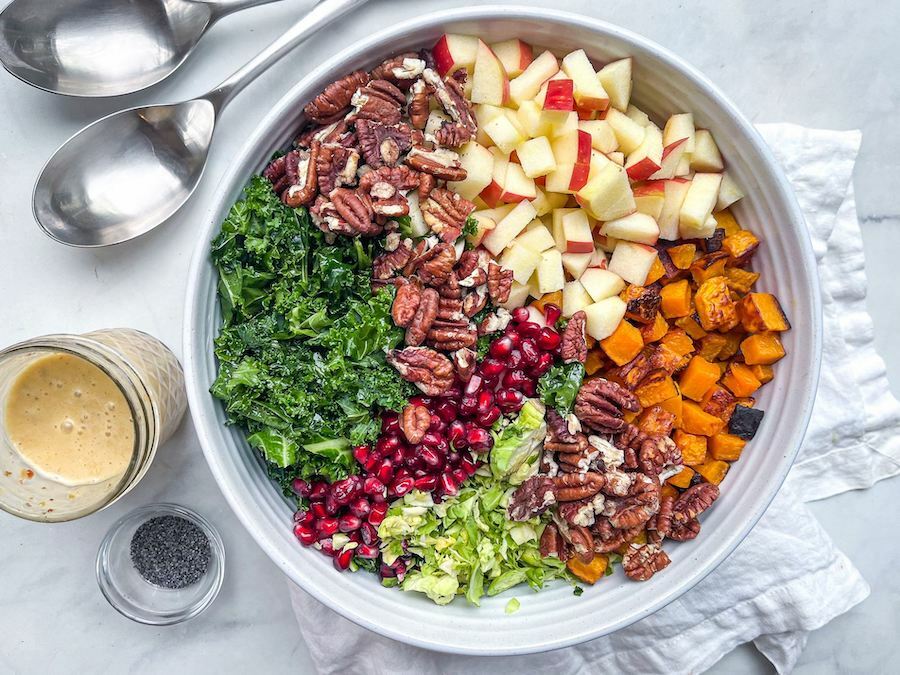 Tips:
Want to add protein? Top with cooked chicken.
You can swap the butternut squash for cauliflower, just adjust the roasting time for 20 minutes.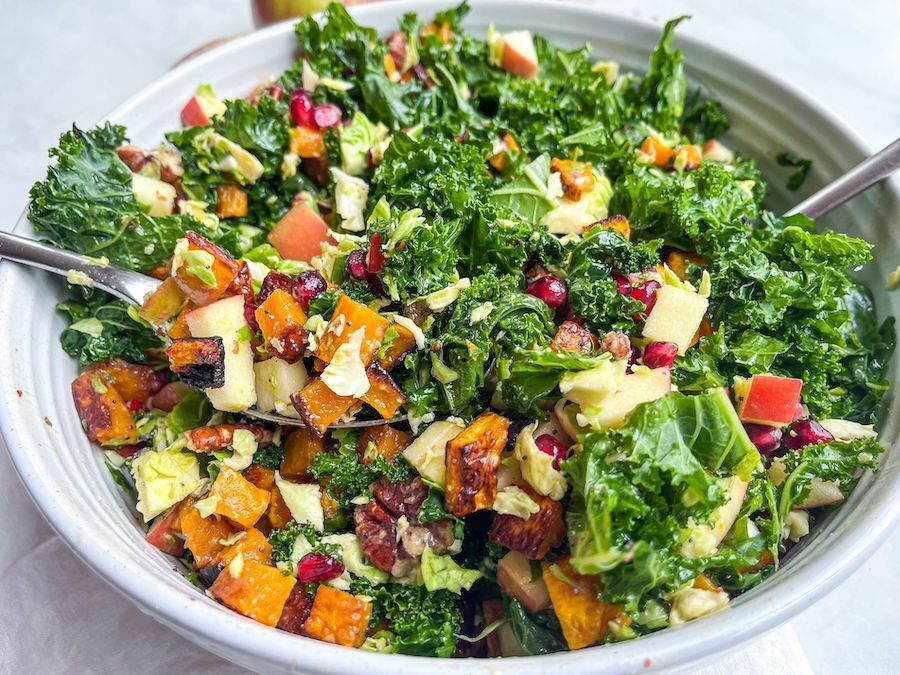 Details
Prep Time:

20 minutes

Cook Time:

30 minutes

Total Time:

50 minutes
Ingredients
5 cups butternut squash, cubed and peeled

1/2 cups olive oil, plus 2 TBSP, divided

1/4 cups apple cider vinegar

2 Medjool dates, soaked in hot water and drained

1/2 tsp Paleo-friendly ground mustard

2 tbsp almond milk, unsweetened

1/2 tsp onion powder

1 1/2 tsp poppy seeds

4 cups kale, chopped

2 cups Brussels sprouts, shredded

1 1/2 cups pecan halves, toasted and chopped

1 apple, diced

1/2 cups pomegranate seeds
Directions
Preheat the oven to 425°F and line a large baking sheet with parchment paper.

In a bowl, toss the butternut squash cubes with 1 tablespoon of the olive oil. Spread on the prepared baking sheet and roast for 25 minutes. Set aside to cool.

Meanwhile, prep the dressing: Blend the apple cider vinegar with the softened dates, mustard, almond milk, onion powder, and ½ cup of the olive oil in a food processor until creamy and smooth. Str in the poppy seeds.

In a large bowl, massage the kale with the remaining tablespoon of olive oil until softened.

Add the shredded Brussels sprouts, pecans, apples, and pomegranate seeds to the bowl and mix well. Add the cooled butternut squash and toss gently. Slowly pour in the dressing a little at a time and toss each time to make sure it's evenly coated. Serve right away.