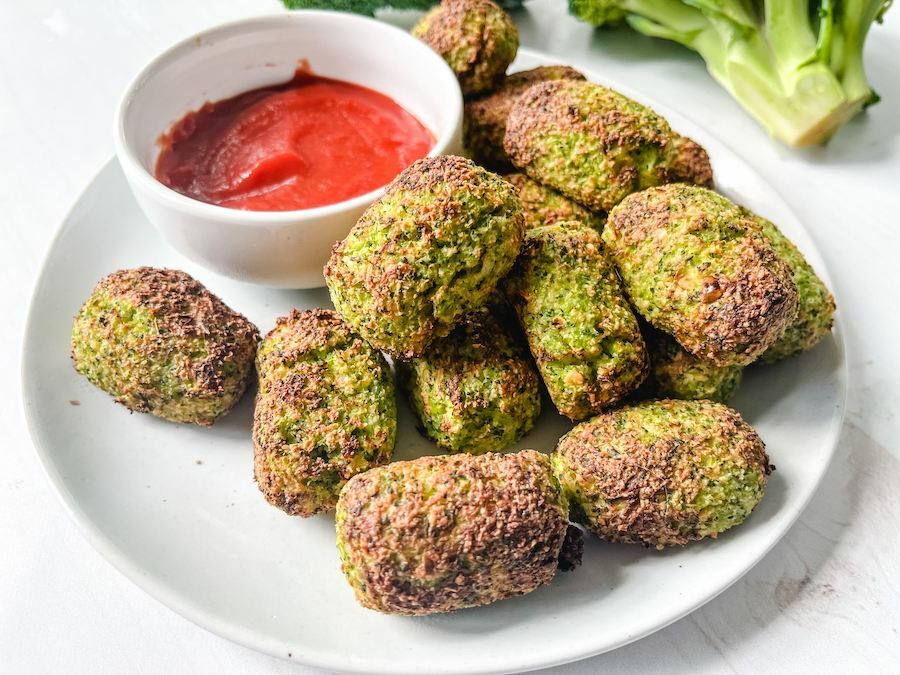 Sign us up for these crispy-crunchy broccoli tots you can make right in the air fryer! All you need is six healthy ingredients and your favorite Paleo-approved sauces for dipping.
No need to visit the freezer aisle for the best broccoli tots you'll ever have. This healthy recipe is free of salt and preservatives, and actually tastes like fresh broccoli instead of hiding it in oil.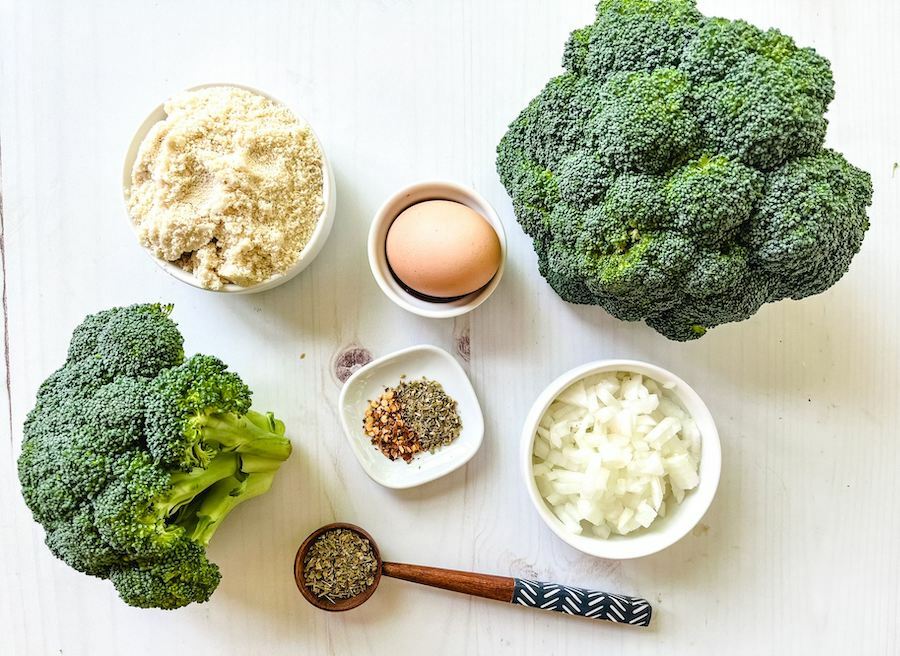 To get your tots nice and green, you have to start with good broccoli. Grab one large stalk without any brown spots. Chop into florets. To keep that vibrant color, blanch the florets by setting them in boiling water for just a few minutes, then transfer to an ice bath to stop the cooking. This keeps your broccoli nice and crisp-tender instead of mushy, and keeps the color nice and bright.
Drain the broccoli and roughly chop into smaller pieces. Use a measuring cup to make sure you have two cups. Tip: You can always freeze any leftover broccoli florets to save for a future batch of veggie broth!
Pulse the cooked broccoli in a food processor until it resembles rice, then add the diced onion and pulse again. Transfer the mixture to a bowl and stir in the almond meal, Italian seasoning, and red pepper flakes. You can omit the red pepper if you'd like your broccoli tots less spicy, or use black pepper instead. Mix in the whisked egg until combined.
Use a tablespoon or mini ice cream scoop to measure out the mixture. You can roll them into balls to keep it easy, or use your hands to form them into a tot shape – simply roll into a short log, then use your thumbs to press down the edges. You should get around 14-18 tots. Place in your air fryer in a single layer, giving them as much room as you can!
Cook at 375°F for 10-12 minutes. If your air fryer is on the fast side, check after about 8 minutes to see if they're done. They should just be starting to turn golden. Keep a close eye on them and don't let them burn!
Serve your tots with your favorite healthy condiments. We like to use Paleo ketchup for dunking, but Paleo Dijon mustard or mayo works well too! You can also add a bit of garlic to the mayo to make an aioli.
Oven directions: If you don't have an air fryer, you can still use your oven! Simply bake your broccoli tots on a baking sheet in the oven at 375° for 20 minutes, flipping every 5 minutes to ensure they're evenly browned on both sides.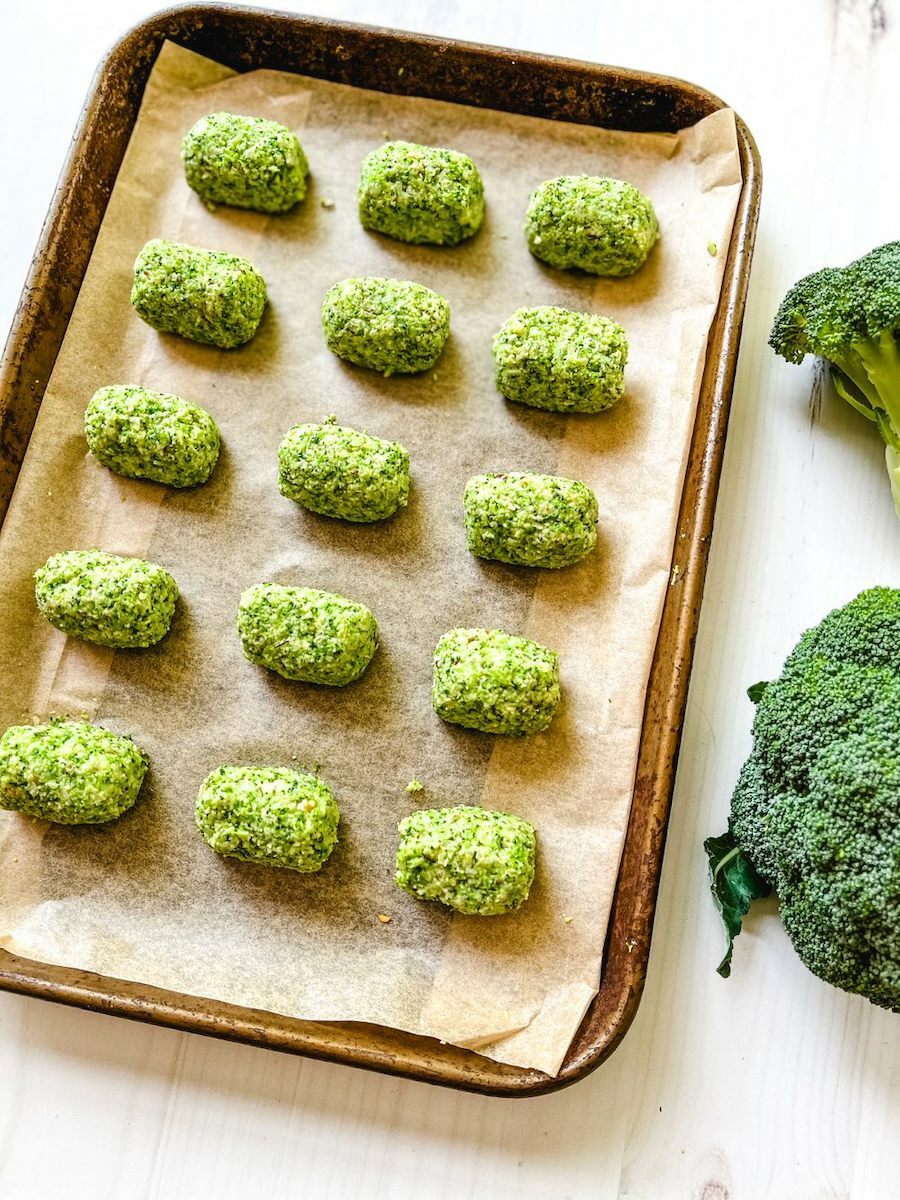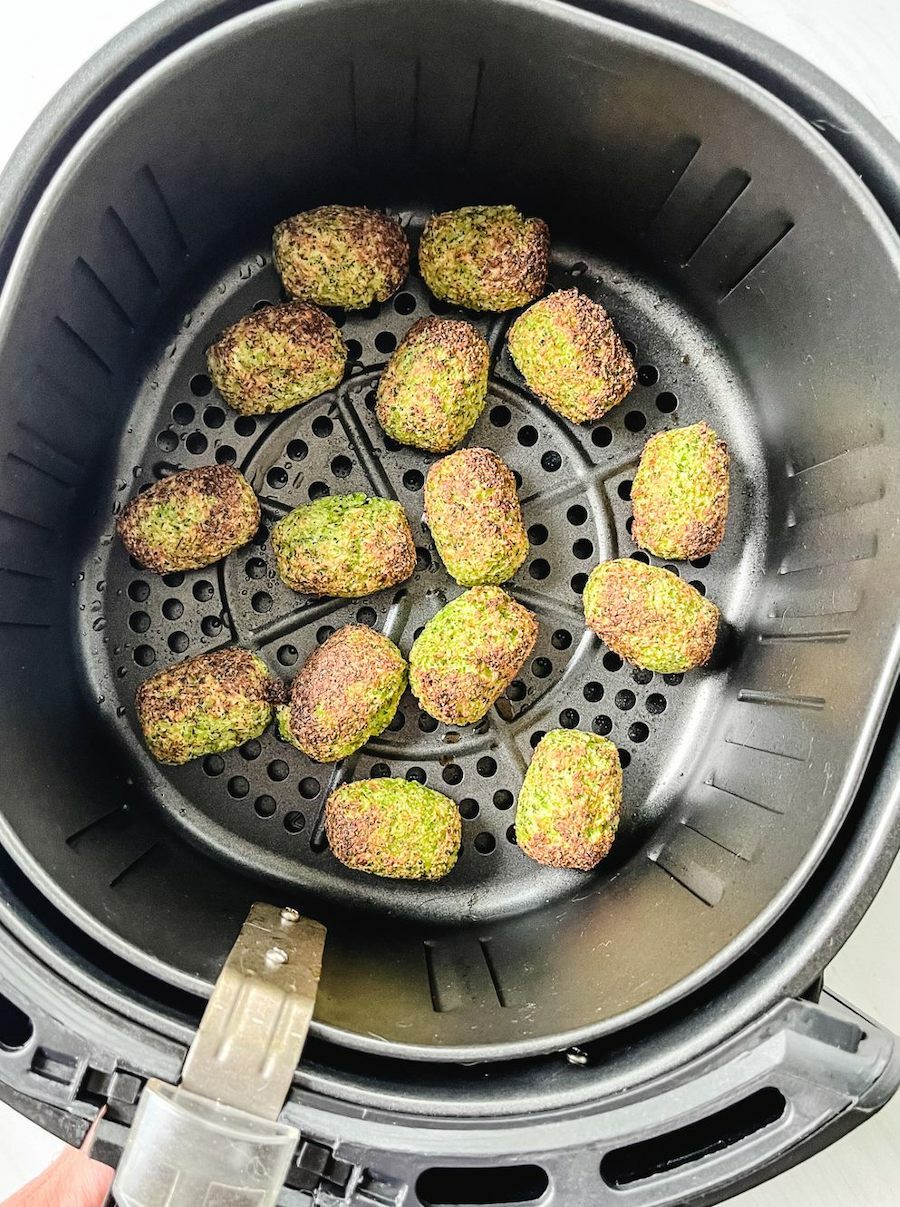 For hundreds of pure Paleo recipes be sure to check out The Real Paleo Diet Cookbook and Real Paleo Fast and Easy.
Details
Prep Time:

10 minutes

Cook Time:

15 minutes

Total Time:

25 minutes
Ingredients
2 cups broccoli florets

1/4 cups yellow onion, diced

2/3 cups almond meal

1 tsp Italian seasoning

1/2 tsp red pepper flakes

1 egg, whisked

Paleo ketchup, for serving
Directions
Bring a small pot of water to a boil. Add the broccoli florets and cook for 2-3 minutes, then rinse with cold water or plunge into an ice bath. Drain and roughly chop.

Using a food processor, pulse the cooked broccoli until it resembles rice. Then add the diced yellow onions, pulse a few times.

Transfer to a mixing bowl and stir the almond meal, Italian seasoning, and red pepper flakes and stir well. Add the whisked egg and mix again until fully combined.

Use a tablespoon to scoop up the broccoli mixture into about 14-18 tots. Use your hands to roll into a log, then press the ends to form into a tot shape. Set in a single layer in the basket of your air fryer.

Turn on the air fryer to 375°F degrees. Cook for 10-12, minutes depending how quick your air fryer cooks. If yours tends to cook faster, check them at the 8 minute mark.

Serve warm with Paleo ketchup for dipping!