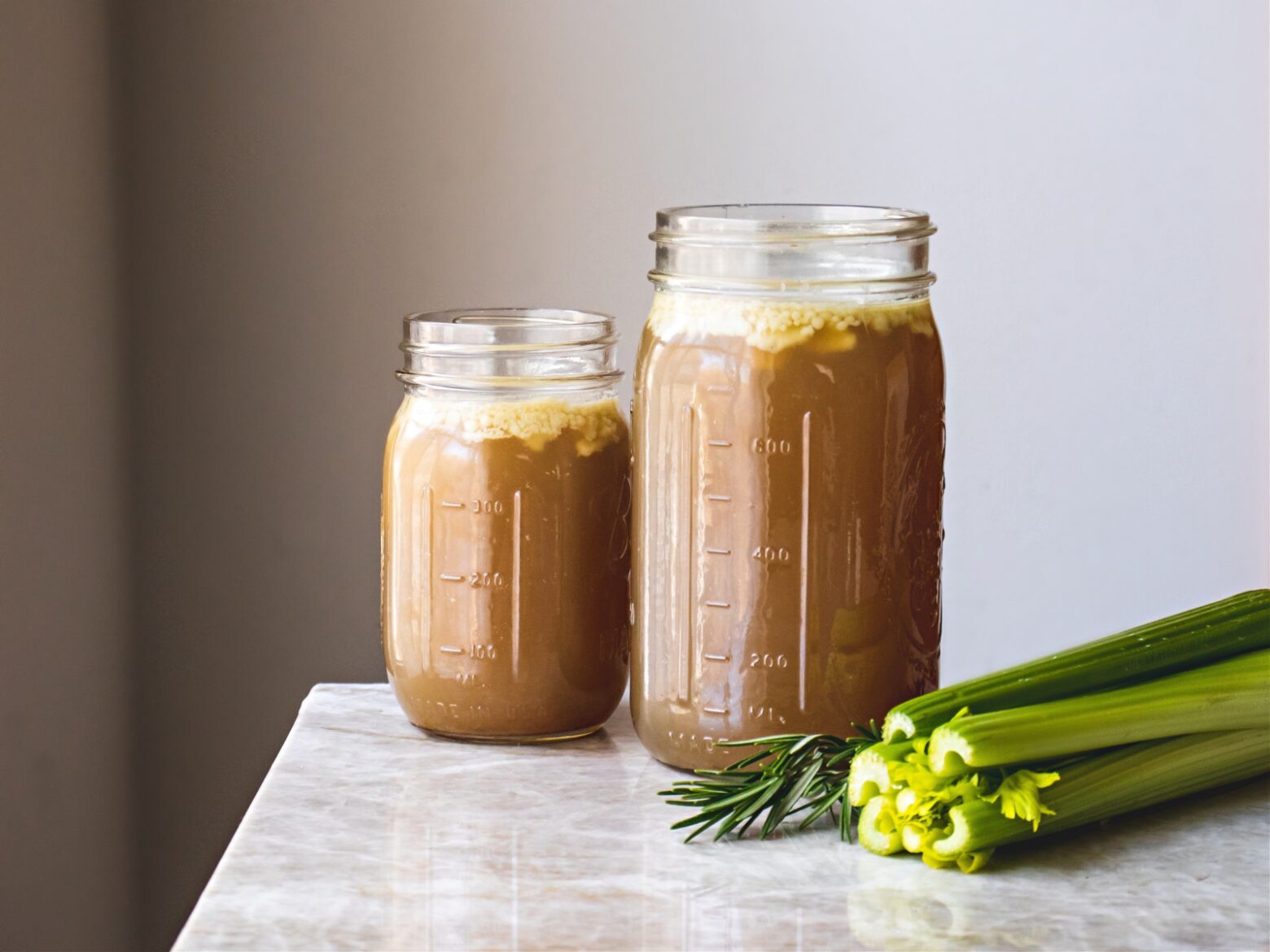 Homemade Beef Bone Broth Recipe
Bone broth has many heath benefits and is tastier than normal stock. Try it in your soup, stew, gravy or even as a recovery drink!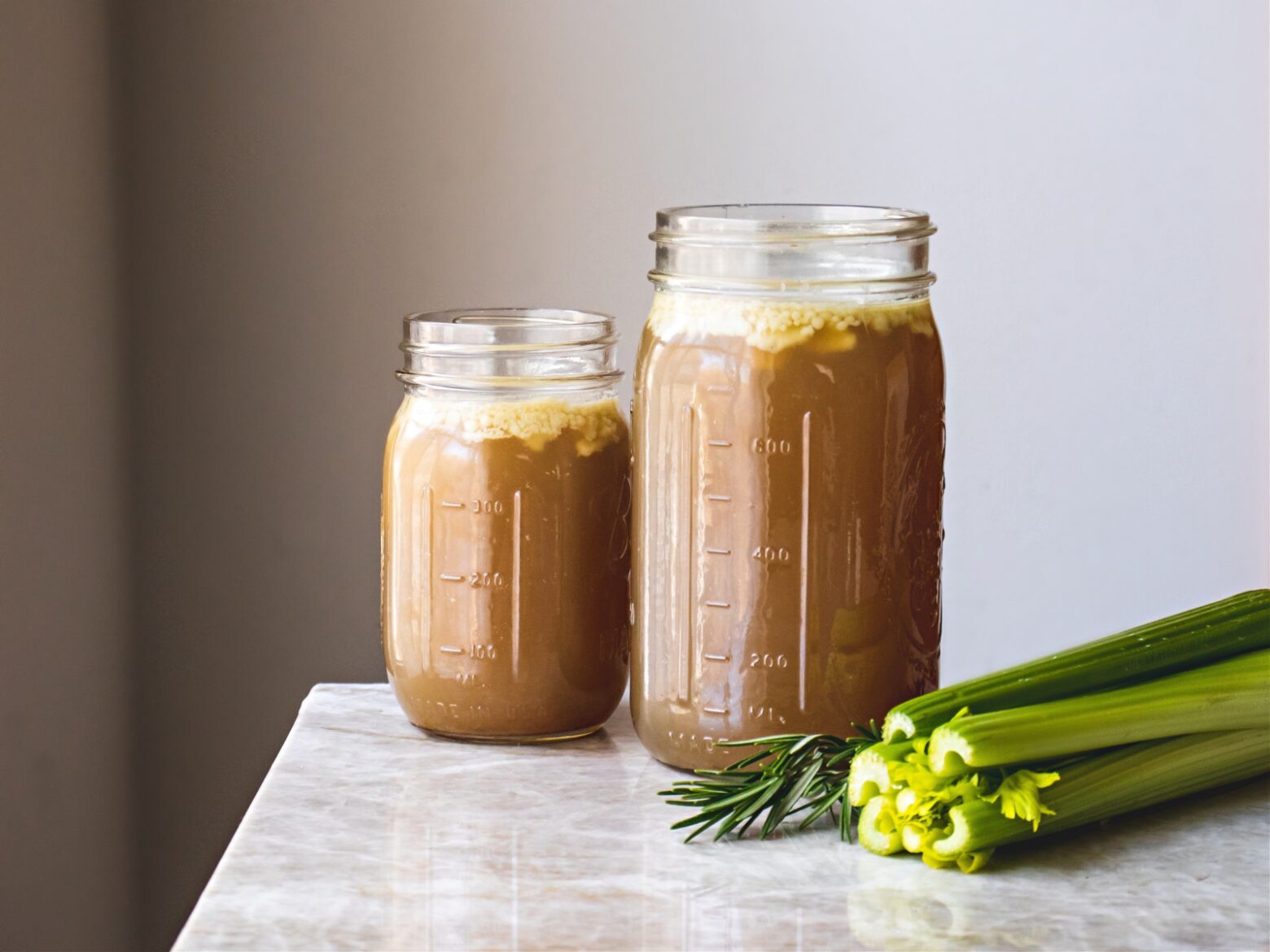 Slow simmer roasted beef bones in fresh water with your favorite assortment of veggies and herbs for the ultimate comforting elixir.
Not only is bone broth tastier than watery stock, but bone broth—real bone broth, made from whole roasted bones—is touted for its health effects. Animal bones are packed with vitamins, minerals, and collagen, all of which seep into the broth when slow simmered in water. The end result: a healthy liquid that can help ease digestion, fight inflammation, and even improve sleep.
Start by roasting the bones in a hot oven. This intensifies the flavor of the broth and adds richness you can't otherwise achieve, so don't skip this step.
Next, cover the bones in water and set over the stovetop. Add a bit of apple cider vinegar to help break down the collagen while infusing the broth with a nice tangy zip. Let the bone broth simmer on the stovetop for 10-12 hours, occasionally skimming off the excess fat and sediment at the top with a fine mesh strainer.
When there's about four hours of cook time left, add your favorite hearty veggies and herbs. You don't want them to overcook, so be sure to add them for the final few hours of cooking only. The other good news: everything will get strained out, so just roughly chop as much or as little as you like.
Suggested add-ins:
Onion
Garlic cloves
Celery
Carrots
Fennel bulb and fronds
Rosemary
Thyme
Bay leaves
Peppercorns
Keep in mind that you don't need to add any veggies to the bone broth, but it helps to balance the flavor and adds even more antioxidants to the broth.
When you're done simmering your broth, let it come down to room temperature. As it cools, there will be some gelling and a thin layer of fat at the top. Do not discard this! These contain the vital nutrients that bone broth is known for, and is a sign you made your bone broth correctly.
Use your homemade bone broth in soups, stews, gravy, and any recipe that calls for beef stock. You can even try it as a recovery drink after a tough workout.
Tips:
This recipe can be made in the crockpot as well. Follow the same instructions and slow cook on low for 12-24 hours. Add vegetables four hours before cooking is finished.
Store your cooled bone broth in sterilized glass jars. It will keep for five days in the fridge, or up to a year in the freezer.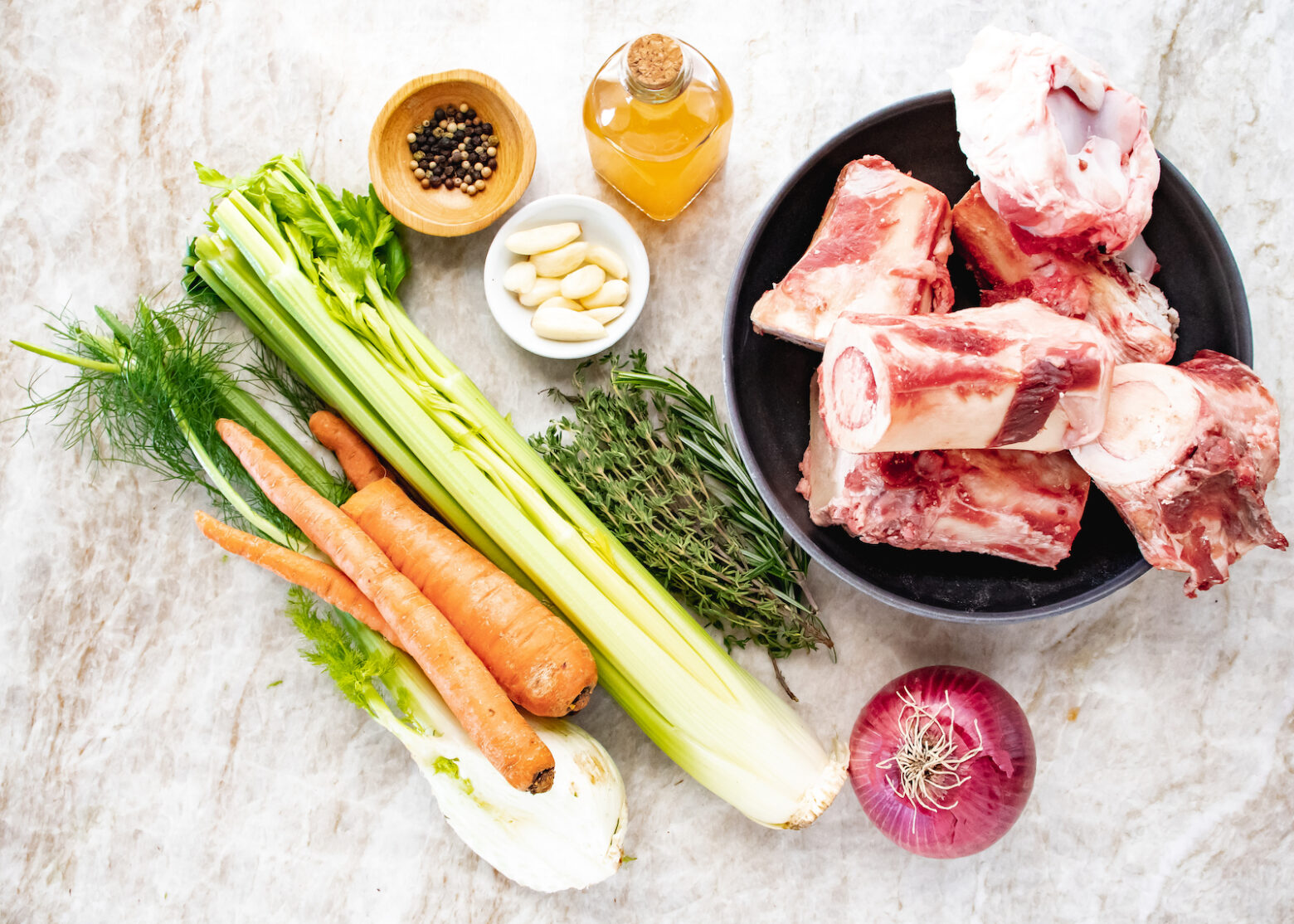 For hundreds of pure Paleo recipes be sure to check out The Real Paleo Diet Cookbook and The Real Paleo Diet Fast and Easy.
Details
Serves:

8

Prep Time:

10 minutes

Cook Time:

12 hours 25 minutes

Total Time:

12 hours 35 minutes
Print this Recipe
Ingredients
10 cups filtered water

4 lb raw beef bones (knuckle, shank, marrow)

2 tbsp apple cider vinegar

Vegetables and herbs (optional)
Directions
Preheat oven to 425ºF. Place beef bones on a large baking sheet. Roast uncovered for 20-25 minutes, until bones are browned.

Transfer bones to a large stock pot and cover with filtered water. Add apple cider vinegar. Heat over medium heat until boiling, then reduce heat to low and cover. Simmer for 10-12 hours, occasionally skimming and excess fat from the top using a fine mesh strainer or slotted spoon.

When broth has 4 hours remaining of cook time left, add in your desired vegetables and herbs (if using).

Remove large bones and vegetables with a slotted spoon. Strain bone broth through a large mesh strainer into a large bowl. Cool bone broth to room temperature.

Divide bone broth between sterile cans, secure the lids, and refrigerate or freeze.