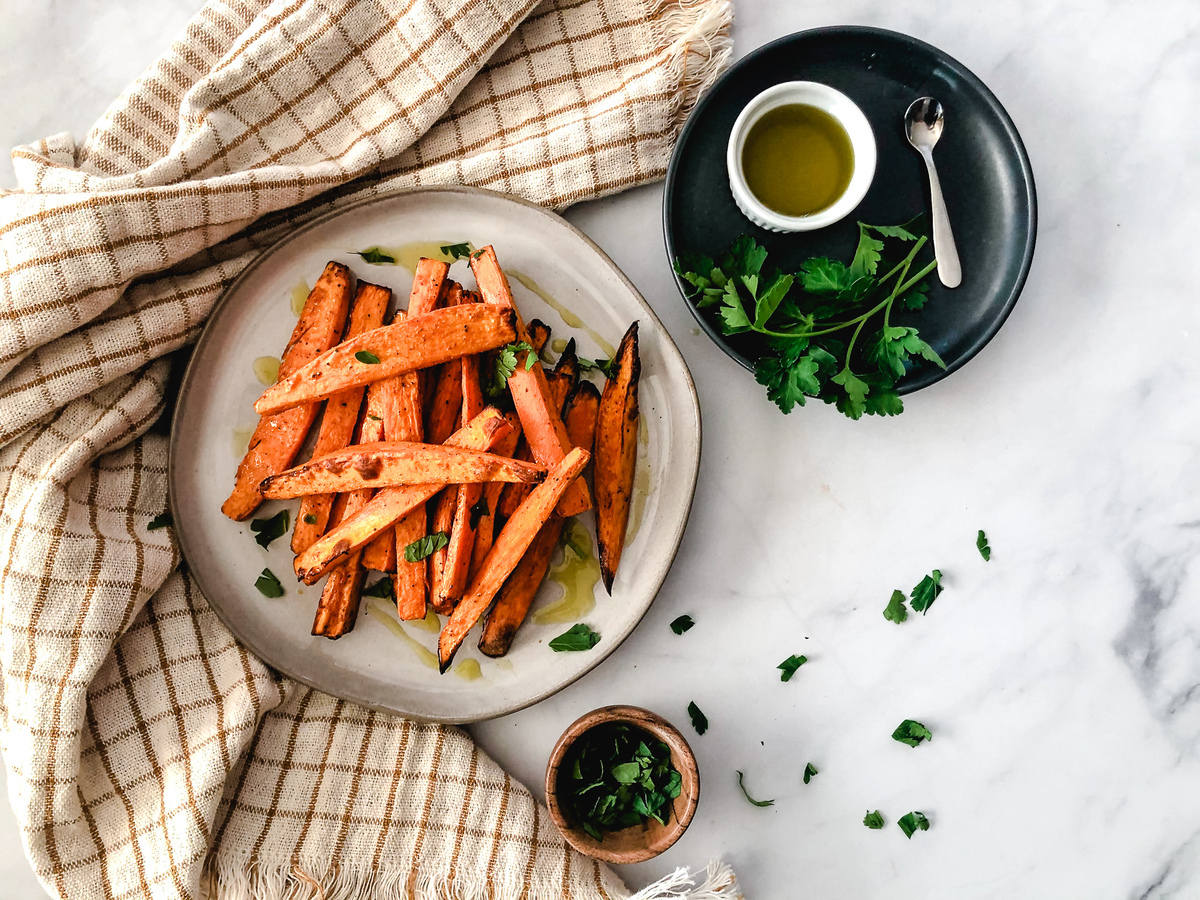 Sweet Potato Fries Air Fryer Recipe (Just 5 Ingredients!)
Use your air fryer to achieve perfectly crisp sweet potato fries that only taste like they're deep-fried!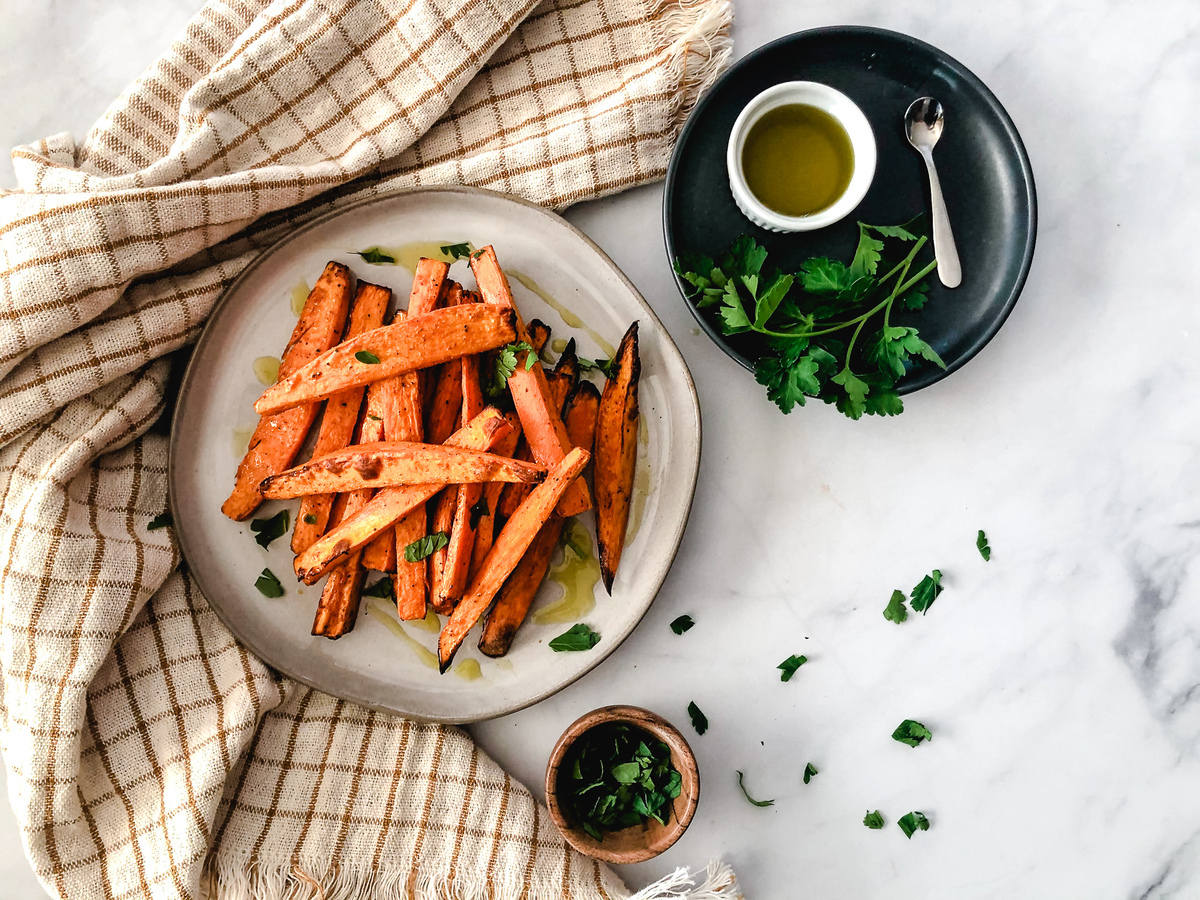 With just 5 ingredients and an air fryer, you can enjoy delicious, crunchy, crave-satisfying sweet potato fries! Our sweet potato fries air fryer recipe is healthy and Paleo, of course, and pairs beautifully with grilled meats. You can crunch into these satisfying air fryer french fries knowing that sweet potatoes are much better for you than oil-fried white or yellow potato fries.
The air fryer is exploding in popularity because of its ability to "fry" up crispy, crunchy foods using hot air instead of a vat of oil. By using an air fryer instead of deep frying, you save yourself lots of added calories and unhealthy trans fats.
Since white potatoes aren't Paleo, we start by slicing up sweet potatoes instead. Sweet potatoes are a great source of fiber and vitamin A, and we think they're much tastier than plain white potatoes anyway.
You can leave your sweet potatoes either peeled or unpeeled—it's simply a matter of preference. If you like your fries with the skin on, be sure to give your sweet potatoes a good scrub.
To slice them into fries, start by cutting off the small ends of the sweet potatoes, then cut in half lengthwise. From there, lay them on the cut side and continue to cut into matchsticks, about ½-inch thick (or thinner if you like them extra crispy).
Toss your sweet potato sticks in a bit of olive oil and seasonings. We used onion powder, chili powder, and black pepper, but you can also use garlic powder and/or paprika if you prefer.
Even if your air fryer doesn't say it's necessary, we recommend that you preheat it to 380°F. This will ensure that your fries start cooking up immediately.
Depending on how big your air fryer is (and how big your sweet potatoes are), you'll probably have to cook your fries in batches. Add just enough fries to cover the bottom of the air fryer, without overcrowding. Let them cook for 10-15 minutes per batch, using tongs or shaking halfway to ensure even cooking.
Serve your sweet potato fries hot with a sprinkle of fresh parsley, and enjoy!
Tip: If you don't have an air fryer, you can still make these fries. Add your sweet potato fries to the oven preheated at 425°F. Bake for about 20-25 minutes, flipping them halfway, until golden brown and crispy.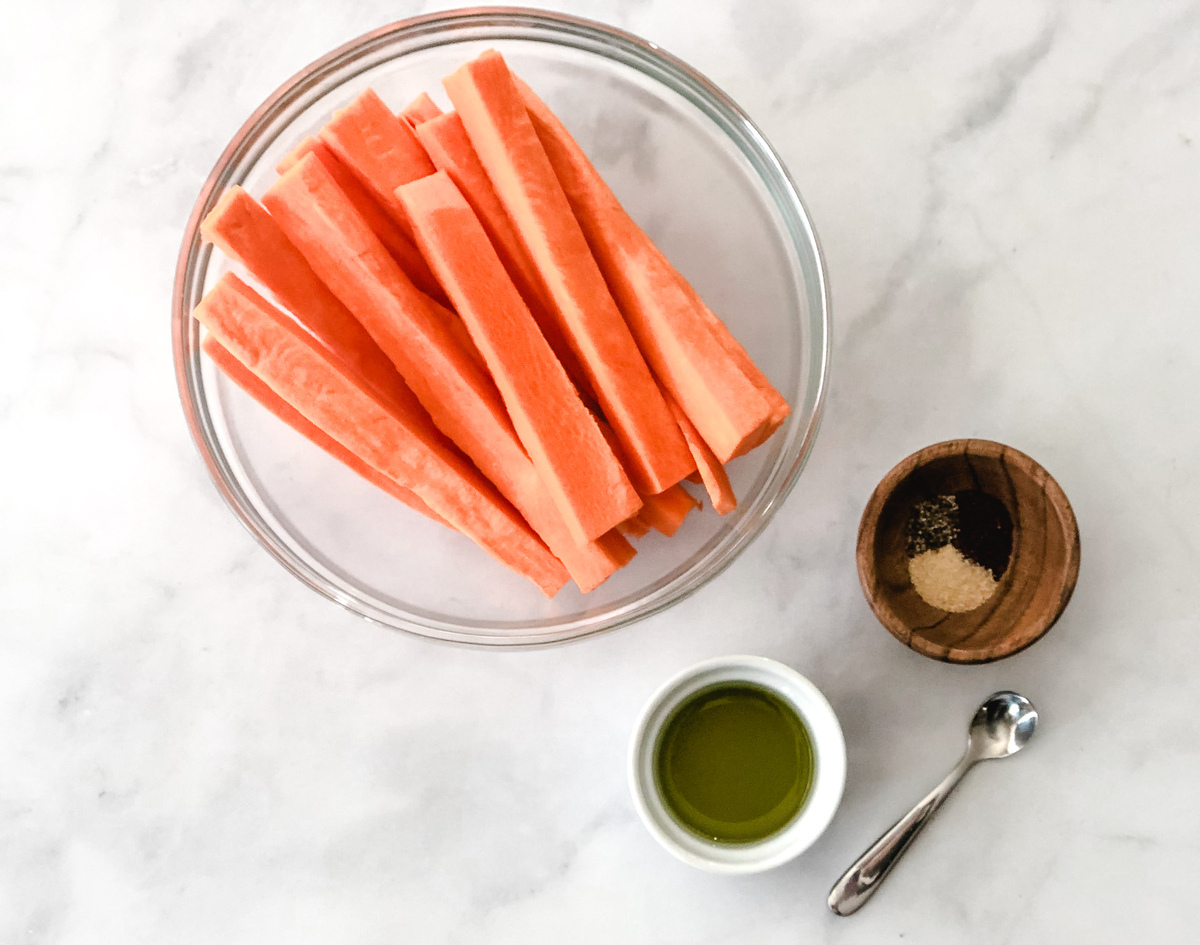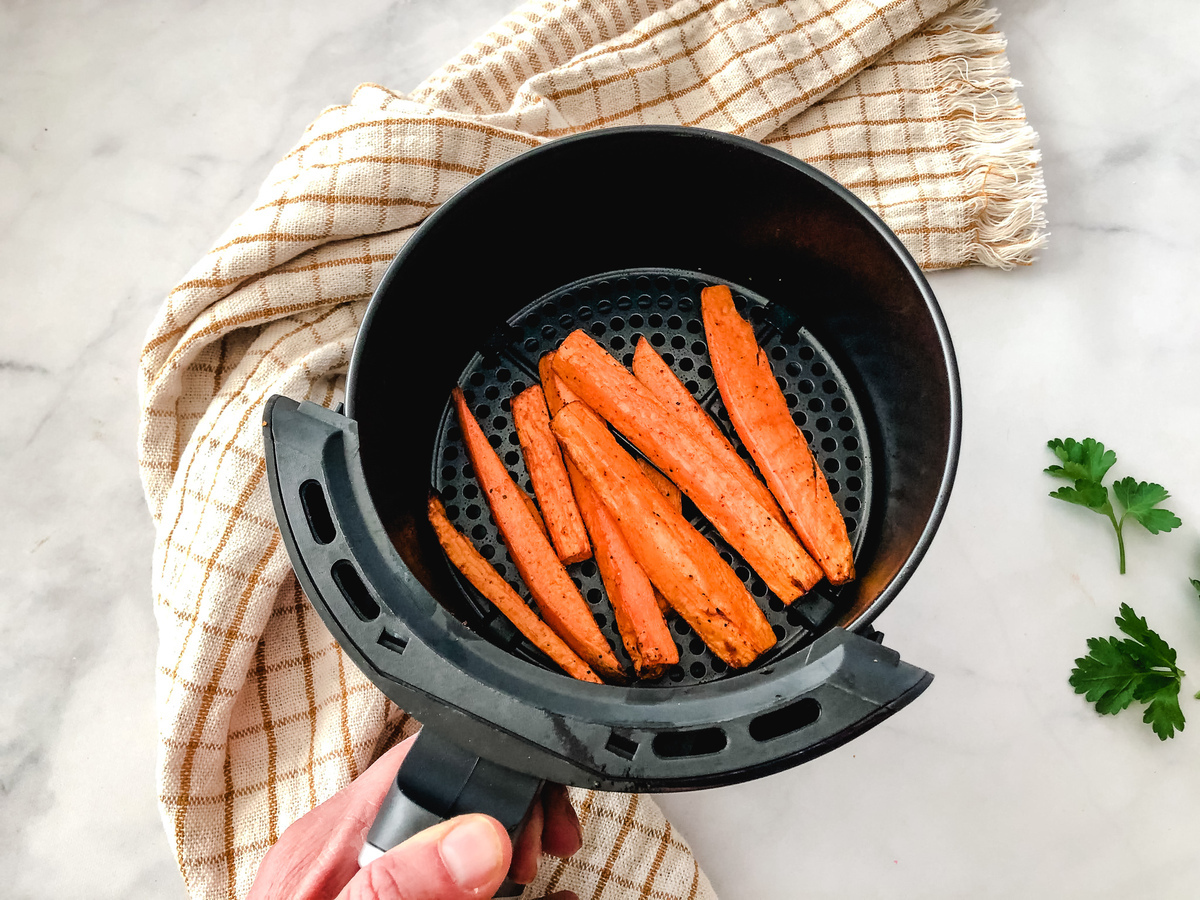 For hundreds of pure Paleo recipes be sure to check out The Real Paleo Diet Cookbook and The Real Paleo Diet Fast and Easy.
Details
Serves:

2

Prep Time:

5 minutes

Cook Time:

30 minutes

Total Time:

35 minutes
Print this Recipe
Ingredients
2 medium sweet potatoes, sliced in 1/4 inch thick sticks

2 tsp olive oil

1/2 tsp onion powder

1/2 tsp chili powder

1/4 tsp black pepper

Fresh parsley, for serving
Directions
Preheat the air fryer to 380°F.

Put the sweet potatoes in a large bowl and cover with oil and spices. Mix well to coat.

Add to the air fryer in a single, uncrowded layer. You may have to cook in batches of 2-3.

Cook 10-15 minutes per batch, shaking half way to prevent burning.

Serve hot with a sprinkle of fresh parsley.