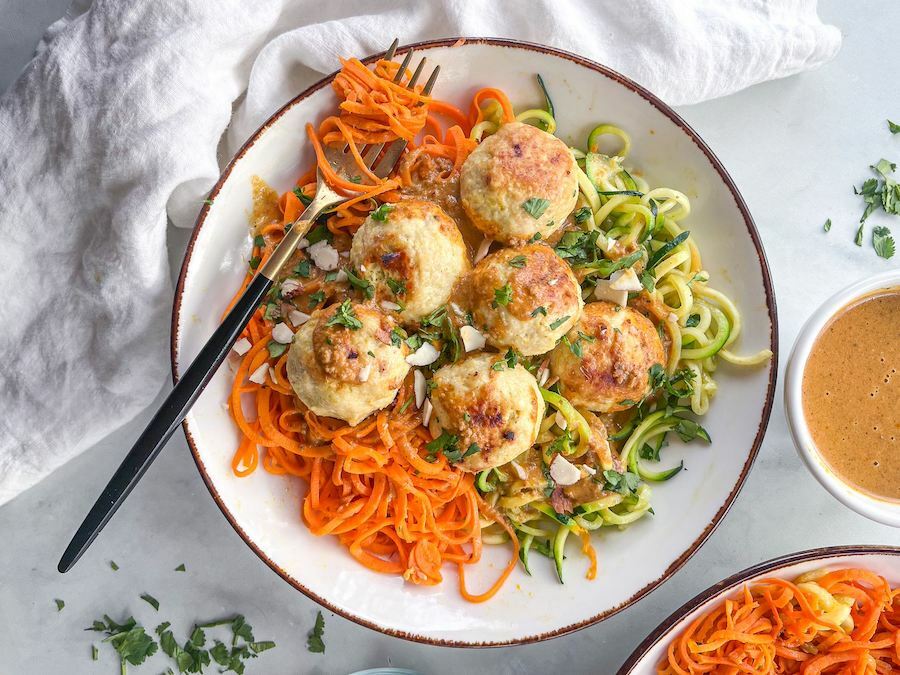 Thai Chicken Curry Meatballs with Zoodles

Who's craving Thai!? These Chicken Curry Meatballs are bold and flavorsome, with a mouthwatering curry sauce and the lightness of zoodles (zucchini noodles).
Imagine the heartiness of spaghetti and meatballs, only with the bold flavors of Thai cuisine. These meatballs are seasoned with garlic, cumin, and fresh ginger for those warm and rich Thai flavors you know so well. We used ground chicken in this recipe, but you could easily substitute ground turkey or beef if you prefer.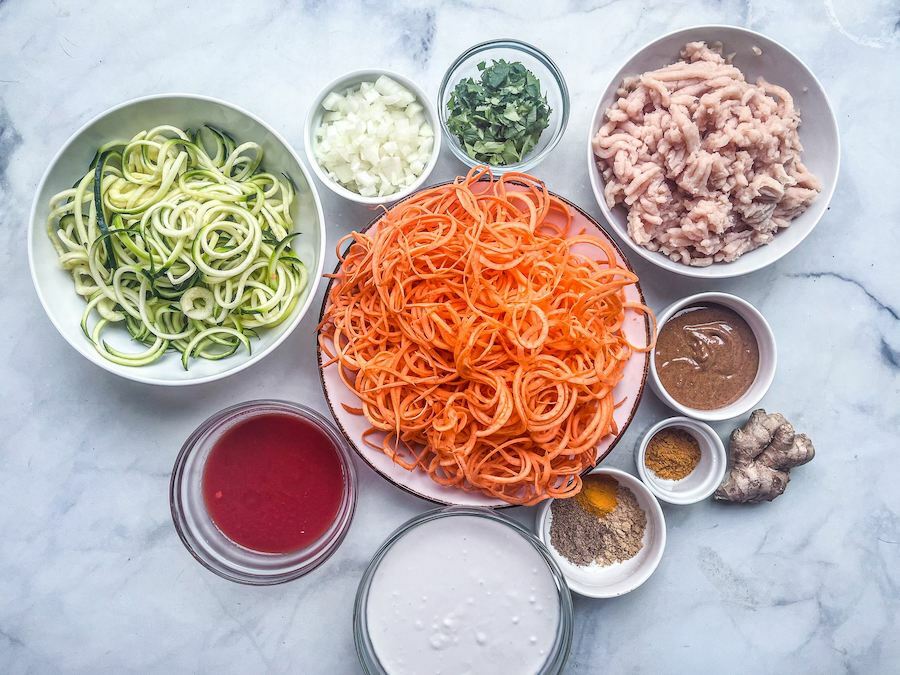 If you want to save time, start by preparing the rest of the ingredients while the meatballs bake. Chop your veggies, and spiralize the sweet potato and zucchini. Zoodles only need about five minutes in the skillet—just enough to warm them up while keeping a bit of crunch.
Next, add the coconut milk, minced garlic, almond butter, spices, and tomato sauce to a pot over medium-high heat to make the creamy curry sauce. (If you prefer, you could do this first.) Drizzle the creamy curry sauce all over the zoodles, add the meatballs, and finally garnish with chopped cilantro and crushed almonds.
For a different flavor profile, include lime wedges, sunflower seeds, cashews, or any other nuts, seeds, and herbs you like. Dig in and enjoy!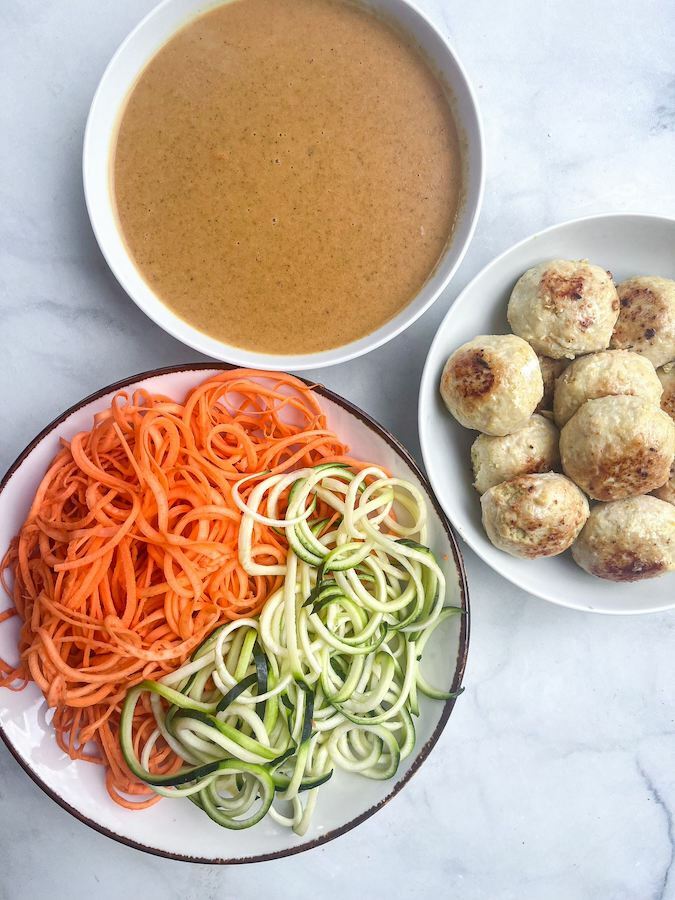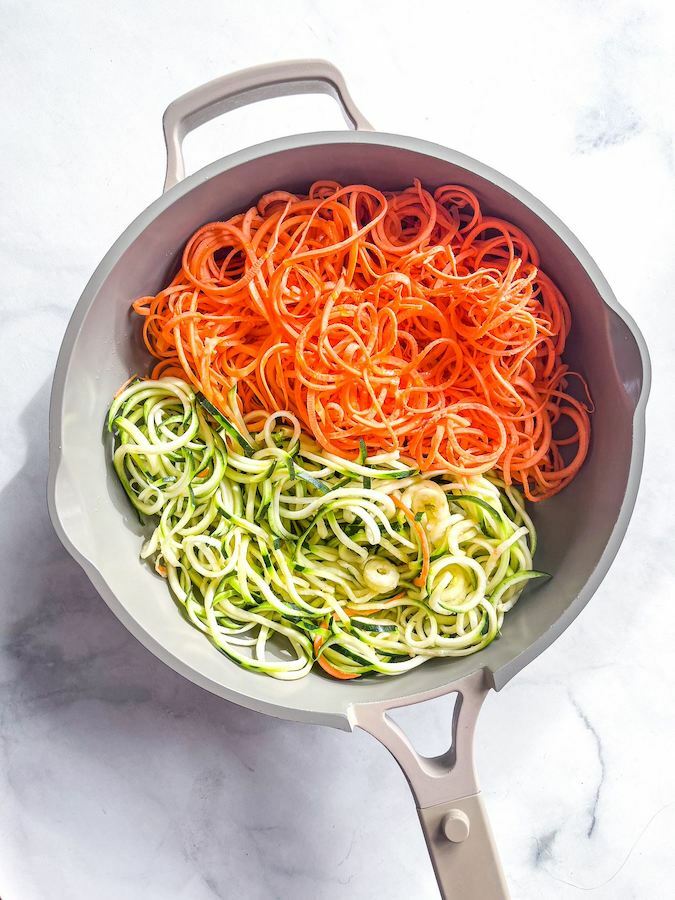 Tips:
For a crispier meatball, air fry them instead of pan frying them or baking in the oven. Use an air fryer on 400 degrees F for 10-12 mins, flipping halfway through
Don't have garam masala? Make your own! Use ¼ tsp each of ground cumin, cinnamon, coriander, and fennel for a similar flavor profile.
Autoimmune Protocol (AIP) omissions and substitutions are listed in the recipe ingredients.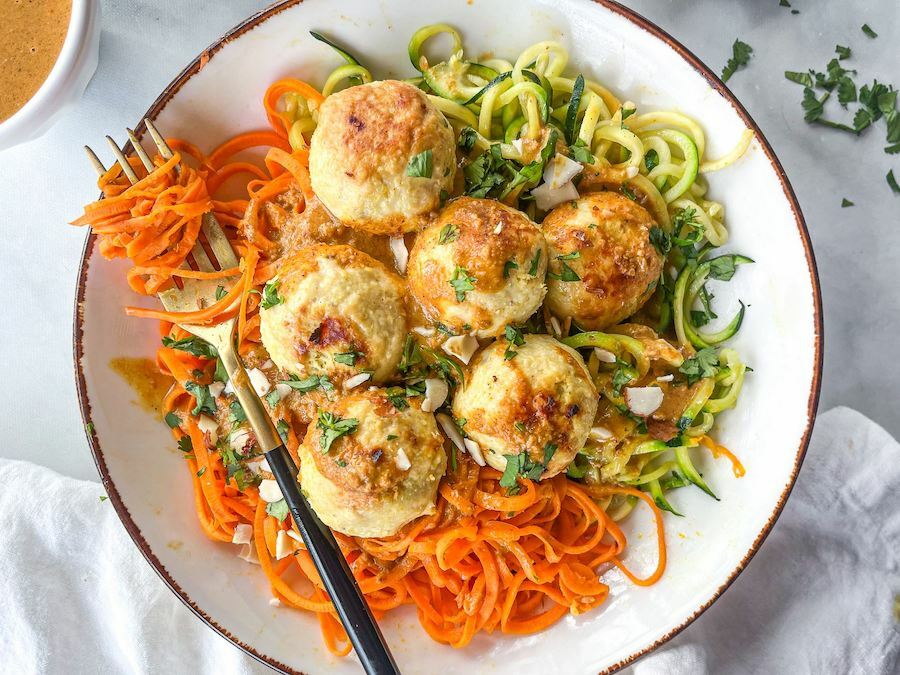 Details
Prep Time:

20 minutes

Cook Time:

15 minutes

Total Time:

25 minutes
Ingredients
1/2 medium onion, chopped

1 tsp fresh ginger, peeled and minced

2 cloves fresh garlic, pressed

1 tsp curry spice powder (AIP – substitute with an extra tsp of ginger)

1 lb ground chicken

2 tbsp olive oil

15 oz coconut milk

1/4 cups almond butter, unsalted

1 tsp garam masala

1/2 tsp ground turmeric

1/2 cups unsweetened tomato sauce (AIP – substitute with pumpkin puree)

1 large sweet potato, spiralized

2 medium zucchini, spiralized

1/2 cups cilantro, chopped for garnish

1/4 cups crushed almonds (garnish optional)
Directions
Add the chopped onions, 1 tsp fresh ginger, a clove of minced garlic, and curry powder to a small food processor. Blend until it's smooth, place in a medium-size bowl, then combine with the ground chicken.

Once the chicken is mixed well, make 14-16 meatballs using your hands.

In a large frying pan over medium heat, using 1 TBSP of olive oil brown the meatballs on all sides. Cook for 12-15 minutes or bake at 375 degrees F for 20 minutes

In a small pot, add the curry sauce ingredients: coconut milk, a clove of minced garlic, almond butter, spices, and tomato sauce over medium-high heat. Bring to a boil, then reduce to a simmer while the meatballs are cooking.

In a large pan, using 1 TBSP of olive oil on medium heat, add the sweet potato and zucchini noodles. Let them cook for 3-5 minutes, or until they are soft.

Once they are done, divide the noodles between 2-4 plates. Place the cooked meatballs on top, then spoon the curry sauce all over and garnish with cilantro and almonds. Enjoy!