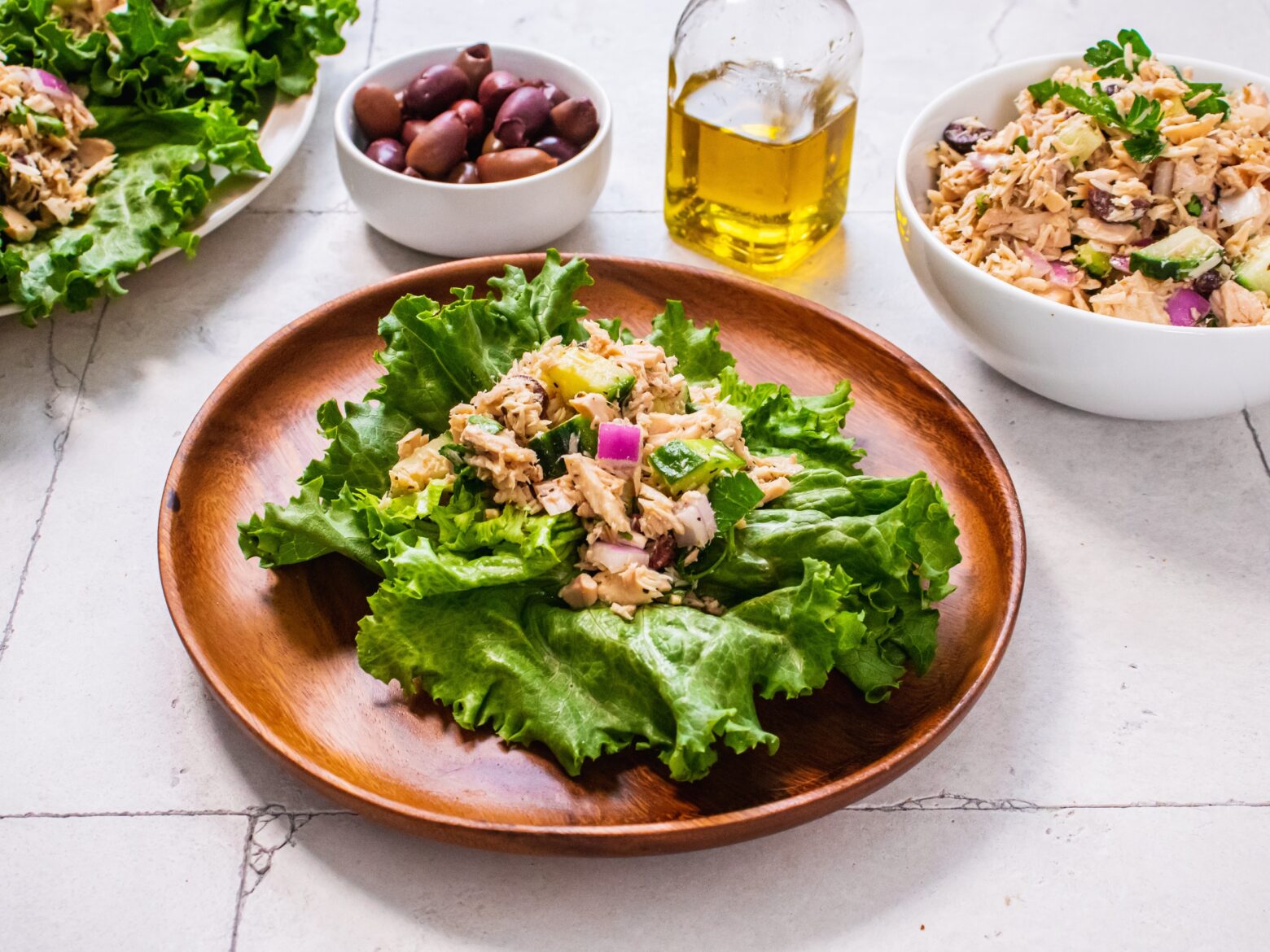 Want a light meal that will enhance your brain health? Bookmark these quick and easy tuna salad lettuce wraps ASAP! Albacore tuna is packed with omega-3 fatty acids, which may help improve memory.
While typical tuna salad is slathered in unhealthy dairy-based mayo, this Paleo recipe uses a healthy, lemony dressing instead. To make it, simply whisk together olive oil, lemon juice, Paleo Dijon mustard (you can make your own with the recipe here), and herbs. We used dried basil, oregano, and black pepper, but you could also add dill or thyme.
Next, mix together the tuna salad ingredients. To keep this recipe low-sodium, be sure to use wild-caught tuna that is packed in water with no added salt, and rinse the olives to remove some of the sodium while retaining their delicious flavor. We also used red onion and chopped cucumbers here, but you could also add celery or tomato if you prefer.
Top your Paleo tuna salad with the dressing and toss well to combine. Refrigerate for at least half an hour to chill and allow the flavors to marry a bit, then scoop into lettuce, wrap it up, and enjoy!
Tip: This recipe is lighter than traditional mayonnaise-based tuna. For a touch of creaminess, add a couple of tablespoons of Paleo-compliant mayonnaise.
Note: While olives are not perfectly Paleo, it's okay to enjoy them sparingly. Just remember to rinse them really well to remove any excess sodium!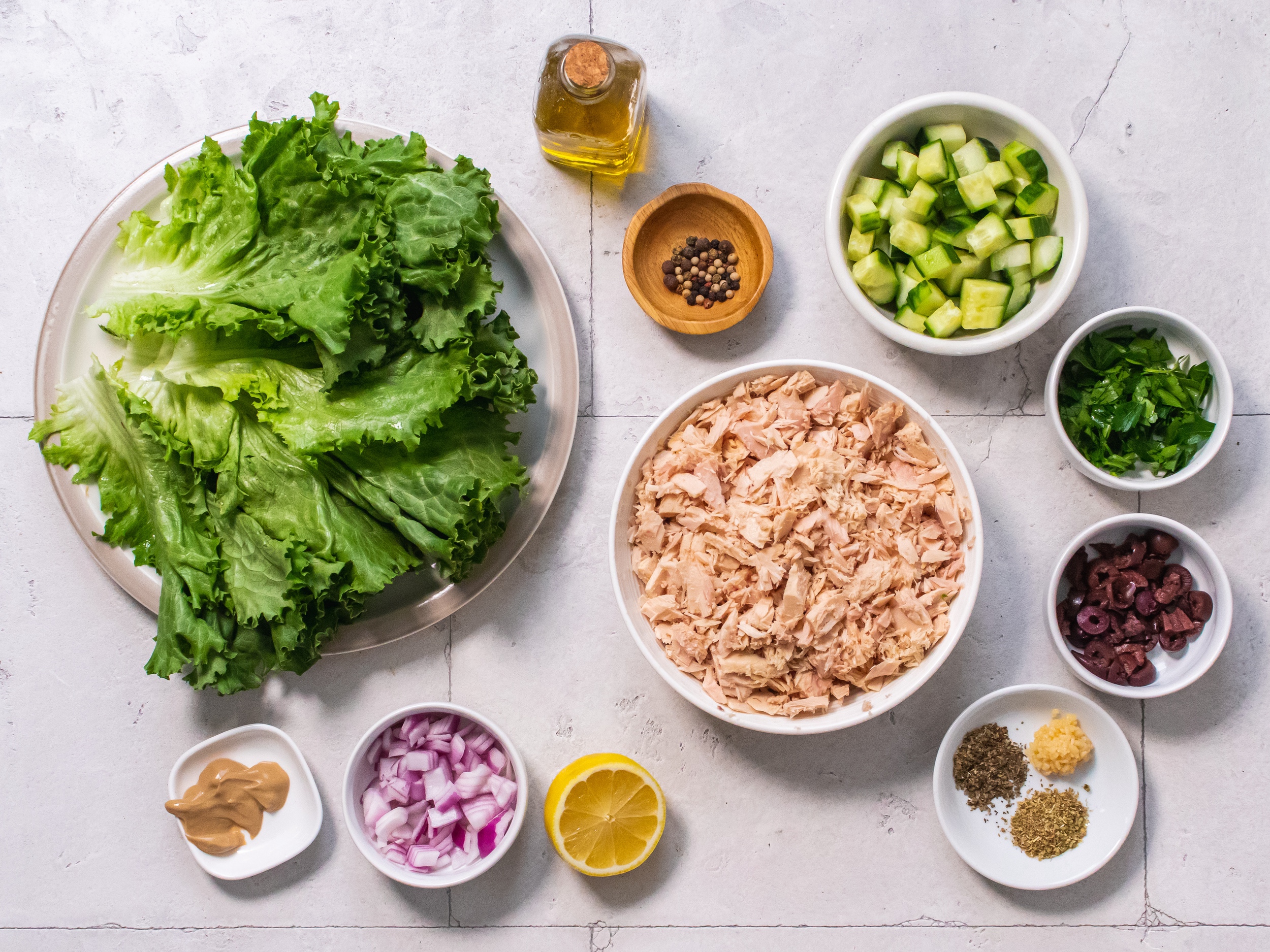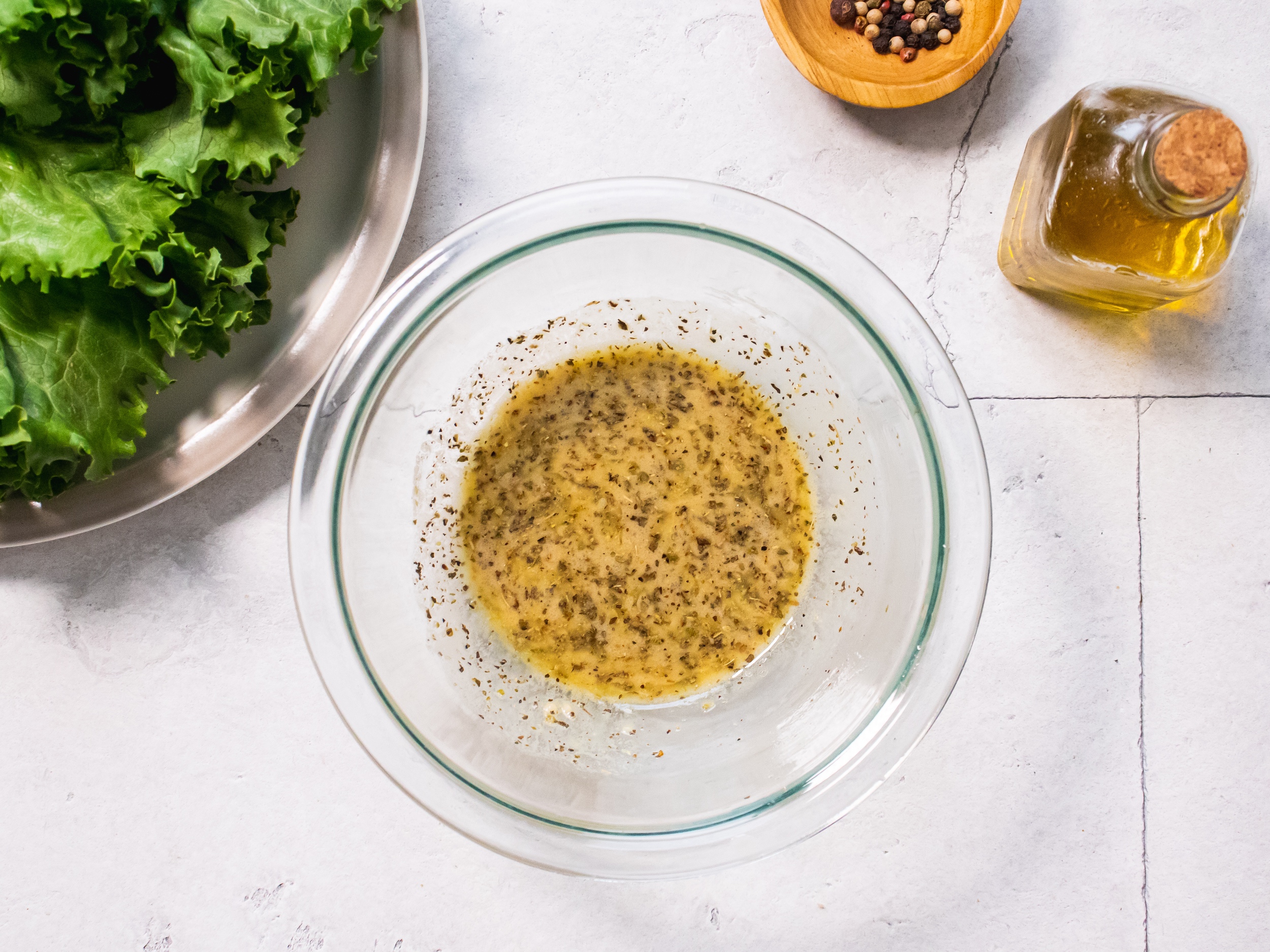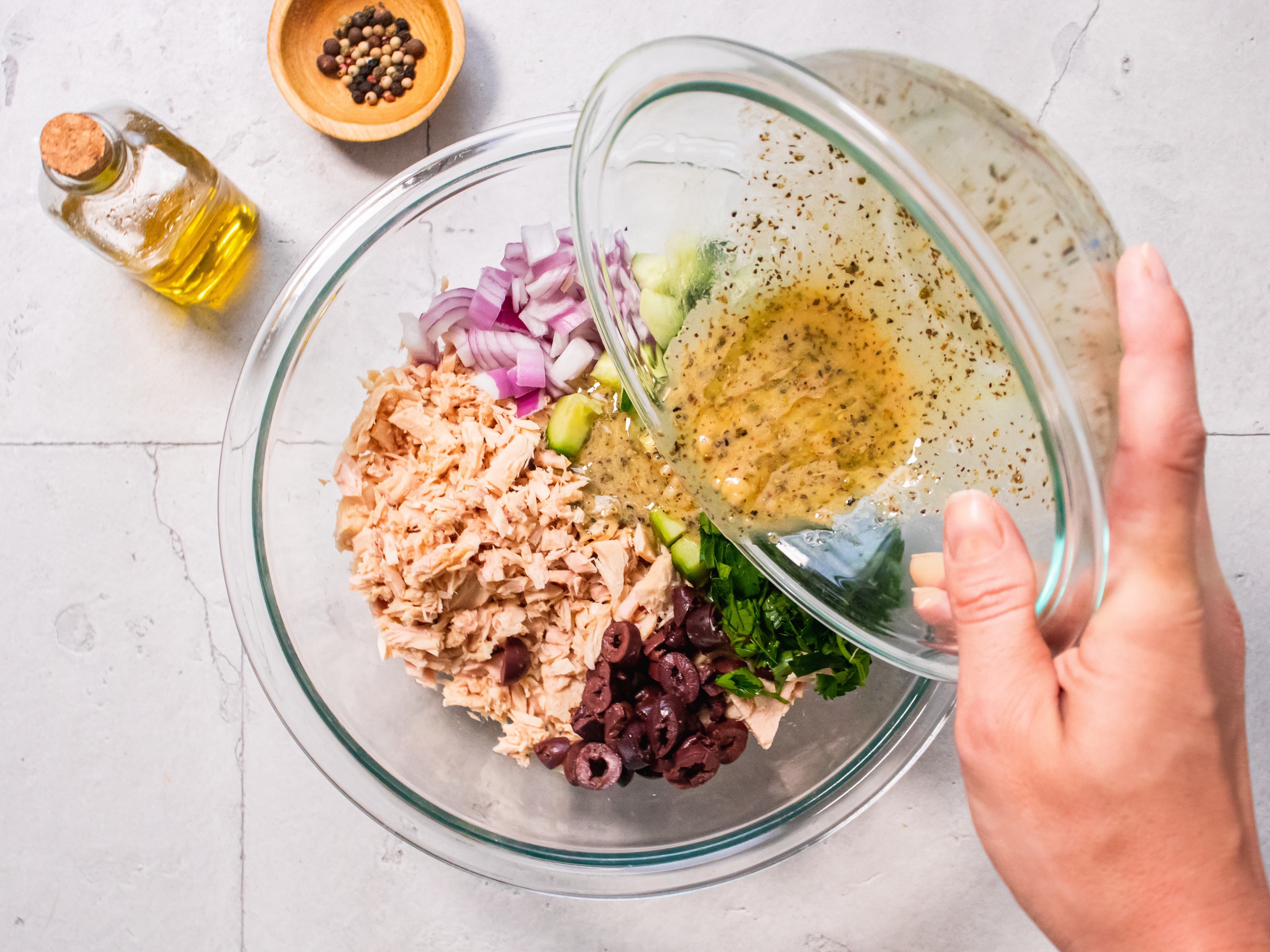 For hundreds of pure Paleo recipes be sure to check out  The Real Paleo Diet Cookbook  and The Real Paleo Diet Fast and Easy.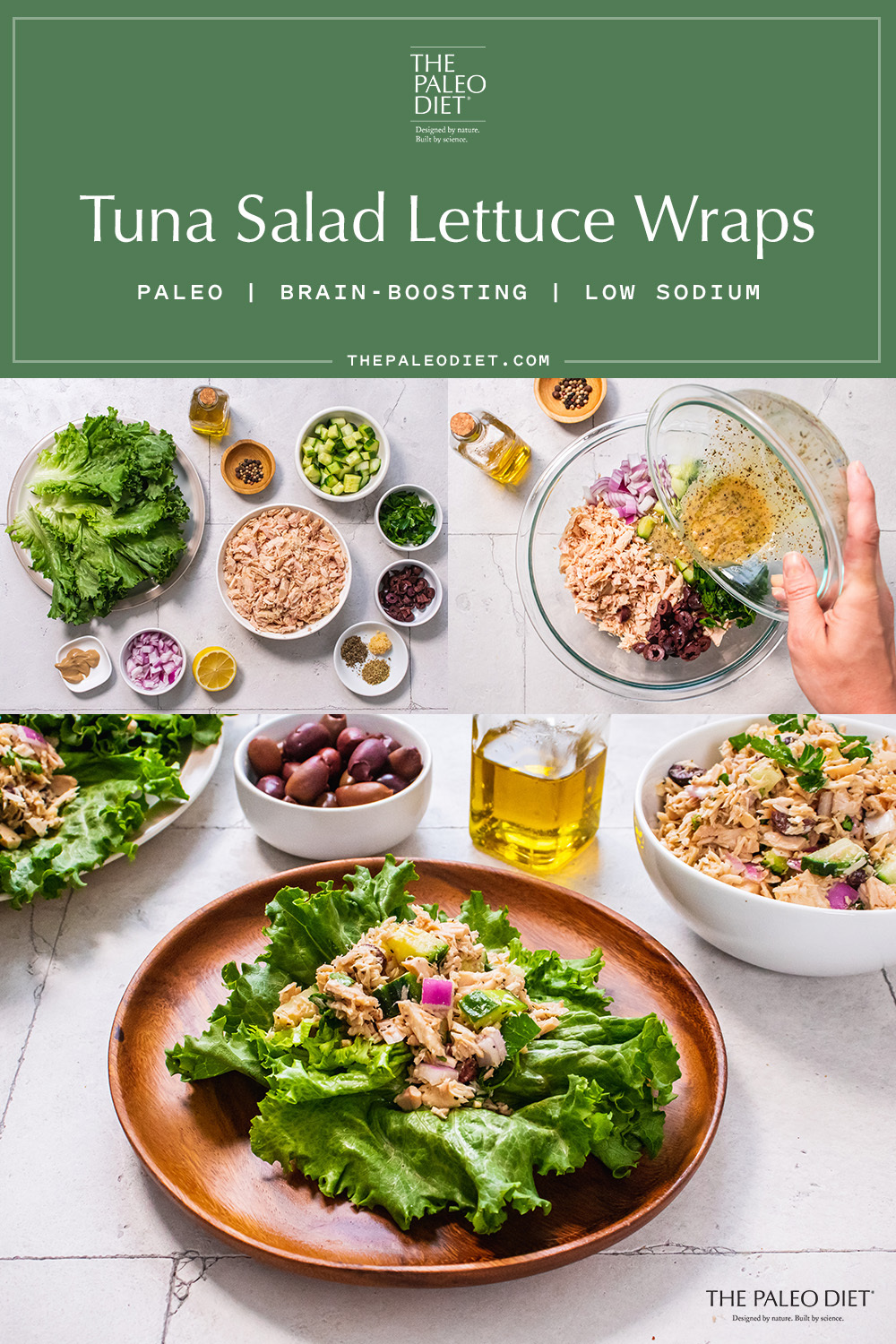 Details
Prep Time:

10 minutes

Cook Time:

30 minutes

Total Time:

40 minutes
Ingredients
1/4 cups olive oil

3 tbsp fresh lemon juice

2 tsp Dijon mustard

1 tsp minced garlic

1/2 tsp dried basil

1/2 tsp dried oregano

1/4 tsp cracked black pepper

10 oz wild caught albacore tuna (packed in water), drained

1 cups English cucumber, chopped

1/3 cups kalamata olives (rinsed, pitted and chopped)

1/4 cups finely chopped red onion

1/4 cups chopped parsley

8-10 lettuce leaves
Directions
Start by making the dressing: Add the first seven ingredients (through the black pepper) in a small bowl and whisk vigorously to combine. Set aside.

Next, assemble the tuna salad by adding the remaining ingredients to a mixing bowl. Toss well, then pour the dressing over the top and stir to combine. Refrigerate for 30 minutes to chill.

Scoop the tuna salad onto the lettuce and serve.