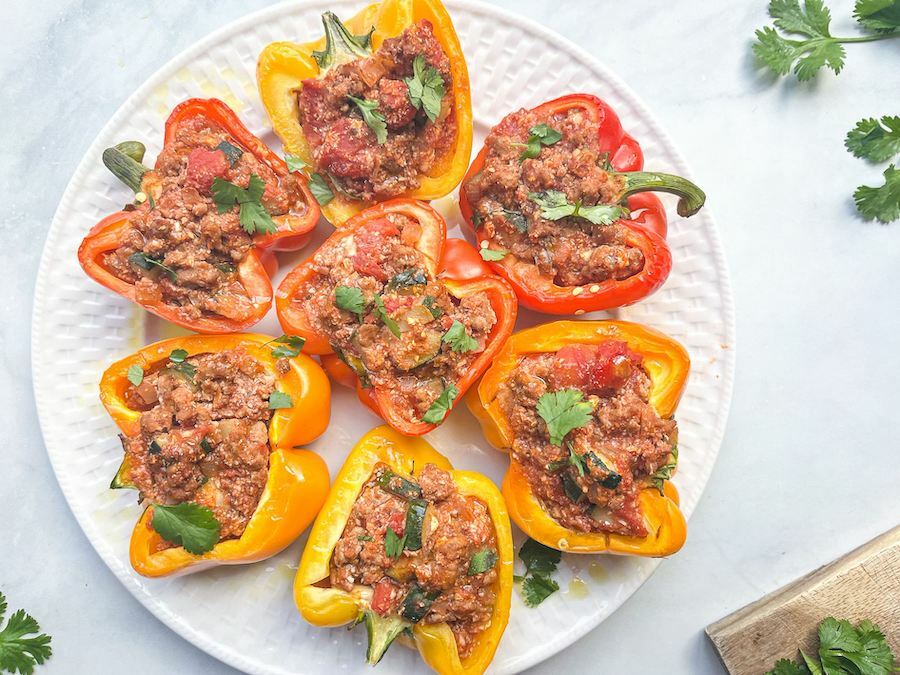 These tasty Mexican stuffed peppers are colorful crowd-pleasers that will satisfy everyone's craving for something spicy!
Stuffed peppers are a great way to enjoy all the great flavors of tacos without the tortilla. Simply simmer up a healthy, savory filling of turkey and cauliflower rice, spoon them into bell pepper shells, and serve them up for a fun twist on taco night.
It's easy to bring these stuffed bell peppers together. Start by sauting diced onions, zucchini, and garlic in a bit of olive oil. If you want yours spicy, you can swap the zucchini for a jalapeño or serrano pepper. Or use both!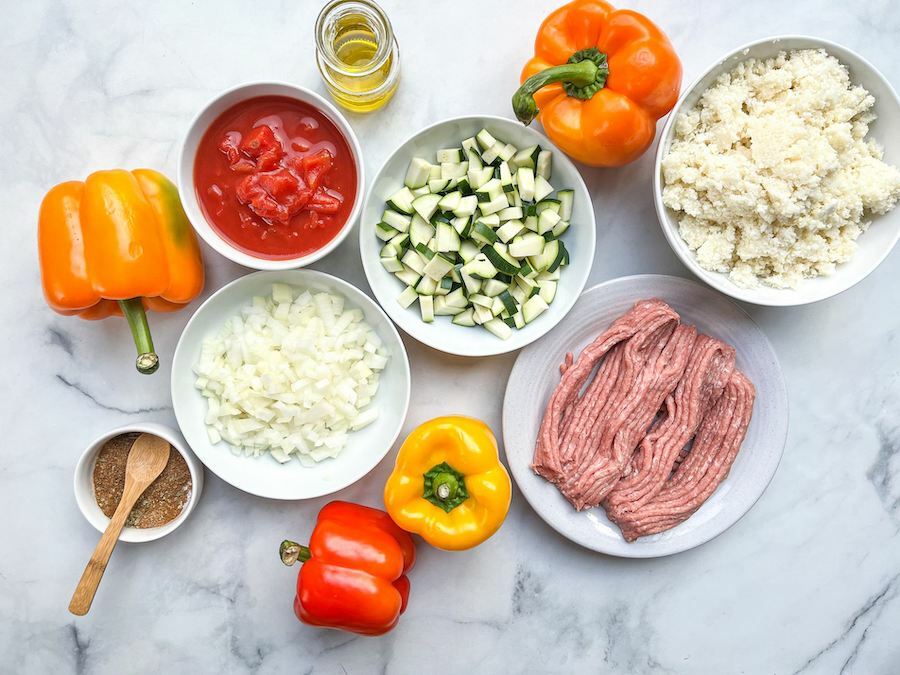 Add ground turkey (or beef, if you prefer) and cook until evenly browned. Then stir in diced tomatoes and tomato sauce, and season with salt-free Mexican seasoning. We like to use this Mexican Seasoning that the Cordains swear by, though it takes an extra step to toast the cumin seeds before grinding with garlic, oregano, chipotle, cinnamon and saffron. Tip: Make the spice blend in advance, then use it in all kinds of other Mexican-inspired recipes!
Bring the mixture to a boil, then simmer for a few minutes to thicken. Add cauliflower rice and cook a few minutes more. Meanwhile, prepare the bell peppers by slicing each in half and removing the seeds. We found this to be the easiest way to prep the peppers, though you can also slice off the top and de-seed the peppers that way. Just be sure to keep an eye on your peppers while they bake, since standing them upright is dangerous if you don't keep a close eye on them!
Gently spoon the turkey mixture into the empty pepper shells, then bake at 350°F for about 30 minutes, or until the peppers are soft but still hold their shape. Garnish with fresh cilantro, and enjoy!
Tip: If you don't want to bake the peppers, you can also try boiling them! Simply add the pepper halves to boiling water for a few minutes, then stuff and serve immediately.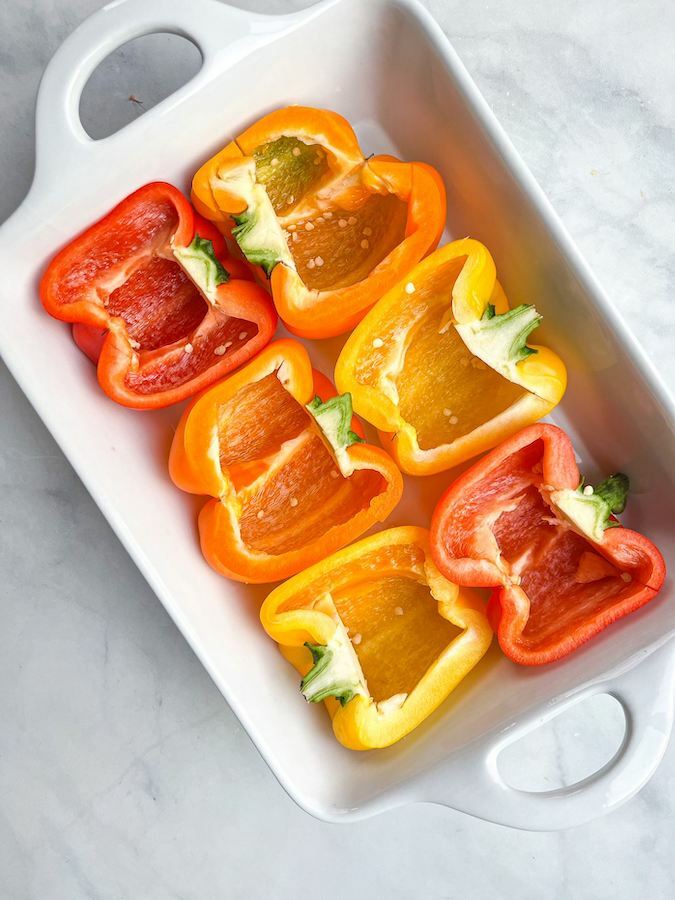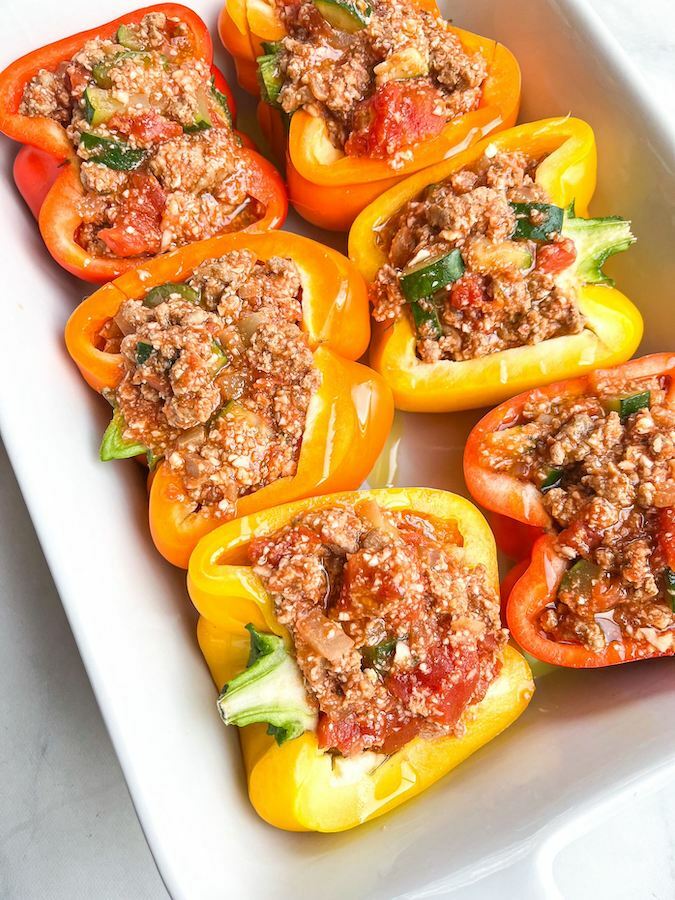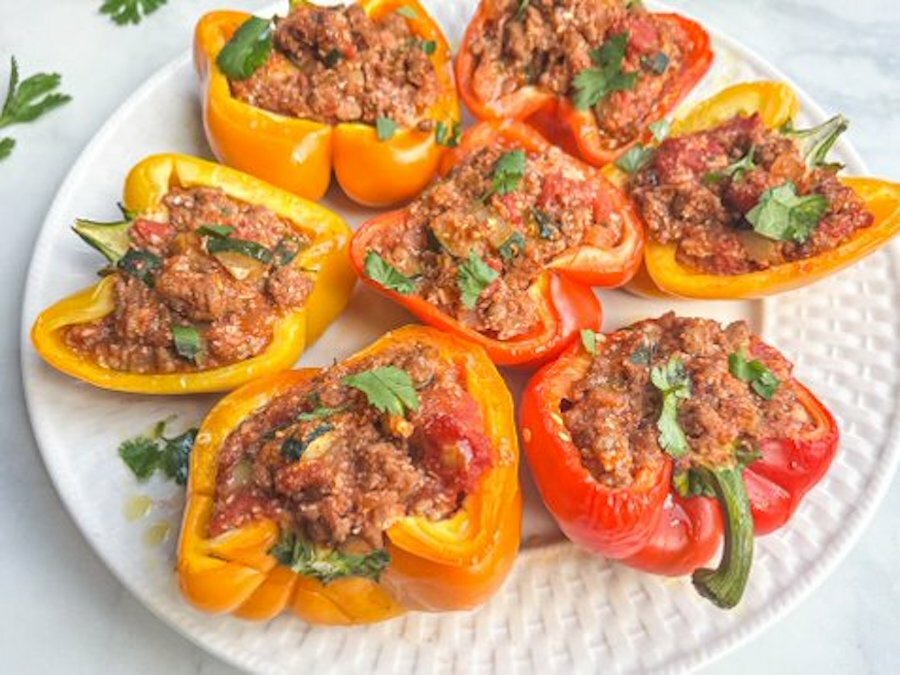 Details
Prep Time:

10 minutes

Cook Time:

40 minutes

Total Time:

50 minutes
Ingredients
1 tbsp olive oil

1 yellow onion, diced

1 zucchini, diced

2 cloves garlic, minced

1 lb ground turkey

1 14.5 oz can unsalted diced tomatoes

1 14.5 oz can unsalted tomato sauce

2 tbsp Mexican seasoning

2 cups cauliflower rice

6 bell peppers, sliced lengthwise

1/4 cups fresh cilantro, for garnish
Directions
Preheat the oven to 350°F and have a 9x13 baking dish ready.

In a large skillet, heat the olive oil over medium heat. Add the onion, zucchini and garlic, and cook for 2 minutes, stirring occasionally.

Add the ground turkey and cook until browned. Stir in the diced tomatoes and tomato sauce and sprinkle with Mexican seasoning. Stir well and bring to a boil, then reduce heat and simmer, uncovered, for 5 to 7 minutes or until most of the liquid has evaporated.

Add the cauliflower rice and let it cook for another 2 minutes. Then spoon the turkey mixture into the insides of each pepper halves and set on the baking dish.

Bake for 30-35 minutes, until the peppers are tender but still hold their shape. Garnish with cilantro. Enjoy!