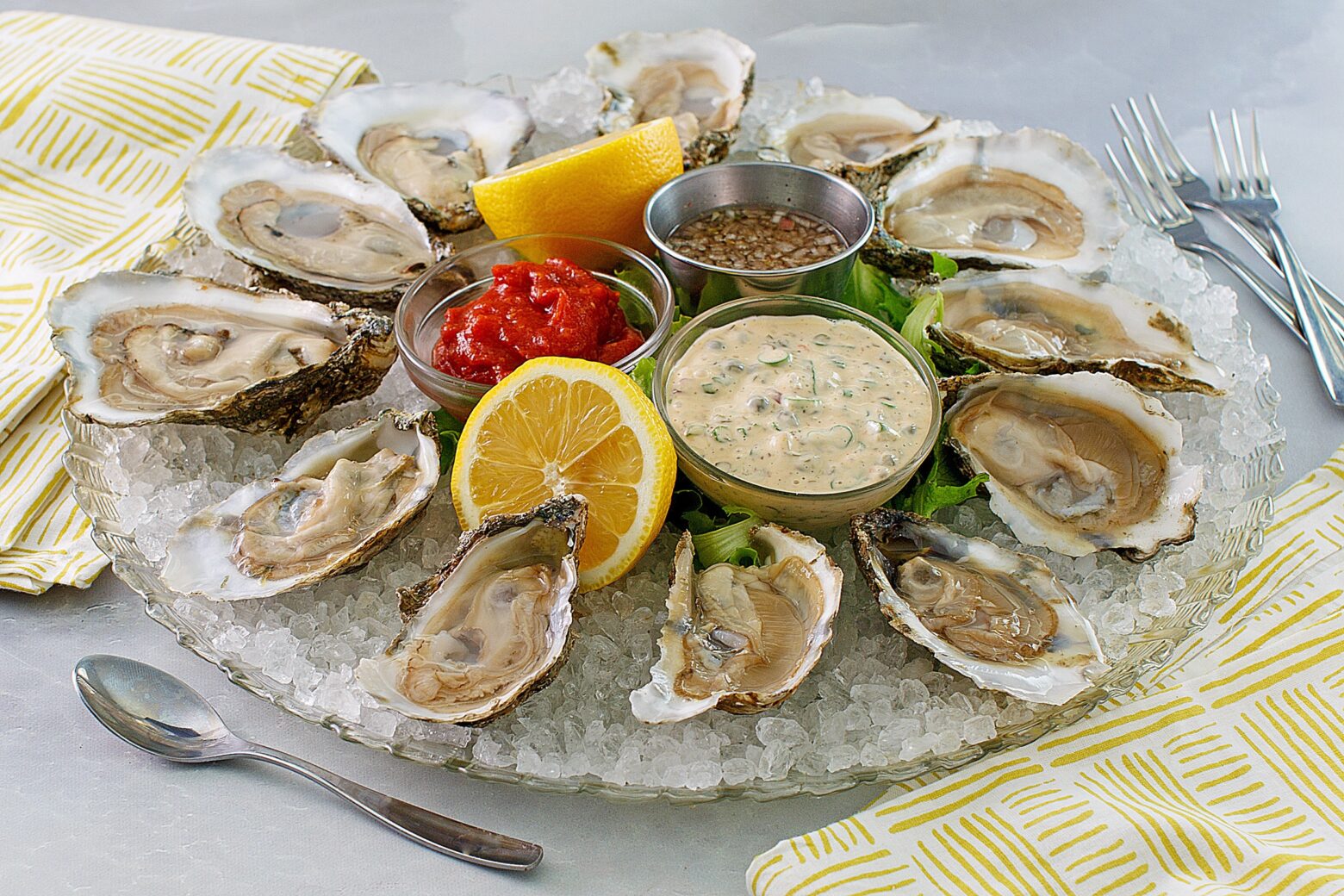 Oysters on the Half Shell Classic Trifecta
If you love oysters as much as we do, these classic sauces will take your dining experience to another level. Loaded with zinc, these little sea creatures are a power boost for your immune system. If you prefer them cooked, just brush each with a little olive oil and put them under your broiler for about 2 minutes before serving with these delicious sauces. For a beautifully colorful presentation, serve with all 3 sauces available for your guests to sample and enjoy.
Prep Time: 15 minutes
Total Time: 15 minutes
Yield: 2 people
INGREDIENTS
Classic Mignonette:
¼ cup champagne (or red wine) vinegar
1 tablespoon minced shallot
¼ teaspoon freshly ground black pepper
Whisk all ingredients together in a bowl and chill until ready to serve.
Classic Cocktail Sauce:
2 tablespoons grated and peeled fresh horseradish, (or prepared horseradish)
2 tablespoons fresh lemon juice
3/4 cup sugarless, Paleo friendly ketchup
1/4 teaspoon low sodium hot sauce, (optional)
Stir together horseradish and lemon juice in a small bowl. Stir in ketchup, and hot sauce if desired. Cover and refrigerate until ready to serve.
Classic Remoulade:
1 cup Paleo friendly mayonnaise made with olive oil
1 tablespoon chopped capers, drained and rinsed (optional)
1 teaspoon Dijon-style mustard
1 teaspoon finely chopped parsley
½ teaspoon finely chopped fresh chervil, optional
½ teaspoon finely chopped fresh tarragon
2 tablespoons finely chopped scallions or green onions
Combine all ingredients in a mixing bowl, refrigerate until ready to serve.
INSTRUCTIONS
You will need 12 fresh, shell-on oysters.
Clean oysters under cold water using a scrub brush to remove detritus clinging to the shells.
Open oysters by carefully inserting a thin knife blade into the hinge, where the top and bottom of the shell come together.
Gently twist the knife back and forth to separate the top from the bottom.
Discard the top shell piece.
Place bottom part of shell containing the oyster, on a large serving tray and drizzle with one of these classic Paleo sauces.
For hundreds of pure Paleo recipes be sure to check out The Real Paleo Diet Cookbook and The Real Paleo Diet Fast and Easy.
Details
Prep Time:

15 minutes

Total Time:

15 minutes