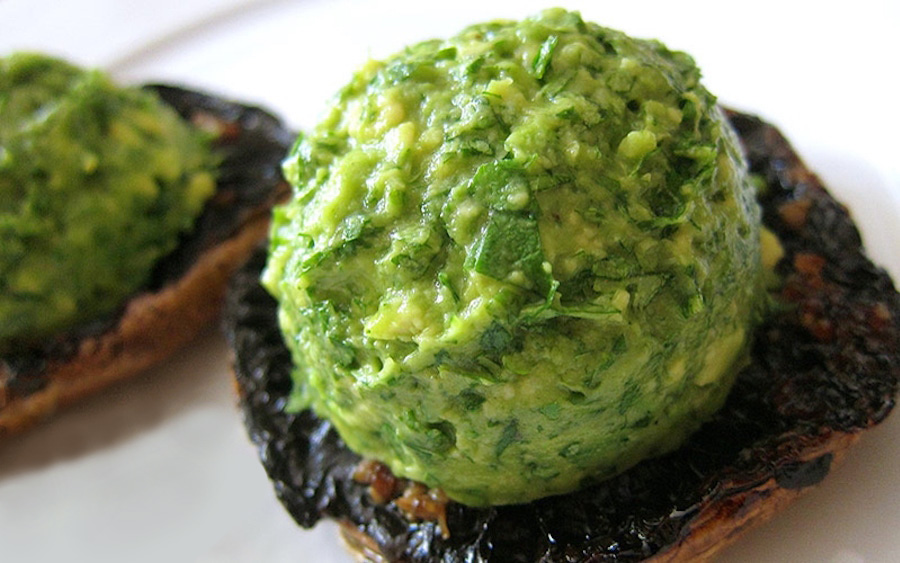 Grilled Portobello Mushrooms with Cilantro Guacamole
Want to impress your friends and family? Check out our new way to eat homemade guacamole!
Try stuffing a mushroom packed with a mixture mashed avocados, and enjoy a savory snack! Mushrooms are great both for their immune-boosting properties and impressive amounts of potassium. Guacamole is mainly made of avocados, which provides you with heart-healthy fats and over 20 vitamins and minerals.
Feel free to add any extra vegetables to this cilantro guacamole recipe! Dice up onions or tomatoes and throw them in to add an extra burst of flavor to the mix. If you are not a big mushroom fan, you can cut up some veggies and dip them into the guacamole. It pairs really great with salads, hearty bowls, and even our lemon rosemary beet chips.
Try our fantastic recipe pairing cilantro-enriched guacamole with grilled Portobello mushrooms for a delicious potassium boost!
Christopher James Clark, B.B.A.
@nutrigrail
Nutritional Grail
www.ChristopherJamesClark.com
Details
Prep Time:

15 minutes

Cook Time:

5 minutes

Total Time:

20 minutes
Ingredients
1 avocado

2 garlic cloves, pressed (divided)

2 tbsp lime juice

2 tbsp olive oil

1 bunch cilantro

Freshly milled black pepper

2 portobello mushrooms

1 tbsp balsamic vinegar
Directions
Remove the Portobello stems. Mix a clove pressed garlic with the balsamic vinegar and spoon this mixture over the Portobello caps. Set aside while you prepare the guacamole.

Put the other clove pressed garlic in a bowl with the olive oil, lime juice, and avocado. Mash with a fork.

Remove the cilantro leaves from the stems. Wash and spin-dry the leaves. Chop finely.

Stir the chopped cilantro into the avocado mixture. Taste, adding more lime juice if necessary.

Bring a stovetop grill plate to high heat. Place the mushrooms on the grill for about 2 minutes per side. If you don't have a grill plate, put them in the oven under the broiler.

Using an ice cream scoop, form balls with the guacamole and place them on the mushrooms before serving.