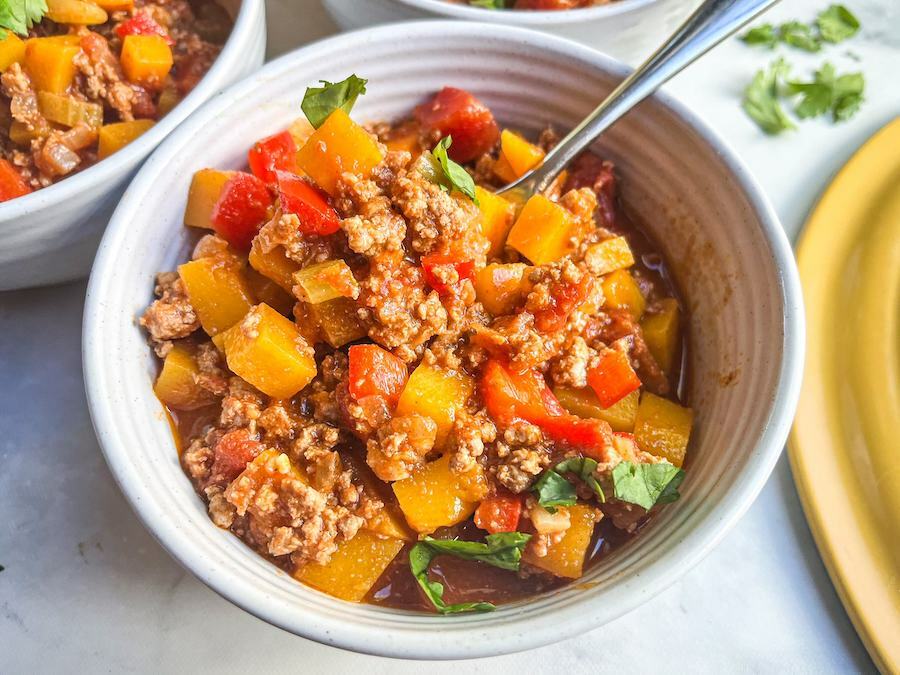 Your family will devour this hearty, comforting butternut squash chili! It's filled with vibrant, nutrient-dense veggies that will keep your belly satisfied and happy.
Need an easy, one-pot meal for the cool autumn evenings? This bean-free chili is packed with everything you need to make an easy weeknight meal. You only need about 15 minutes of hands-on time, then let the chili simmer for 30 minutes while you clean up, set the table, or make a side dish or two!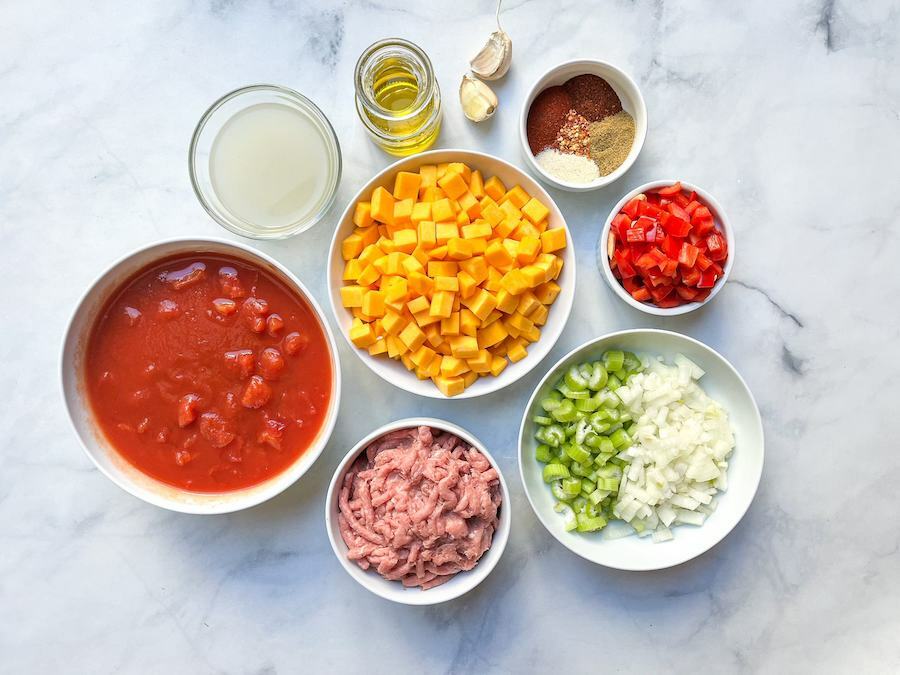 Start by sauteing celery, onion, and garlic in a large Dutch oven pot, then add ground meat. We used turkey, but you can use ground beef if you prefer. Cook until the meat is cooked through, then season with lots of spices! We used chili powder, red pepper flakes, cumin, paprika, coriander, and onion powder, but feel free to experiment and use whatever spices you like to suit your taste. You can add more chili powder and cumin for a bigger punch, or eliminate the red pepper flakes if you want your chili a little less spicy.
Next, add cubed butternut squash. The smaller the dice, the faster it will cook, so keep this in mind as you're slicing it up! Tip: If your butternut squash is too firm and you're having trouble cutting it, try microwaving it for a minute or so to soften it up. You can also grab pre-cubed butternut squash at most grocery stores to help save on time.
We also added a chopped red bell pepper here for extra color and flavor, but feel free to eliminate or add spicier peppers if you prefer. You can also throw in zucchini, cauliflower, or broccoli if you want to get creative.
Next, pour in the tomato sauce, canned diced tomatoes with juice, and salt-free chicken broth. If you have homemade chicken bone broth, even better! It adds lots of vitamins and nutrients to the chili.
Bring the chili to a boil, then lower to a simmer and cover. Simmer for 30 minutes, or until the flavors have married and the butternut squash is tender. Grab a ladle and serve it up with lots of fresh cilantro.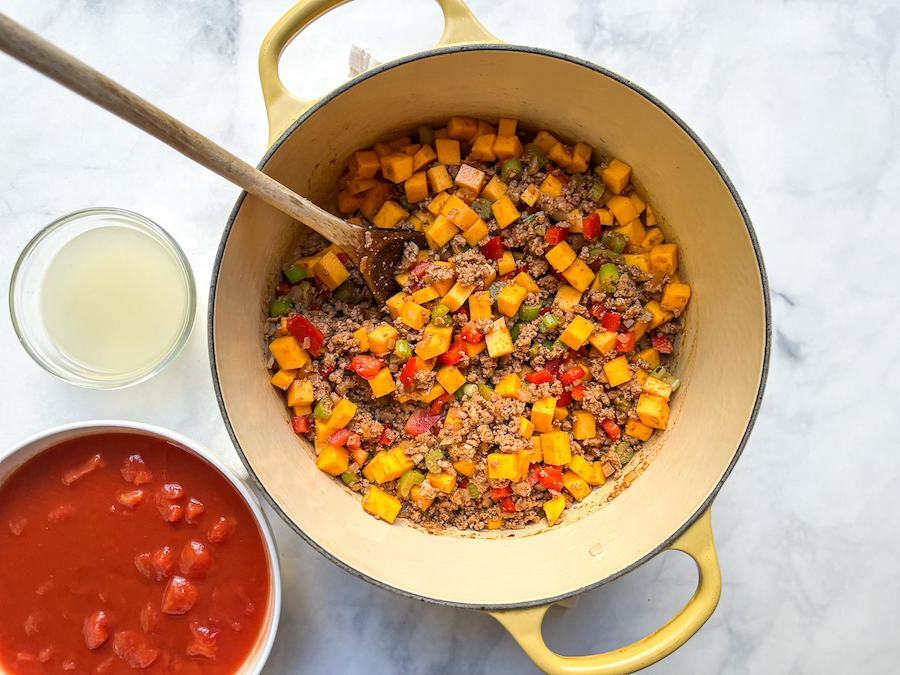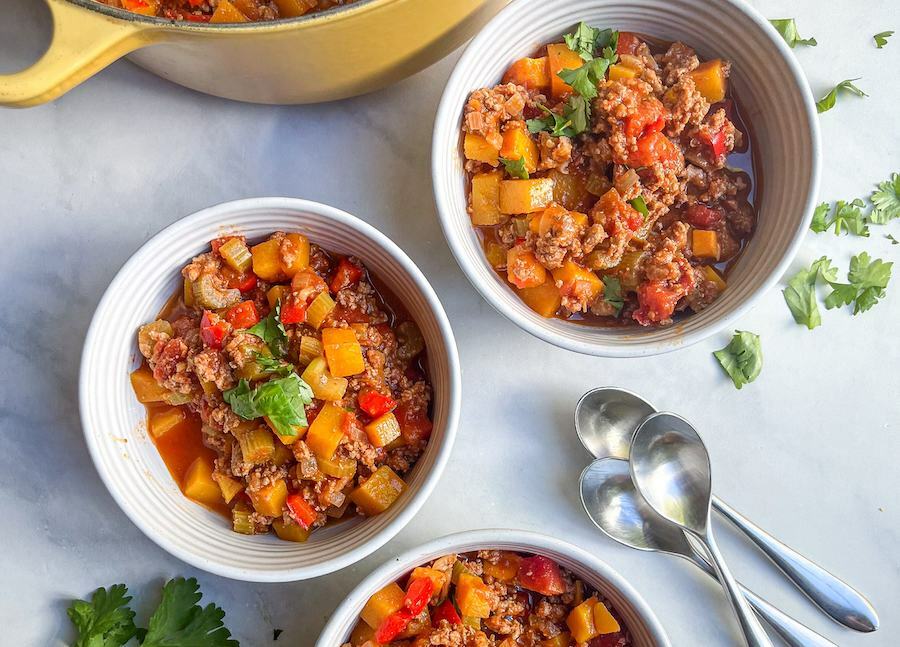 Details
Prep Time:

15 minutes

Cook Time:

40 minutes

Total Time:

55 minutes
Ingredients
2 tbsp extra virgin olive oil

1/2 cups celery, diced

1/2 cups onion, chopped

2 cloves garlic, minced

1 lb ground turkey

1 tsp chili powder

1 tsp red pepper flakes

2 tsp ground cumin

2 tsp paprika

1/2 tsp ground coriander

1 tsp onion powder

2 1/2 cups butternut squash, diced

1 red bell pepper, chopped

1 cups tomato sauce, unsalted

2 cups diced tomatoes with juice, unsalted

1 cups chicken broth, salt-free

Fresh cilantro, for garnish
Directions
Warm the olive oil in a large Dutch pot set over medium-high heat. Add the chopped celery and onions, and cook for 3-5 minutes. Then add the garlic and sauté for 1 minute.

Add the ground turkey to the pot and cook for 5 minutes, breaking the meat up with a wooden spoon.

Season the meat with all the spices and mix well. Add the butternut squash, bell peppers, tomato sauce, diced tomatoes, and chicken broth. Stir well.

Bring the chili to a boil, cover it with a lid and lower the heat. Simmer the chili for 30 minutes. Serve with fresh cilantro and enjoy!