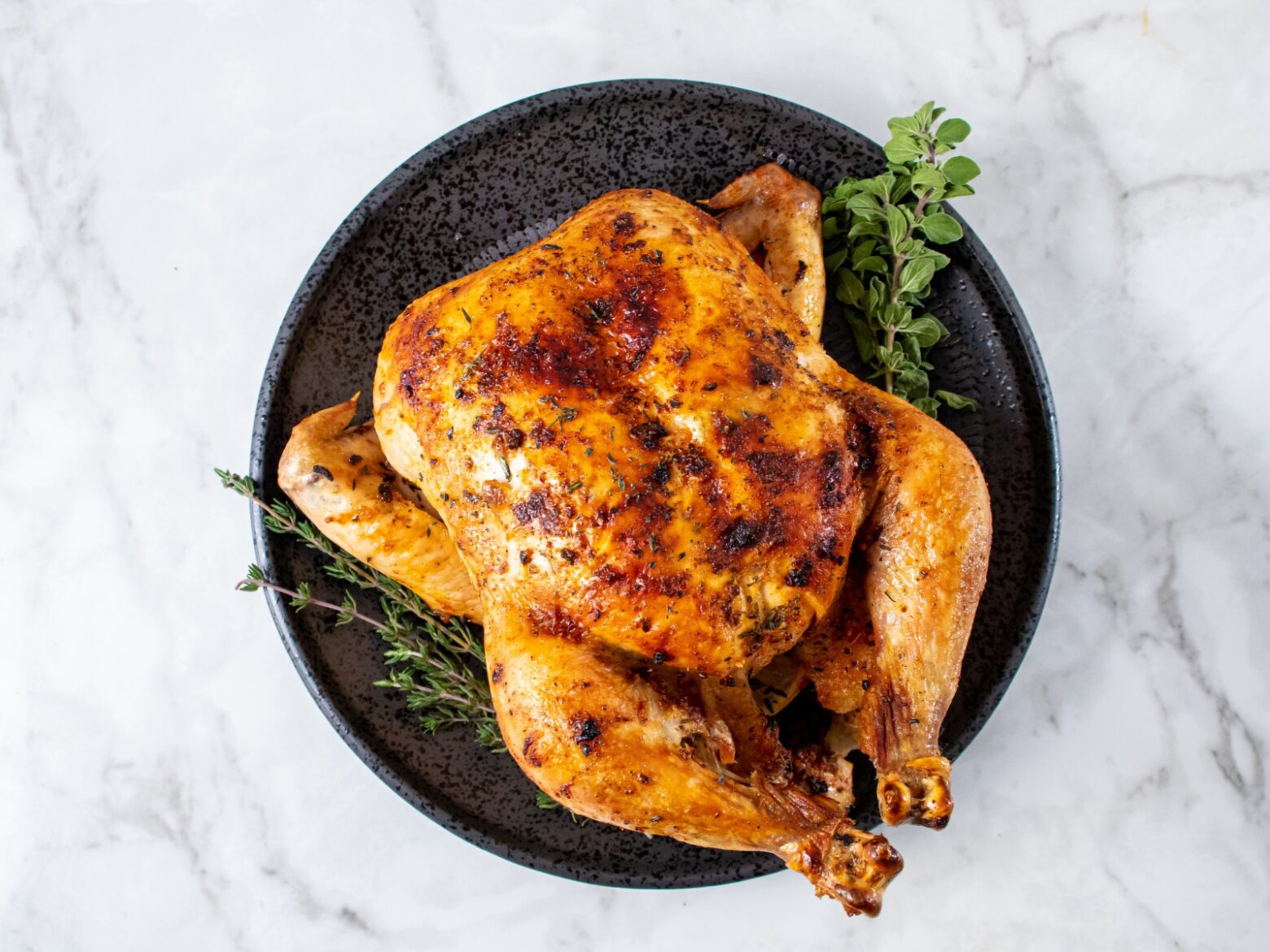 Whole Roaster Herb Chicken
Ready to amp up your Sunday meal prep? Nothing beats an old-fashioned whole roasted chicken. You'll have tender, juicy meat for days if you follow this simple recipe.
Some people might be too intimidated to cook a whole chicken, but you really can't go wrong with this simple recipe. All you need is some twine to truss the legs, a large roasting pan (or even a cast-iron skillet), and a few herbs and spices to make the flavor really pop—all without using any added salt.
To prep the bird, first remove the giblets, rinse under cool water, and pat dry. Whisk together a simple seasoning of fresh lemon juice, olive oil, thyme, oregano, paprika, garlic, and black pepper. You could also swap out or add other fragrant herbs, like rosemary, marjoram, onion powder, dried lemon peel, dill, or sage. Rub the coating all over the chicken, making sure to get under the skin to allow the lemony flavor to soak into the meat while cooking.
Put a lemon wedge in the cavity of the chicken, truss the legs together with twine, and roast for 10 minutes in a 450ºF oven to encourage a nice crispy exterior. Lower the heat to 375ºF and continue to cook for another hour or so, or until a meat thermometer inserted into the thickest part of the thigh and breast reaches 165ºF. Juices should also run clear—if you see any blood or colored juices as you check the internal temperature, the meat is still undercooked.
When done, remove from the oven and let the chicken rest for 10-15 minutes before carving. This allows the juices to redistribute in the meat, setting the stage for extra tender chicken!
Serve your carved chicken alongside veggies like cauliflower steaks, roasted garlic Brussels sprouts, or a side salad.
Tip: Save leftover chicken to serve in a big garden harvest salad for lunch tomorrow!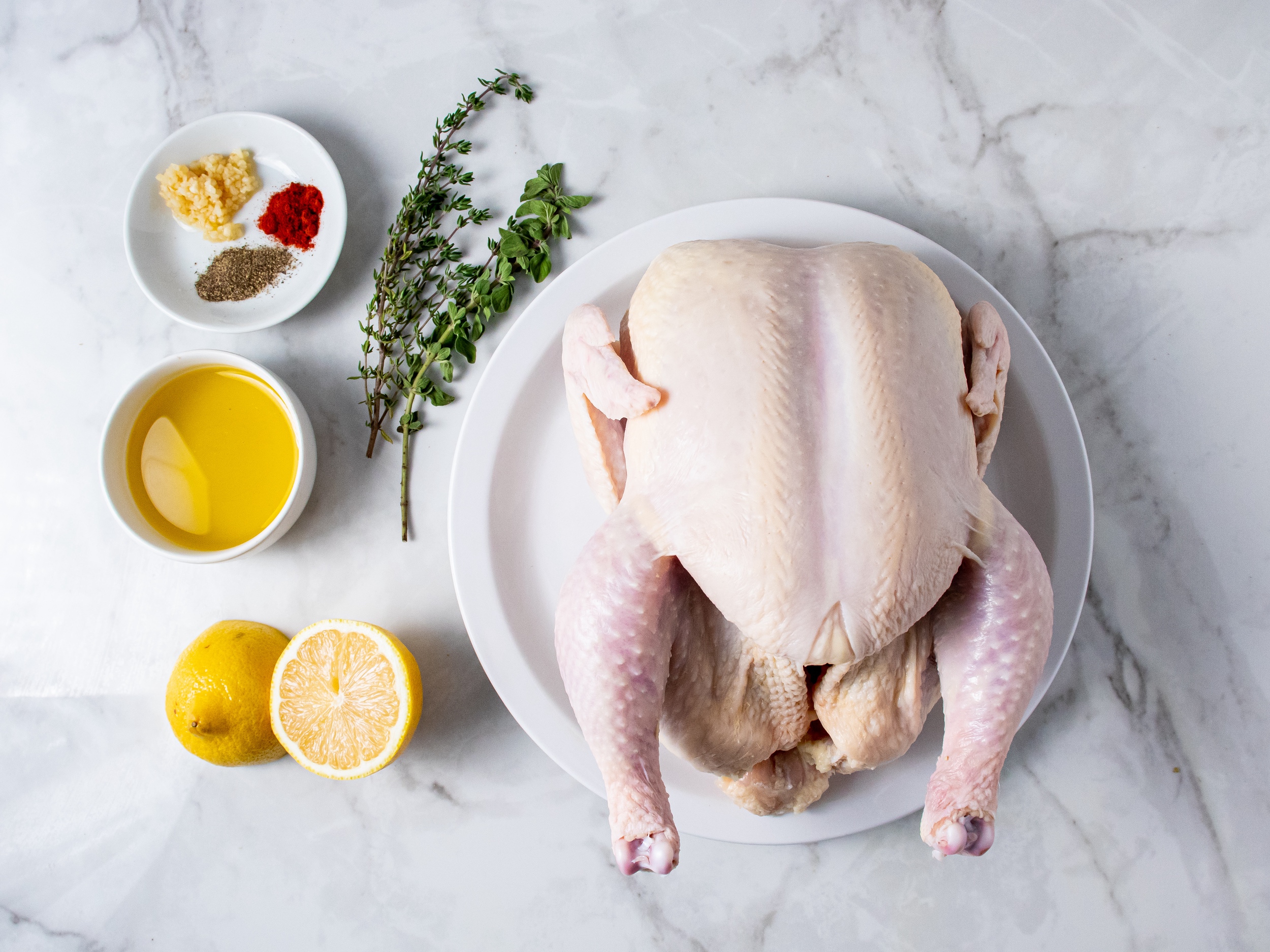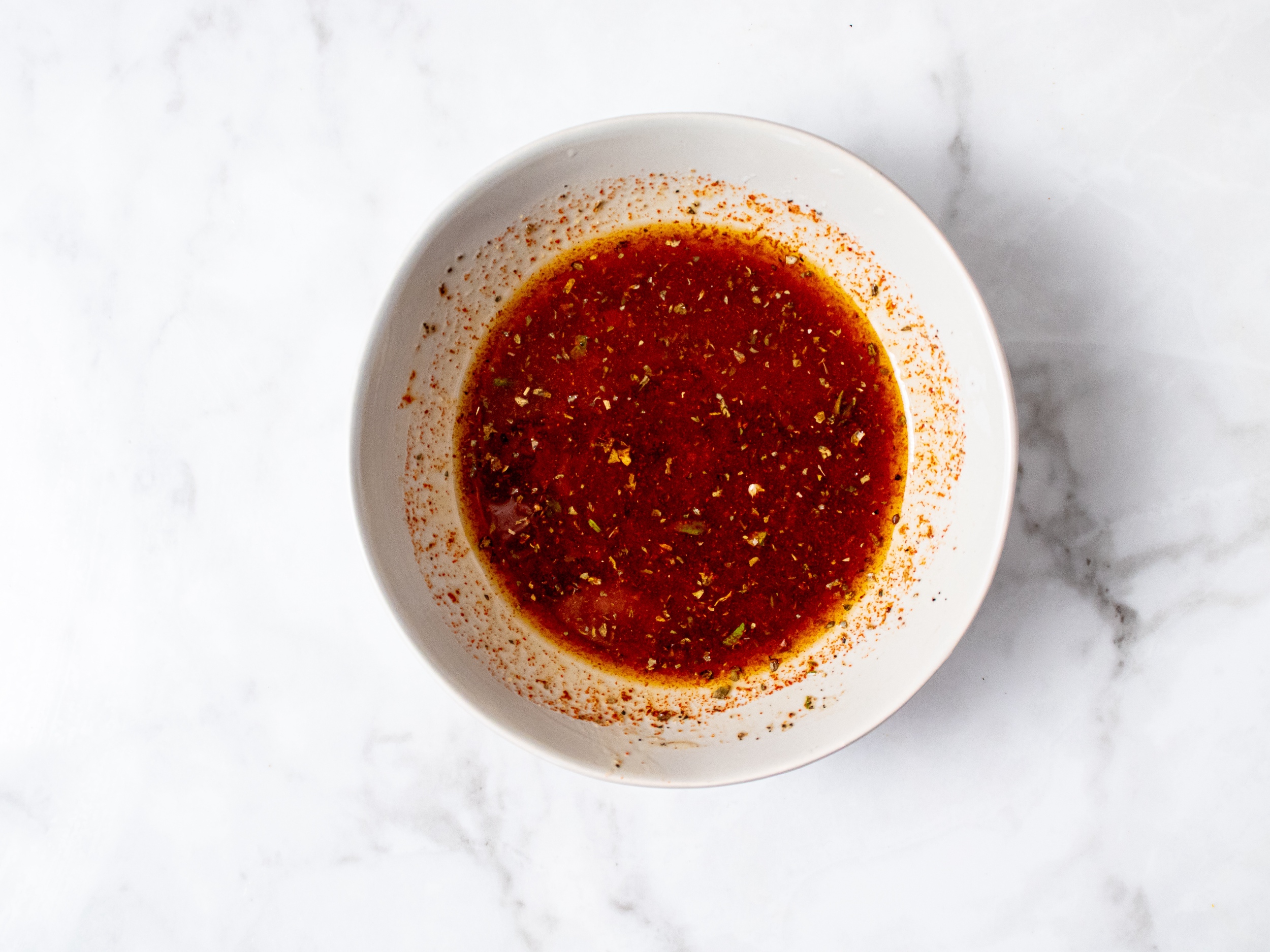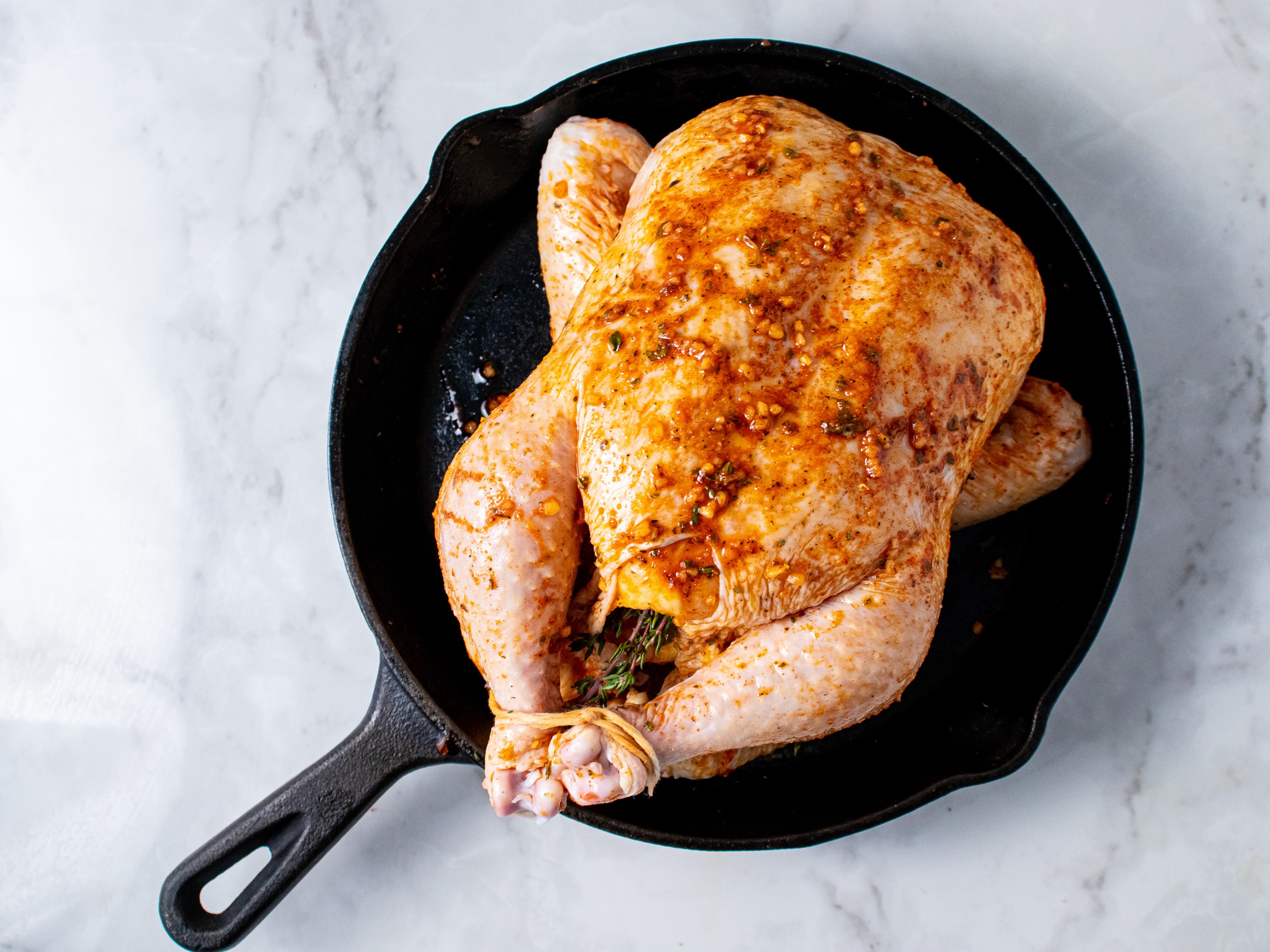 For hundreds of pure Paleo recipes be sure to check out  The Real Paleo Diet Cookbook  and  The Real Paleo Diet Fast and Easy.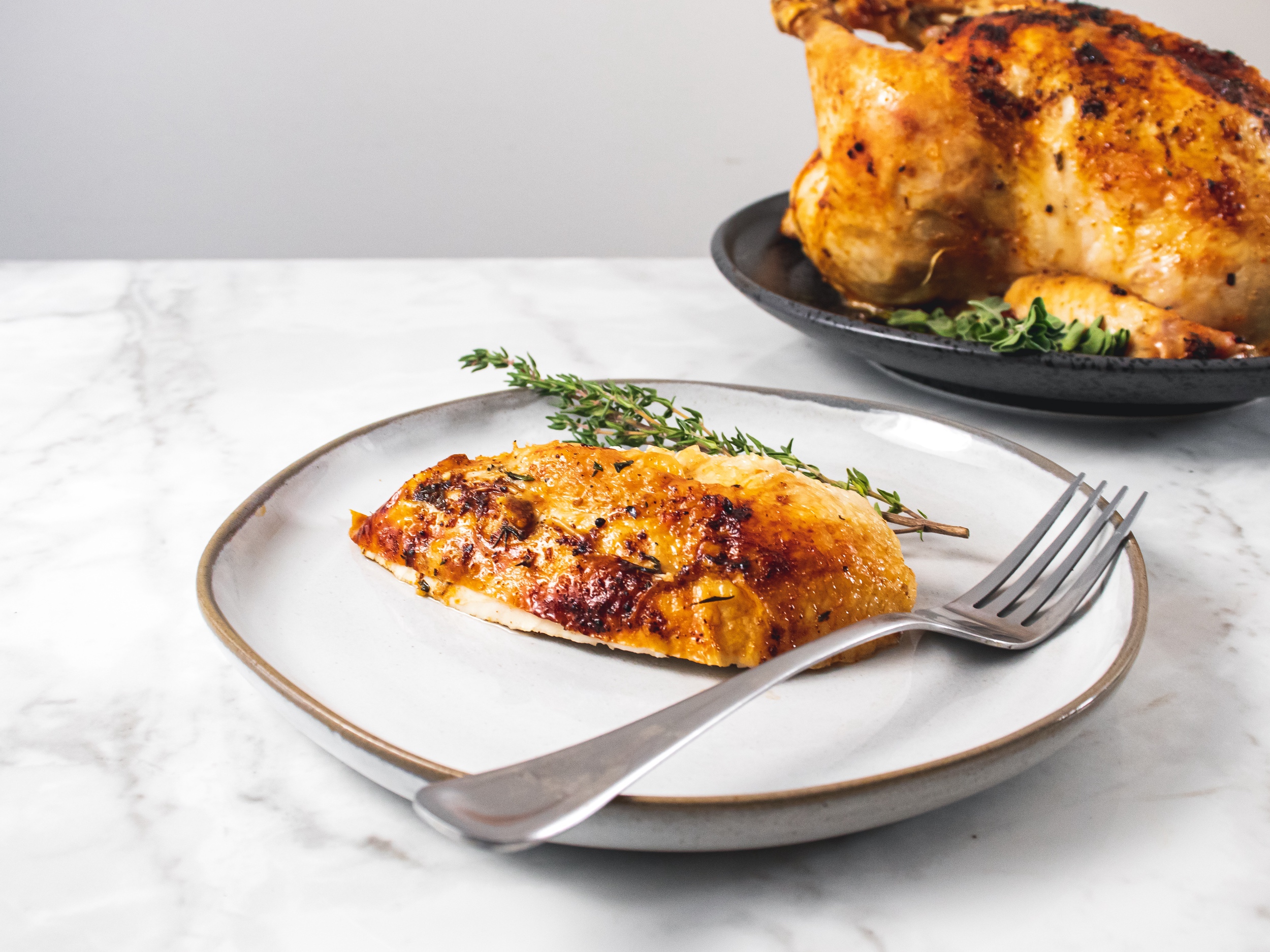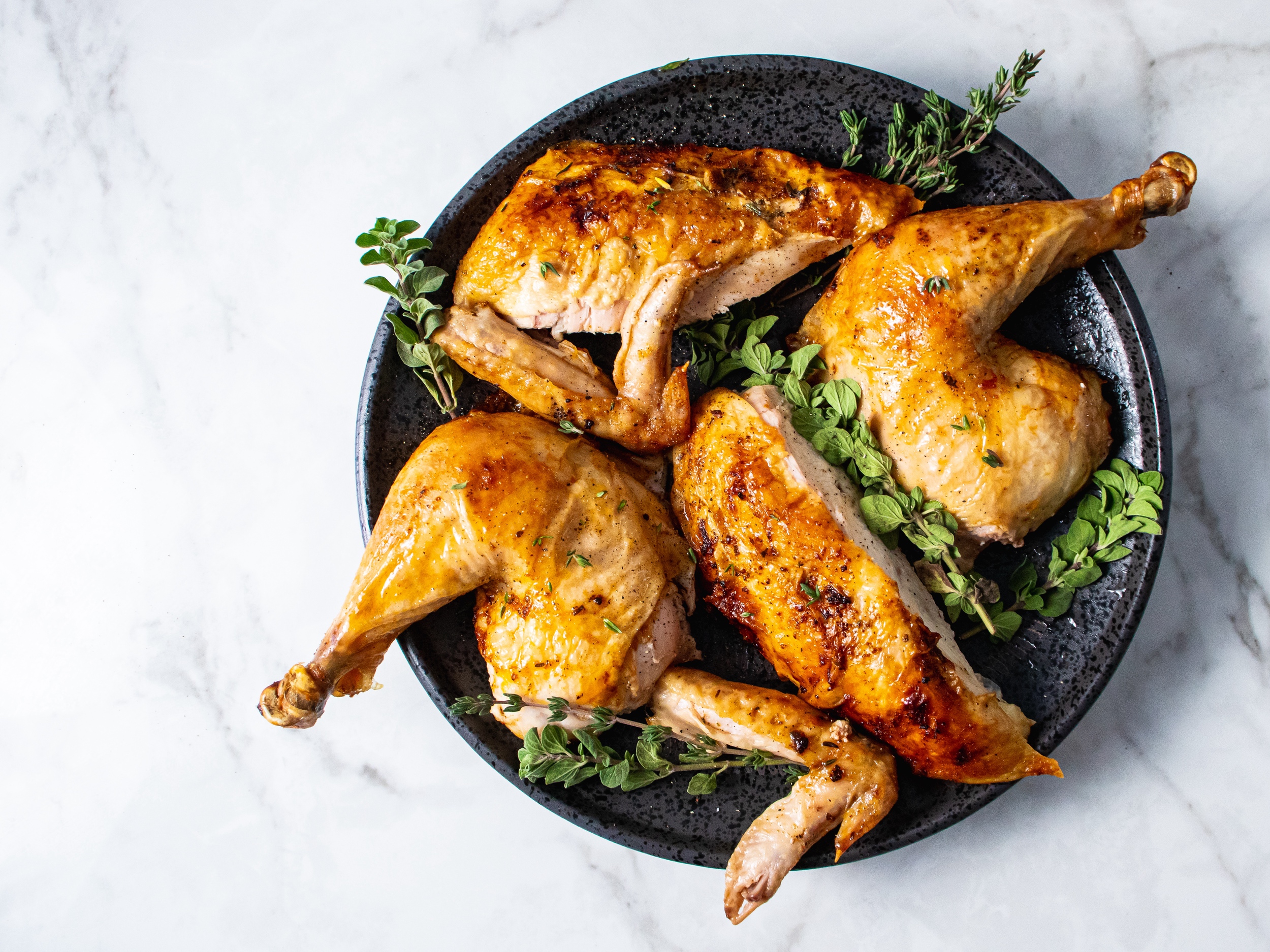 Details
Prep Time:

15 minutes

Cook Time:

1 hour 30 minutes

Total Time:

1 hour 45 minutes
Ingredients
1 (4-5 lb.) whole pasture-raised chicken, giblets removed

1 lemon, halved

2 tbsp olive oil

2 tsp fresh thyme leaves, finely chopped

1 tsp fresh oregano, finely chopped

2 tsp minced garlic

1 tsp dried paprika

1/2 tsp black pepper

2 fresh thyme sprigs
Directions
Preheat the oven to 450ºF. Rinse chicken thoroughly under running water and pat dry with paper towels. Place chicken in a cast iron skillet or roasting pan.

Squeeze the juice from one lemon half into a small bowl. Add olive oil, chopped thyme, oregano, garlic, paprika, and black pepper. Stir well.

Gently lift the skin covering each breast and rub some of the olive oil and herb mixture under skin. Rub remaining mixture on top of skin all over chicken and in cavity.

Place the other half of the lemon in the chicken cavity, along with sprigs of thyme. Truss the legs together using kitchen twine. Roast the chicken for 10 minutes to crisp up the skin, then reduce the heat to 375ºF and continue to roast until internal temperature reaches 165ºF, about 1 hour to 1 hour and 20 minutes.

Rest the chicken at room temperature for 10 minutes. Remove twine, lemon, and thyme sprigs before carving.