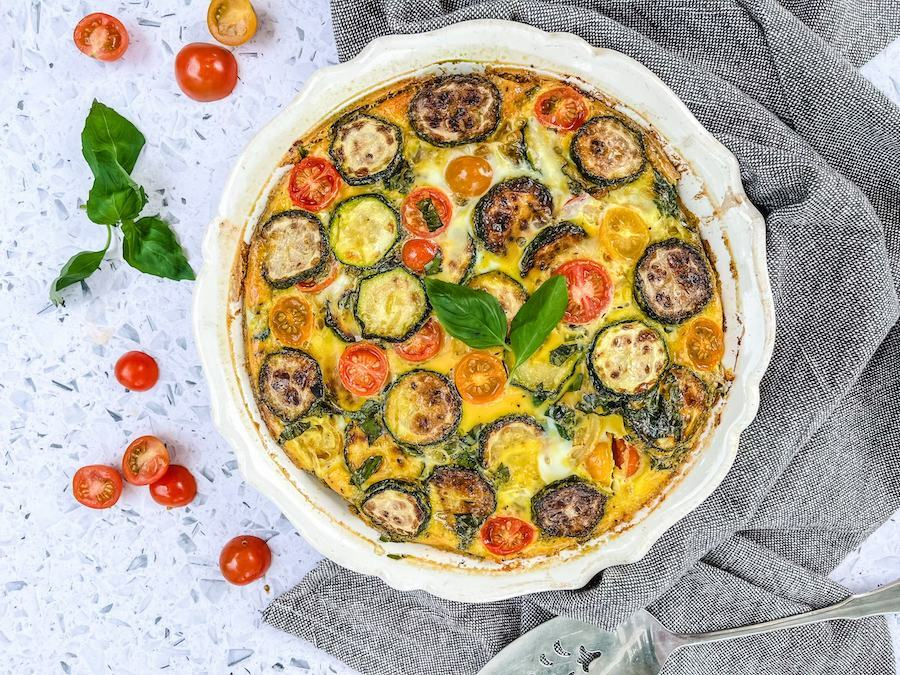 Crustless Garden Veggie Quiche
Showcase your homegrown veggies with this easy quiche recipe! It's packed with zucchini, tomatoes, spinach, onions and garlic for a nutrient-rich start to your day.
It might look like it takes a lot of work, but this vegetarian-friendly quiche is actually a breeze to pull together. Simply sauté the veggies until soft, then layer in a pie pan, cover with scrambled eggs and bake until golden brown.
We used lots of veggies you can get from your garden (or from the grocery store) with little effort, but feel free to switch up the veggies to suit what you have on hand. Asparagus, mushrooms, broccoli, or bell peppers would work well here, and if you want to add meat, ground turkey or pork belly would be great choices. This recipe is versatile, so feel free to experiment!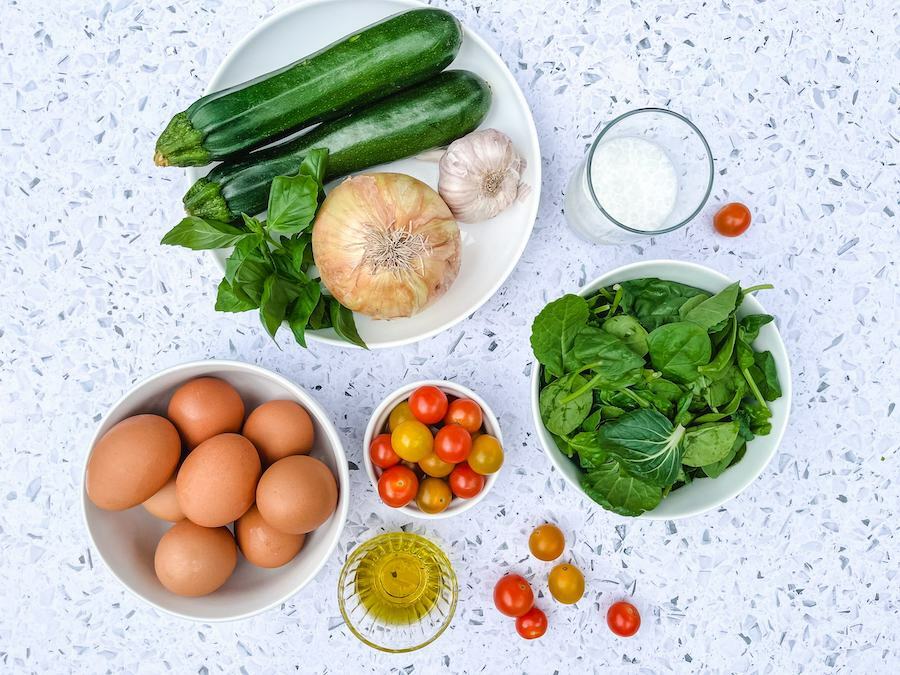 Start by frying zucchini rounds in a skillet until browned on both sides. This helps deepen the flavor of the zucchini while making sure they're evenly cooked. Plus, the rounds look lovely when arranged on top of the quiche with a few red cherry tomato halves.
Once the zucchini is done, set it aside and sauté the onions and garlic, then add the spinach and cook until just wilted. We used yellow onions, but you can also use red onions if you prefer.
Separately, whisk eggs with a bit of coconut milk and season with red pepper, black pepper, and onion powder.
To pull the quiche together, arrange the veggies in a pie pan and pour the eggs over the top. Bake at 350°F for about 40 minutes, or until golden brown on the edges and still just a little jiggly in the middle. Slice and serve garnished with fresh basil.
Tip: Keep leftovers in an airtight container in the refrigerator for 2-3 days. Heat it up by putting in the microwave for about 30 seconds.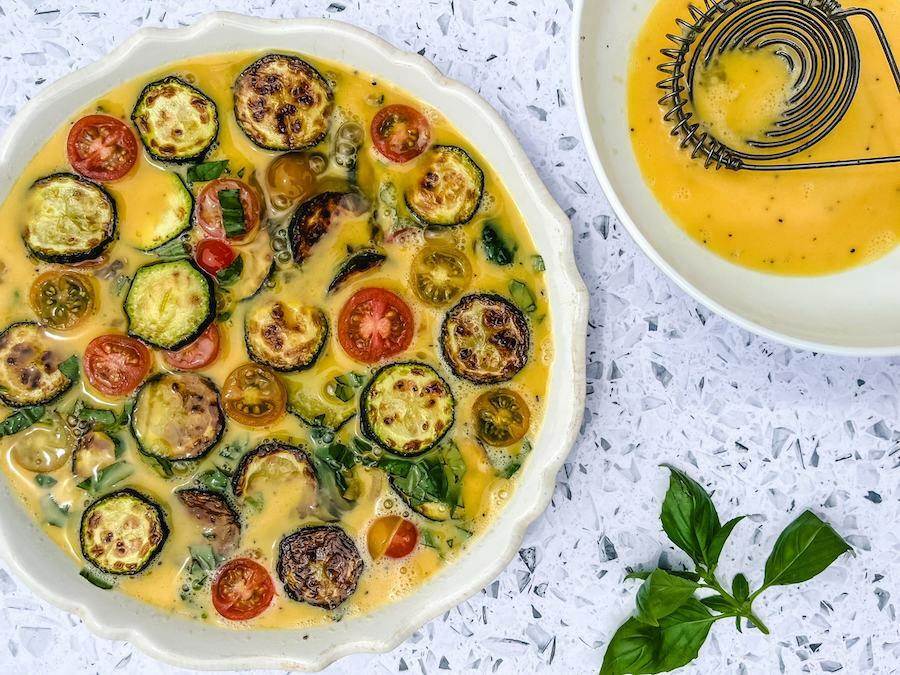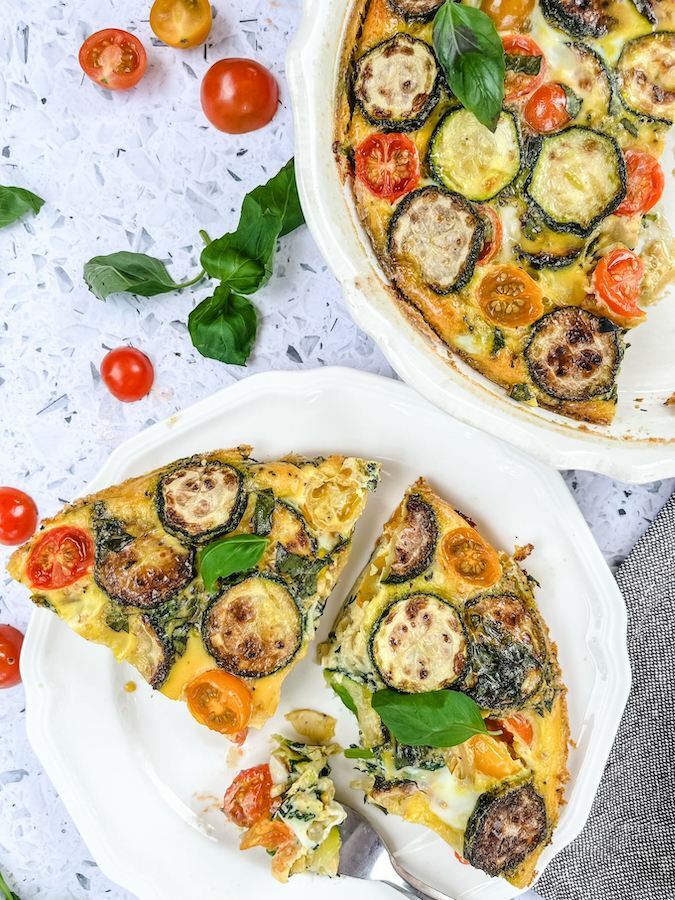 Love our recipes? Make going Paleo even easier and download our 7-Day and 28-Day digital meal plans!
Details
Recipe by: Jess Case
Serves:

8

Meal:

Appetizer
Prep Time:

10 minutes

Cook Time:

50 minutes

Total Time:

1 hour
Ingredients
2 tbsp olive oil, divided

2 small zucchini, sliced into rounds

1/2 cups yellow onion, sliced

2 garlic cloves, minced

3 cups spinach

1/2 cups cherry tomatoes, halved

8 large eggs

1/4 cups coconut milk

pinch of red pepper flakes

1/2 tsp black pepper

1/2 tsp onion powder

2 tbsp fresh basil, chopped
Directions
Preheat the oven to 350°F.

Heat 1 tablespoon of the olive oil in a 12 inch skillet or Dutch oven over medium high heat. Add the zucchini rounds in a single layer and cook for about 3 minutes per side. Set the zucchini aside on a plate.

Lower the heat to medium. Add another tablespoon of olive oil to the same skillet and add the onions, stirring until translucent, about 5 minutes. Add the garlic and cook for another minute. Add the spinach and cook until just wilted, then remove the pan from the heat.

Grease a pie pan with olive oil. Spread the spinach/onion mixture on the bottom and layer most of the cooked zucchinis and cherry tomatoes on top.

Crack the eggs in a bowl and whisk with the coconut milk, red pepper flakes, black pepper and onion powder. Pour over the veggies in the pie pan. Place the extra zucchini and cherry tomatoes on top.

Bake for 35-40 minutes, or until the quiche starts to puff and turns a golden brown color on the edges. Make sure it's still a little jiggly in the middle. Let the quiche cool slightly, then slice and serve garnished with basil.