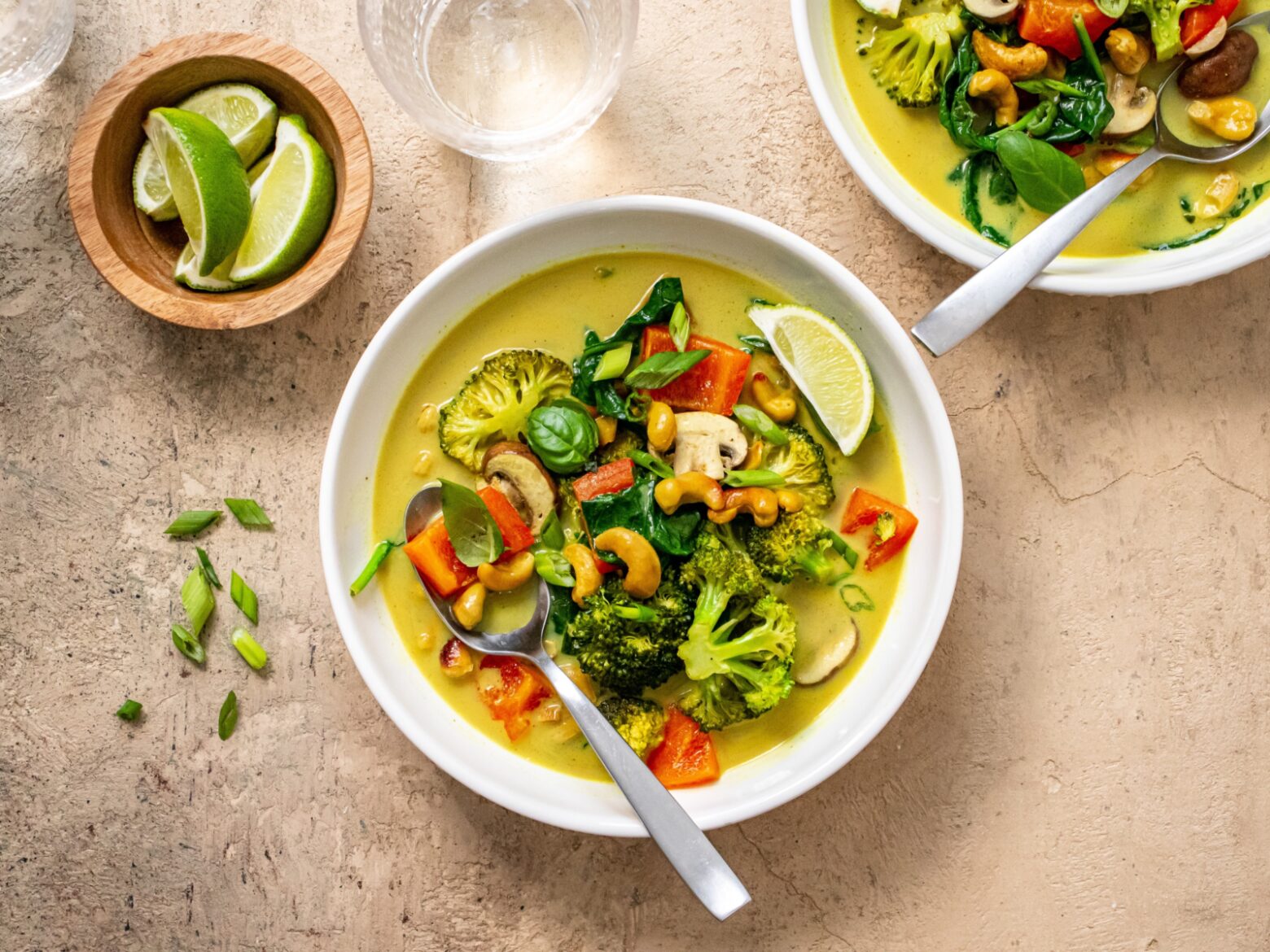 Vegan Cashew Curry
Go meat-free tonight with this easy, vegan-friendly curry. It's a healthy spin on takeout that's ready in just half an hour!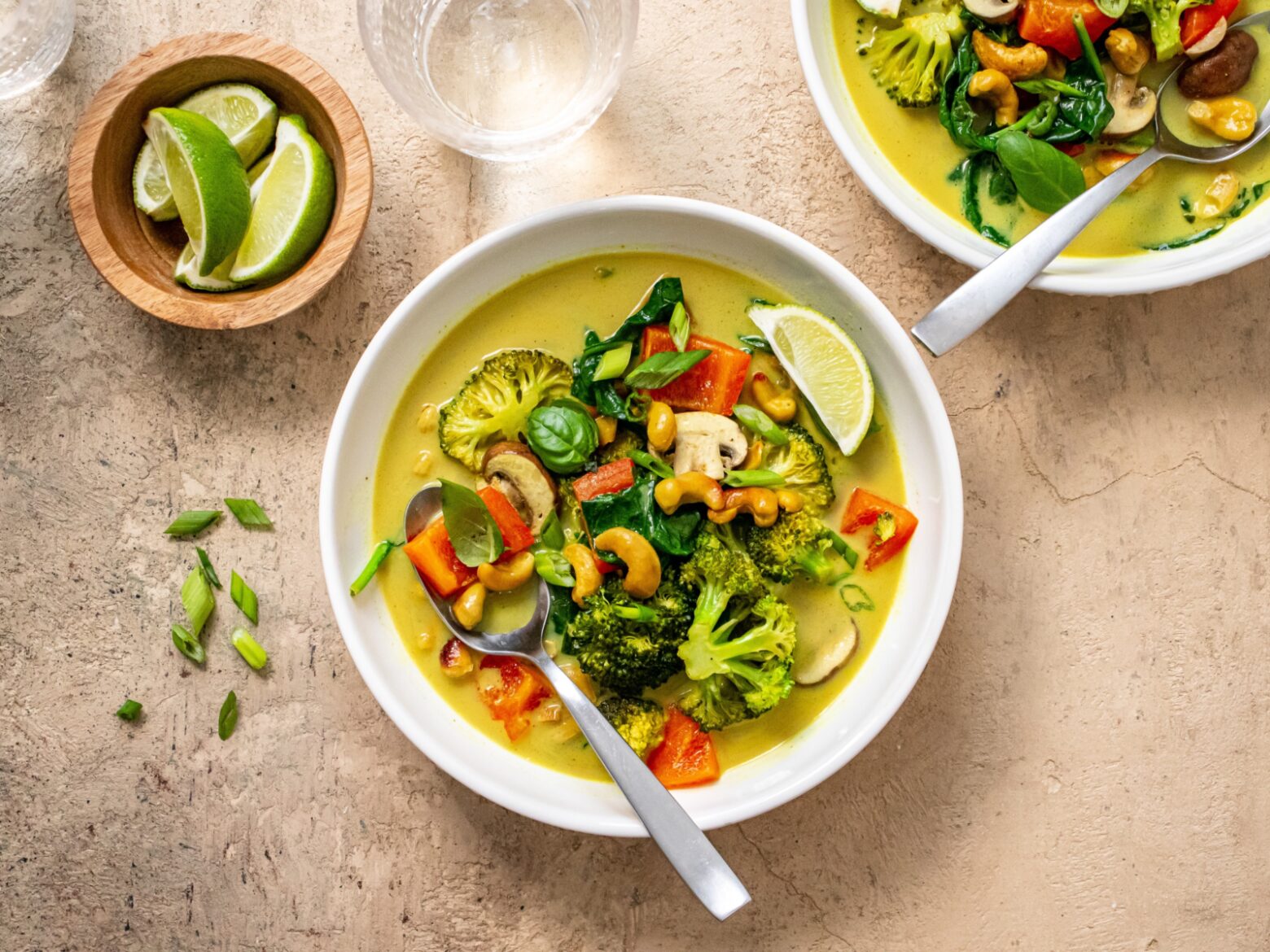 Not sure what to do with all those veggies in your fridge? Curry is a great way to bring them all together.
This easy recipe uses a combination of bell peppers, mushrooms, broccoli, and spinach, but feel free to use whatever you have on hand. Carrots, kale, celery, onion, and cauliflower can also be great additions!
Variety is important here, especially when you're going meat-free. A combination of veggies can help fill you up with fiber while providing lots of colorful contrast. Plus, the more vegetables you can sneak in, the more vitamins and nutrients you'll get.
Cashews are a key ingredient. We start by lightly browning the cashews in olive oil with chopped bell peppers to bring out their nutty flavor. This serves as a great flavor base for the curry, while providing a nice textural balance to the veggies.
Once the cashews are nice and fragrant, add the mushrooms, broccoli, or other hearty veggies you're using. Season with salt-free curry powder, then pour in lime juice and vegetable stock. Bring to a boil, then simmer to let all the flavors marry.
Right before you're ready to serve, add the coconut cream and spinach, being careful not to overcook.
Ladle your coconut curry into bowls, then garnish with scallions, basil leaves, and/or lime slices. Enjoy alone or over cauliflower rice!
Tips:
When adding the coconut cream, be sure to use just the thick portion from a can of coconut milk. If it's warm where you are, it might help to refrigerate the coconut milk for a few hours to separate the coconut water from the cream. Save the electrolyte-rich coconut water to use in smoothies!
You can store leftovers in an airtight container in the fridge for up to five days.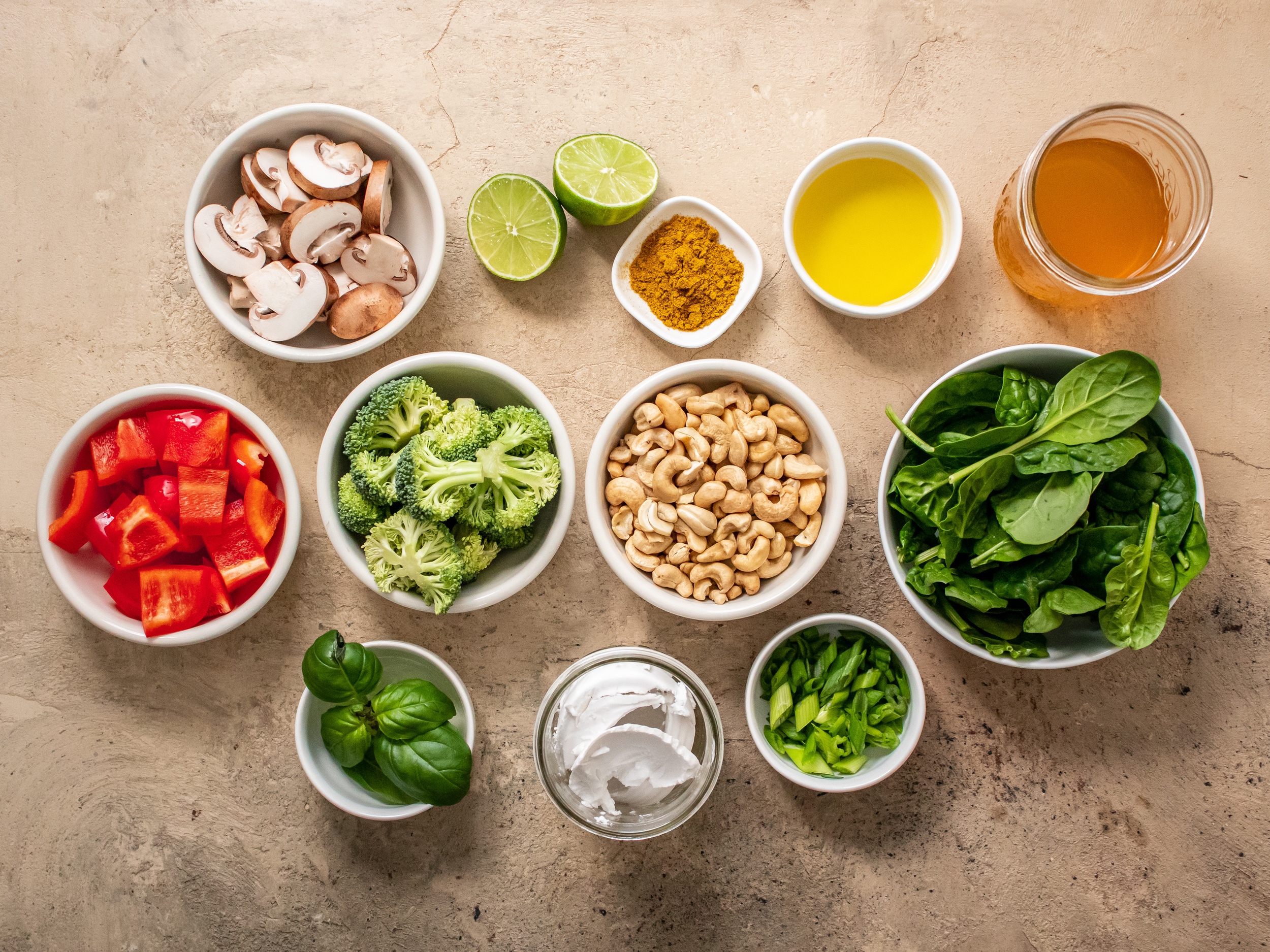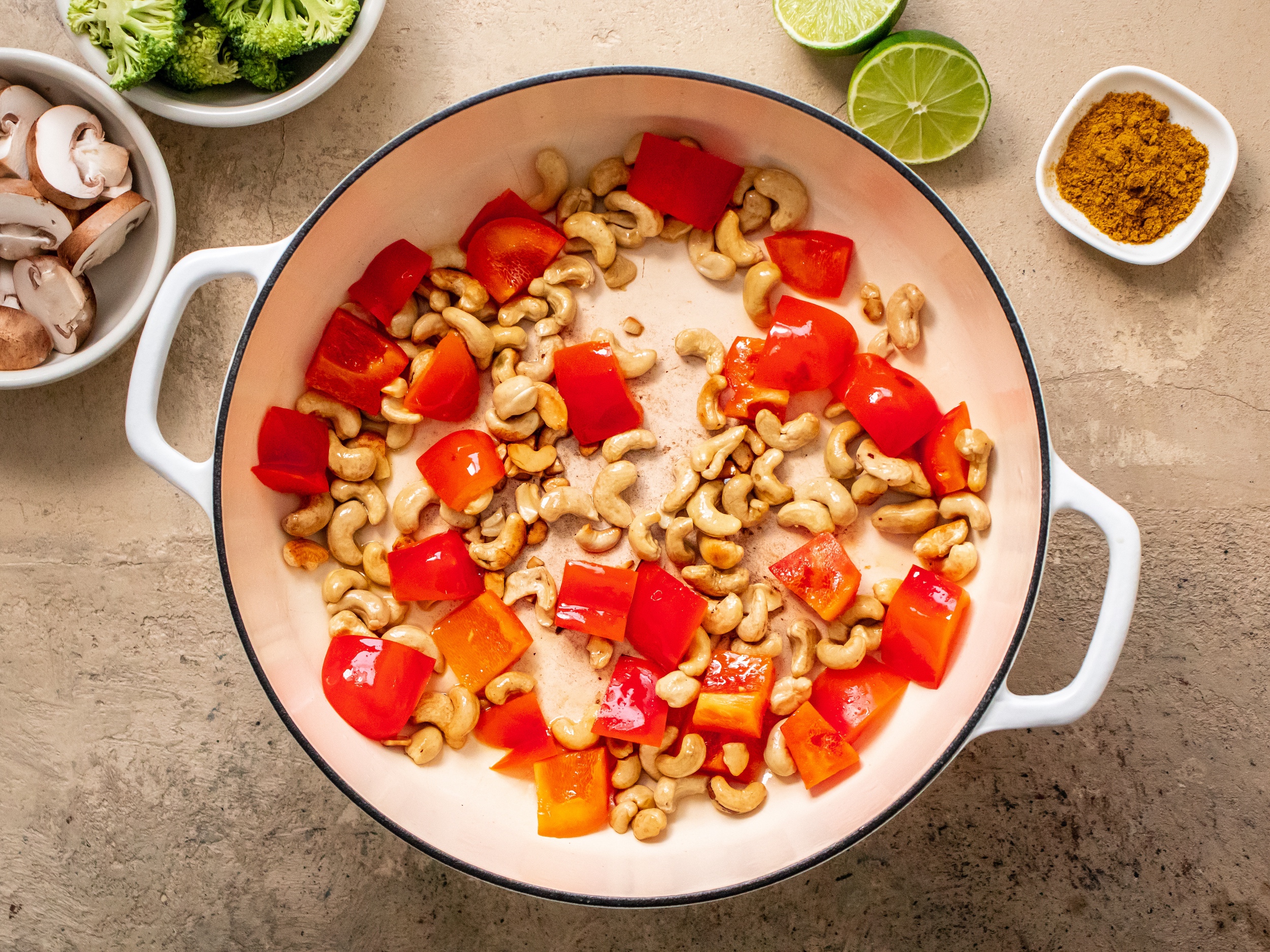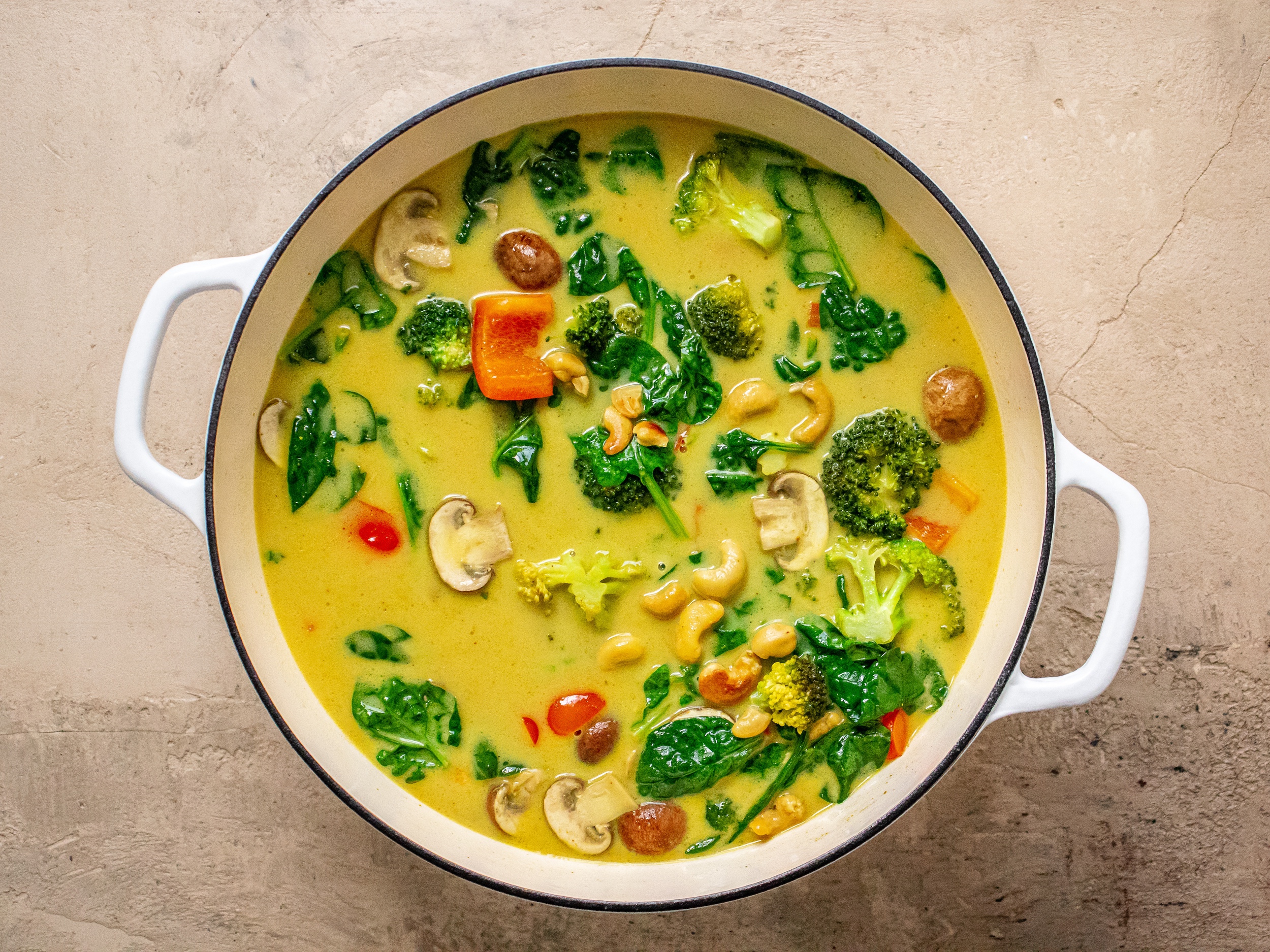 For hundreds of pure Paleo recipes be sure to check out  The Real Paleo Diet Cookbook  and  The Real Paleo Diet Fast and Easy.
Details
Serves:

4

Prep Time:

10 minutes

Cook Time:

20 minutes

Total Time:

30 minutes
Print this Recipe
Ingredients
2 tbsp olive oil

1 cups raw unsalted cashews

1 medium bell pepper, chopped

1 cups sliced cremini mushrooms

1 cups broccoli florets

1 tbsp unsalted curry powder

Juice of 1 lime

1 cups unsalted vegetable stock

1 (15 oz) can full-fat, unsweetened coconut milk (thick cream portion only)

2 cups baby spinach

1/2 cups chopped green onion

1/2 cups fresh basil leaves

1 lime sliced into wedges, for serving
Directions
Heat olive oil over medium heat in a large pot or Dutch oven. Add cashews and bell pepper. Sauté for 5-7 minutes, until cashews are golden brown, stirring occasionally.

Add mushrooms, broccoli, curry powder, lime juice, and vegetable stock. Bring to a boil and reduce heat to low. Simmer for 8 minutes.

Stir in coconut cream and spinach. Cook two minutes longer, or until spinach is just wilted.

Ladle your curry into bowls and serve hot, topped with basil, green onion, and additional lime wedges.