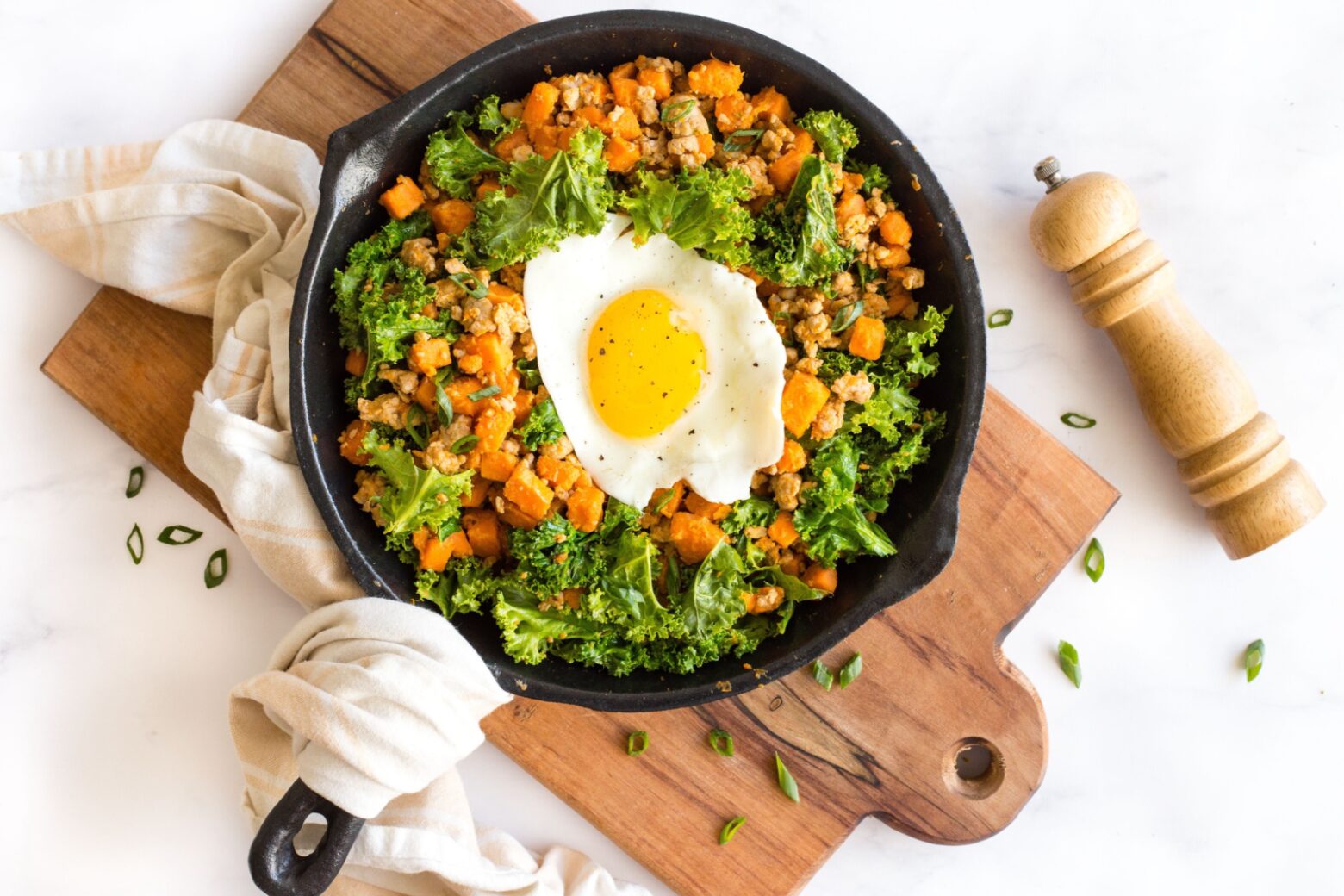 Sweet Potato Hash with Sausage & Kale
Try this one-pan protein-packed sweet potato hash with ground pork, kale, and fried eggs for a hearty Paleo breakfast!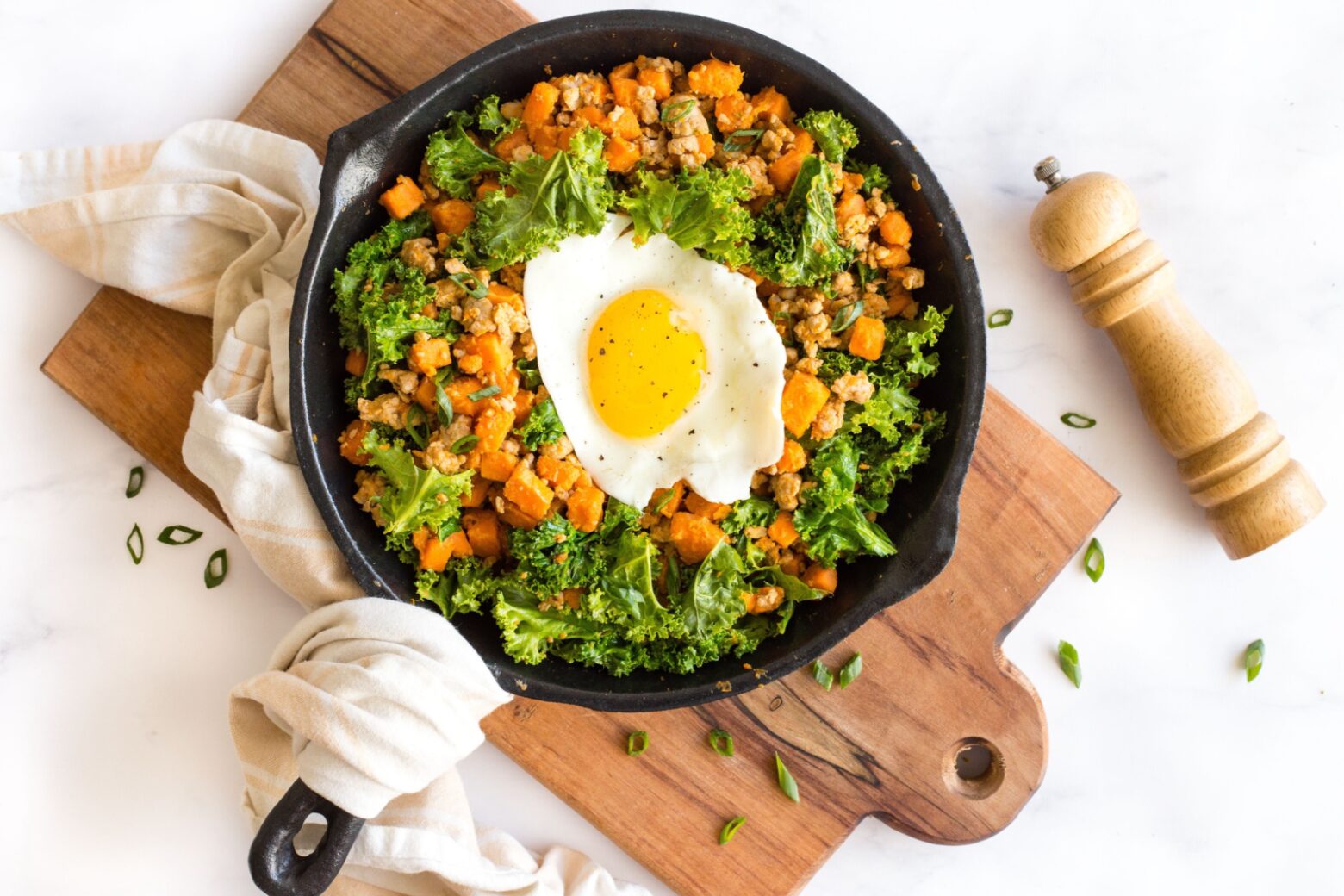 Need a hearty, stick-to-your-ribs breakfast? You can make this protein-packed sweet potato hash in a single cast iron pan, all without turning on the oven.
Breakfast hashes are very versatile dishes, and this Paleo Diet® recipe is no exception. This recipe calls for a nutritional powerhouse trio of sweet potatoes, ground pork, and fresh kale, but you can easily swap out (or add) other hearty veggies like beets, onions, or shallots.
Start by sautéing the sweet potato cubes in coconut oil. They take the longest to cook, so be sure to give them a good head start. You can also slice them into ½-inch cubes or smaller to cook them even faster.
Once the sweet potatoes are soft, add the ground pork and continue cooking until browned, stirring constantly. Add the kale and then season with black pepper and garlic powder. You can also experiment with other spices like turmeric, red pepper, or onion powder as well (or instead).
Serve up your hash as soon as it's ready, or take the time for one extra step and fry up a few eggs to serve over the top. Garnish with green onions and black pepper and dig in!
Hungry for more breakfasts that will hold you 'til lunch? You'll love this protein-packed breakfast casserole with sausage and spinach!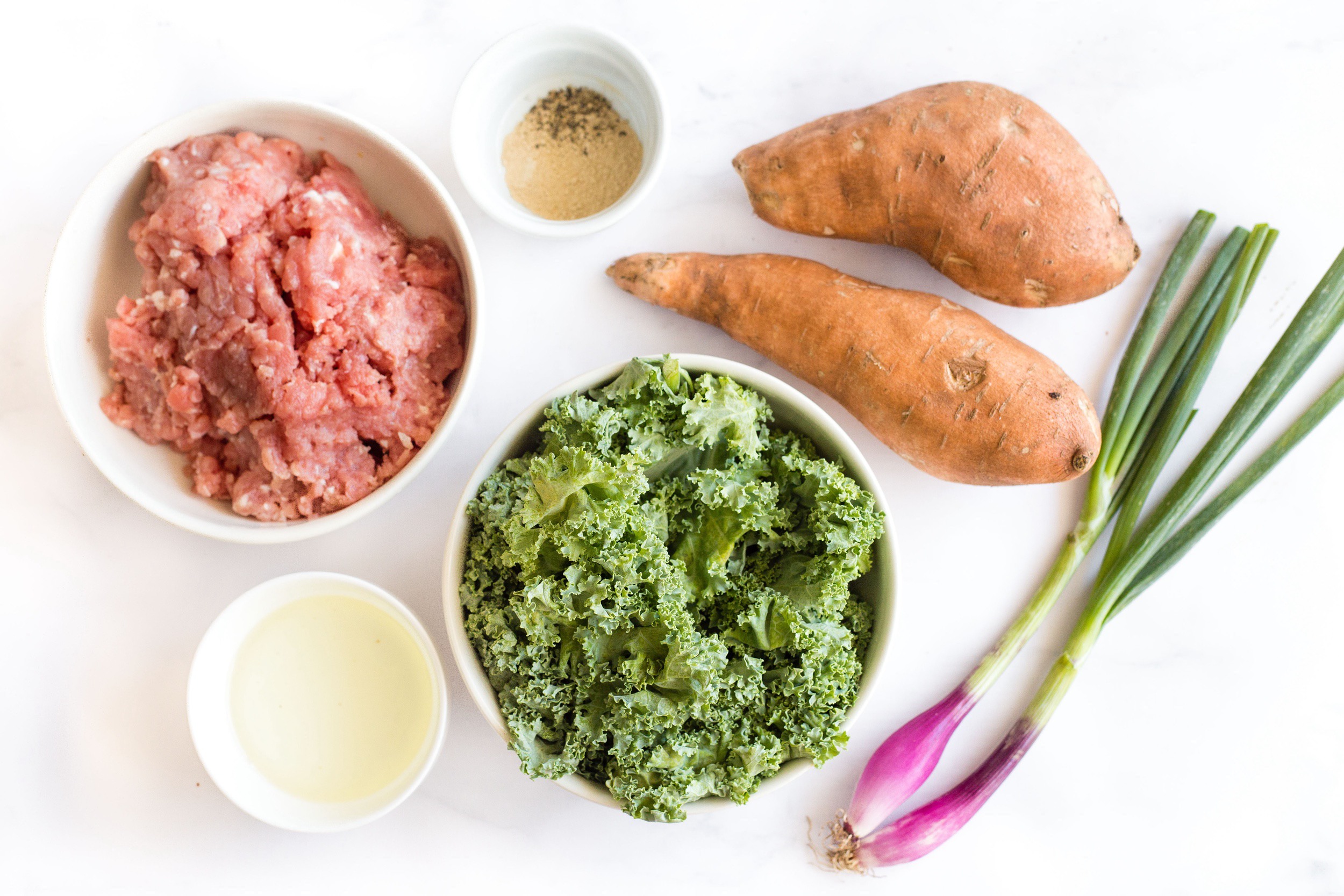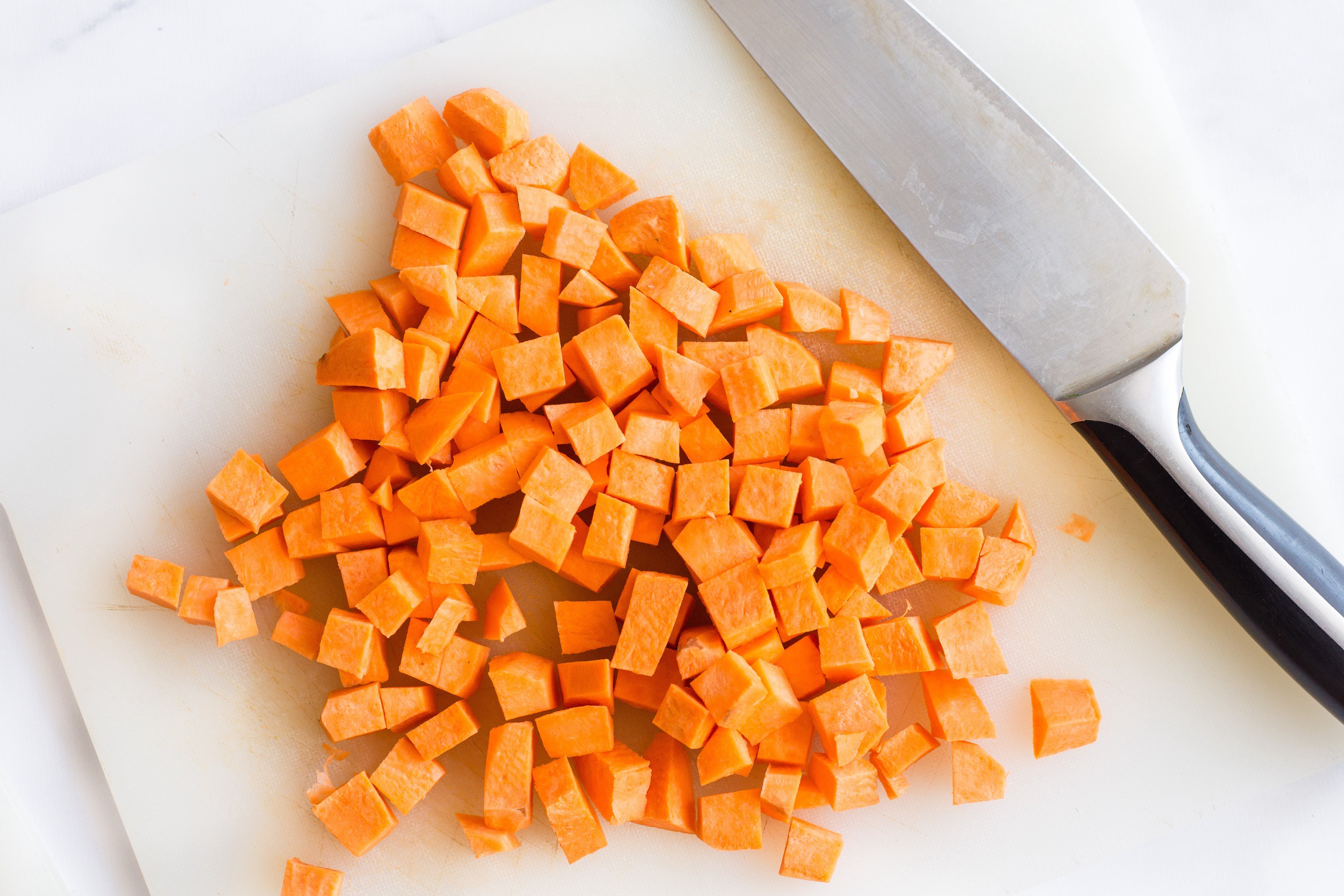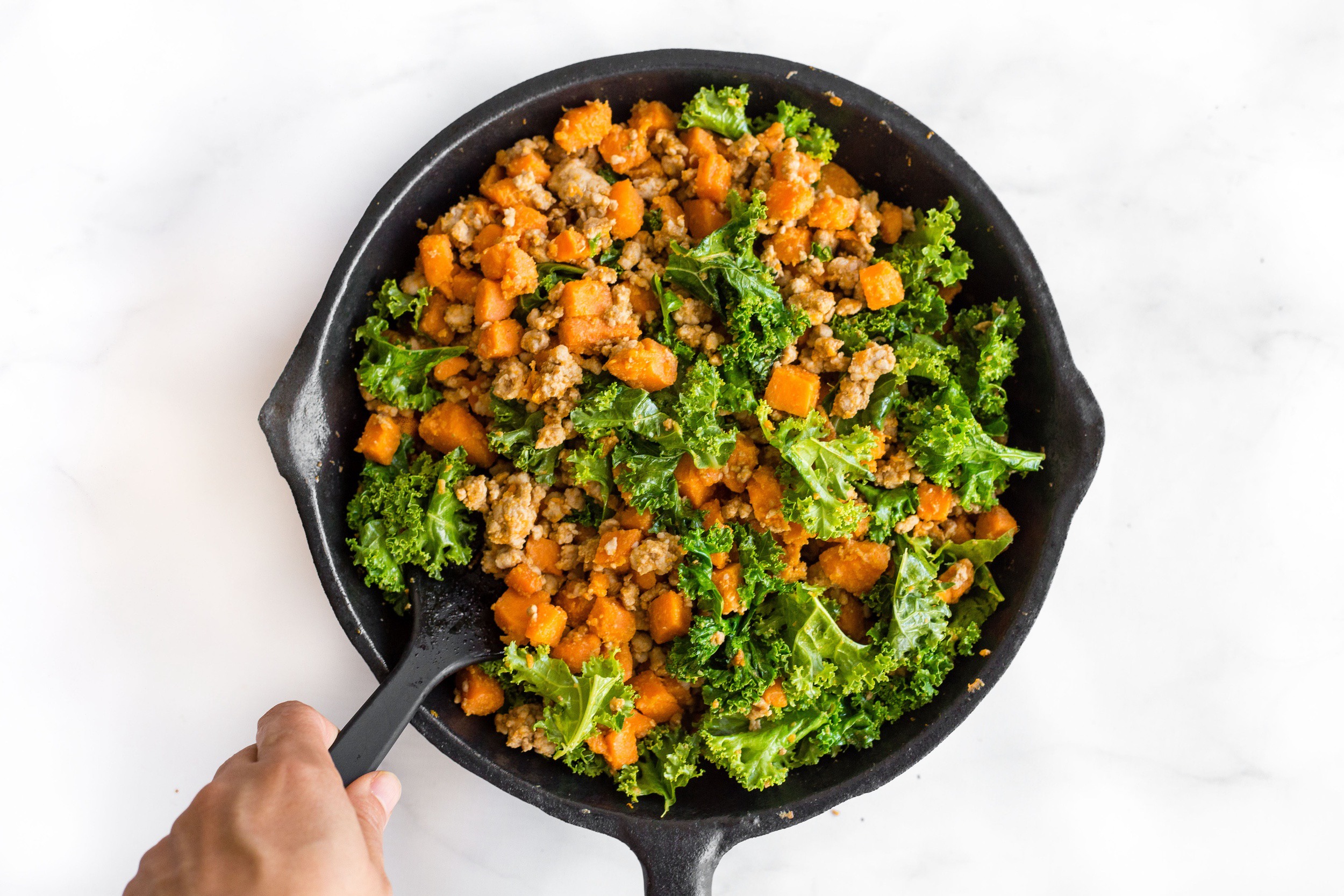 For hundreds of pure Paleo recipes be sure to check out  The Real Paleo Diet Cookbook  and  The Real Paleo Diet Fast and Easy.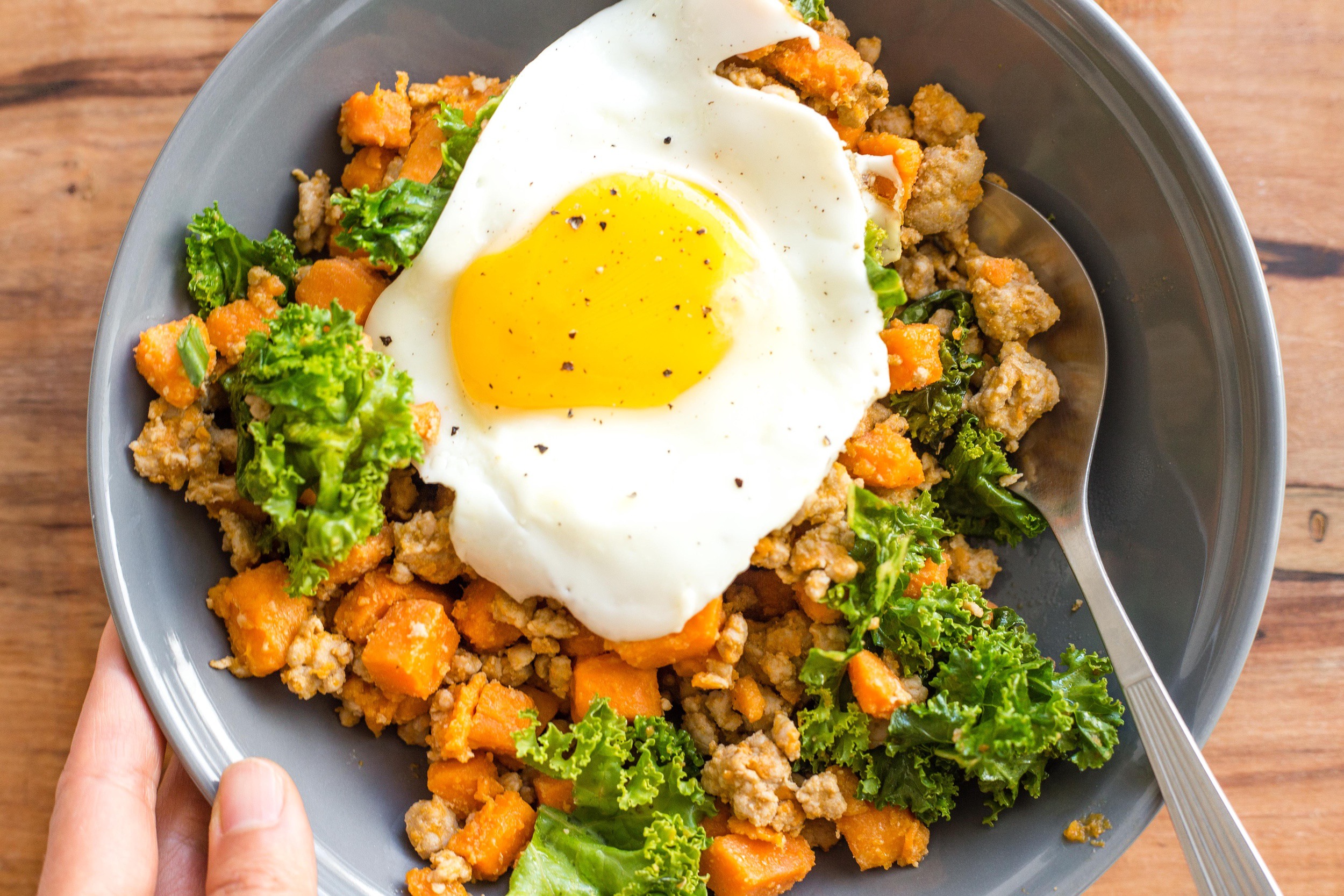 Details
Serves:

2

Prep Time:

10 minutes

Cook Time:

20 minutes

Total Time:

30 minutes
Print this Recipe
Ingredients
2 tbsp coconut oil

2 medium sweet potatoes, cut into 3/4-inch cubes

1/2 lb ground pork

2 cups chopped fresh kale, leaves only

1/2 tsp freshly ground black pepper, + more for garnish

1 tsp garlic powder

1 tbsp thinly sliced green onions, for garnish

2 eggs (optional)

Scallions, for garnish
Directions
Heat the coconut oil in a cast iron skillet over medium-high heat. Sauté the cubed sweet potatoes in the skillet until tender and cooked through, stirring with a spatula occasionally (approximately 10 minutes).

Once the sweet potatoes are tender, the ground pork and mix well. Break up the meat with a spatula as you cook, about 5 minutes more.

Mix in the chopped kale and season with black pepper and garlic powder. Cook for a few minutes until kale is dark green and slightly wilted.

As the kale cooks, fry up two eggs in another skillet (if desired).

Divide the hash between two bowls, and top each with a fried egg. Garnish with scallions and more freshly cracked black pepper.