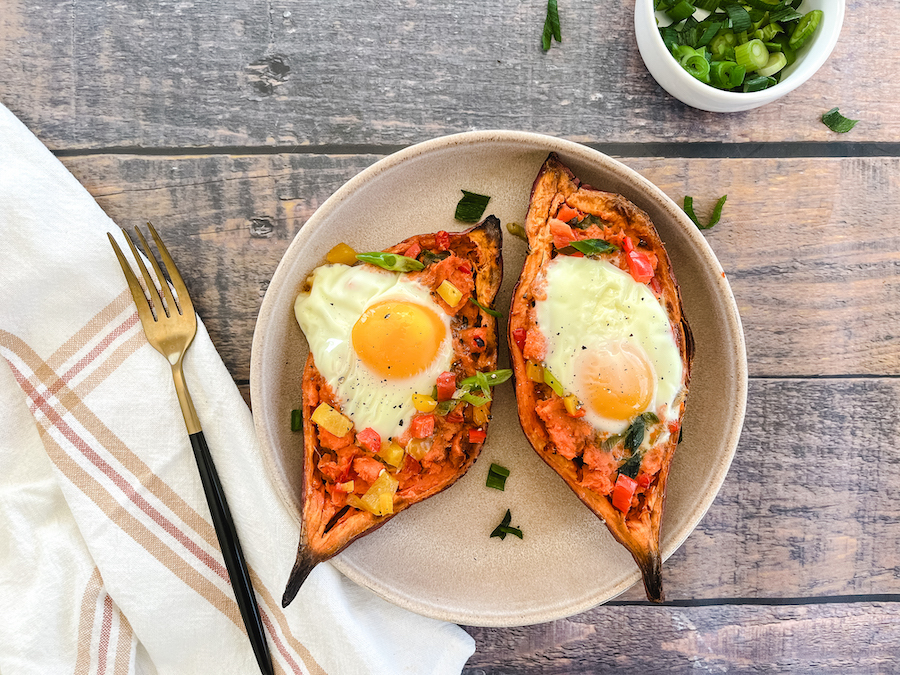 Sweet Potato Breakfast Boats
Sick of the same old breakfast routine? Switch things up with these easy and customizable sweet potato breakfast boats.
If you like sweet potatoes as much as we do, you'll love these crafty boats that mix the sweet potato insides with onions and peppers. Then we add it back to the skins and bake with an egg cracked inside each one.
You could also easily add meat to the mix. Pork belly would be delicious as a tasty replacement for bacon. You can also substitute or add in other heartier veggies, like broccoli or spinach.
Start by roasting the sweet potatoes until soft. Pro tip: Do this step ahead of time, so you save time on prep in the morning. Meanwhile, sauté diced bell peppers and green onions until soft.
When the sweet potatoes are tender, carefully scoop out the insides, leaving the skin behind as the "boat" to refill later. Mix the sweet potato insides with the sauteed veggies and seasonings, then spoon the fillings evenly back into the boats. Make a well in each, and crack an egg inside. Bake until the eggs are set, then dig in!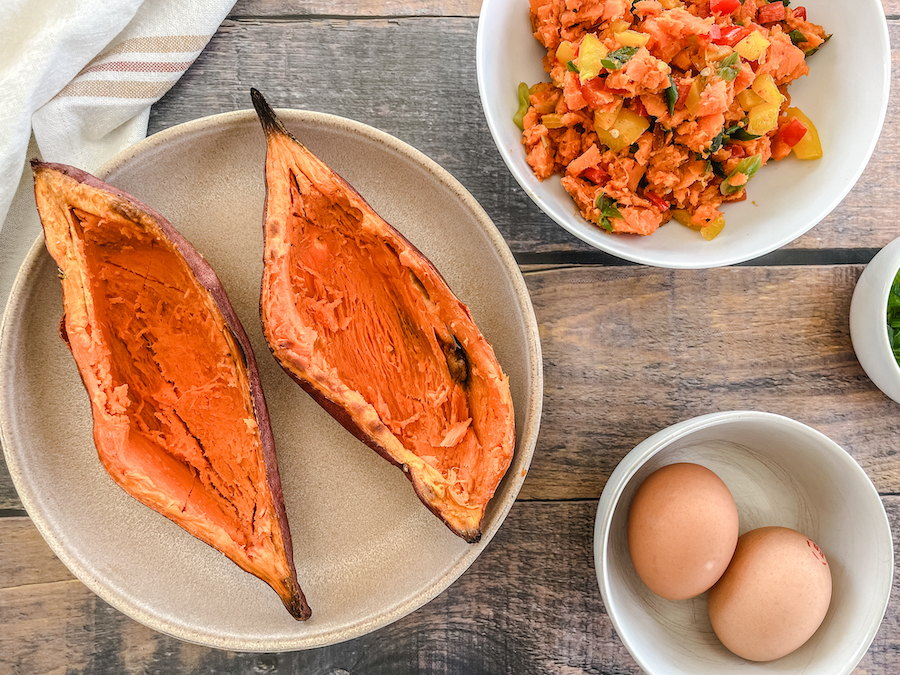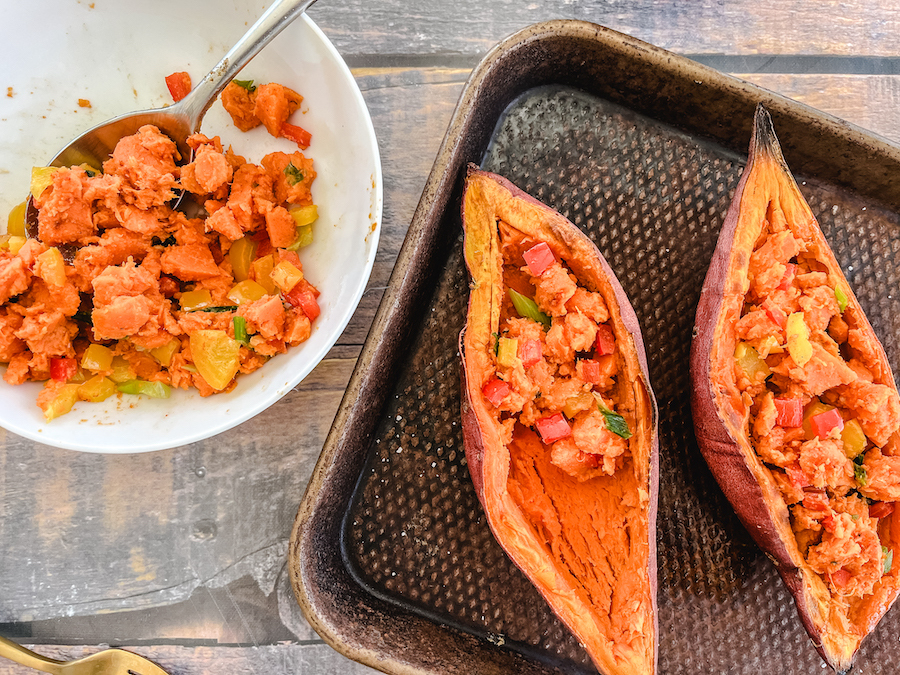 Tip: Are you a fan of breakfast for dinner? This recipe is a great, filling choice! Serve with a salad for a complete meal.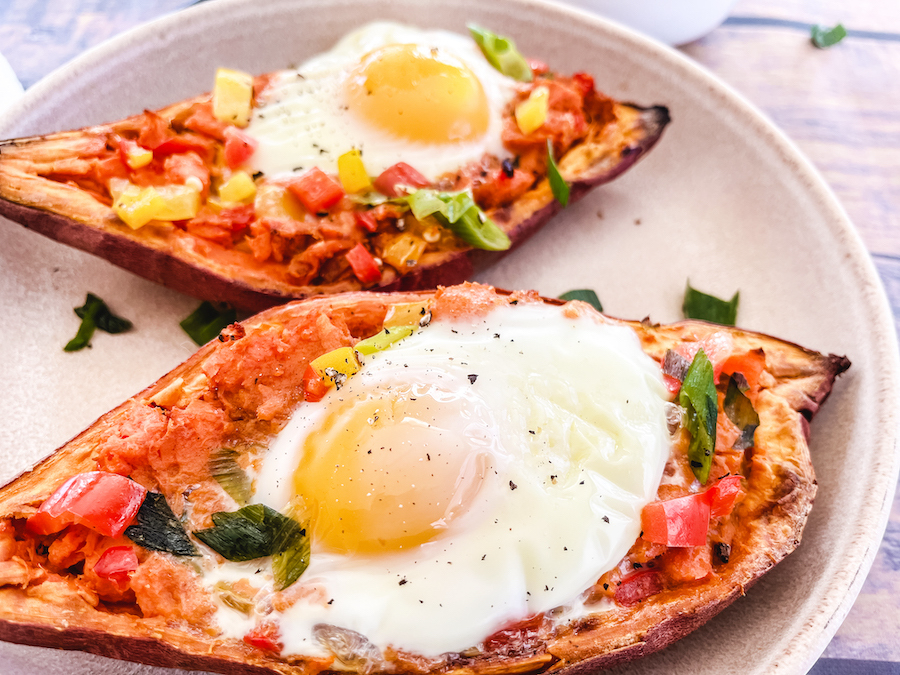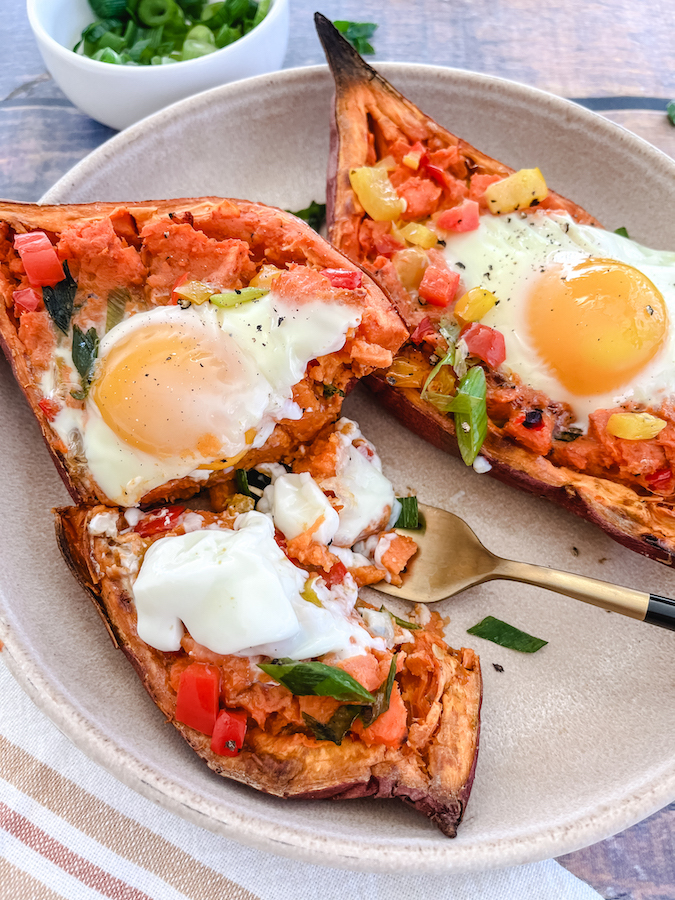 Details
Recipe by: Jess Case
Serves:

2

Meal:

Breakfast
Prep Time:

10 minutes

Cook Time:

55 minutes

Total Time:

1 hour 5 minutes
Ingredients
2 large sweet potatoes

2 large eggs

2 tbsp olive oil, divided

1/4 cups green onions, chopped, plus more for serving

1/4 cups red bell pepper, diced

1/4 cups yellow bell pepper, diced

1/4 tsp smoked paprika

1/4 tsp cumin
Directions
Preheat the oven to 400°F. Line a baking sheet with parchment paper.

Scrub the sweet potatoes thoroughly, then slice in half lengthways. Drizzle a tablespoon of the olive oil over the top of the sweet potatoes and bake for 40 minutes, or until tender.

While the sweet potatoes are baking, heat the remaining tablespoon of olive oil in a skillet over medium heat. Add the chopped green onions and peppers and sauté for 5 minutes, or until soft. Set aside.

When the sweet potatoes are done, let them cool for a few minutes. Then use a spoon to carefully scoop out the insides, leaving a thin layer around the skin. Set the boats aside.

Mix the insides of the sweet potato with the green onions and peppers, then add the paprika and cumin. Stir to combine. Spoon the mixture back into the boats. Use a spoon to make a well in each sweet potato, then gently crack in the eggs.

Bake for 12-15 minutes, or until the eggs are set to how you like them. Garnish with more chopped green onions and serve right away.