Breakfast Meal Prepping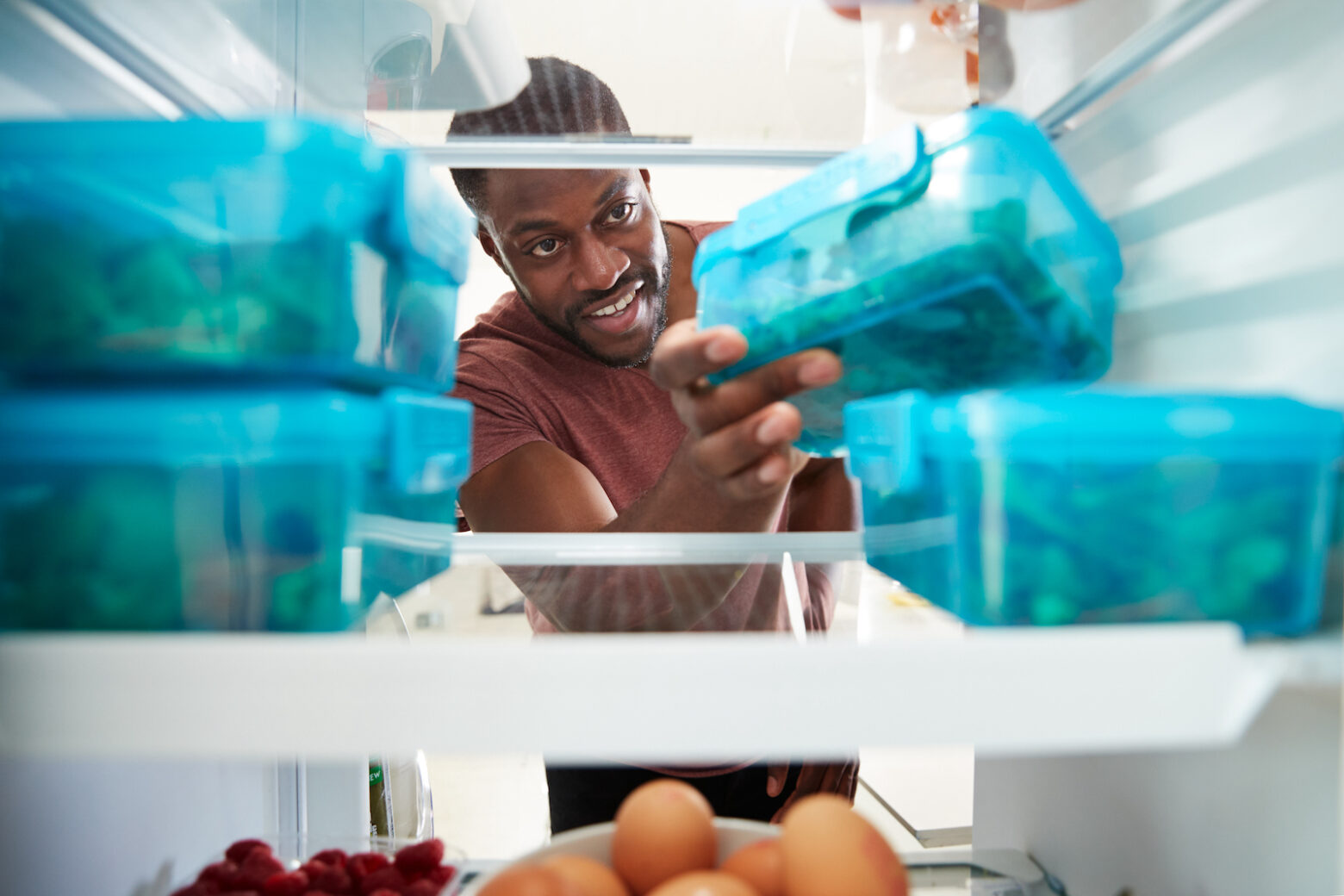 You've heard it before: breakfast is the most important meal of the day. But what if your morning rush makes eating breakfast unfeasible? Is having breakfast really that crucial?
The Importance of Breakfast
Breakfast can be ranked as one of the most important meals of the day. It has been proven that skipping breakfast in the morning can lead to energy deficiencies throughout the day. [1] Maintaining energy levels is vital, especially for those working long hours or busy parents who are running around all day. Even several cups of coffee can't compensate for the energy loss caused by skipping breakfast.
But not to worry—we have a breakfast meal-prep solution that sets you up with five different meals for the week. We recommend prepping it all on Sunday, and then you'll only need to grab your breakfast as you head out the door each morning.
Gather Your Ingredients
These breakfast meals are combinations of egg bites, avocado sweet potato toast, green juice, apples and pecans, and mashed sweet potato. To prep these recipes, first stock up on the following ingredients. Before heading to the store, check your refrigerator and pantry to see if you already have some items to cross off your list.
3 Tbsp. plus 1 tsp olive oil
1 Tbsp. coconut oil
2 strips of low-sodium turkey bacon
5 medium sweet potatoes, divided
1 onion
5 kale stalks, divided
12 eggs, divided
1 tsp. black pepper
3 medium Honeycrisp apples
4 celery stalks
1 medium cucumber
3 Tbsp. lemon juice
3 cups water, plus more for boiling
1 avocado
1 tsp. cinnamon
½ cup chopped pecans
For bakeware and storage containers, you'll also need the following:
Medium pot
Large skillet
12-count muffin pan
Baking sheet
Parchment paper
Five storage containers
Two sealable mason jars
Prep Your Food and Bakeware
Next, prepare your items before you start cooking.
Ingredients
Take four of the smaller sweet potatoes and cut them into cubes. Slice the remaining larger sweet potato in half-lengthwise and make two slices about a quarter inch thick. Set aside.
Dice onion until you have about ¼ cup. Store the remaining onion for another meal or recipe.
Remove stems from kale stalks and coarsely chop the leaves. Set aside 2 cups (about 2 stalks) for egg bites; the rest will go into the green juice.
Core and dice apples. Set aside two of the chopped apples for green juice and one for the sweet potato bowl.
Dice cucumber and celery stalks.
Halve avocado.
Keep the rest of the ingredients ready in small cups or bowls.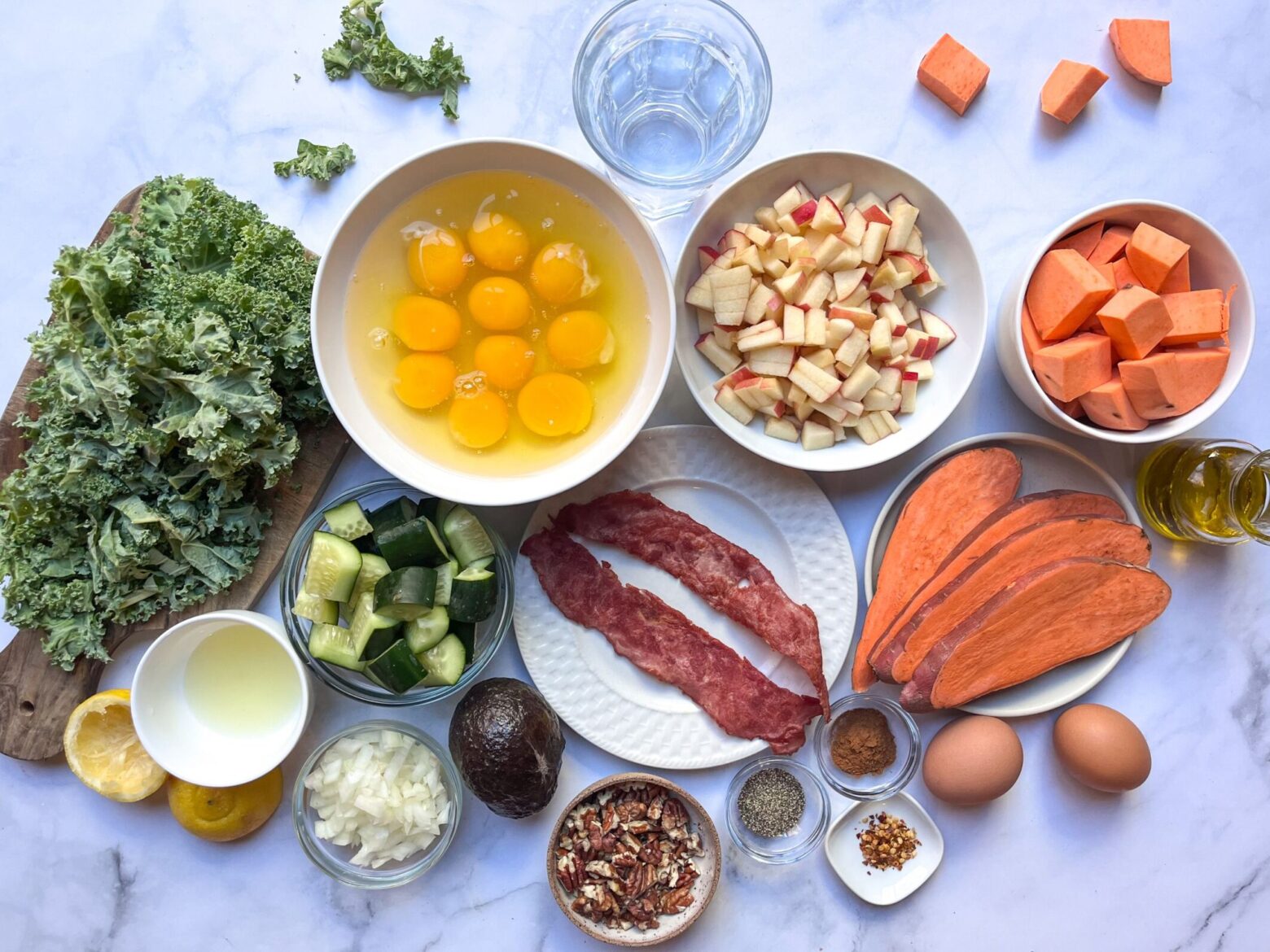 Bakeware
Line muffin pan with silicone liners or brush with olive oil.
Line baking sheet with parchment paper.
Get Cooking
Now it's time to fire up the stove, oven, and blender.
Preheat the oven to 350°F.
Place a pot half-filled with water on the stove and throw in half the cubed sweet potatoes. Watch it until it comes to a boil.
Meanwhile, heat 1 tablespoon of olive oil in a large skillet over medium heat. Add bacon and cook until crispy (about 7 minutes).
Transfer bacon to a paper towel-lined plate to cool slightly. Chop or crumble and set aside.
In the same skillet, add 1 tablespoon of olive oil along with the remainder of the cubed sweet potatoes and all the diced onion.
Sauté for 2-3 minutes. Add 2 cups of kale and sauté for an additional 2 minutes. Remove from heat.
By now, the water should be boiling. Put a timer on for 20 minutes.
On another burner, cook two eggs to your liking for the sweet potato avocado toast.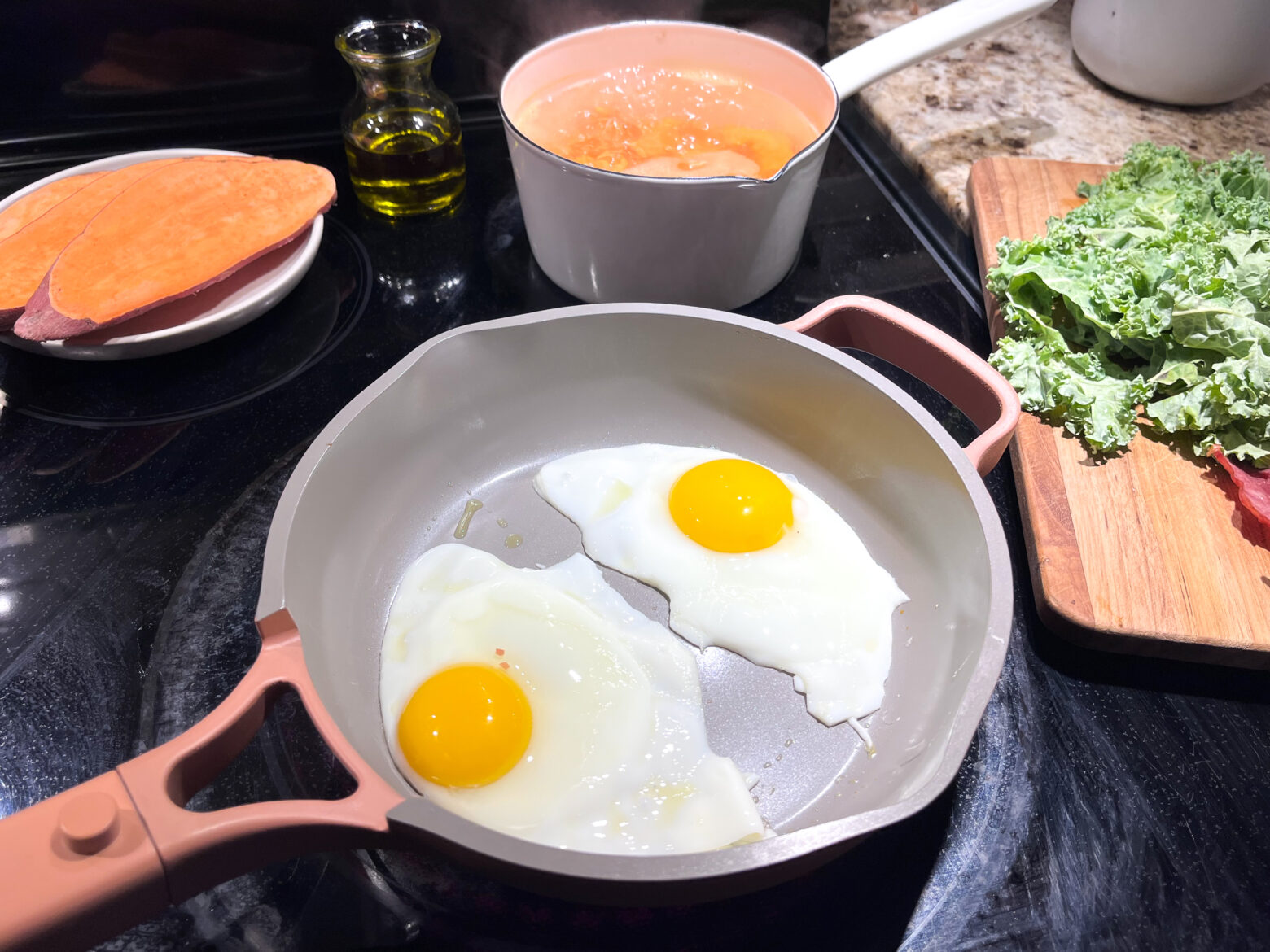 In a large mixing bowl, whisk 10 eggs and black pepper. Mix in onion, kale, and sweet potato mixture.
Pour egg mixture into the muffin pan, filling each cavity to the top. Bake in the oven for 20 minutes.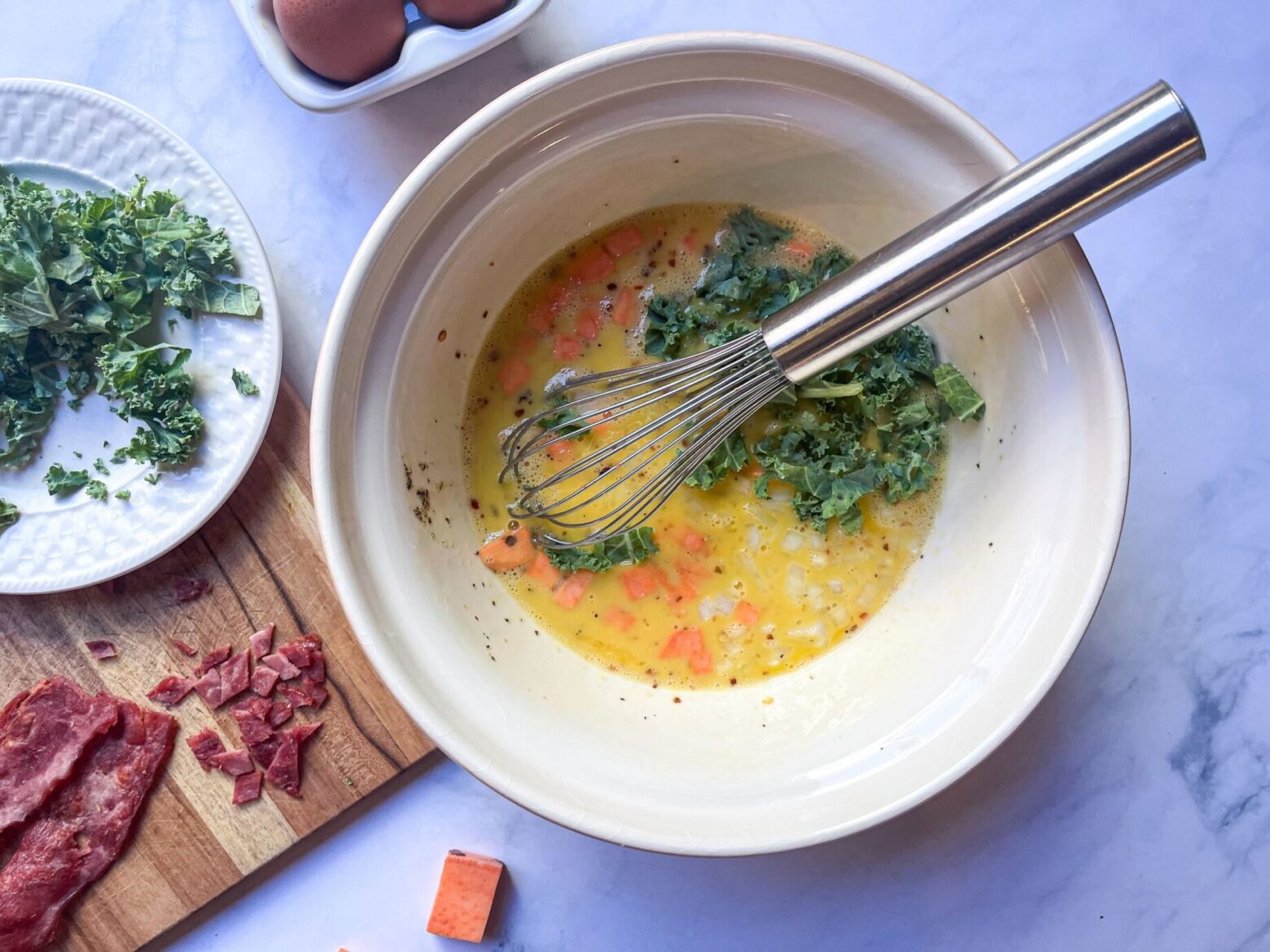 When sweet potatoes are done, drain excess water and return potatoes to the pot. Add coconut oil and mash them with a fork or potato masher. Set aside.
While egg bites are baking, make the green juice. In a blender, add two of the cubed apples, celery, cucumbers, remaining kale, lemon juice, and water.
Blend for about 3 minutes on high speed and strain into two mason jars using a fine mesh sieve or nut milk bag. Seal jars and set in the fridge.
Take egg bites out of the oven when finished and let them cool. Increase oven temperature to 425°F.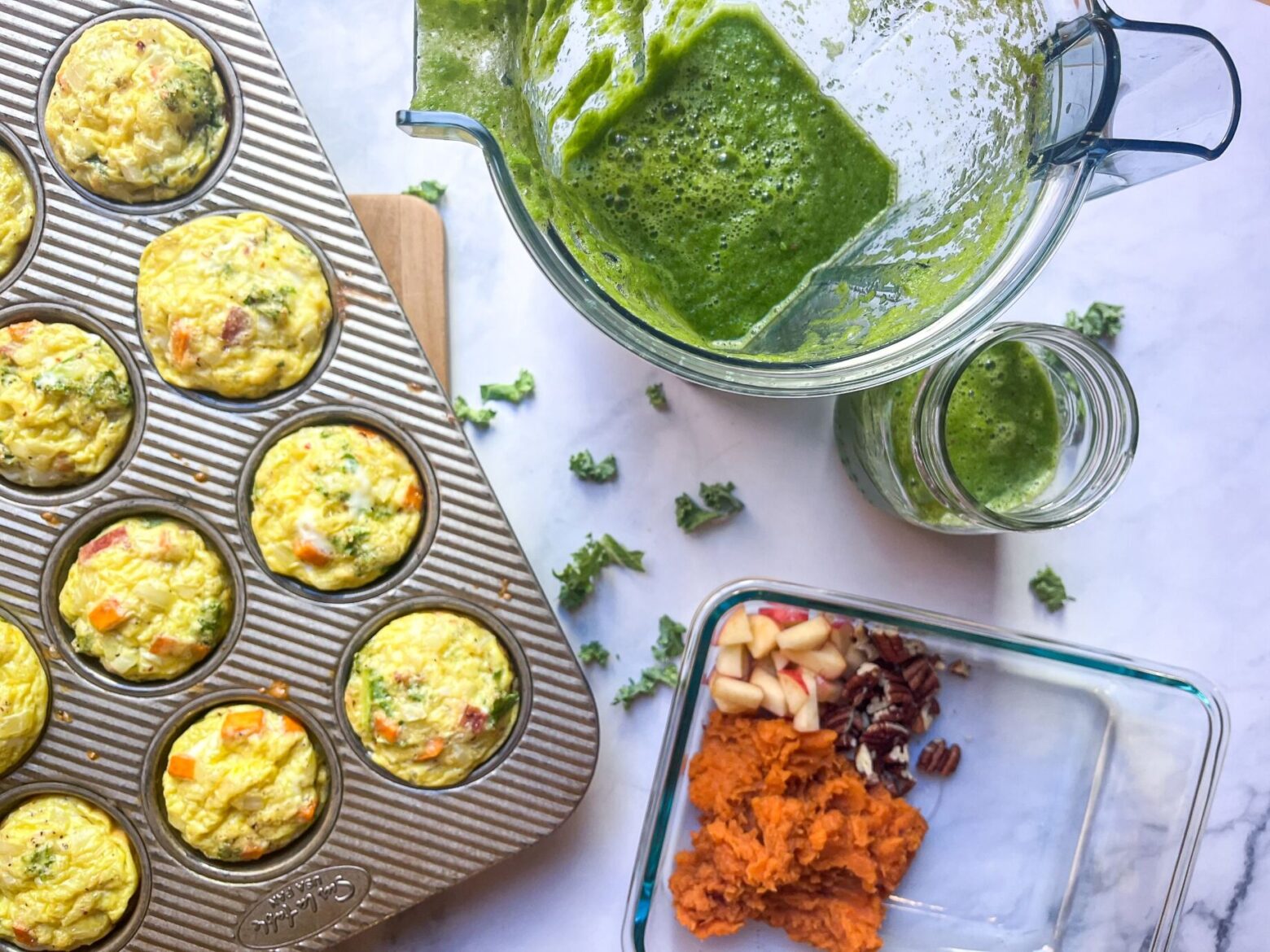 Arrange sweet potato slices on the baking sheet. Lightly brush potatoes with 1 teaspoon of olive oil.
Roast in the oven for 22 minutes, flipping halfway through. Remove from oven and let cool before storing.
Assembling Your Containers
Day One:
Layer one egg on top of one baked sweet potato slice in a container.
Cover an avocado half in plastic wrap to keep it fresh. When you're ready to eat, slice the avocado and layer on top of the eggs.
Serve with one mason jar of green juice.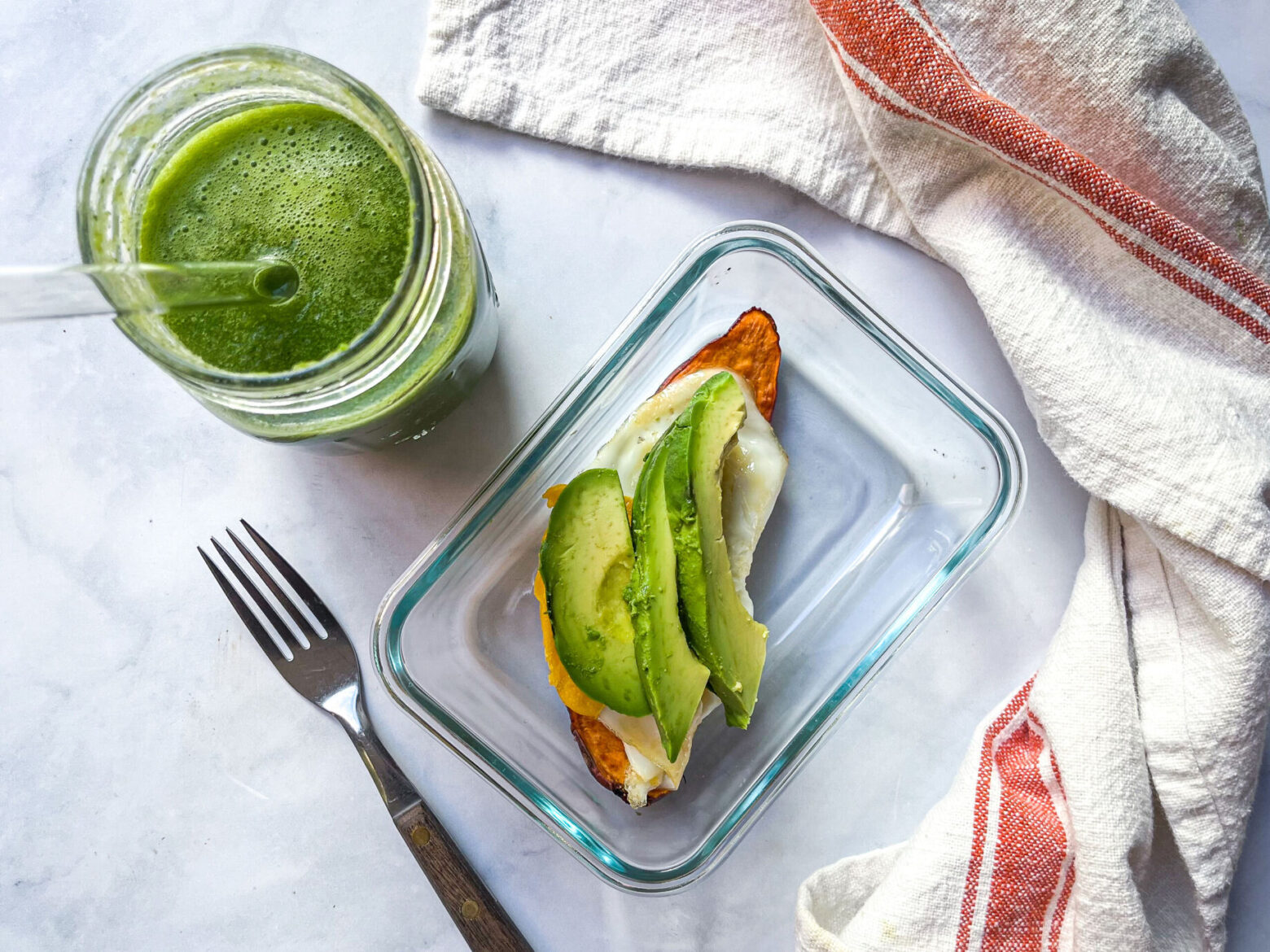 Day Two:
Place two eggs bites into one side of a container.
On the other side, scoop half the mashed sweet potatoes along with half the apples and pecans. Sprinkle with cinnamon to taste.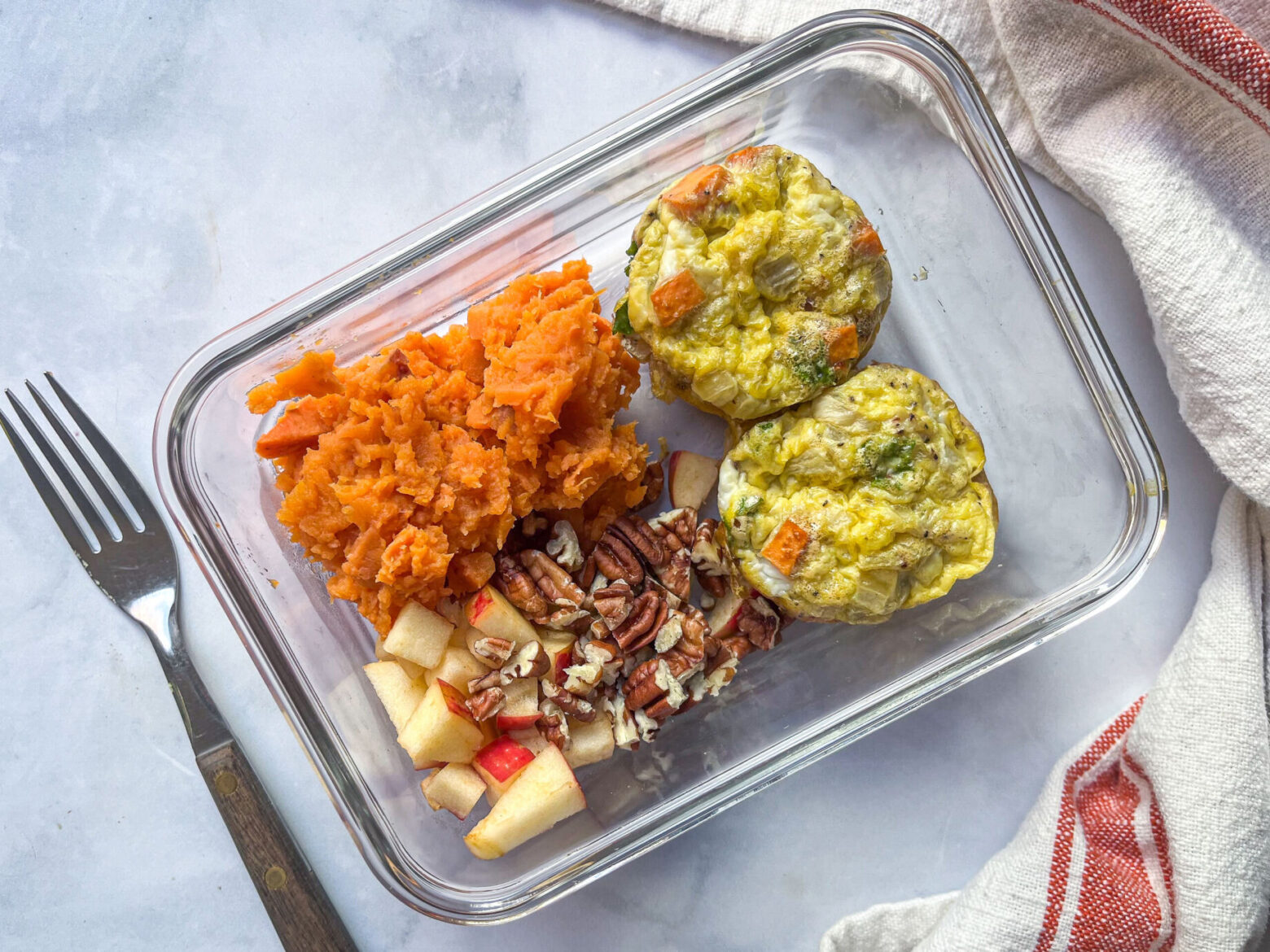 Day Three:
Place four egg bites into a container.
Serve with one mason jar of green juice.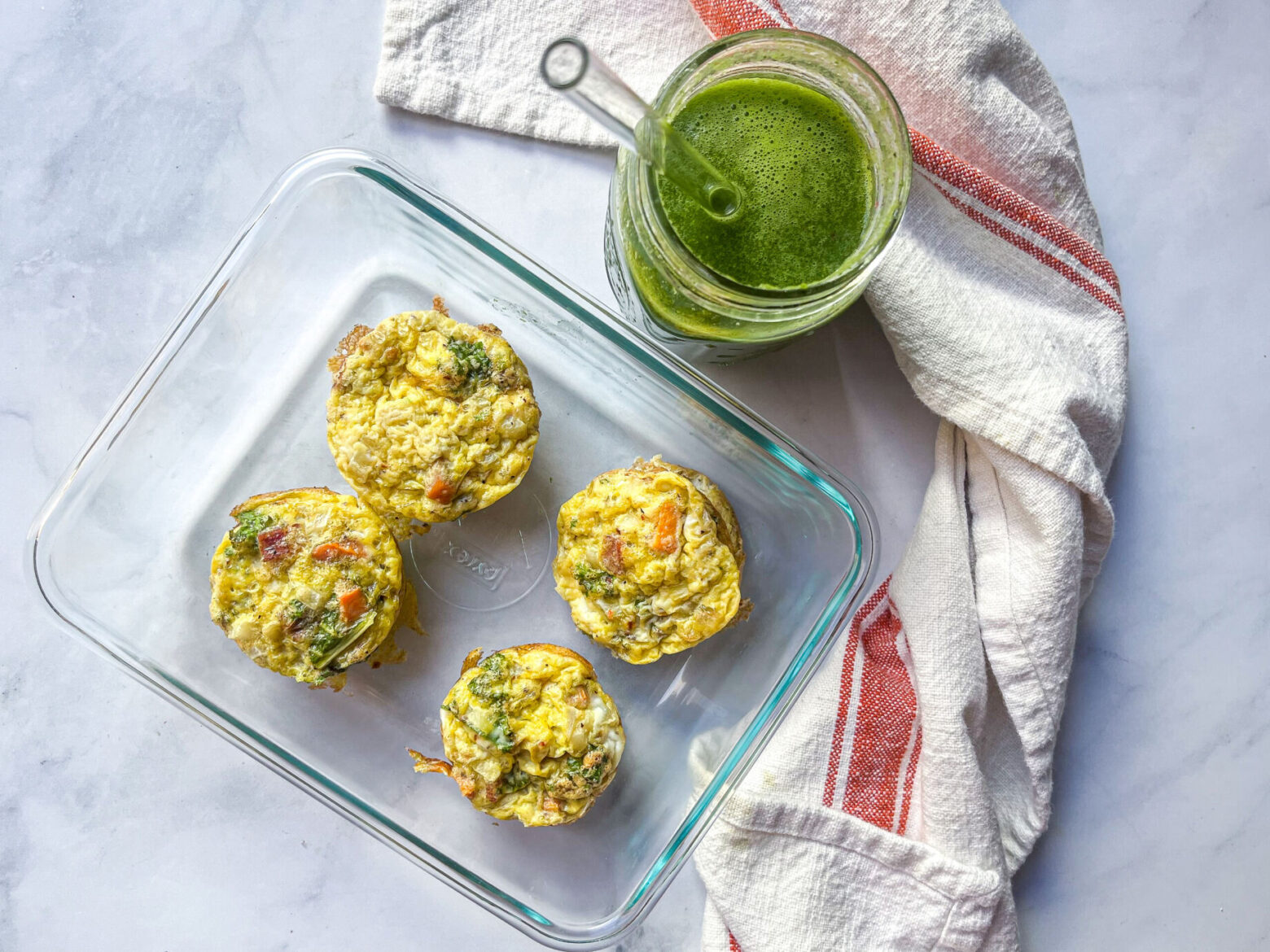 Day Four:
Layer one egg on top of the other sweet potato slice in a container.
Take the leftover half of the avocado and cover in plastic wrap to keep it fresh. When you're ready to eat, slice the avocado and layer on top of the eggs.
Place two egg bites alongside the toast.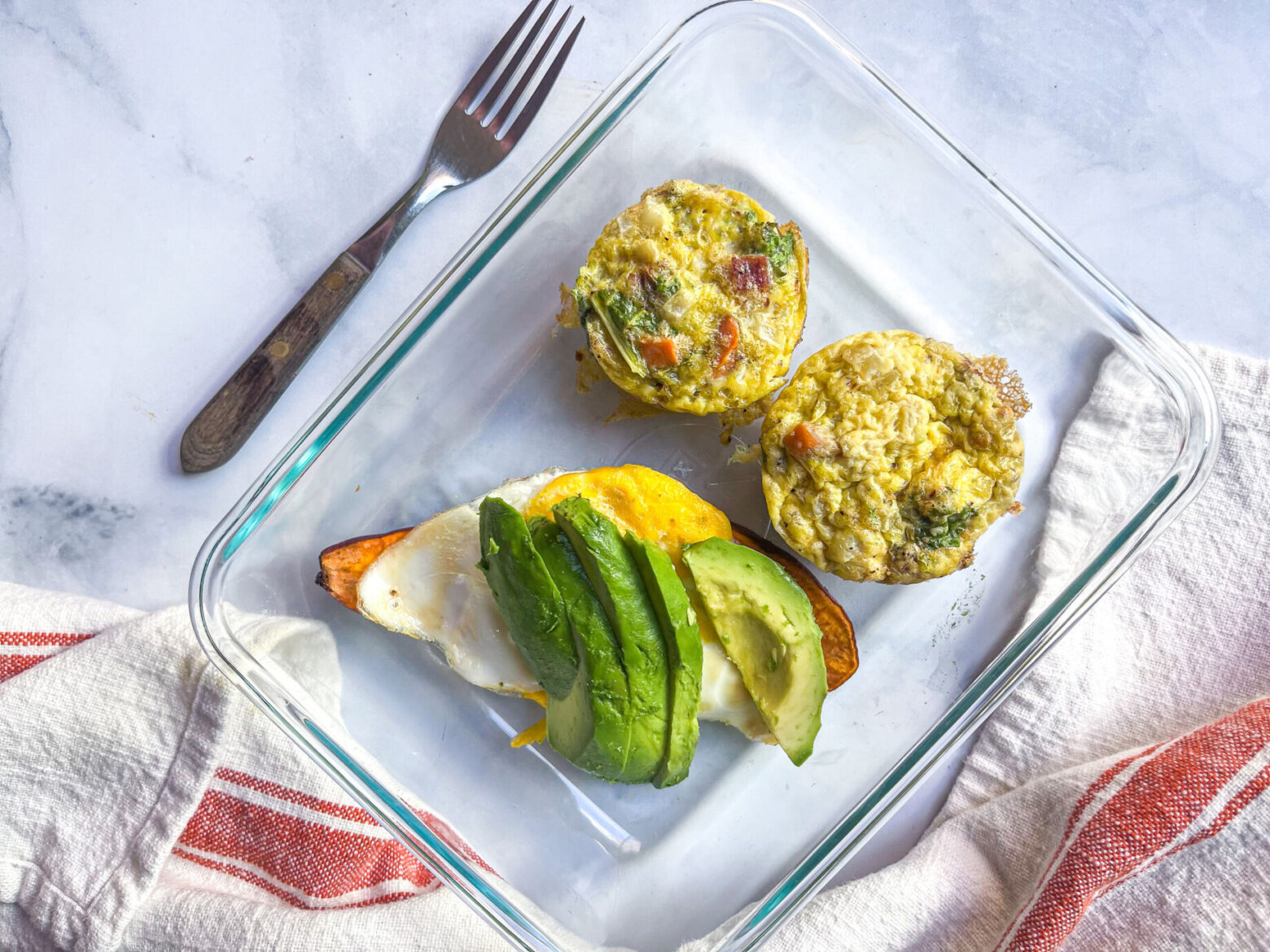 Day Five:
Scoop remaining mashed sweet potatoes, apples, and pecans onto one side of a container. Sprinkle cinnamon on top to taste.
Place two egg bites on the other side of the container.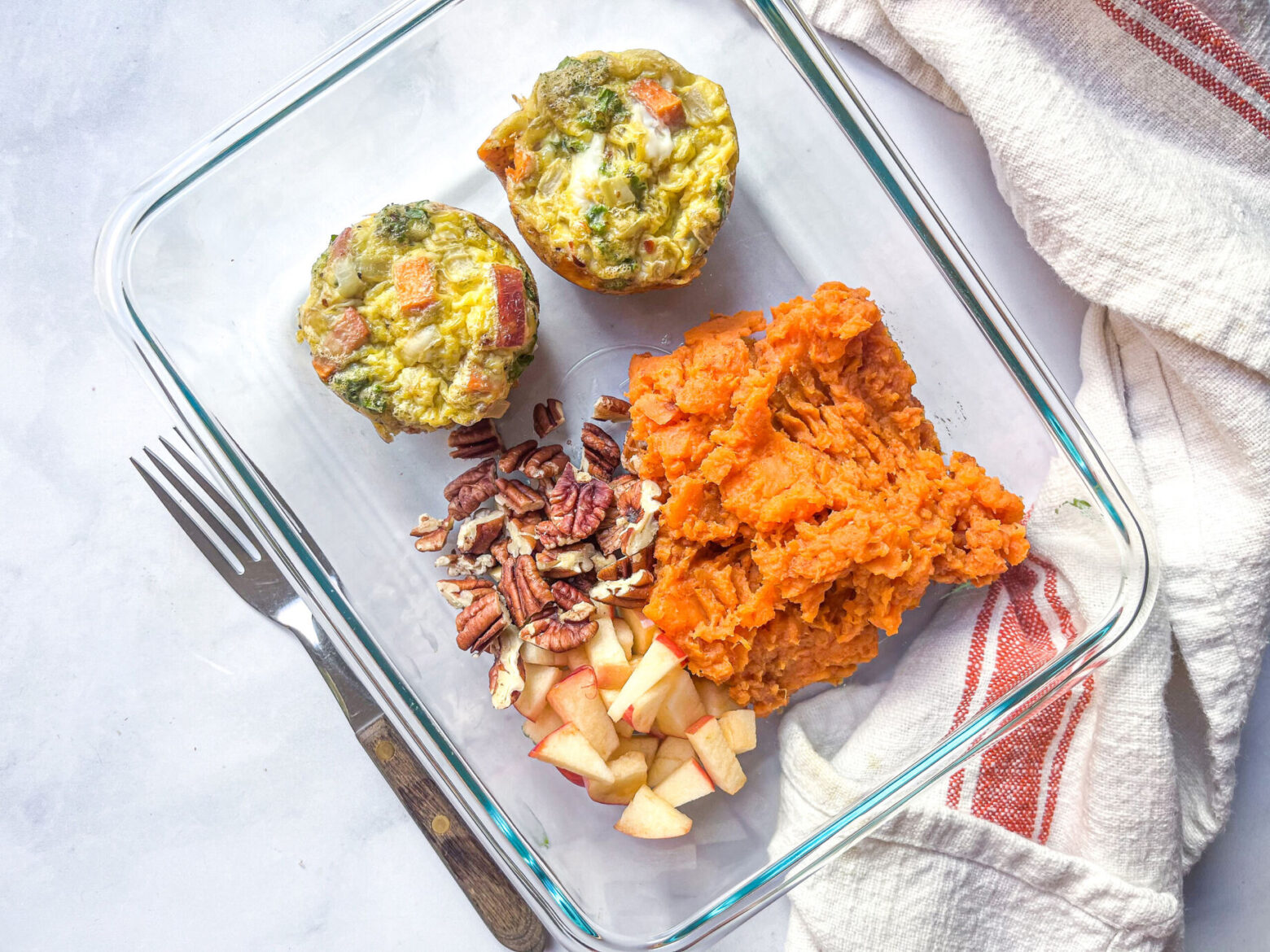 Store your prepped containers and mason jars in the refrigerator until you're ready to enjoy them. There will be two extra egg bites leftover, which you can store separately for snacks or a weekend breakfast. Now you're ready to tackle the week with a hearty, delicious breakfast that will boost your energy levels throughout the day and provide healthy nutrients from whole Paleo foods.
REFERENCES
[1] 1.Betts JA, Chowdhury EA, Gonzalez JT, Richardson JD, Tsintzas K, Thompson D. Is breakfast the most important meal of the day? Proceedings of the Nutrition Society [Internet]. 2016 Jun 13;75(4):464–74. Available from: https://www.cambridge.org/core/journals/proceedings-of-the-nutrition-society/article/is-breakfast-the-most-important-meal-of-the-day/74DC8BF20CAF1D7D5E75CD46A35451F8
Isabella Mead
Isabella Mead is the Production Manager at The Paleo Diet and has experience in creating digital content for lifestyle and nutrition brands.
More About The Author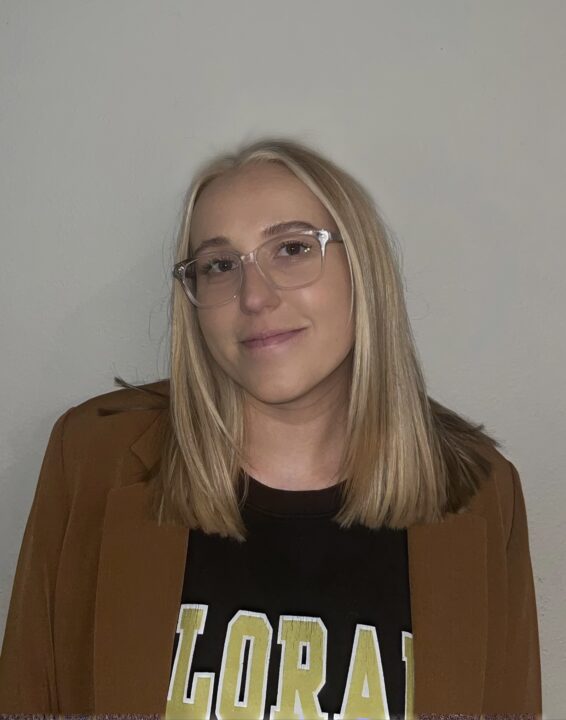 Meal Planning and Prepping