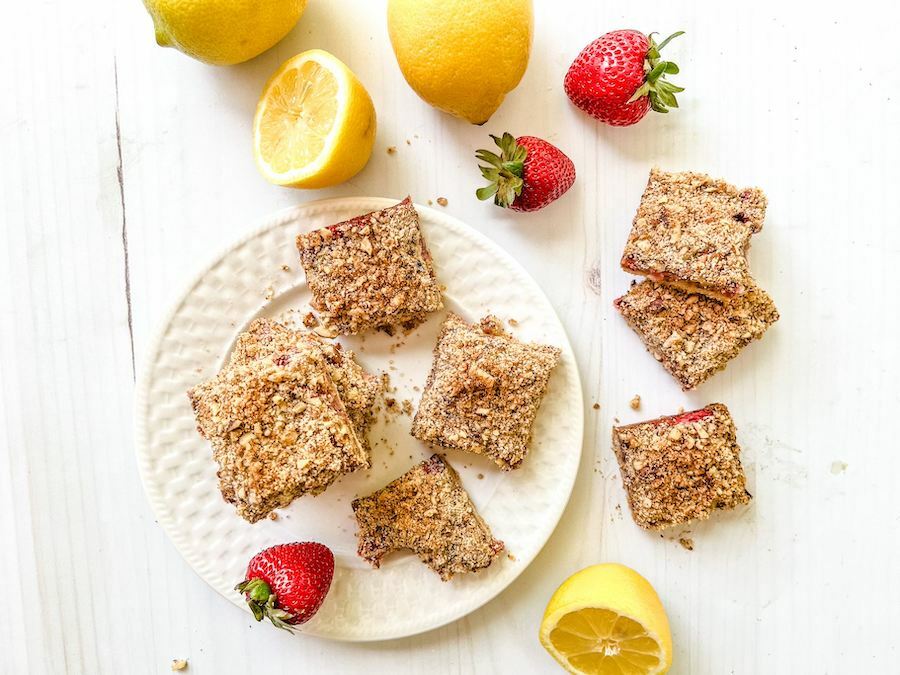 PaleoFLEX™ Strawberry Lemon Bars
Need the perfect treat to bring to a party? These three-layer strawberry lemon bars are sure to be a crowd-pleasing hit!
This recipe is the perfect way to use up a big batch of fresh strawberries. A jammy strawberry filling is sandwiched in between a doughy almond flour crust and crumbly pecan topping, then baked until golden brown. Few can resist these strawberry lemon bars!
To make it easy to bring these bars together, many of the ingredients are used two or three times for each of the layers. Since this recipe is PaleoFLEX™, we used a small amount of maple syrup for sweetener and sea salt to help balance out all those fresh, citrusy flavors.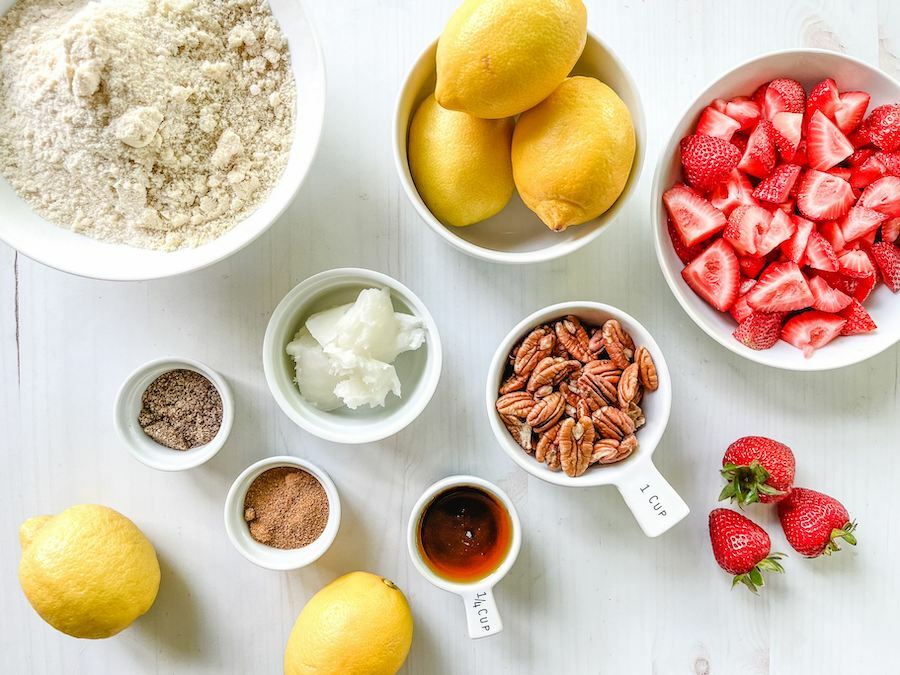 Start by making the strawberry filling. Tip: You can make this a day or two in advance to help save on time! Mix fresh (or frozen) strawberries with lemon juice, maple syrup, ground flax, lemon zest, and arrowroot starch to thicken it. Set in a saucepan over medium heat until bubbly and thick, then let it cool.
Next, prepare the crust: Use a food processor to pulse almond flour, coconut flour, sea salt, coconut oil, and maple syrup until doughy. Press into a parchment-lined square pan and bake for 15 minutes.
Meanwhile, you'll use the food processor again to make the crumbly topping of pecans, almond flour, maple syrup, coconut oil, and more lemon zest.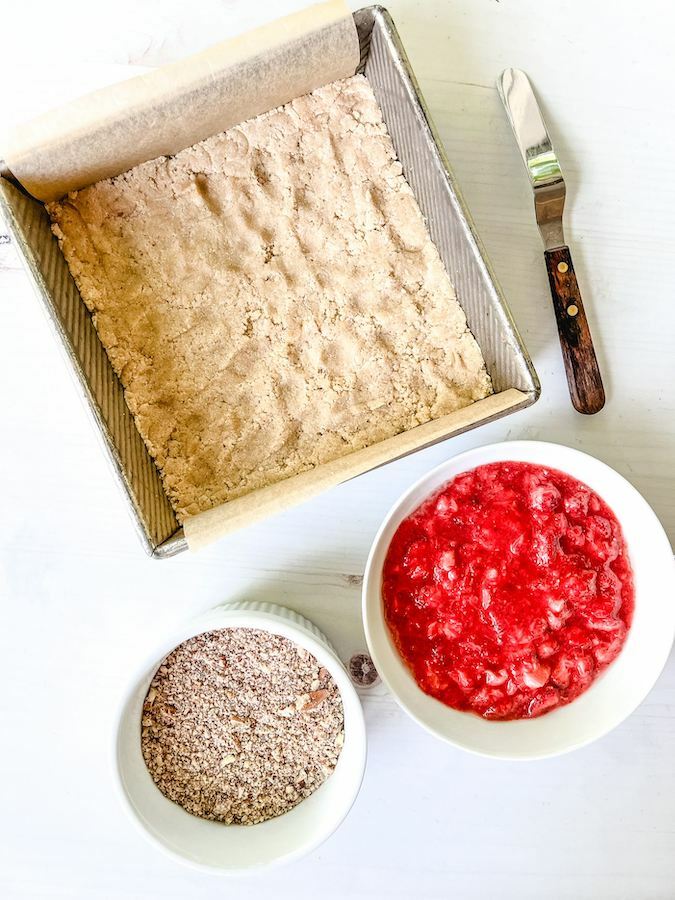 To bring everything together, spread the chilled strawberry jam over the cooled crust, then top with the pecan topping. Bake for 20 minutes more, then let them cool before slicing into them. Cut into 12 even squares, and enjoy!
Tip: You can substitute walnuts, cashews, or almonds for the pecans in the crumb topping if you wish.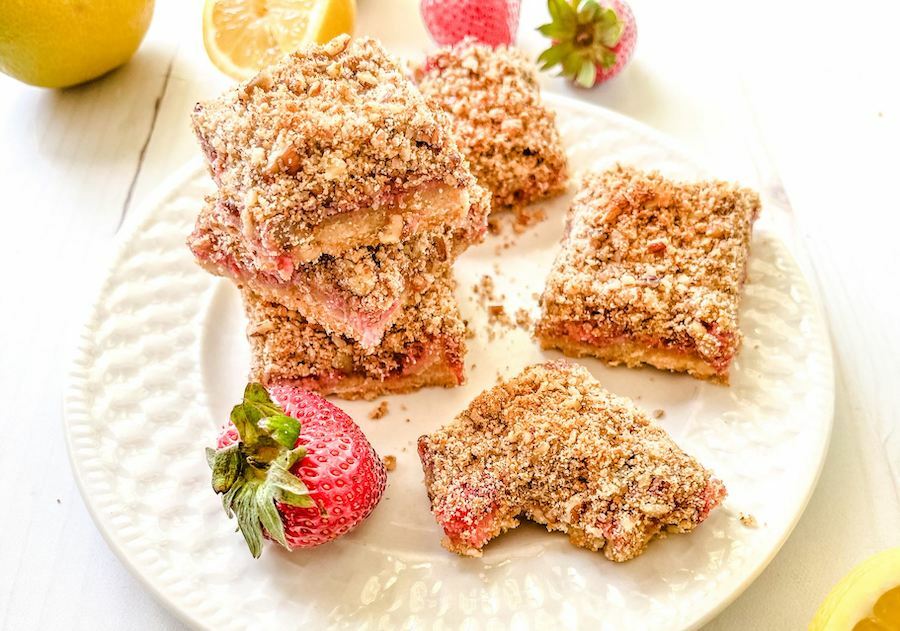 For hundreds of pure Paleo recipes be sure to check out The Real Paleo Diet Cookbook and Real Paleo Fast and Easy.

Details
Prep Time:

15 minutes

Cook Time:

45 minutes

Total Time:

1 hour
Ingredients
2 cups strawberries, chopped

2 tbsp lemon juice

5 tbsp maple syrup, divided

1 tbsp ground flax seed

1 tbsp arrowroot starch

2 tsp lemon zest, divided

2 1/4 cups almond flour, divided

4 tbsp coconut flour

1/4 tsp sea salt

4 tbsp coconut oil, divided

1 cups pecans
Directions
Mix the chopped strawberries with the lemon juice, 1 tablespoon of the maple syrup, ground flax, arrowroot starch, and 1 teaspoon of the lemon zest.

Transfer the mixture to a saucepan and set over medium heat until it starts to bubble, about 3 minutes. Let it bubble another 1-2 minutes, then lower the heat to low. Mash the strawberries with a wooden spoon and cook for another 2 minutes. Remove from the heat and let it cool completely before transferring the mixture to a bowl. Chill in the fridge for about 30 minutes.

Preheat the oven to 350°F and line an 8x8 pan with parchment paper. Set aside.

To make the crust, pulse 2 cups of the almond flour, the coconut flour, sea salt, 3 tablespoons of the coconut oil and 3 tablespoons of the maple syrup in a food processor until doughy. Using your hands press the dough into the prepared pan evenly. Bake for 15 minutes, then let it cool and leave the oven on.

To make the crumbly topping, combine the remaining ¼ cup of almond flour, pecans, the remaining 1 tablespoon of maple syrup, the remaining 1 tablespoon of coconut oil and the remaining 1 teaspoon of lemon zest in a food processor. Pulse until crumbly.

After the crust has completely cooled, spread the strawberry filling evenly over the crust, then top evenly with the crumb mixture. Bake for 20 minutes, or until golden brown.

Let the bars cool completely before slicing into 12 equal squares. Enjoy!