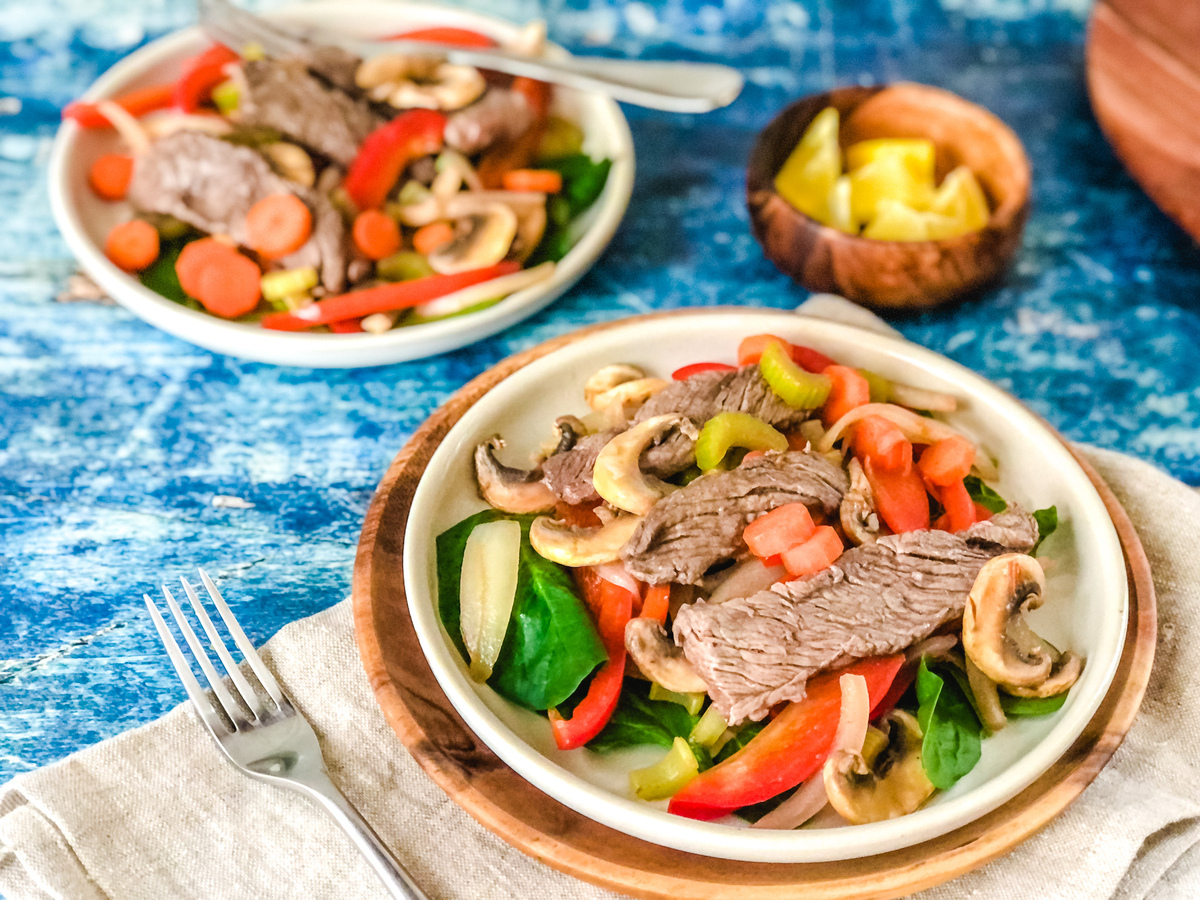 Paleo Beef and Vegetable Stir Fry
The secret ingredient to this delicious and easy stir-fry: red wine! Brown sirloin steak in red wine for a deep flavor unlike any other veggie stir-fry!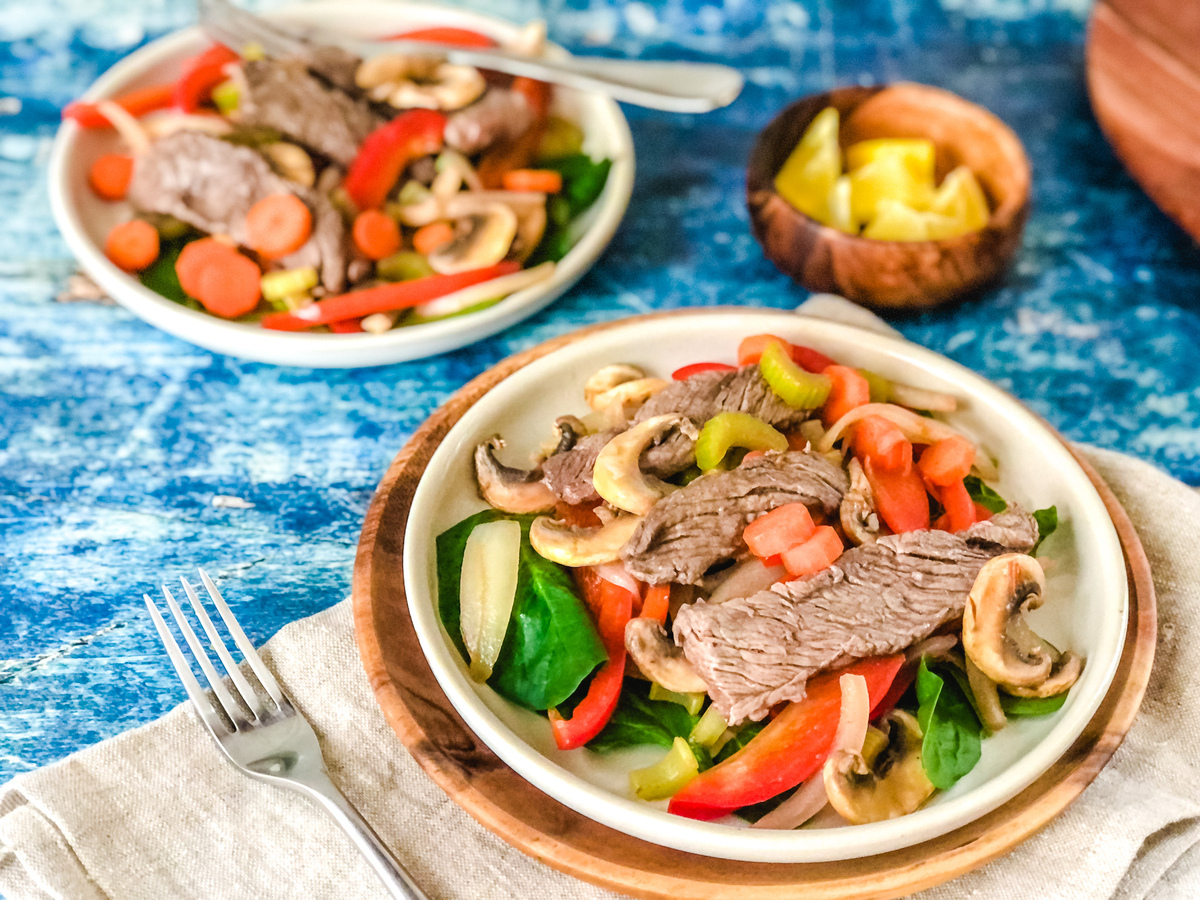 Need a quick and easy low-carb meal? This colorful Paleo stir fry is easy to bring together for those busy weeknight dinners.
The secret to this stir-fried beef is a bit of red wine. First, you'll achieve deep flavor by browning the steak in a combination of olive oil and wine. Later, we'll add a bit more after the veggies are cooked to infuse the whole dish with full-bodied flavor. We used burgundy wine, but any variety will do!
Once the beef is browned on all sides, remove from the wok or skillet and set aside. Heat up a little more olive oil, and add your veggies. We used onion, bell pepper, celery, and carrots, but you can use any Paleo-friendly veggies you have on hand. Just be sure to slice everything very thin, so they can cook quickly. You could even add small florets of cauliflower or broccoli if you like!
Finally, add in the mushrooms last. Button, shiitake, or any kind you have on hand will work nicely. Pour a bit of lemon juice on top, then add in more wine. Cook for three minutes, or until the mushrooms have softened. Add the steak back with the veggies and give your wok a few quick tosses to integrate all the ingredients.
Serve your stir fry hot. If you like, include a side of cauliflower rice for an even heartier meal!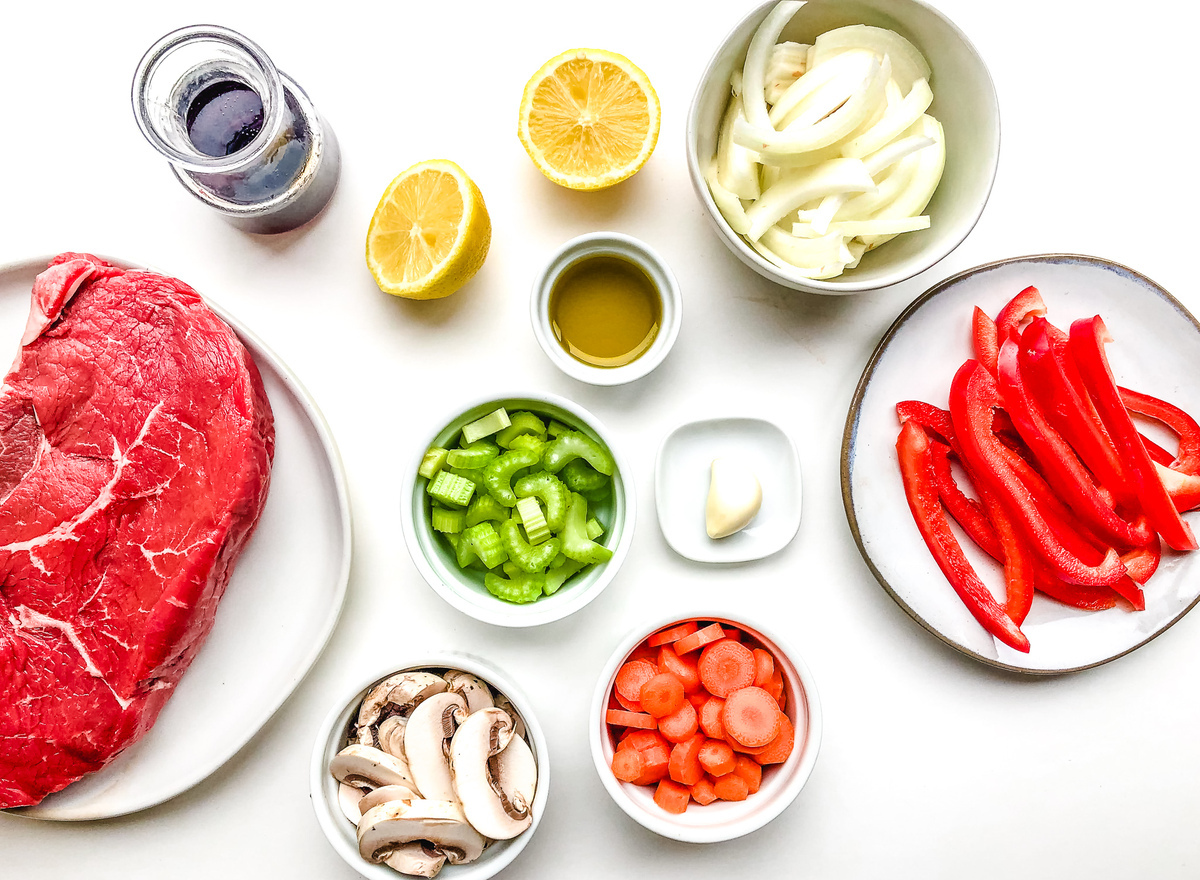 For hundreds of pure Paleo recipes be sure to check out  The Real Paleo Diet Cookbook  and  The Real Paleo Diet Fast and Easy.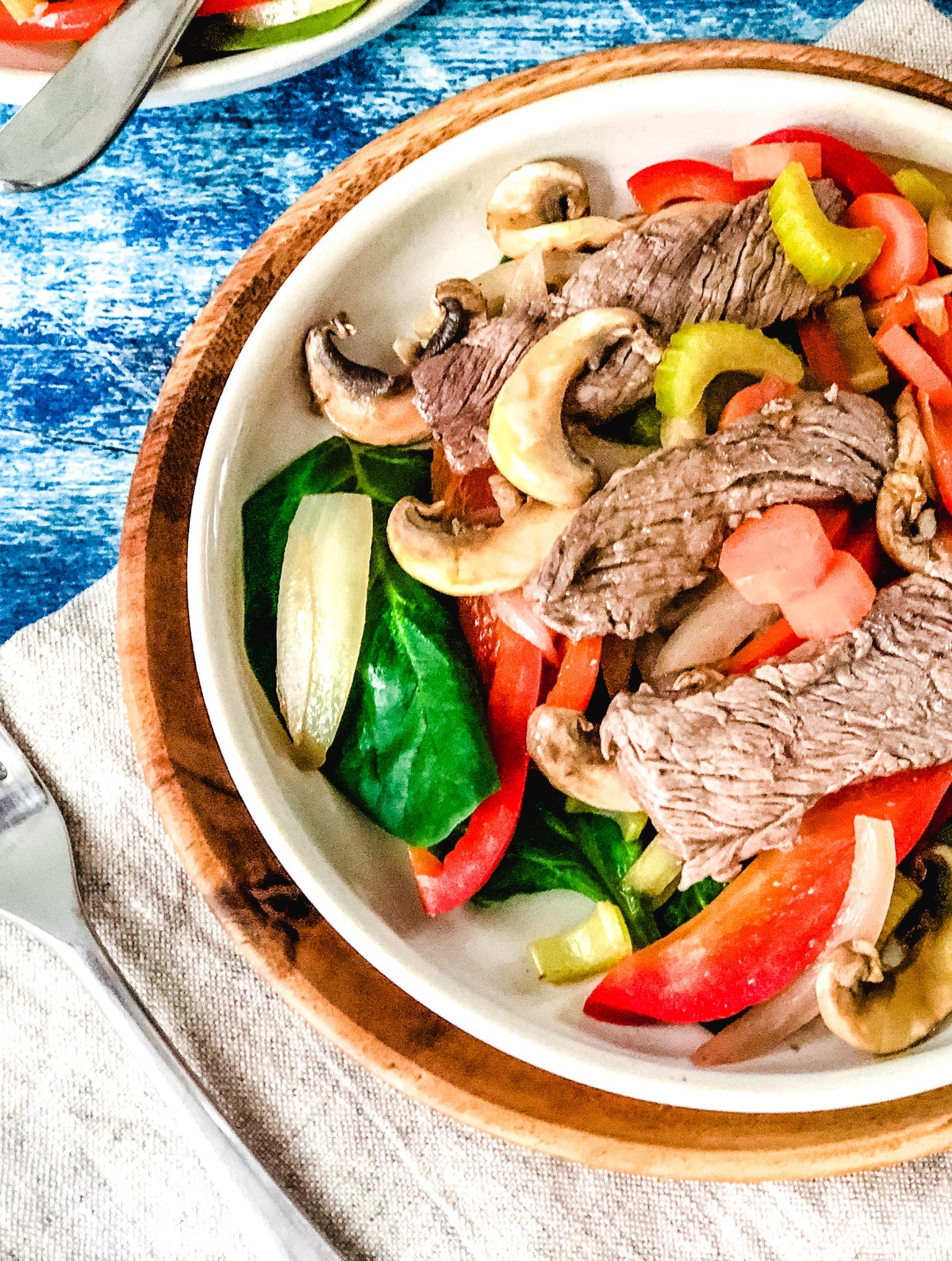 Details
Serves:

2

Prep Time:

10 minutes

Cook Time:

15 minutes

Total Time:

25 minutes
Print this Recipe
Ingredients
2 tbsp olive oil, divided

1/4 cups burgundy wine, divided

12 oz boneless sirloin steak, trimmed and thinly sliced

1 clove garlic, pressed

1 yellow onion cut thinly into wedges

1 red pepper, seeded and cut into slender strips

2 celery stalks, chopped

4 oz thinly sliced carrots

4 oz sliced mushrooms

3 tbsp lemon juice
Directions
Warm 1 tablespoon of the olive oil in a wok or skillet with 1/8 a cup of the wine. Add the beef and garlic and sauté for about five minutes or until the beef is browned, turning the steak strips as necessary. Remove the beef from the skillet and set aside.

Heat the remaining tablespoon of oil in the skillet. Add the onion, red pepper, celery, and carrots. Sauté until tender, about 4 minutes.

Add the mushrooms, then pour in the remaining 1/8 cup of wine and the lemon juice. Continue to cook for about 3 more minutes.

Add the steak back to the pan and stir until combined and the steak is warmed through. Serve hot.