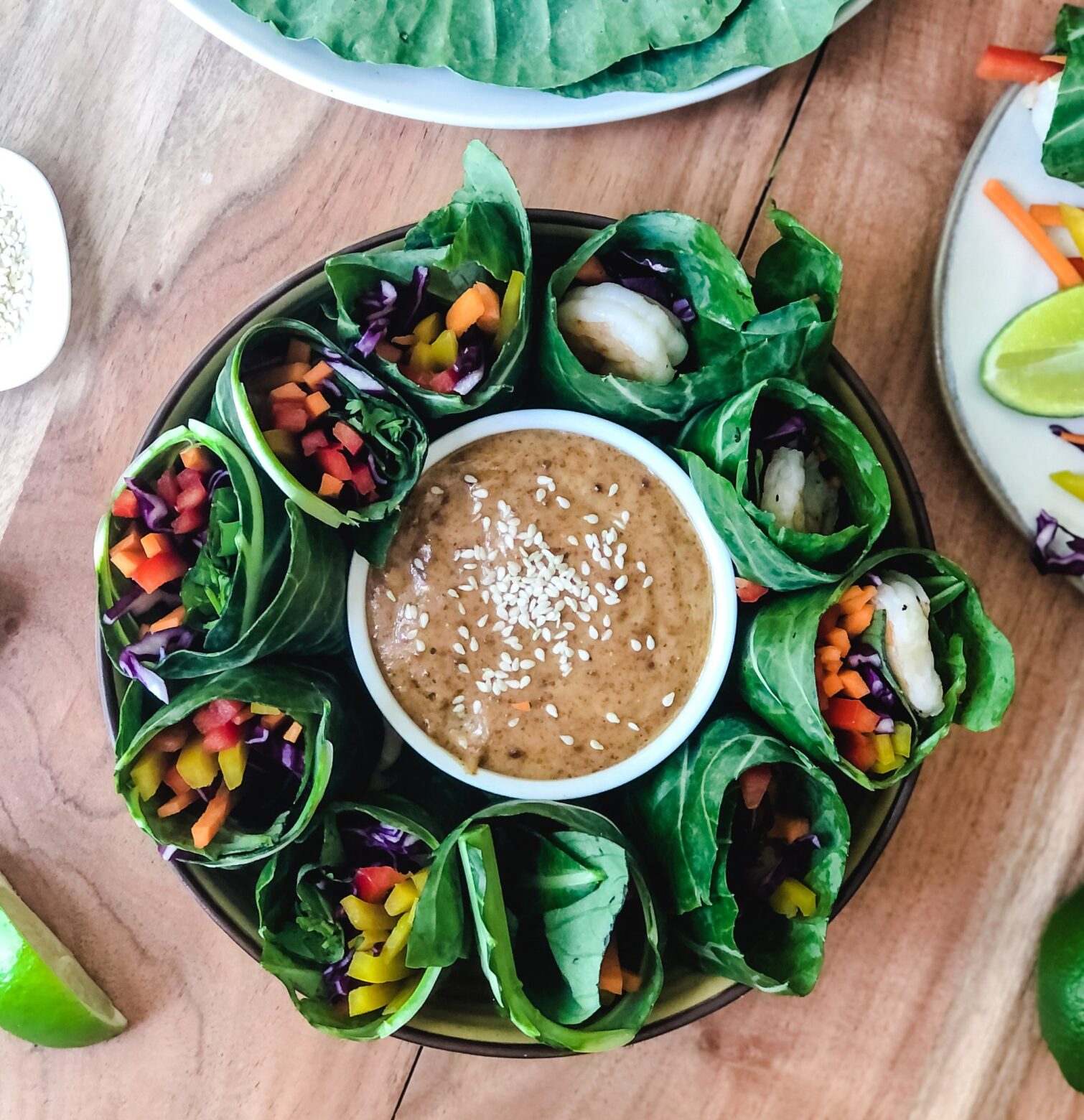 Shrimp Spring Rolls with Almond Butter Dipping Sauce
Crisp raw veggies and juicy shrimp are wrapped inside a collard green wrap and served alongside an almond butter dipping sauce for a healthy lunch or appetizer!
Craving spring rolls? Ditch the wheat-filled spring roll wrappers and use collard green leaves instead. They're large and hearty, so you can easily tuck in lots of fillings without risk of breaking, like you might with normal lettuce wraps.
Begin by soaking a few Medjool dates in hot water to get them softened up for the dipping sauce. The longer you soak them, the softer they'll be, so be sure to start with this step!
Next, pan-fry shrimp in avocado oil until cooked through. You can use fresh or frozen, just be sure to thaw your shrimp if you opt for the frozen kind. Set aside to cool, then chop into halves, or smaller pieces if you prefer. Now is a good time to prep the rest of the veggies as well. Thinly slice bell peppers, carrots, and cabbage into matchsticks. To save time, buy red cabbage already shredded!
You can also use other raw veggies you might have on hand. Red onions, cucumbers, or green cabbage would all make excellent choices.
To make the dipping sauce, we use a nutty, sweet-salty blend of whole food ingredients like almond butter, Medjool dates, lime juice, ginger, walnut oil, apple cider vinegar, and garlic. Simply blend all the ingredients with the drained dates until it's the consistency you desire. If you'd like it a bit thinner, add more water. Pour into a ramekin or other shallow dish, and top with sesame seeds.
When you're ready to assemble the rolls, lay a collard leaf on a flat surface with the stem side facing up. Slice off the stem at the bottom, and if you like, you can use a sharp knife to shave down the protruding stem in the middle of the leaf. Next, pile up the prepared veggies, add some cilantro and Thai (or regular) basil, and the reserved shrimp. Roll it up like you would a burrito by tucking in the top and bottom, then rolling from left to right. Repeat with the remaining collard leaves.
To serve, slice your rolls in half diagonally and set on a plate alongside the almond butter dipping sauce. Then get ready to dip 'til your heart's content!
Tips:
Don't like shrimp? You can swap for chicken, or leave it out to make it vegetarian.
If you don't have almond butter, you can try sunflower butter or cashew butter instead.
Save leftover dipping sauce for snacking on carrot or celery sticks!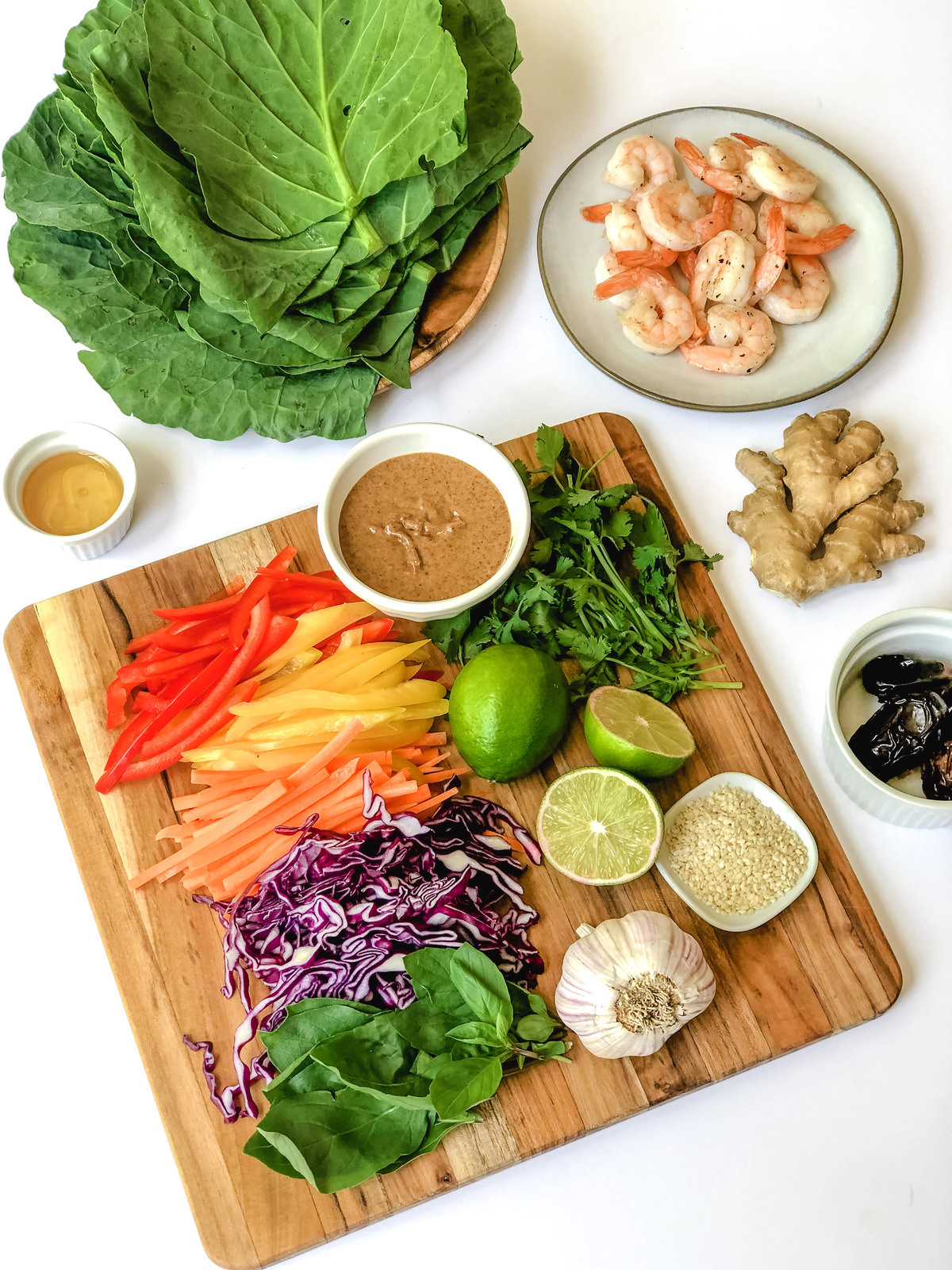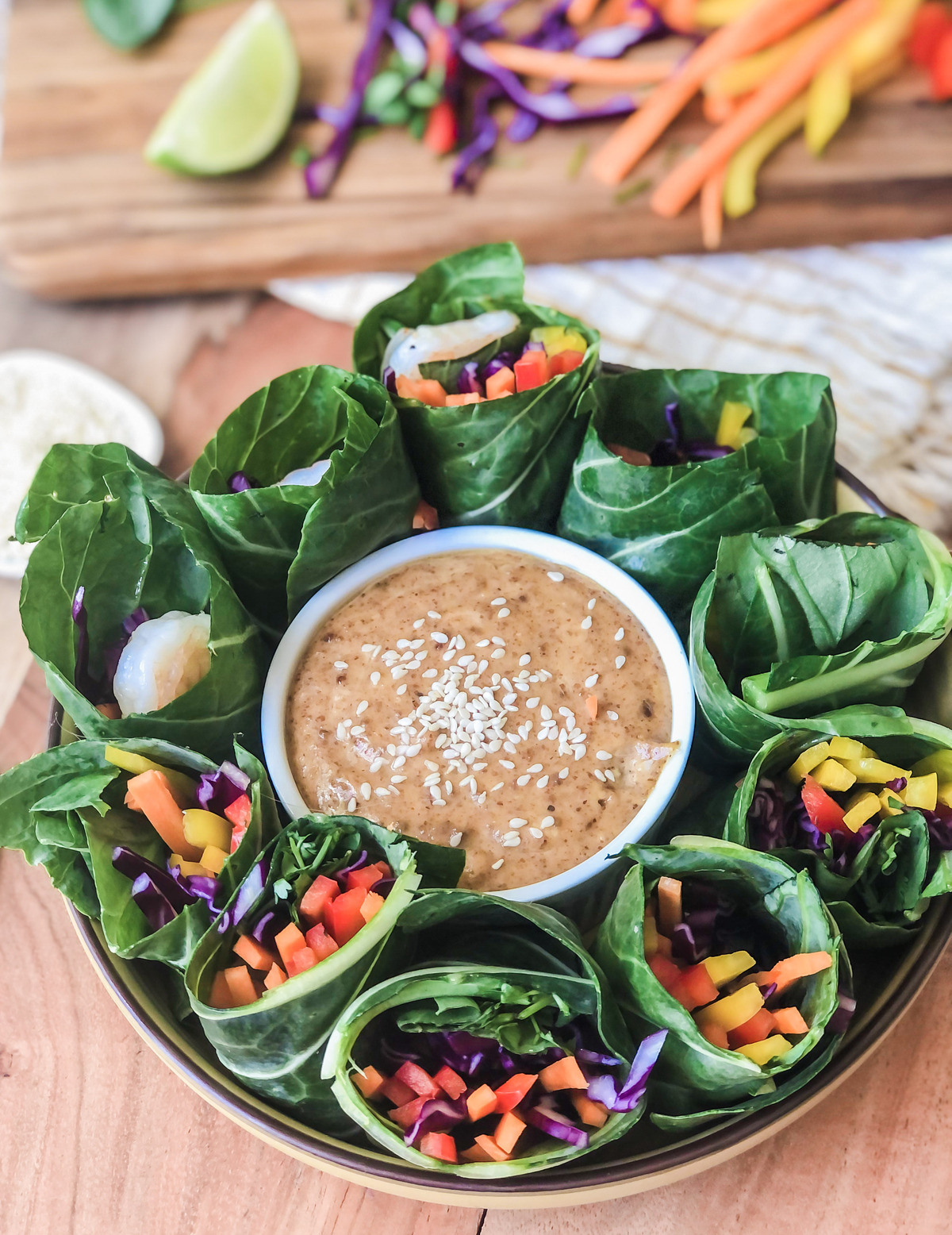 For hundreds of pure Paleo recipes be sure to check out The Real Paleo Diet Cookbook and The Real Paleo Diet Fast and Easy.
Details
Prep Time:

35 minutes

Cook Time:

10 minutes

Total Time:

45 minutes
Ingredients
3 Medjool dates, pitted

1 tbsp avocado oil

1/2 lb large raw shrimp

3 1/2 tbsp unsalted almond butter

3 tbsp walnut oil

3 tbsp water

1 lime, juiced

1 tbsp fresh ginger, grated

2 tbsp apple cider vinegar

1 garlic clove, chopped

1 tsp sesame seeds

8 collard green leaves, stems trimmed

1/2 red pepper, thinly sliced

1/2 yellow pepper, thinly sliced

1 cups carrot, thinly sliced

1 cups purple cabbage, thinly sliced

1 cups Thai basil

1/2 cups cilantro, chopped
Directions
Start by softening the dates by placing them in hot water.

Heat the avocado oil in a pan over medium heat. When hot, add the shrimp and cook for about 2 minutes on each side. Let cool slightly, then slice lengthwise into halves.

To prep the dipping sauce: use a food processor to blend up the drained dates with the almond butter, walnut oil, water, lime, ginger, apple cider vinegar, and garlic. Use more water to thin it out, if necessary. Transfer to a shallow dish and sprinkle with sesame seeds.

To assemble the rolls, lay a collard leaf on a flat surface with the stem side facing up. Top with a little bit of all the vegetables, herbs, and shrimp. Fold up the bottom and the top around the fillings, then roll the collard sideways. Slice in half diagonally. Set on a plate while assembling the rest.

Serve your collard green rolls with the almond butter dipping sauce. Enjoy!