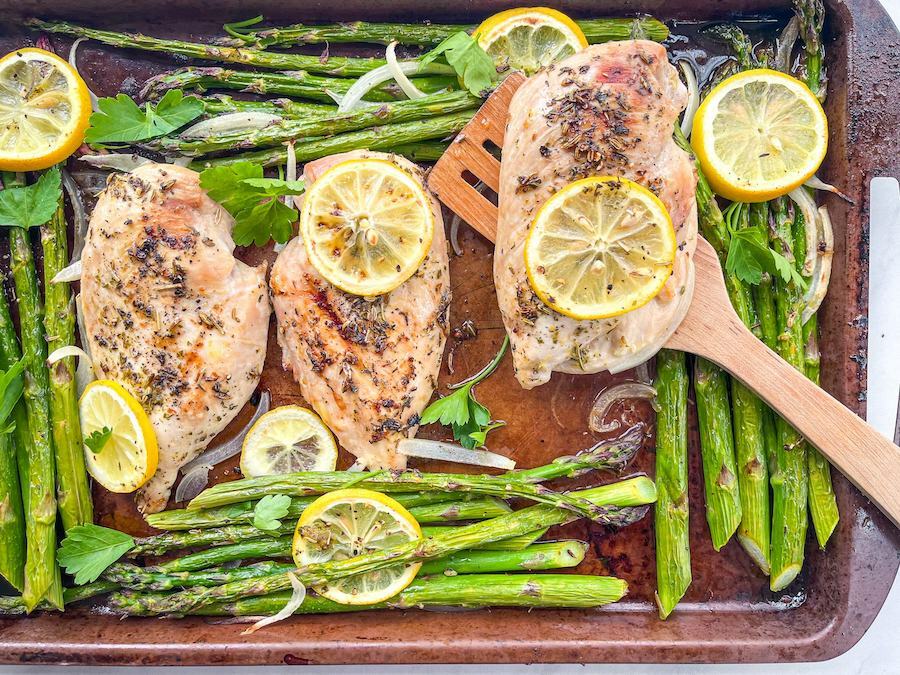 Sheet Pan Asparagus and Lemon Chicken

Whip up this Sheet Pan Asparagus and Lemon Chicken in minutes. It's simply a matter of throwing everything onto a baking sheet and letting the oven do the work for you! Bursting with flavors from an assortment of veggies, zesty lemon, and herbs, this meal can be ready and on your table in just under 30 minutes.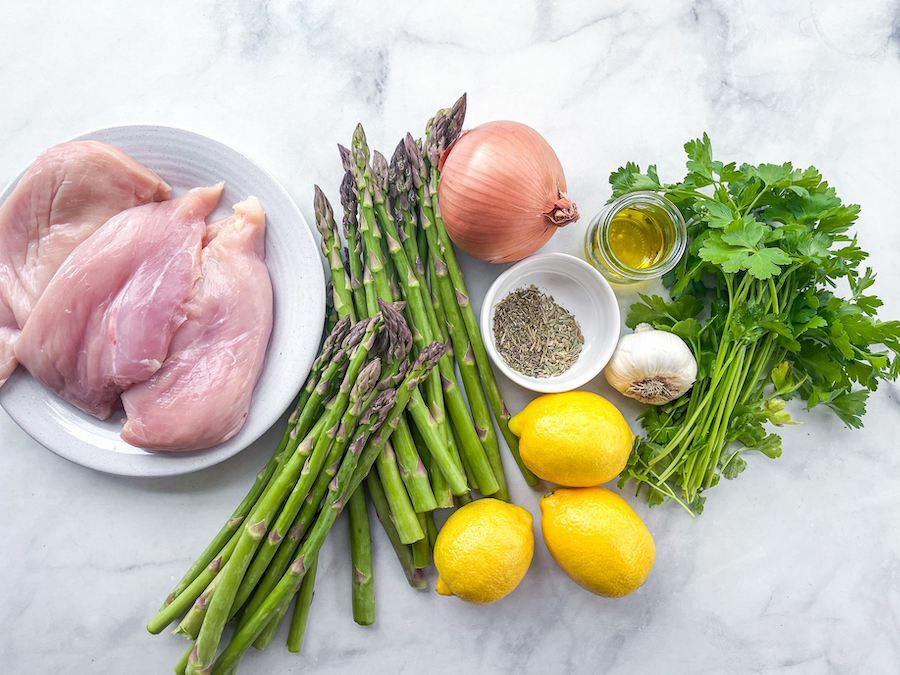 First, preheat the oven while you whisk together all the ingredients to make the seasoning. For more flavor, crush the herbes de Provence with your fingers, or use a muddler. Place the chicken breasts onto a baking sheet and roast while trimming the asparagus by cutting off the woody, fibrous bottom of the stalk.
After 20 minutes, remove chicken from the oven and arrange the asparagus and onions around the outer sides of the pan, making sure not to cover up the chicken. Add the reserved herb mixture and sliced lemons (make it pretty!) and broil for another 10 minutes or until it's done. Your kitchen will smell amazing!
Finish by sprinkling with fresh parsley and enjoy while it's hot. A nice salad would pair well with this flavorful meal.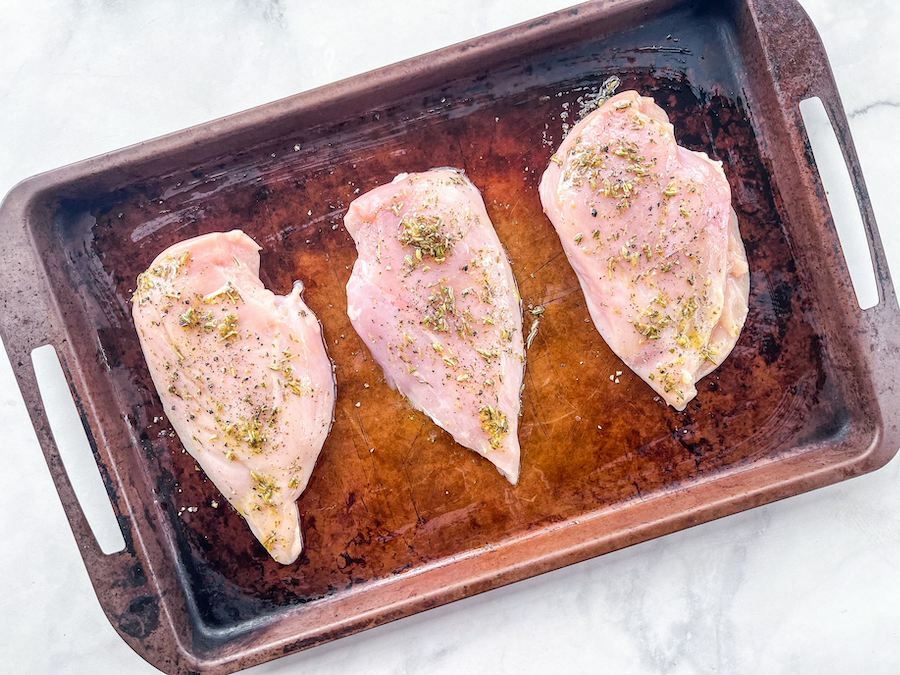 Tips:
If you don't like asparagus, broccoli florets will work well. You'll need to add 5 minutes to the cooking time listed for the asparagus. Remember to take the chicken out 5 minutes sooner so it doesn't overcook.
Don't have Herbes de Provence in your spice drawer? Make your own homemade blend by mixing 3 tablespoons of dried oregano, 2 tablespoons each of dried savory and thyme, and 1 tablespoon each of dried rosemary, basil, and fennel seeds.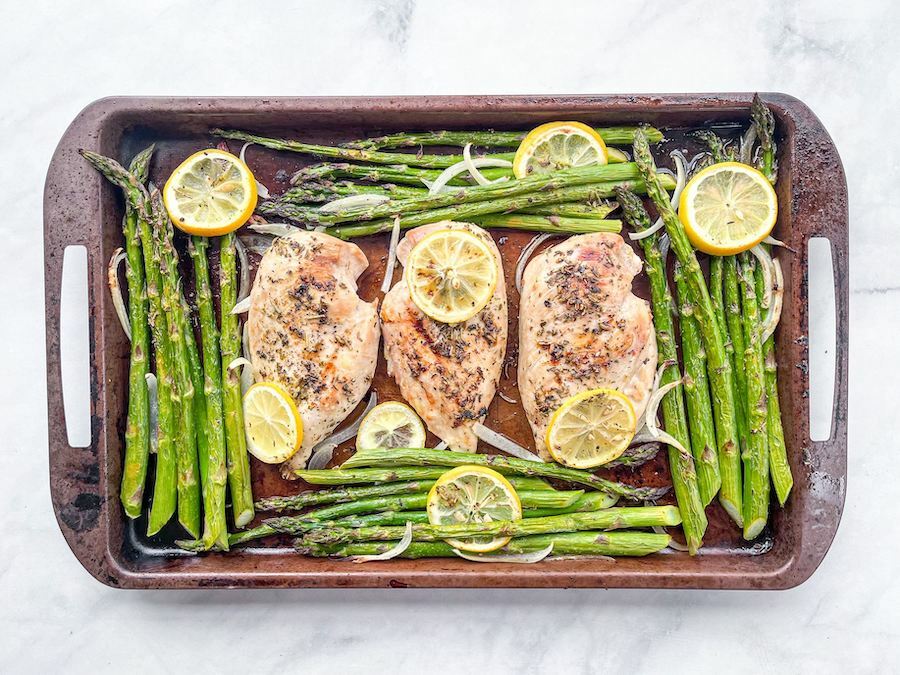 Details
Prep Time:

10 minutes

Cook Time:

30 minutes

Total Time:

40 minutes
Ingredients
1 lb boneless, skinless chicken breasts

1 tsp herbes de Provence

1 garlic clove, minced

2 tbsp olive oil

1 tbsp lemon zest

1/8 cups freshly squeezed lemon juice

1/2 tsp ground black pepper (AIP - omit)

1 bunch asparagus

1/2 yellow onion, thinly sliced

1 lemon, thinly sliced

Parsley, for garnish
Directions
Preheat oven to 400ºF and line a baking sheet with parchment paper. Place chicken breasts evenly spaced on the sheet and leave aside.

In a small bowl, mix together the herbes de Provence, minced garlic, olive oil, lemon zest, lemon juice, and pepper until well combined.

Slowly pour half the lemon mixture over the chicken. Bake until almost done, about 20 minutes.

While chicken cooks, trim asparagus and slice onion. Toss vegetables with remaining herbes de Provence mixture. (Reserve some seasoning for later.)

Remove chicken from oven and set to low broil. Arrange asparagus and onion around the edges of the pan. Pour remaining seasoning over the chicken. Add lemon slices.

Broil until the asparagus is crisp-tender and chicken is golden brown, about 10 minutes.

Sprinkle with fresh parsley and serve immediately.