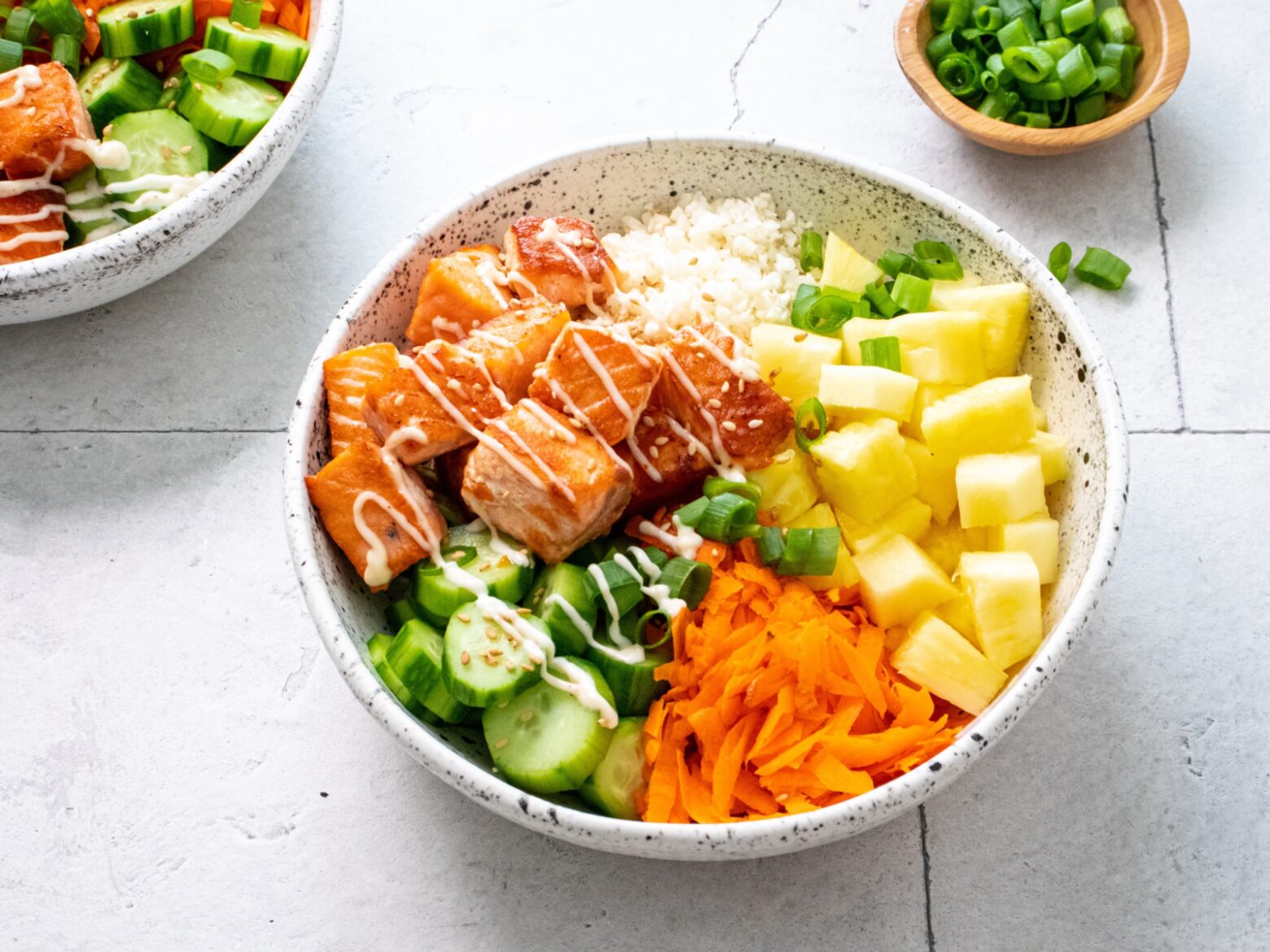 Salmon Poke Bowl with Spicy Lime Mayo
Seared salmon pairs up with cauliflower rice and fresh crunchy veggies for a cooked spin on a poke bowl!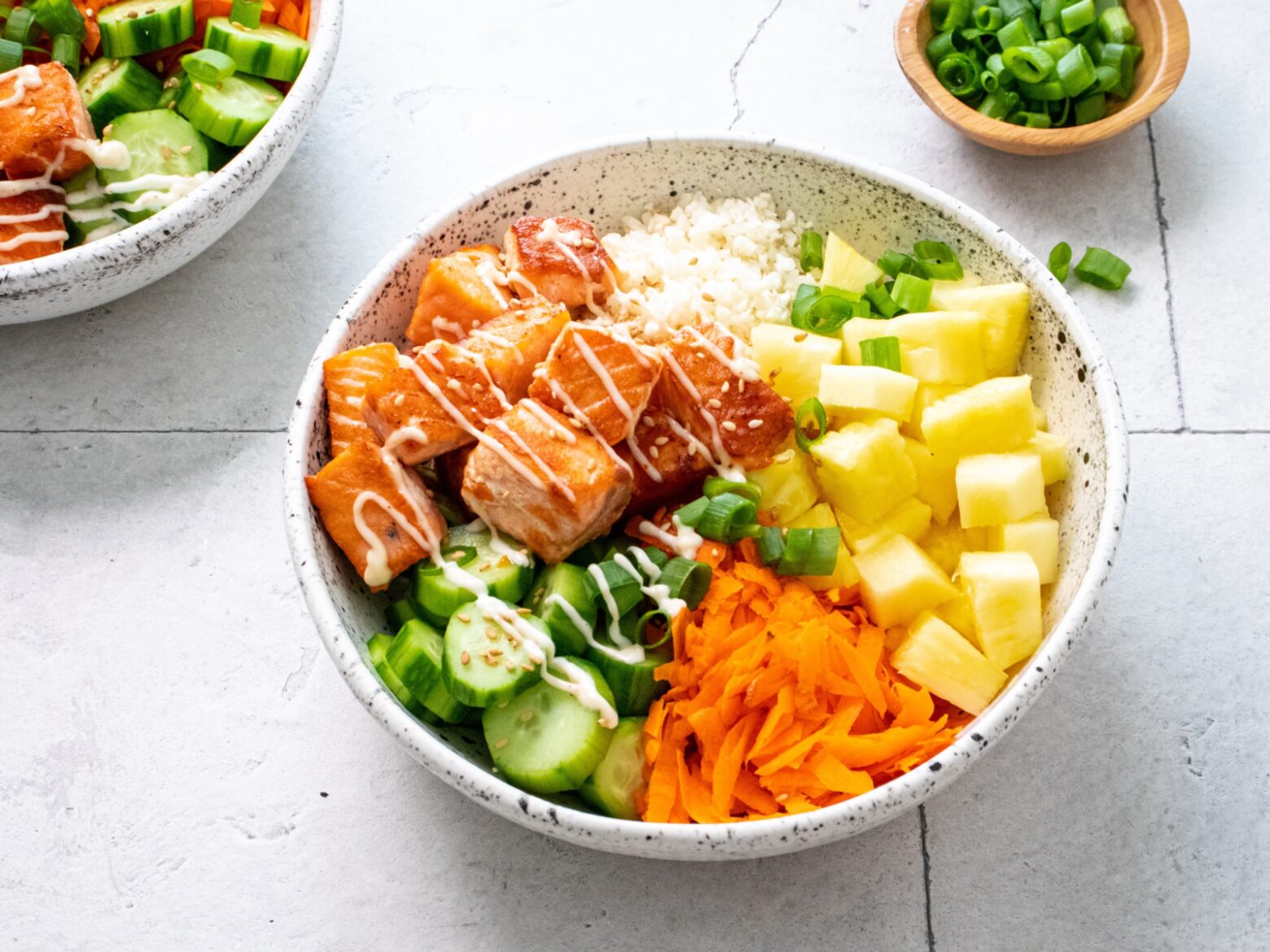 Craving a poke bowl, but don't want to eat raw fish? Try this cooked version with seared salmon instead!
If you love refreshing raw tuna and mango poke bowls, you'll adore this slightly different flavor profile! Seared salmon pairs with pineapple, crunchy veggies, cauliflower rice, and a homemade spicy mayo for a cooked version of a favorite.
Start by making the spicy lime mayo, so the flavors can marry while prepping the rest of the dish. Simply mix Paleo-friendly mayo with a bit of lime juice, walnut oil, and cayenne pepper. You can use a nuttier sesame oil instead of walnut oil if you want, just be aware that sesame oil isn't 100 percent Paleo and will have to be consumed as part of your 85/15 rule!
Next, get your salmon ready. Since you're cooking it, you don't have to use sushi-grade fish. However, keep in mind that fresh, wild-caught salmon is always best. Start by removing and discarding the skin, then slice the salmon into bite-sized pieces. Toss with a bit of walnut oil and set aside while you preheat a cast-iron skillet. Once hot, add the salmon and sear, turning every two minutes or so, until fully cooked. Now is also a good time to cook the cauliflower rice if you need to.
If you are starting with a full head of cauliflower, chop into florets, then pulse in a food processor until it resembles rice. Saute the "rice" with about 3 tablespoons of olive oil in a large skillet for about 5-6 minutes. If you don't have a food processor, don't worry – cauliflower rice can be easily found at the store too.
To serve, divide the cooked cauliflower rice, shredded carrots, chopped cucumber and pineapple between two bowls. Top with the seared salmon, chopped scallions, and toasted sesame seeds. Drizzle the reserved mayo on top. Grab your chopsticks and dig in!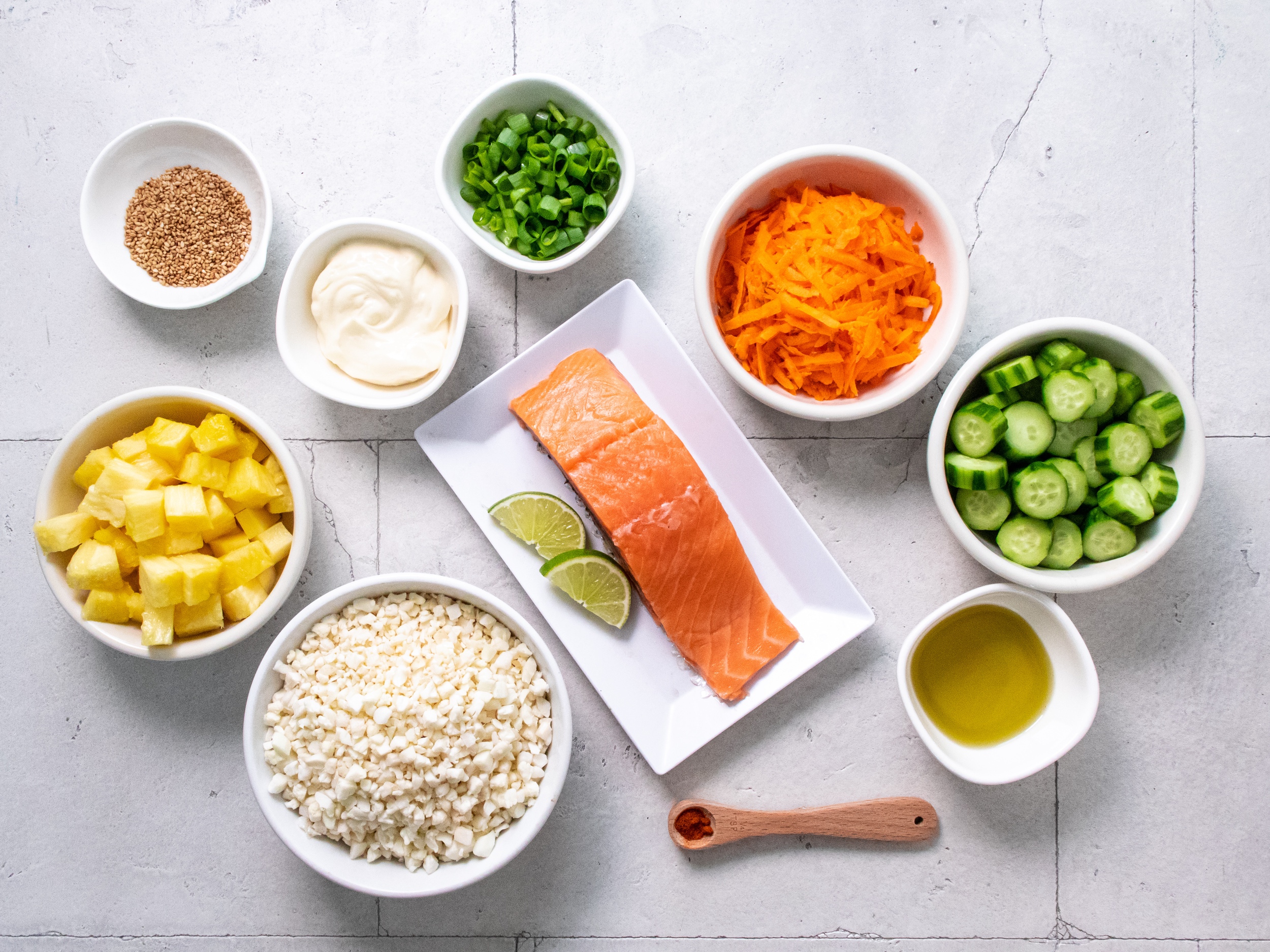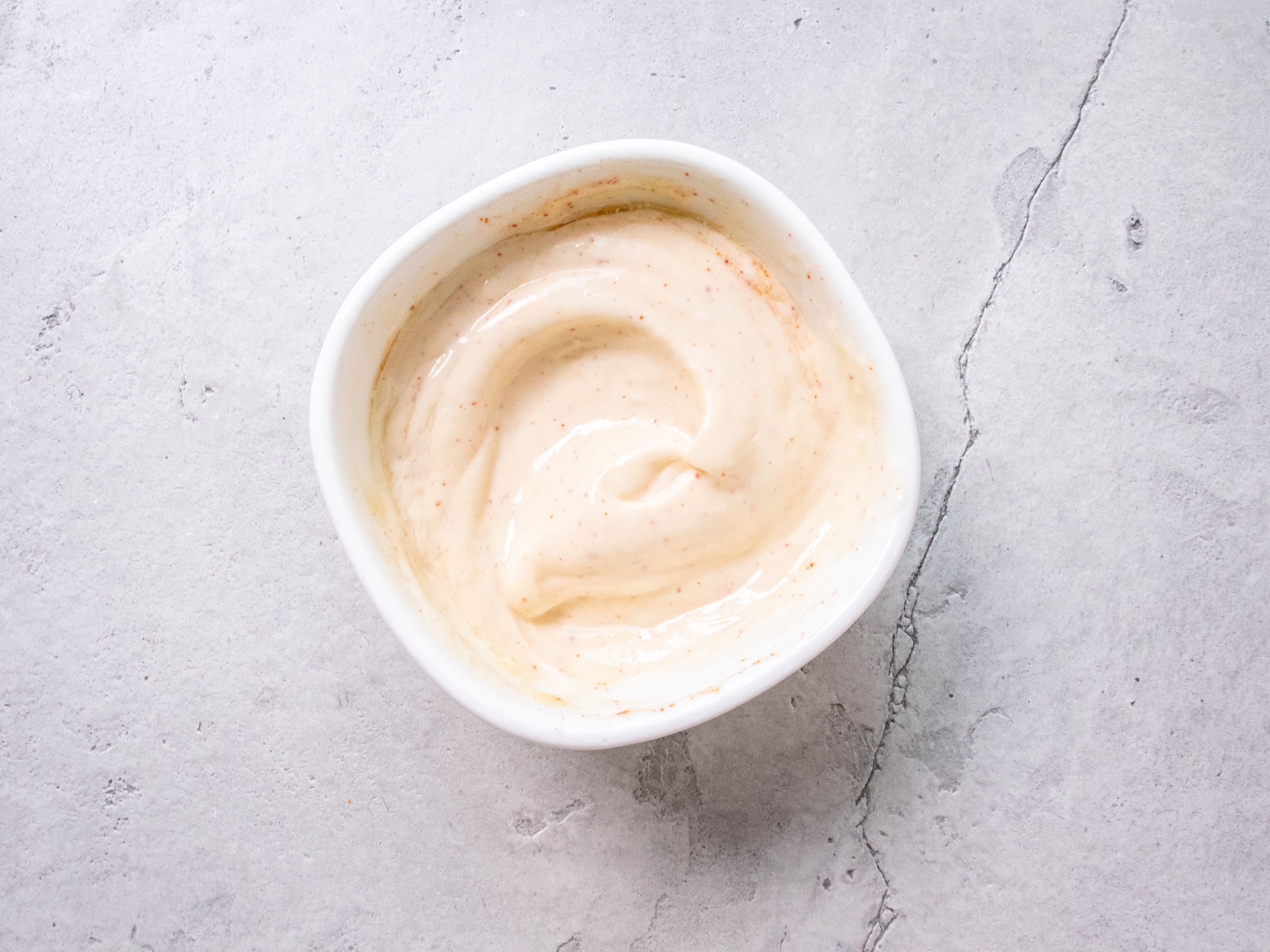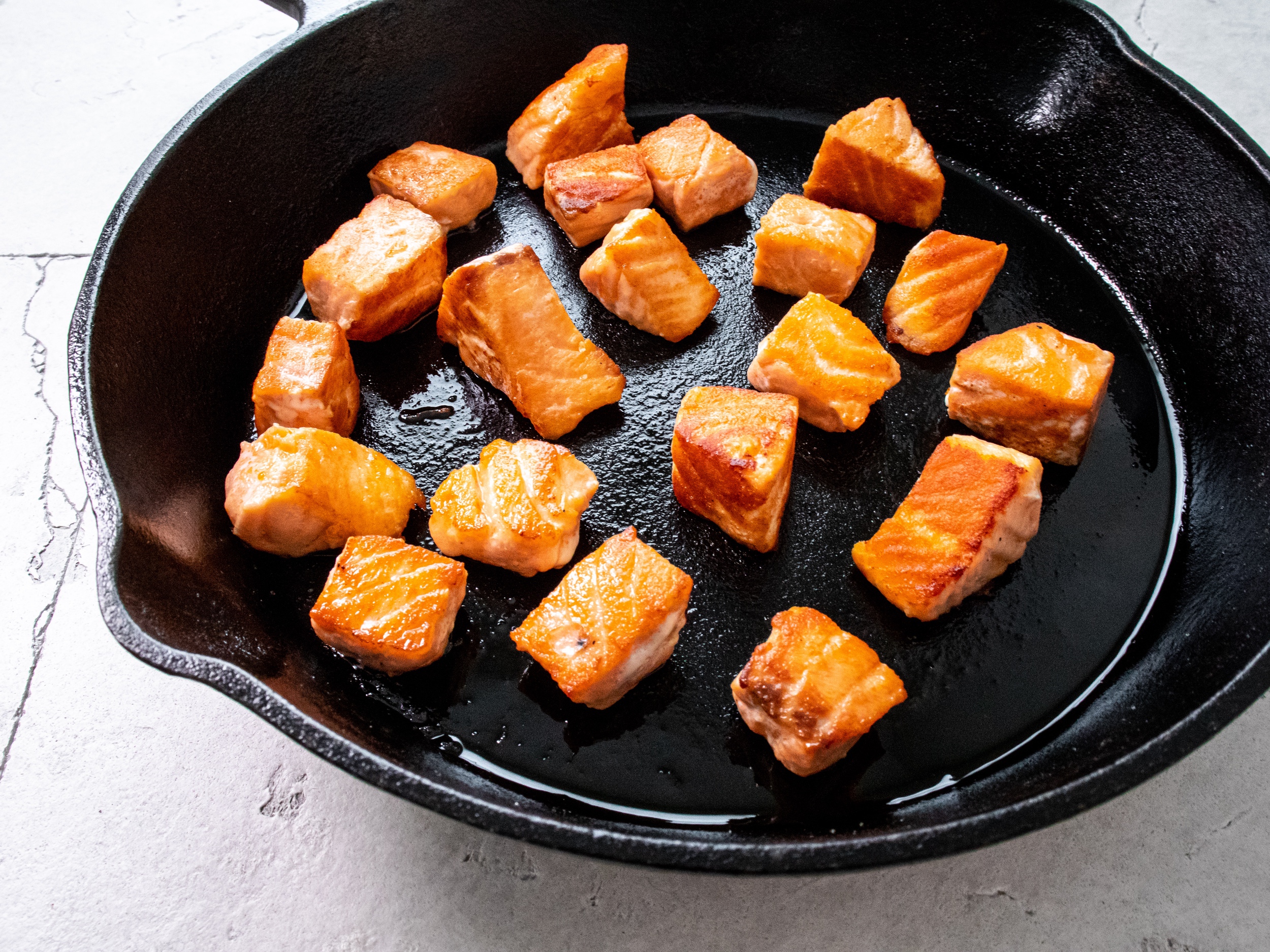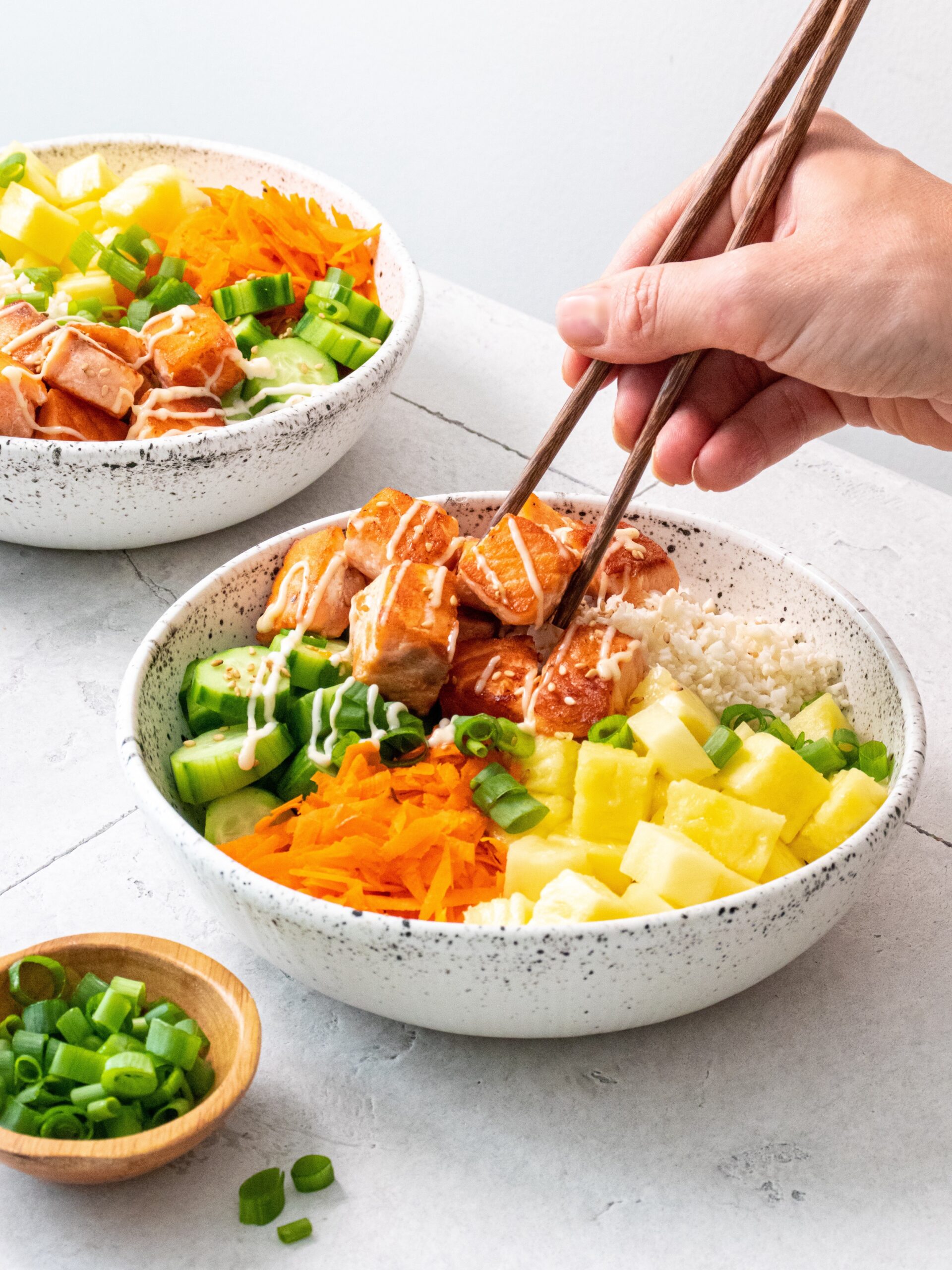 For hundreds of pure Paleo recipes be sure to check out The Real Paleo Diet Cookbook and The Real Paleo Diet Fast and Easy.
Details
Serves:

2

Prep Time:

10 minutes

Cook Time:

8 minutes

Total Time:

18 minutes
Print this Recipe
Ingredients
1/4 cups Paleo compliant mayonnaise

1 tbsp fresh lime juice

4 tsp walnut oil, divided

1/8 tsp cayenne pepper

1/2 lb salmon filet

1 tbsp avocado oil

1 1/2 cups cauliflower rice, cooked

1 cups shredded carrots

1 cups chopped cucumber

1 cups chopped pineapple

1/4 cups chopped green onion

1 tsp toasted sesame seeds
Directions
To make the spicy lime mayo, stir together the mayonnaise, lime juice, 2 teaspoons of walnut oil, and cayenne pepper. Refrigerate until serving.

Remove the skin from the salmon, then slice it into bite sized cubes. Blot the salmon with a paper towel and transfer to a small bowl. Toss with the remaining 2 teaspoons of walnut oil.

Lightly grease a cast iron skillet with avocado oil and heat over medium-high heat for 2 minutes. Add the salmon and sear for 7-8 minutes, turning every 2 minutes for even cooking.

Divide the cooked cauliflower rice and chopped carrots, cucumber, pineapple, and salmon between two bowls. Top with green onion, sesame seeds and drizzle with mayonnaise. Enjoy right away.