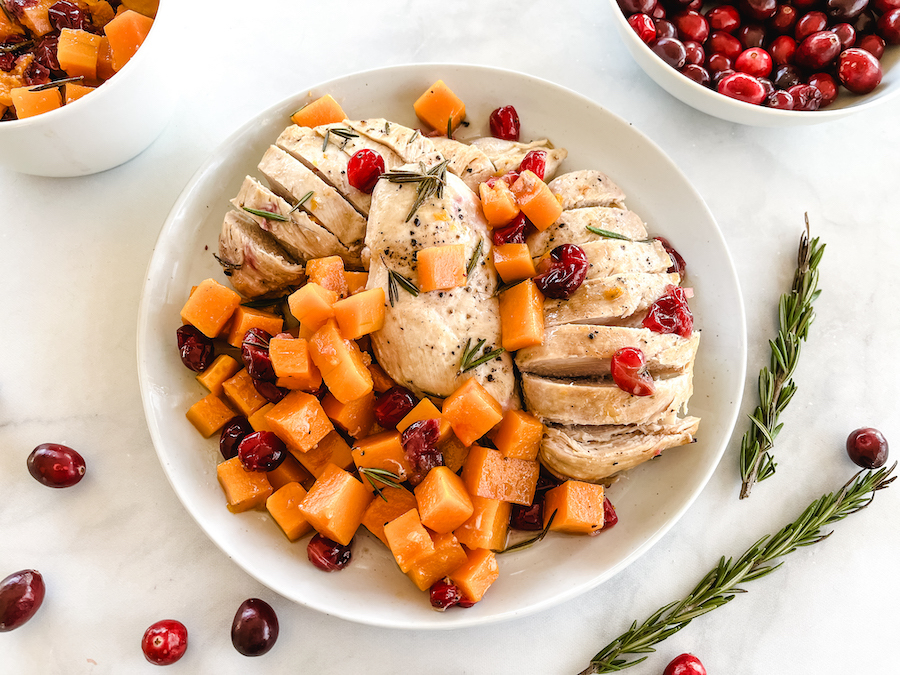 Roasted Chicken with Butternut Squash and Cranberries
Give chicken the holiday treatment! Jazz it up with butternut squash and cranberries, drizzle with a light honey sauce, and roast until juicy and fragrant.
Skip the fussy recipes this year and make humble chicken breasts the festive star of the table. This recipe serves four, but can be easily doubled to serve more. Plan on one chicken breast per person, and be sure to serve with plenty of Paleo-friendly sides!
If you can, try to plan ahead and use homemade broth for this recipe. Even low-sodium chicken broth from the store contains enough salt to tip the scales of this recipe into PaleoFLEX™. Plus, homemade chicken broth is incredibly nutritious.
If you want to cut down on prep time in other ways, grab butternut squash already cubed from the store. It'll be a huge time saver!
To make this holiday chicken recipe, start by tossing the squash with olive oil and black pepper. Next, brown the chicken breasts on the stovetop until a crust forms, but don't cook all the way through. Set the chicken in a roasting dish and add the butternut squash, cranberries, and rosemary. Whisk up a quick honey sauce, and drizzle it all over the top. Roast until the chicken is cooked through and the squash is tender. Slice it up and serve!
Tip: To infuse the chicken with a bright citrusy taste, add about two tablespoons of fresh squeezed orange juice to the sauce instead of the honey.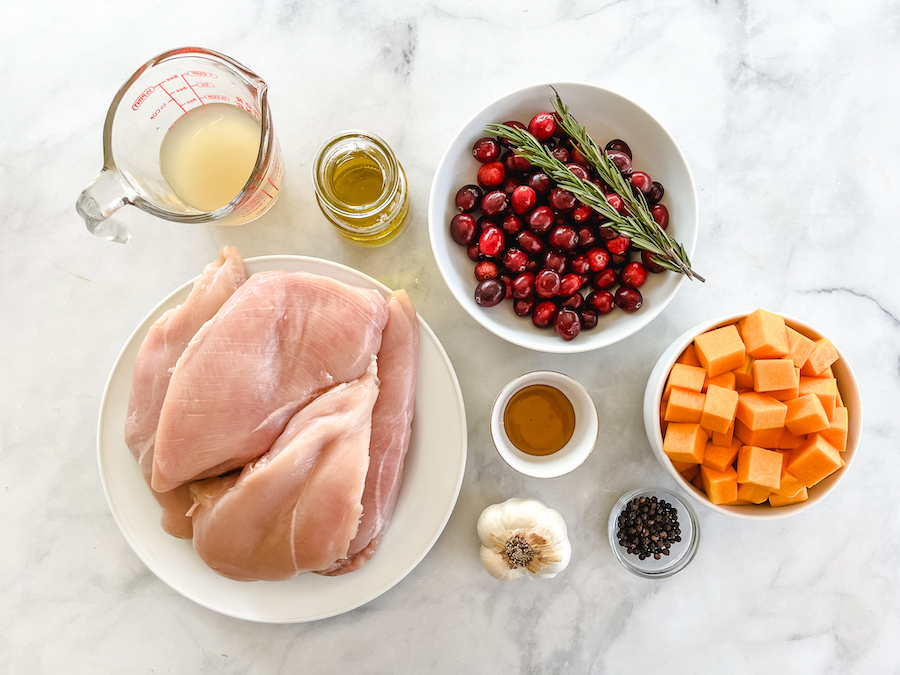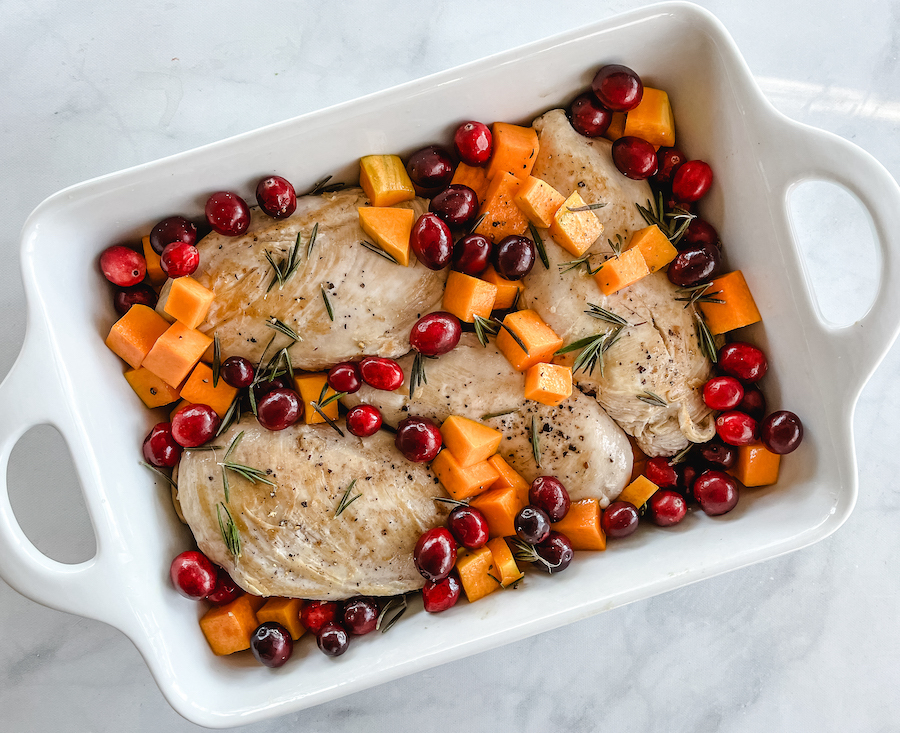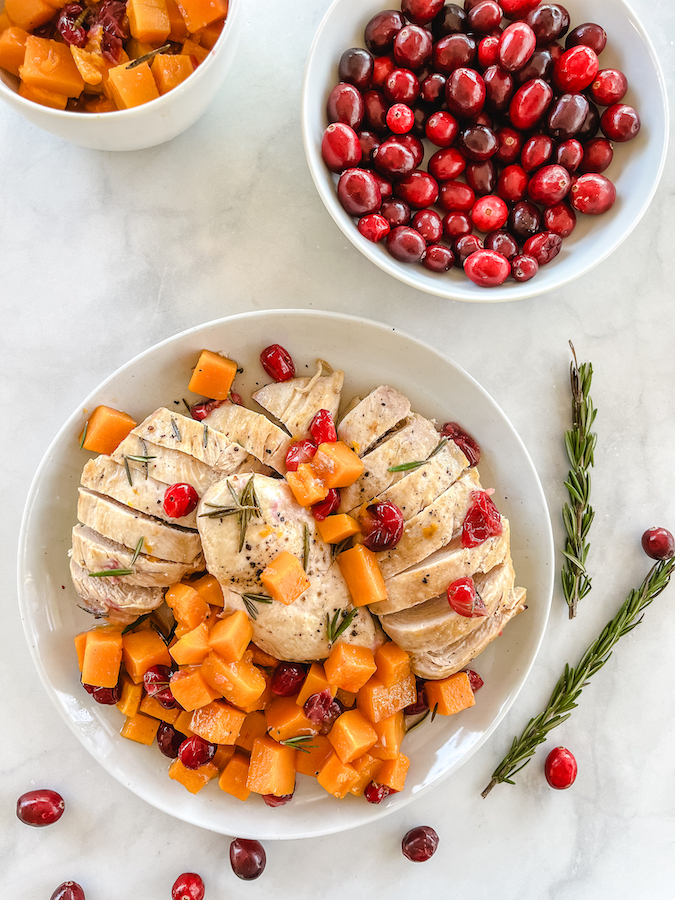 Details
Prep Time:

15 minutes

Cook Time:

25 minutes

Total Time:

40 minutes
Ingredients
2 cups butternut squash

3 tbsp olive oil

Black pepper, to taste

2 tbsp avocado oil

4 chicken breasts

1 1/2 cups fresh cranberries

2 rosemary sprigs, chopped

2 tbsp raw honey

1/3 cups chicken broth, sodium-free

2 garlic cloves, minced
Directions
Preheat the oven to 425°F and grease the bottom of a 9x13 roasting dish with a bit of olive oil.

Toss the cubed butternut squash with 1 tablespoon of the olive oil and season with black pepper to taste. Set aside.

Heat the avocado oil in a medium skillet or cast iron pan over high heat. Add the chicken and brown for about 10 minutes, flipping halfway through. Don't cook all the way through (it'll finish in the oven!).

Set the chicken in the roasting dish and spread the butternut squash, cranberries and chopped rosemary over the top.

To make the sauce, whisk the remaining 2 tablespoons of olive oil with the honey, chicken broth, and garlic. Drizzle the sauce over the chicken. Cover with foil and roast for about 20-25 minutes, or until the internal temperature of the chicken reaches 140°F.

To serve, slice the chicken and spoon the cranberries and butternut squash on top. Garnish with more rosemary and black pepper if you wish.