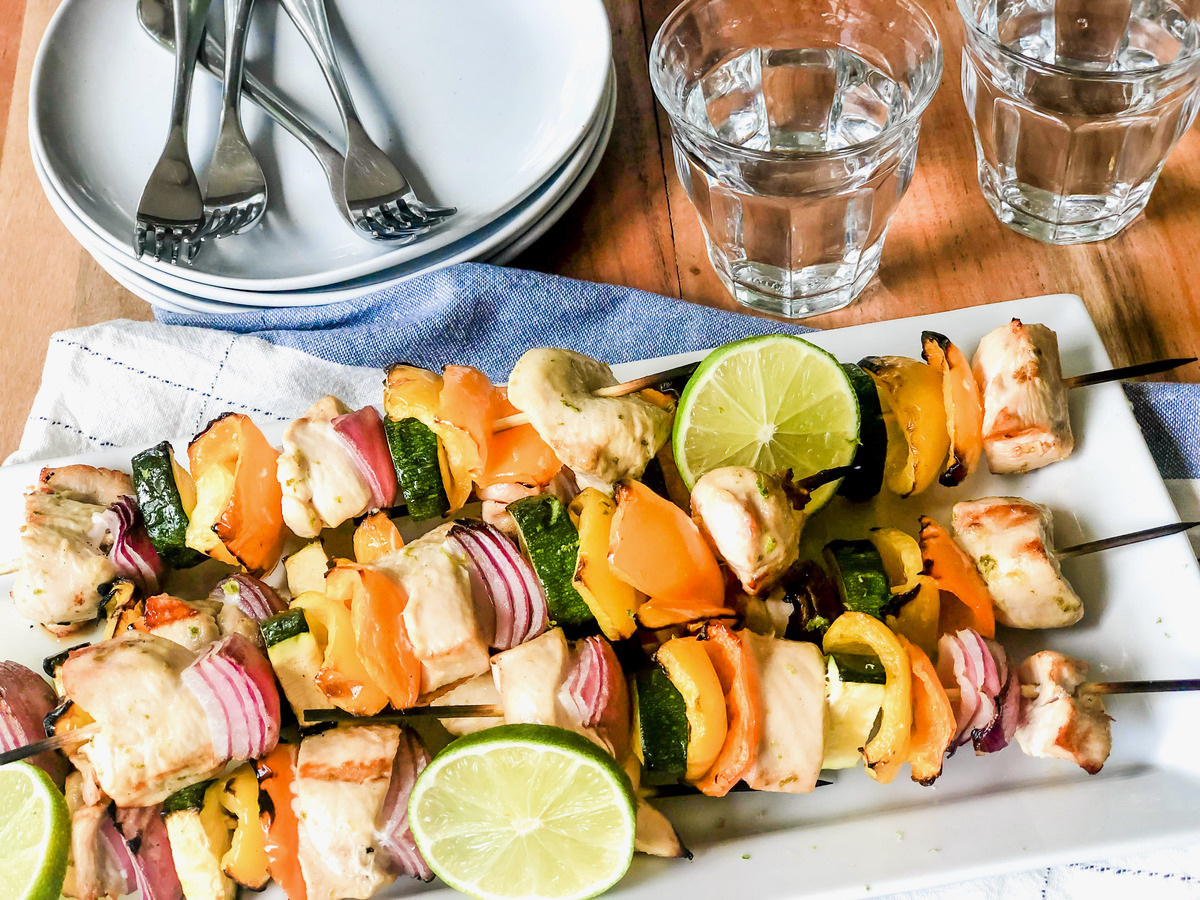 Paleo Chicken and Veggie Skewers
The preparation is fast and easy, and the cleanup is minimal. The chicken and vegetables are packed with nutrients in this delicious Paleo Diet combination.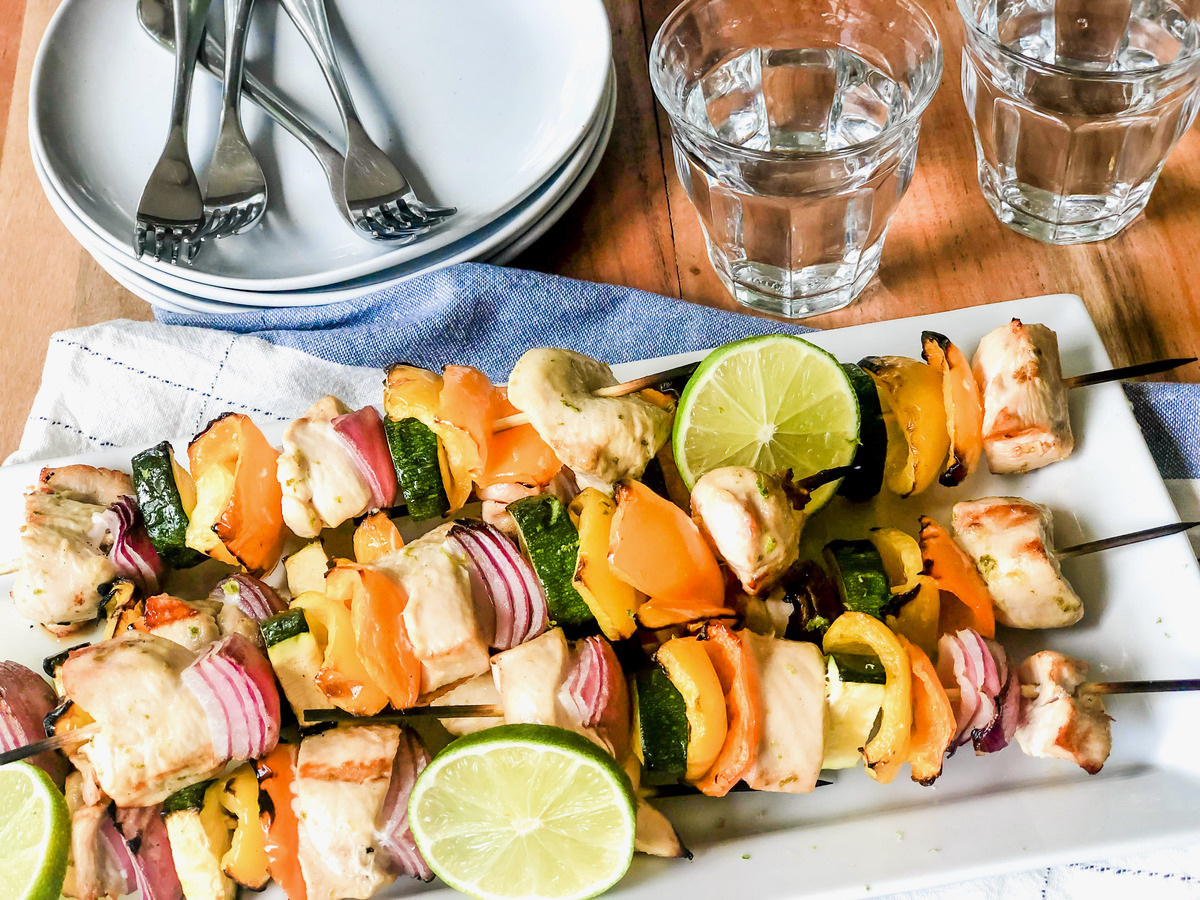 Everyone knows that meat tastes better on a stick! These keto-friendly barbecue staples are loaded with coconut-lime marinated chicken and fresh veggies, then grilled to smoky perfection.
When grilling season comes around, you really can't beat an easy recipe for shish kabobs. Instead of chasing meat around a grill or losing small veggies to the flames, you can cook up a whole assortment of food with just a few turns of the skewers.
Start by making a simple marinade. Mix together the zest and juice of three limes, plus minced garlic, grated ginger, and coconut oil. We made just enough for the chicken, but you can double up the marinade recipe and use it for a quick coating for the veggies as well. The chicken needs three hours to properly marinate, but don't let the veggies sit in the marinade for more than 10 minutes or they'll be too soggy to skewer!
We used red onion, bell peppers, and zucchini as our skewered veggies of choice, but you can use whatever you have on hand. Mushrooms, tomatoes, or even whole shallots would make great replacements.
When it's time to thread up your skewers, it looks nicest when you alternate meat with colorful veggies. However, you might want to do things differently and not mix everything up on one kabob. Since everything will cook at its own pace, you'll be able to manage your grill much more efficiently without anything getting too charred or overcooked!
While you can grill your veggies to your own preference, it's important to make sure the chicken is cooked all the way through. Place it over direct heat, close the lid, and grill for four to five minutes, then flip and cook another four to five minutes. Once it's firm to the touch and is no longer pink in the middle, it's done! Serve up your skewers with watermelon, fresh berries, or even grill up some peaches for the ultimate Paleo BBQ!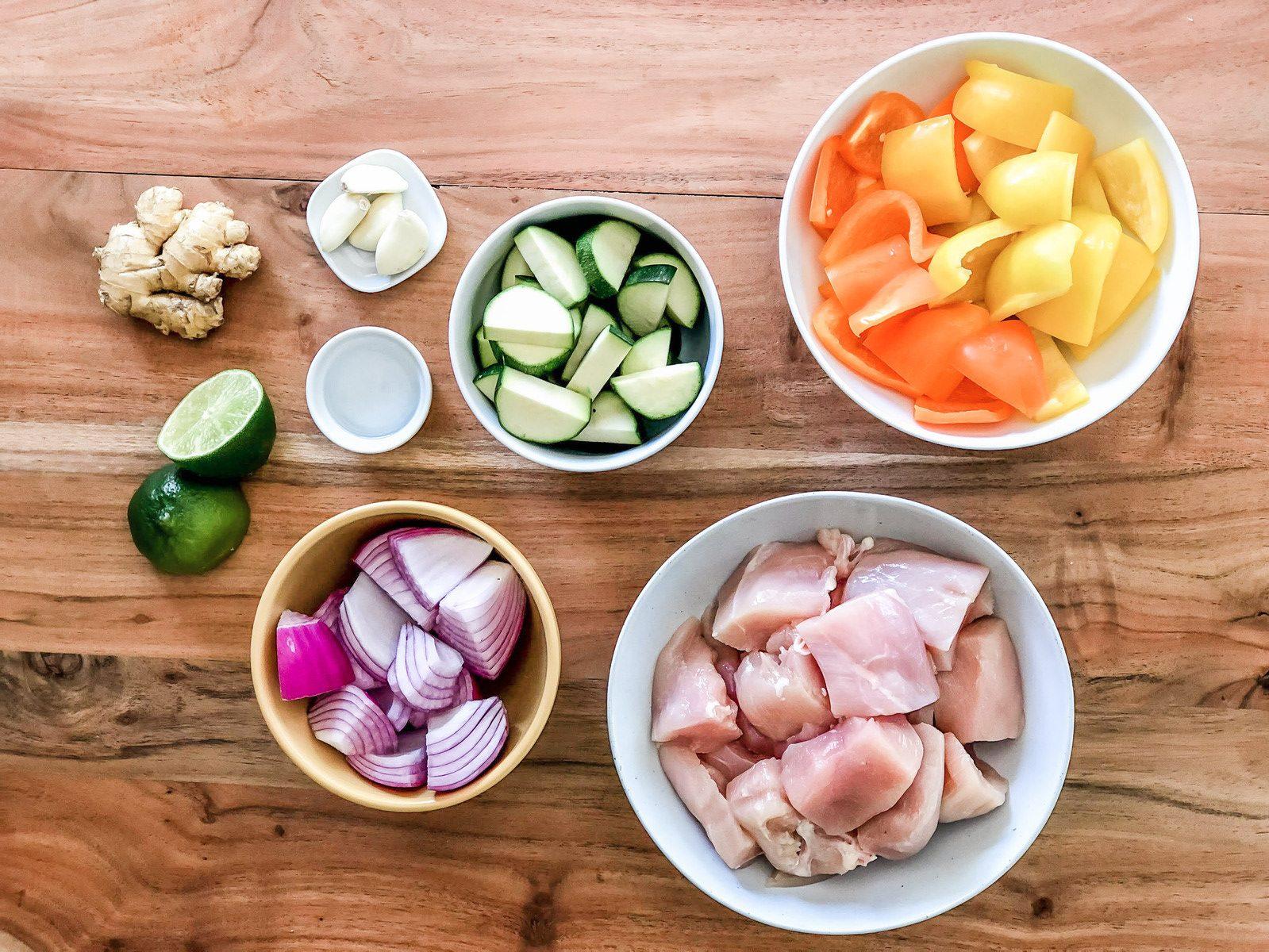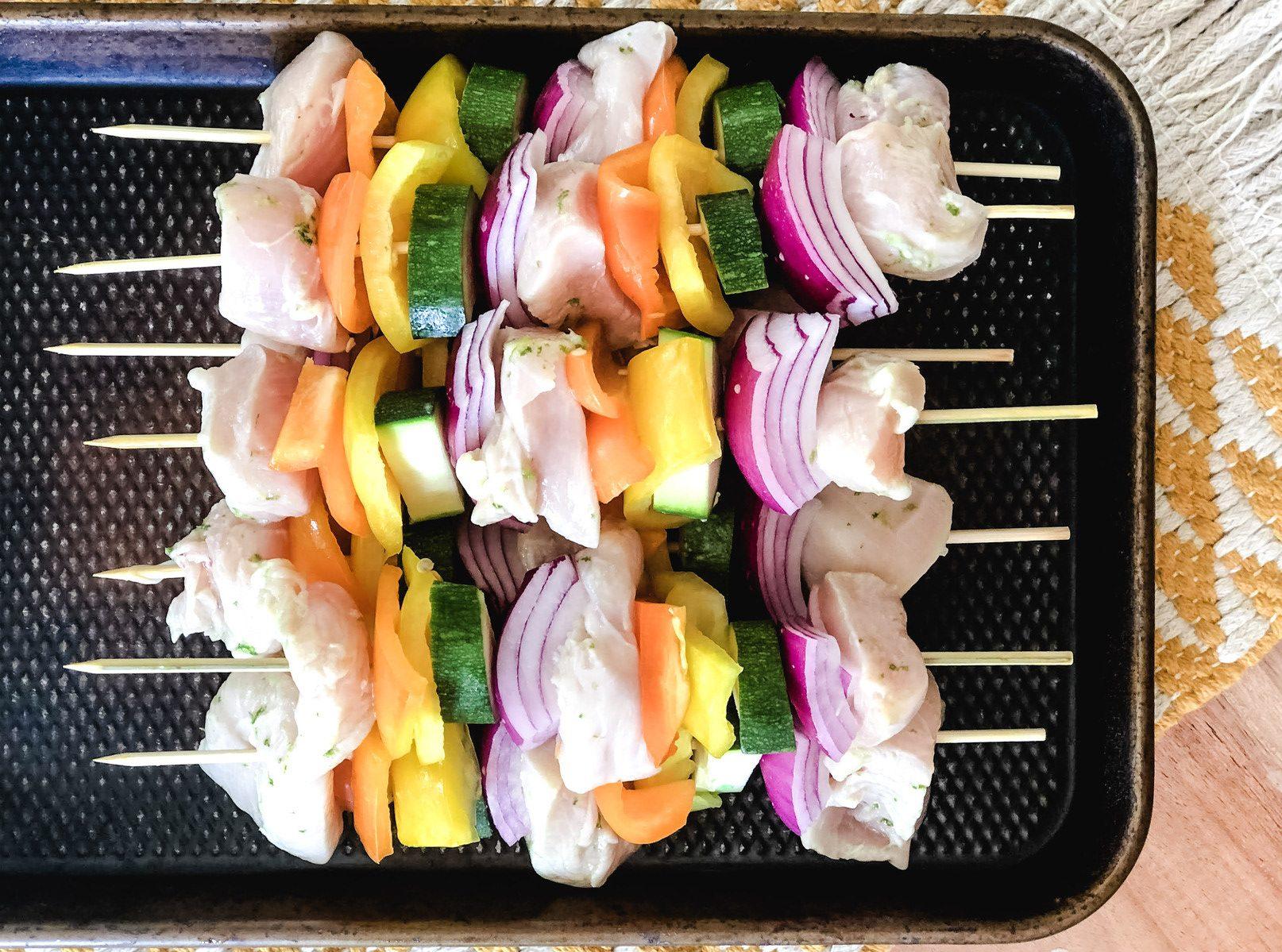 For hundreds of pure Paleo recipes be sure to check out The Real Paleo Diet Cookbook and The Real Paleo Diet Fast and Easy.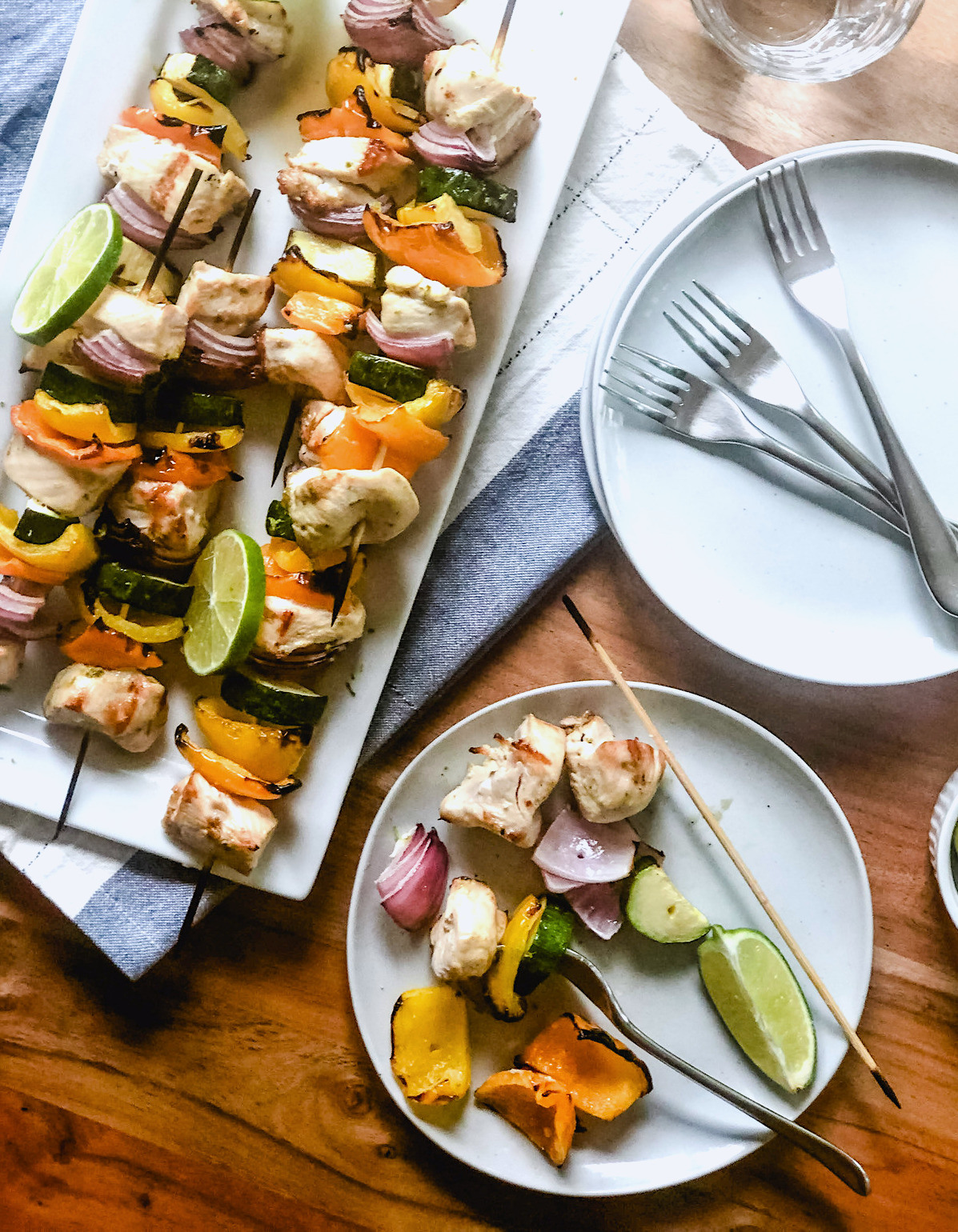 Details
Serves:

2

Prep Time:

2 hours 10 minutes

Cook Time:

10 minutes

Total Time:

2 hours 20 minutes
Print this Recipe
Ingredients
1 lb chicken breast, sliced into 1-inch cubes

3 limes, zested and juiced

4 cloves garlic, minced

1-inch piece of fresh ginger, peeled and grated

1/4 cups coconut oil

1 red onion, quartered

2 bell peppers, sliced into large chunks

1 large zucchini, sliced into large chunks

2 tbsp olive oil
Directions
Place the chicken pieces in a glass container.

In a medium bowl, mix together the lime zest and juice, garlic, ginger, and coconut oil. Pour over the chicken and toss to combine. Cover and refrigerate for at least 2 hours.

When ready to cook, preheat the grill. Remove the chicken from the marinade and shake off the excess. Thread the chicken and veggies onto skewers. Brush with olive oil.

Grill the kabobs over direct medium heat, keeping the lid closed as much as possible. Cook until the chicken is firm to the touch and no longer pink in the center, 8 to 10 minutes total, turning once or twice during cooking.

Serve hot alongside your favorite fresh fruit for a complete Paleo meal.