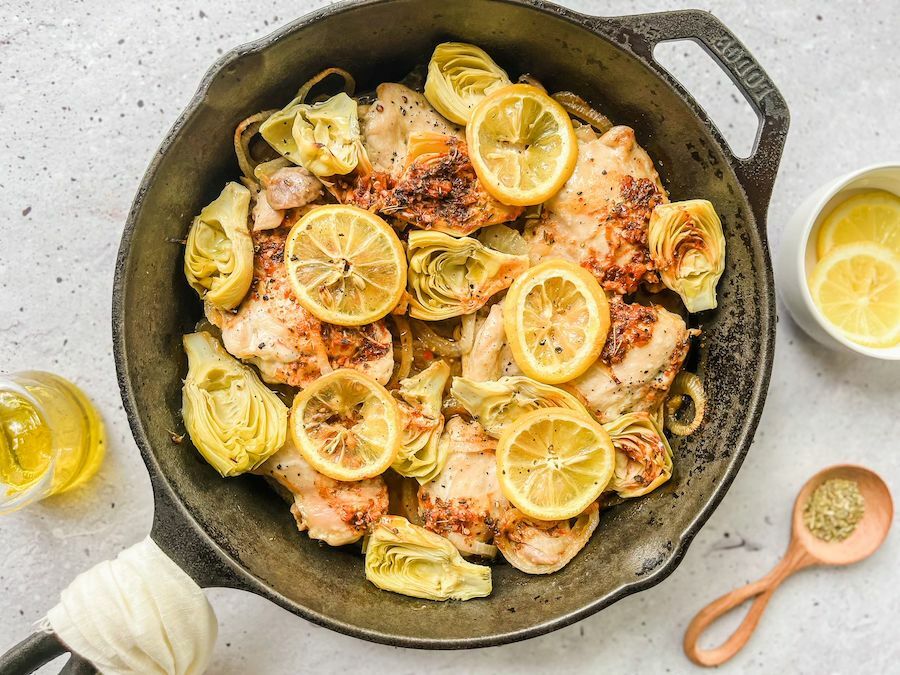 Lemon Chicken with Artichoke Hearts
Citrus and artichokes bring bright, zesty flavor to the dinner table in this easy lemon chicken skillet.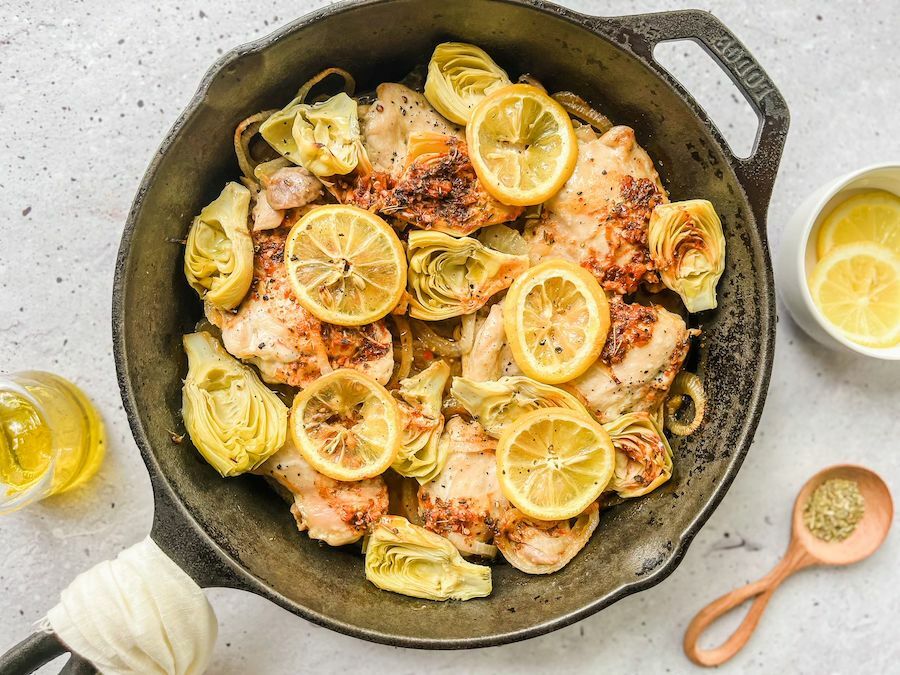 Make chicken exciting again with this simple lemon chicken recipe that packs tons of flavor. This easy, one-skillet dish tops juicy chicken with a zesty lemon and artichoke sauce for a crowd-pleasing weeknight meal. This lemon chicken skillet is great on its own, or pairs wonderfully alongside cauliflower rice, perfect for sopping up extra sauce.
Start with bone-in, skin-on chicken thighs. This cut is full of flavorful dark meat, and the bones add even more succulent juiciness. Begin by searing them to crisp up the skin and brown the exterior. Don't try to cook them all the way through, as they'll finish in the oven. You may need to do this in batches of 2-3 (or use multiple dutch oven or frying pans). To save time, we seared them right along with the onions.
Meanwhile, whisk up the lemony garlic sauce with paprika and other spices. You'll also mix the a right into the sauce. To keep this recipe TRUEPALEO™, be sure to choose artichoke hearts packed in water instead of brine to avoid any added salt. Drain them before adding to the mixture, then pour the sauce all over the seared chicken thighs.
If you want, you can top your chicken with lemon slices here. Add a bit of freshly ground black pepper, then transfer the pan to the oven and roast for 30 minutes, or until the chicken is completely cooked through. Serve hot and enjoy!
Tip:
• Autoimmune Protocol (AIP) omissions and substitutions are listed in the recipe ingredients.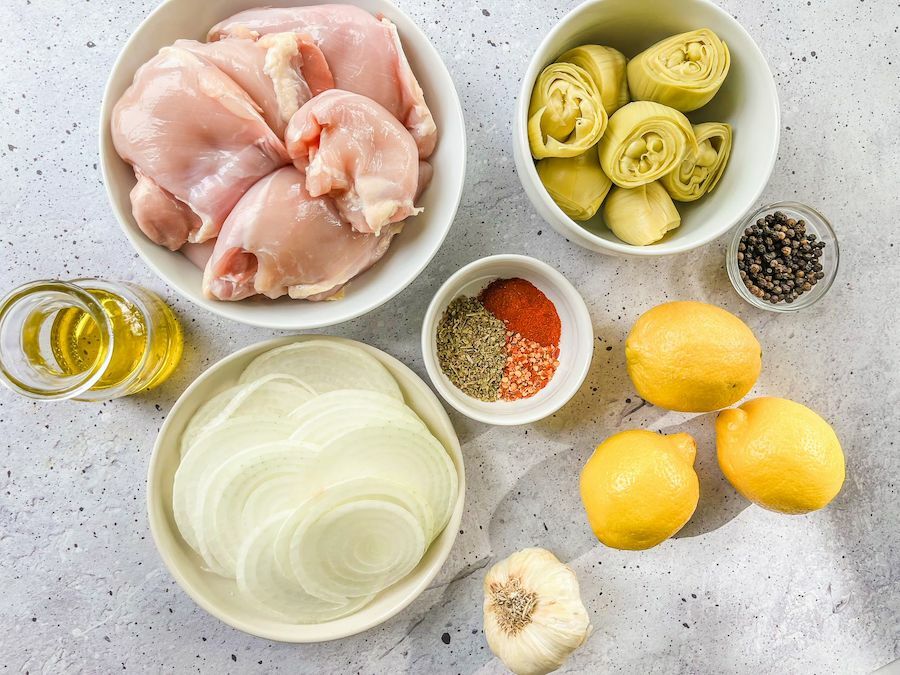 For hundreds of pure Paleo recipes be sure to check out The Real Paleo Diet Cookbook and Real Paleo Fast and Easy.
Details
Serves:

4

Prep Time:

10 minutes

Cook Time:

50 minutes

Total Time:

1 hour
Print this Recipe
Ingredients
2 tbsp extra-virgin olive oil

1 yellow onion, thinly sliced

8 skin-on, bone-in chicken thighs

2 tsp cracked pepper (AIP - omit)

3 lemons, 1 sliced and 2 juiced

5 garlic cloves, minced

1 can artichoke hearts, packed in water (drained)

1 tbsp salt-free Italian seasoning

1 tsp paprika (AIP - omit)

1/2 tsp red pepper flakes (optional, AIP - omit)
Directions
Preheat oven to 425°F.

Heat the olive oil in a Dutch oven over medium-high heat. Add the onions and sauté for 2-3 minutes.

Pat the chicken dry and season well with cracked pepper. In stages, sear chicken 5 minutes per side. Set aside.

In a bowl, whisk together the lemon juice, lemon slices, garlic, artichokes, Italian seasoning, paprika, and red pepper flakes.

Return the chicken to the Dutch oven and pour in the lemon-artichoke mixture. Sprinkle lightly with additional freshly ground pepper and Italian seasoning.

Transfer to the oven and roast, uncovered, for 30 minutes, or until the chicken is cooked through. Serve hot and enjoy!