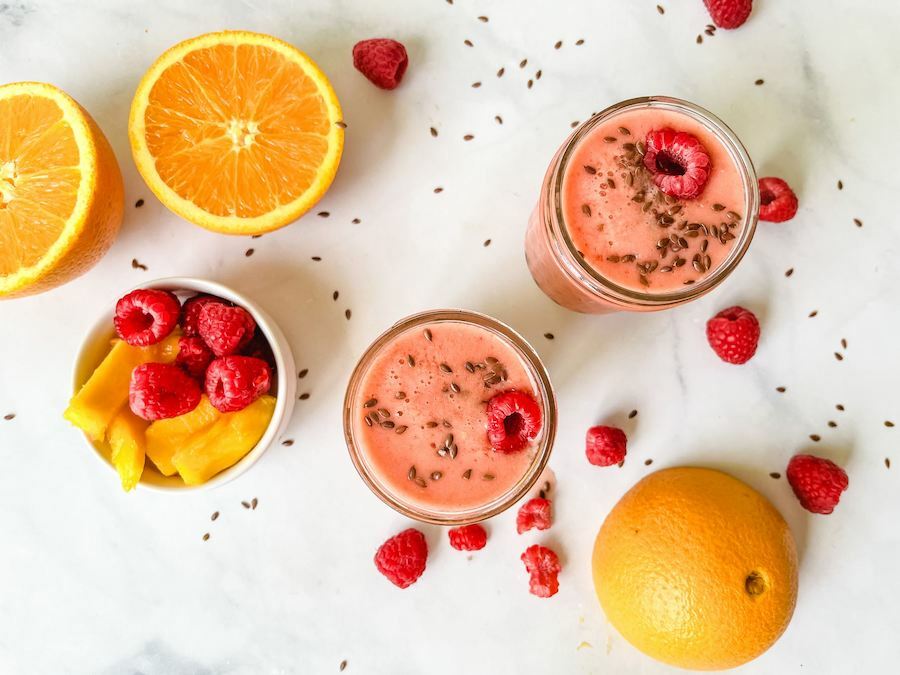 Orange Raspberry Smoothie
Refresh yourself with this creamy, smooth orange raspberry smoothie!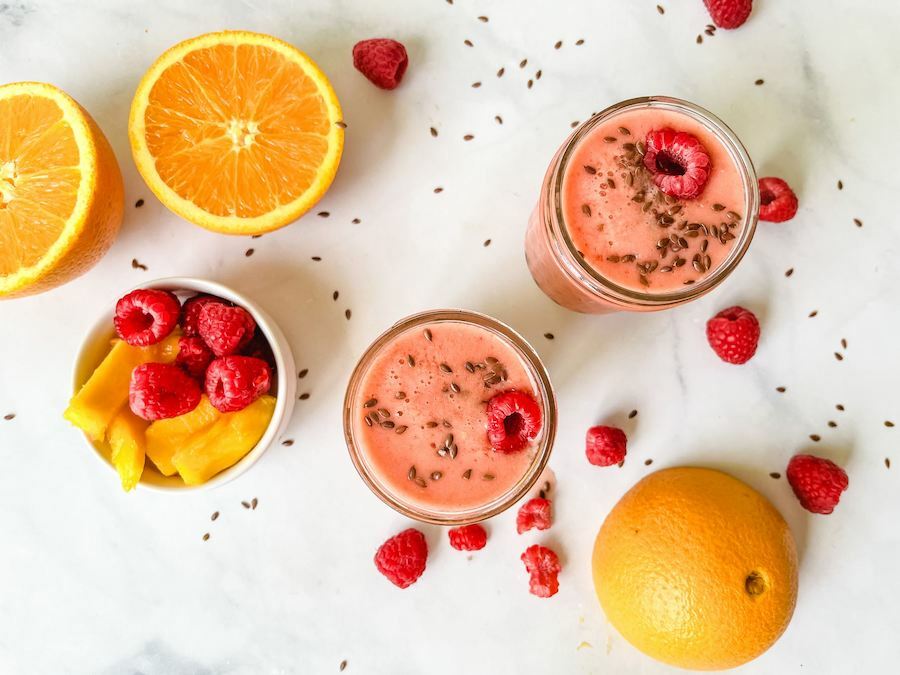 Need a refreshing drink to rehydrate after a hot day? Look no further than this sweet-tart raspberry smoothie!
It doesn't get much easier to make a smoothie – just add all ingredients to a blender and process until creamy and smooth.
Of course, there's an art to creating smoothies with just the right consistency. Follow these tips to the frostiest, best raspberry smoothie you've ever made:
Use frozen fruit. Ideally, you'll want to use frozen raspberries and mango chunks here. It's fine to replace one (or both) with fresh fruit, but be sure to counteract with a handful or two of ice so your smoothie doesn't get watered down.
Fresh-squeeze your OJ. Store-bought orange juice is way too sugary, and is definitely not Paleo! Plus, the natural aroma of fresh-squeezed juice is vital in this recipe.
Add a banana. If your smoothie isn't creamy enough, a few banana chunks will thicken it up just right. Bonus points if it's a frozen banana!
Use whatever dairy-free milk you like. We love coconut milk for its naturally sweet taste (especially the creaminess of full-fat coconut milk!) but you can also use almond milk or cashew milk if you prefer.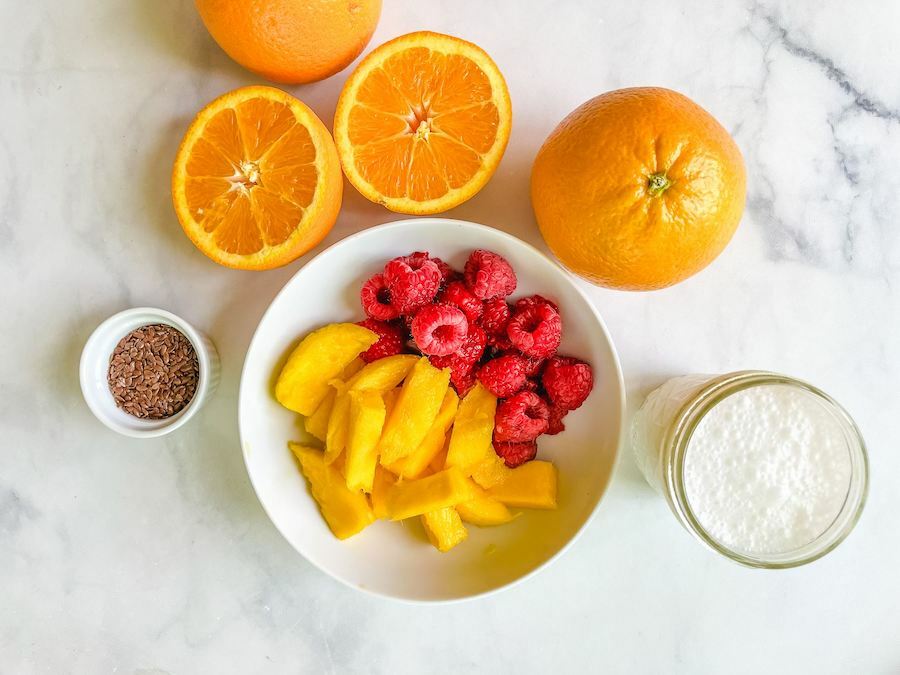 We love topping our smoothies to make them extra colorful and appealing. We topped our raspberry smoothie with fresh berries and whole flax seeds, but you could also add finely chopped nuts or even a dash of cinnamon.
Smoothies are best served immediately, but if you really need to save yours for later, pour it into a Mason jar, secure the lid, and stash it in the refrigerator. Give it a good shake before drinking, or process in the blender one more time with a bit of ice to freshen it up. Sip and enjoy!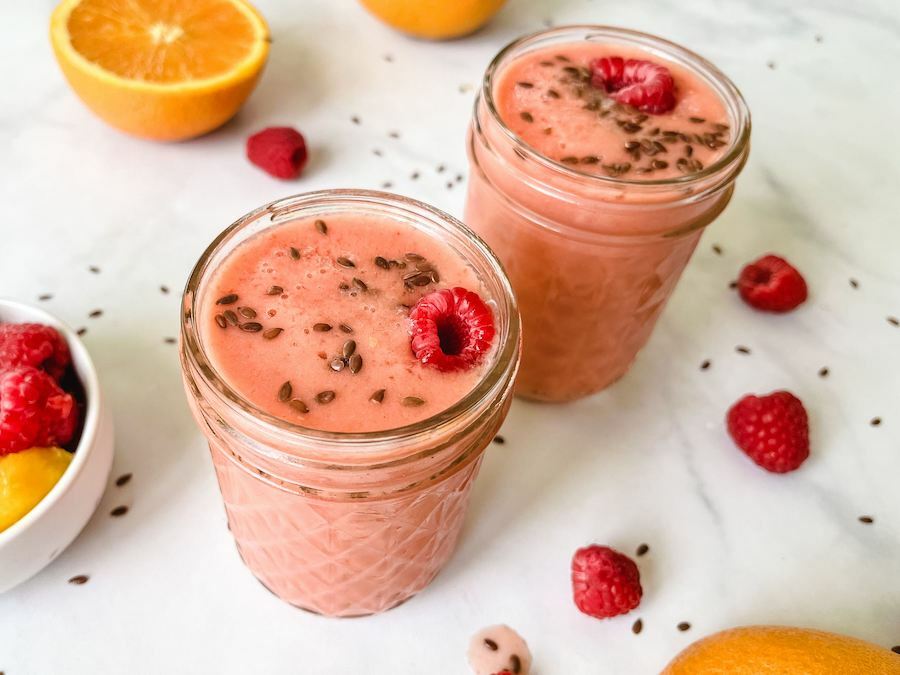 For hundreds of pure Paleo recipes be sure to check out The Real Paleo Diet Cookbook and Real Paleo Fast and Easy.
Ingredients
1 1/2 cups unsweetened coconut milk

1 cups raspberries

1 cups mangos

2 tsp flax seeds

1/3 cups fresh-squeezed orange juice

Handful of spinach (optional)
Directions
Add all ingredients to a blender. Process for 1 minute, or until creamy and smooth.

Pour the smoothie evenly into 2 glasses and sprinkle with more flax seeds and raspberries, if desired. Serve immediately.