Pico de Gallo
Spice up your Taco Tuesday with homemade pico.

It doesn't get much fresher than a zesty pico de gallo! This chunky salsa is easy to make and healthy to boot. A great condiment to have on hand at all times!
All you need to make this healthy pico de gallo is six ingredients – finely chopped peppers, onions, tomatoes, cilantro, and fresh lime juice to taste. That's literally it.
A classic pico de gallo is made with jalapeño peppers, but we added an Anaheim pepper to the mix to lend a mild sweet-smoky taste. If you like your pico less spicy, be sure to de-seed the jalapeño before chopping it up. You can also just use half of a pepper and taste test to see if you'd like more. It's easy to add more heat later – and much harder to reduce it!
We also used red onion in this recipe for an extra pop of color, but you could use white onion instead if you prefer. White onions are milder and sweeter than yellow onions, which is why they're a better choice for serving raw. Tip: You can also add sliced green onions to the mix if you like.
You'll counter the strong flavors of peppers and onions with sweet red tomatoes and freshly chopped cilantro. There is a delicate balance to be found, so be sure to taste as you go and make sure it's to your liking.
Toss all the chopped ingredients together and dress with fresh lime juice. Serve your pico de gallo as a dip alongside sweet potato chips or beet chips, as a side dish to your favorite entrees, or over fresh eggs in the morning. The possibilities are endless!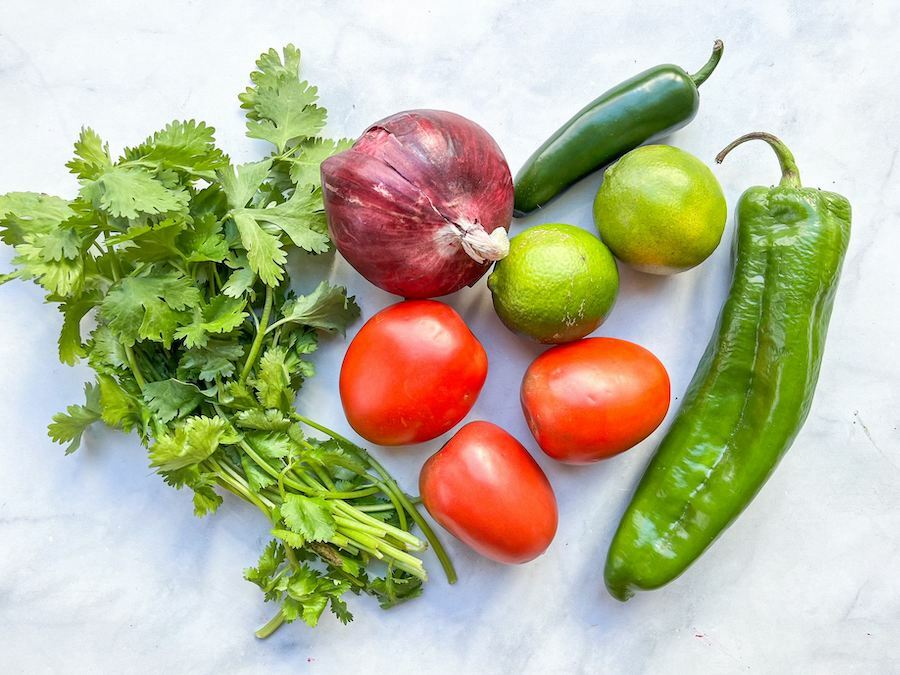 Love our recipes? Make going Paleo even easier and download our 7-Day and 28-Day digital meal plans!
Ingredients
1 jalapeño, diced

1 Anaheim pepper, diced

1/2 red onion, diced

3 Roma tomatoes, diced

1 bunch cilantro leaves, chopped finely

1 lime

Freshly ground black pepper, to taste
Directions
Mix the diced peppers, onions, tomatoes, and cilantro in a bowl.

Slice the lime in half and squeeze one half into the bowl. Combine well, then taste test. Add more lime juice to your liking, if desired.

Add black pepper to taste, and enjoy!