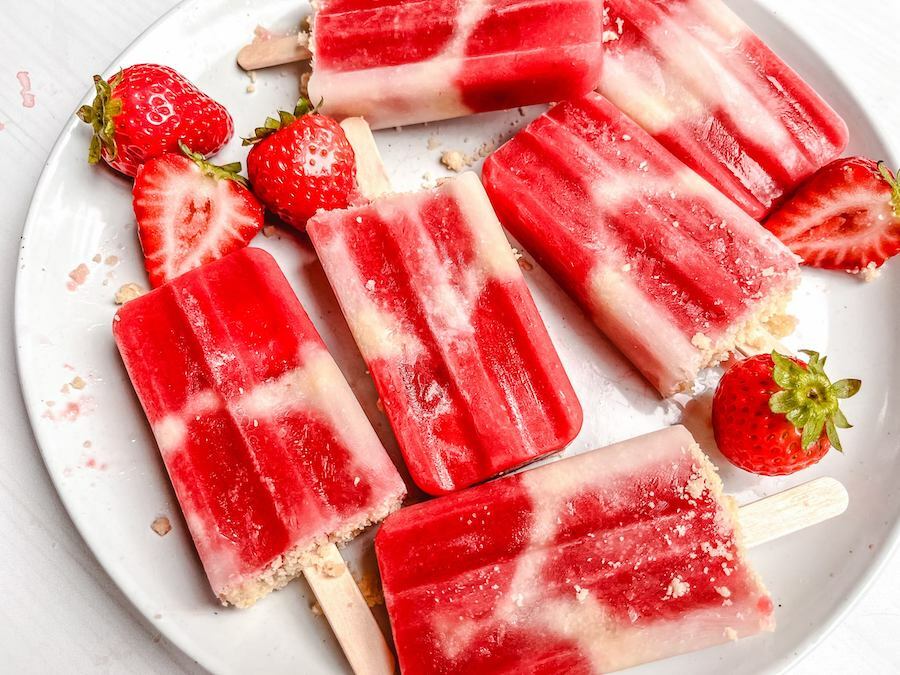 PaleoFLEX™ Strawberry Shortcake Popsicles

What better way to cool off from a late summer heat wave than with homemade strawberry shortcake popsicles?
Grab a basket and head to your grocery produce section because you're going to need lots of fresh strawberries to make these pops. Whether you're shopping at the local farmer's market or grocery store, look for the ripest batch—it will make a flavor-bursting puree.
All you need are popsicle molds and a few simple ingredients to make these mouth-watering icy treats. Since this recipe is PaleoFLEX™, we were able to use a small amount of maple syrup to sweeten the popsicle up to Strawberry Shortcake's liking.
Start by muddling up some strawberries into a puree. Blend the puree with sliced strawberries until it reaches a smooth consistency, then cook the mixture in a saucepan for 10 minutes. Make your coconut milk mixture by combining the remaining wet ingredients over heat until dissolved. Merge these two mixtures together and don't forget to set aside some milk mixture for later.
Grab your popsicle molds and place a few strawberry slices inside for garnish. Fill one third of each mold with your strawberry milk mixture, and freeze this first layer for an hour. Now, start making the second layer. In a pan, toast the almond flour while adding in maple syrup. Remove from the heat once the texture is crunchy, and separate a bit of crunch topping for later. Combine the rest of the almond crunch with the remaining milk mixture.
Fill the frozen popsicle molds with the almond crunch milk mixture leaving some room at the top. Place popsicle sticks in your molds and freeze for another hour. Top off the pops with remaining strawberry mixture and the rest of the toasted almond crunch. Freeze overnight for up to 6 hours and enjoy!
Tips:
Place the leftover mixture in a sandwich baggie or in parchment paper and store in the freezer without a sticky mess!
If you're not a fan of coconut milk, almond or cashew milk make great substitutions.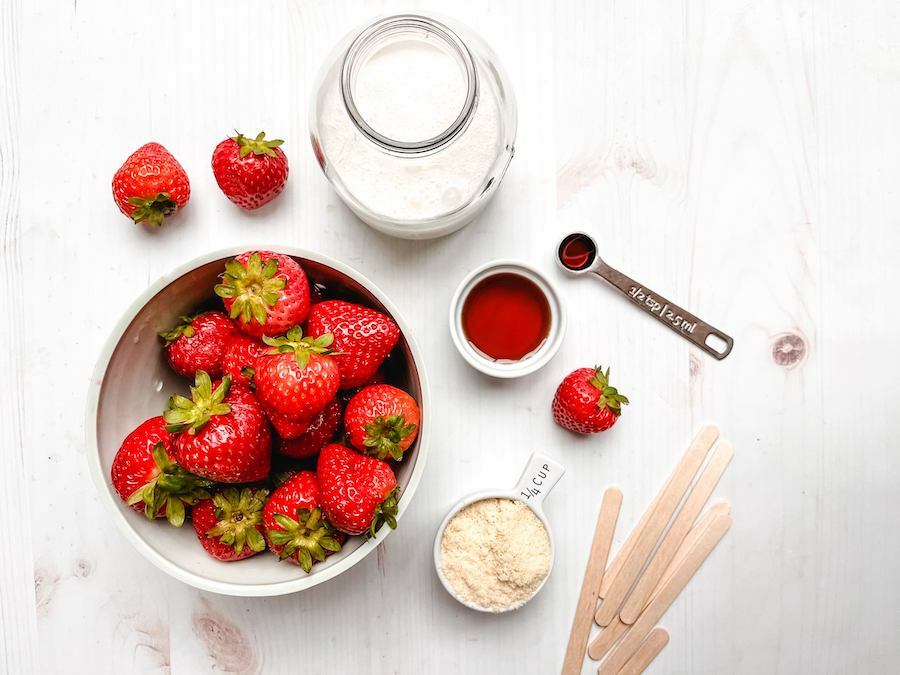 Love our recipes? Make going Paleo even easier and download our 7-Day and 28-Day digital meal plans!
Details
Prep Time:

6 hours

Cook Time:

30 minutes

Total Time:

6 hours 30 minutes
Ingredients
5 strawberries, sliced

2 cups fresh strawberry puree

1 cups coconut milk

3 tbsp maple syrup

1/2 tsp vanilla extract

1/4 cups toasted almond flour
Directions
Muddle or blend 2 cups of fresh strawberries into a puree. Combine the sliced strawberries and puree into a food processor and blend.

Pour the strawberry mixture into a medium sauce pan over medium heat. Bring the mixture to a light simmer for about 10 minutes, or cook until it's reduced by half. Set it aside to cool.

Add the coconut milk, 2 ½ TBSP of the maple syrup, and vanilla extract to another medium sauce pan over medium heat to make the milk mixture. Stir frequently until the mix is combined and the syrup is dissolved, or for about 8 minutes. Leave aside to cool.

Toast the almond flour in a small pan on medium low heat. Add in the rest of the maple syrup, and keep stirring until it develops a crunch topping. Cook for about 5 minutes, then remove the pan from the heat. Set aside about 2 TBSP of the almond crunch to top off the popsicle later.

Once cooled, pour ¾ cup of the milk mixture into the strawberry mixture. Stir until combined, and then set aside.

Add a few sliced strawberries into each popsicle mold. Then, pour the strawberry milk mixture into the 6 molds until about ⅓ filled, saving a little bit of the mixture for the third layer. Freeze for about an 1 hour before adding another layer.

Mix the toasted almond crunch with the remaining milk mixture, and divide it into the 6 popsicle mold until they're ⅔ full.

Place the popsicle sticks in, making sure it goes down to the bottom of the strawberry layer about ½ way. Freeze the second layer for another hour.

Add the remaining strawberry milk mixture and top it off with the rest the toasted almond crunch you set aside earlier.

Freeze for about 4-6 hours or overnight. Enjoy immediately!