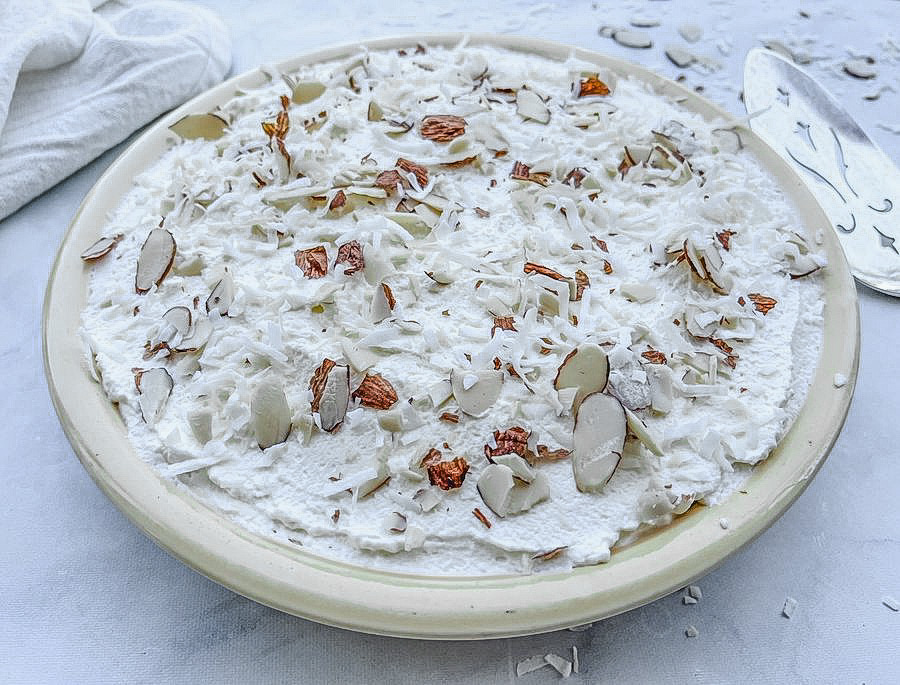 PaleoFLEX™ Coconut Cream Pie
No need to turn on the oven to whip up this light and fluffy coconut cream pie!
This coconut cream pie is a coconut lover's dream – it's made with coconut milk, coconut oil, and toasted coconut for tropical flavor in every layer: crust, filling, and topping.
Since this is a dessert recipe, it's automatically considered PaleoFLEX™ right off the bat. We also allow a small amount of natural sugar in PaleoFLEX recipes, so we added a small amount of raw honey to both the crust and the filling – just enough to keep it within bounds of our criteria!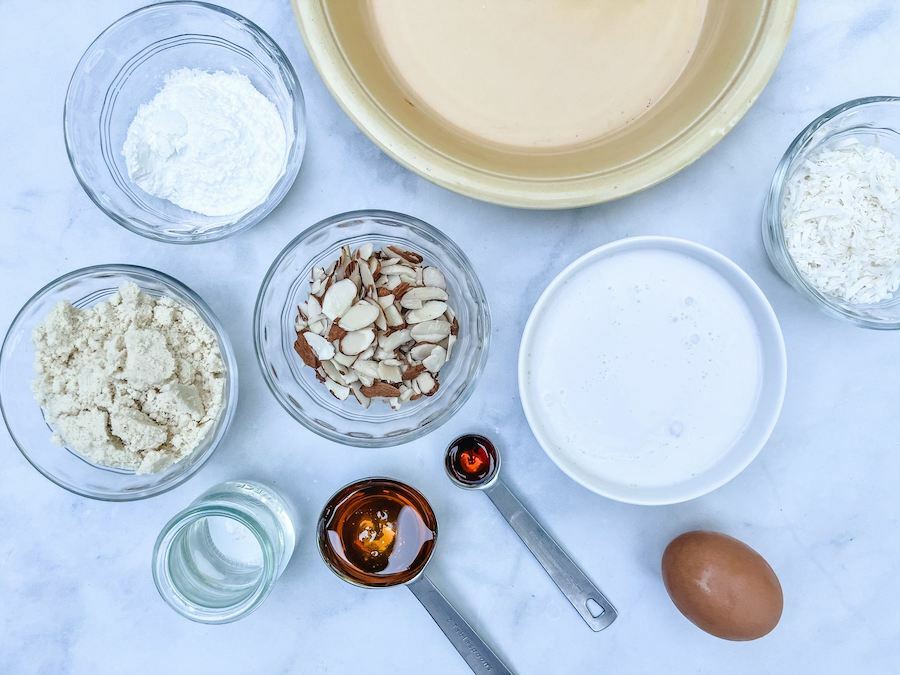 Before you get started, make sure to stick one can of coconut milk in the fridge. You'll want all the solids to form on the top, so you can easily scoop it out to whip up the whipped topping without any of the liquids watering it down. Ideally, do this the night before!
Start by making the crust. Mix almond flour with chopped almonds, coconut oil, and honey until well combined (you may want to use a KitchenAid here). Press the crumbly mixture evenly into a greased pie dish, and bake at 350°F for 8-10 minutes, or until golden brown. Let the crust cool on a wire rack before adding the filling.
While the crust bakes and cools, prep the filling by whisking coconut milk, arrowroot an egg, and honey together in a saucepan over medium-low heat until thick. Cool slightly before adding the vanilla and toasted coconut. Once the crust and filling are completely cool, pour the filling into the crust and set in the fridge for at least three hours to chill.
Before serving (or at any time!) make the whipped cream topping with the chilled coconut milk solids. Use an electric mixer to beat the coconut cream until light and fluffy. You can also add a bit of vanilla extract here if you like. Spread the whipped cream over the pie, and garnish with toasted coconut and sliced or slivered almonds. Serve and enjoy!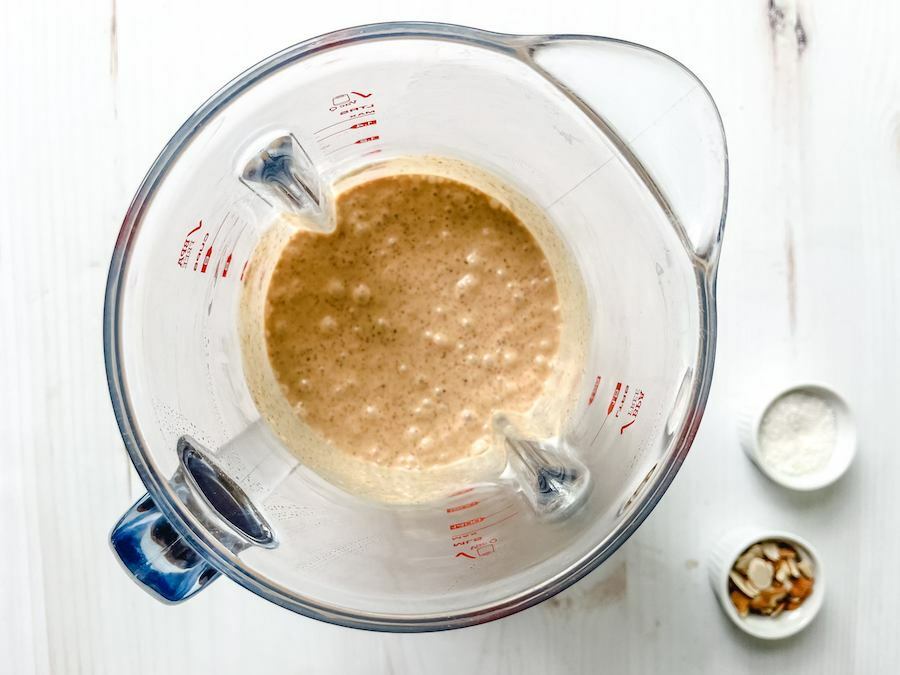 Tips:
You can make this in a square 9×9 inch pan if you don't have a small pie plate.
You can also use chopped pecans instead of chopped almonds in the crust.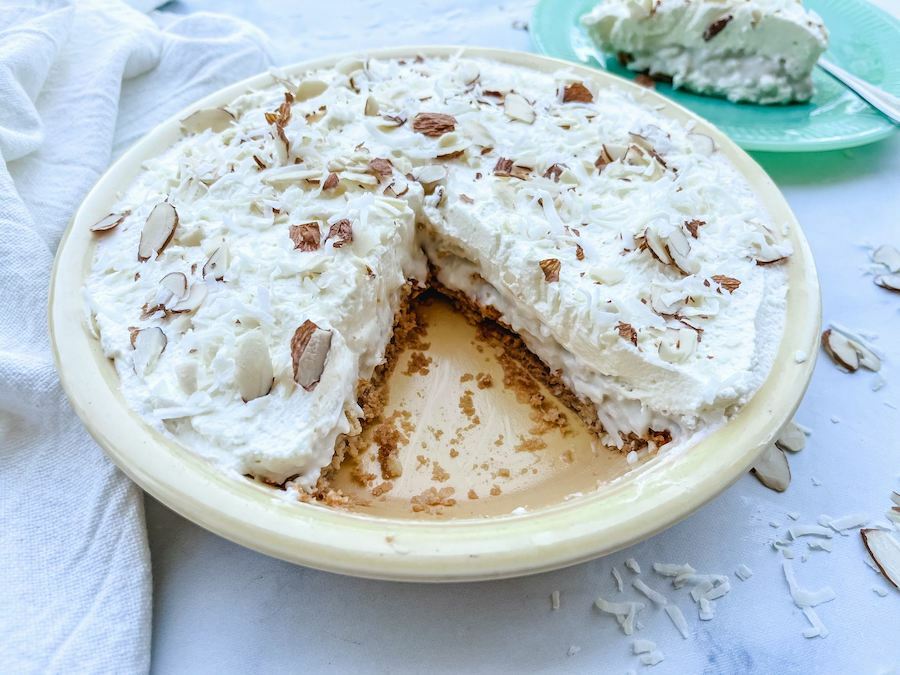 Love our recipes? Make going Paleo even easier and download our 7-Day and 28-Day digital meal plans!
Details
Prep Time:

30 minutes

Cook Time:

20 minutes

Total Time:

3 hours 50 minutes
Ingredients
1/2 cups blanched almond flour

1/4 cups almonds, chopped

3 tbsp coconut oil, melted

2 tbsp + 1 tsp raw honey

2 13.5 oz cans full fat coconut milk (one needs to be chilled)

3 tbsp arrowroot powder

1 large egg

1/2 tsp vanilla extract

3/4 cups unsweetened toasted coconut flakes, divided

1/4 cups slivered almonds, for garnish
Directions
Preheat the oven to 350°F and grease a small round pie dish with coconut oil.

In a medium bowl, mix the almond flour, chopped almonds, melted coconut oil, and 1 teaspoon of the honey. Press the mixture evenly into the prepared pie dish and bake for 8-10 minutes, until golden brown. Let the crust cool on a wire rack while you prep the filling.

In a small saucepan, combine a can of the unrefrigerated coconut milk with the arrowroot powder, egg, and 2 tablespoons of honey over medium-low heat. Whisk constantly until it starts to thicken, about 5 minutes. Remove from the heat and let it cool for 5 minutes. Once cooled, add ½ cup of the shredded coconut and vanilla extract, then, mix until well combined. Leave aside to cool for another 15-20 minutes before pouring the filling over the crust. Set the pie in the refrigerator for at least 3 hours to chill.

For the last layer, drain the liquids of the refrigerated can of coconut milk and pour the solids into a bowl. Use an electric mixer to whip the cream until fluffy. Spread the whipped coconut cream evenly over the pie.

Garnish with the remaining shredded coconut and slivered almonds. Enjoy!