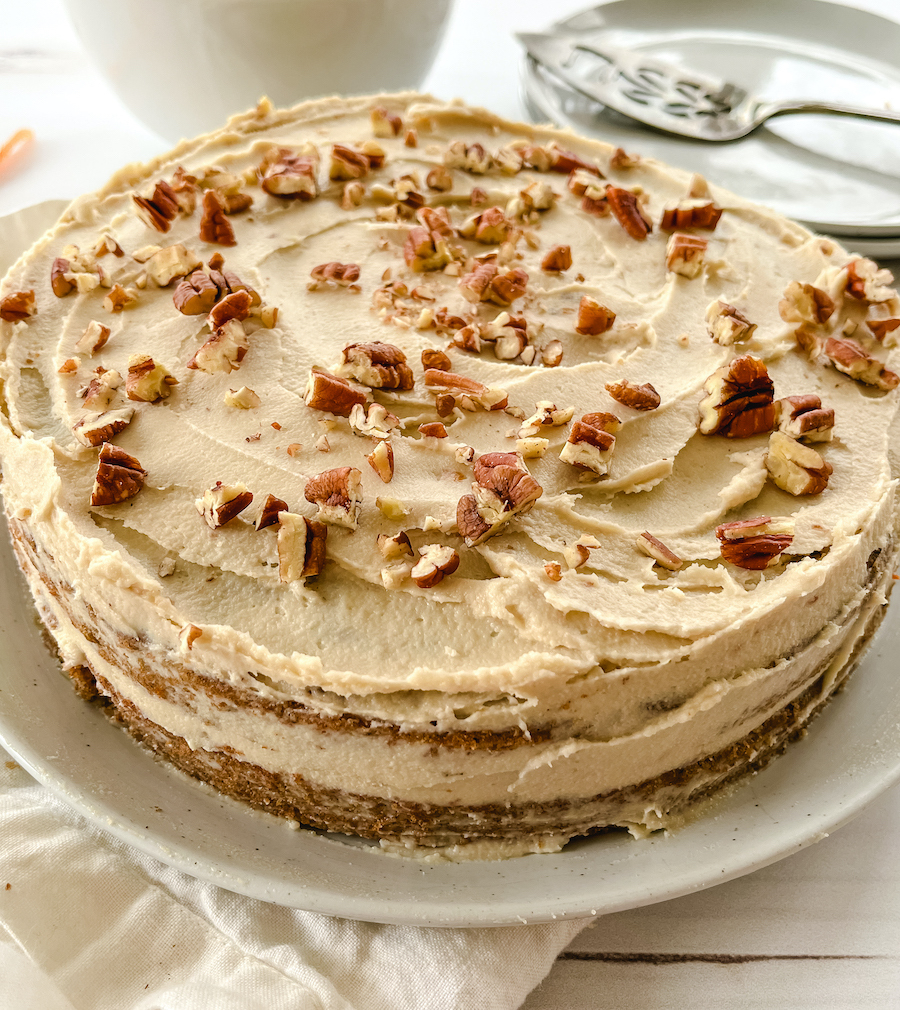 Serve up a slice of gluten-free carrot cake with an almond cream frosting for a festive treat!
If you're in the mood for a chocolate-free yet decadent dessert, look no further than this PaleoFLEX two-layer carrot cake. It's made with healthier-for-you almond flour and naturally sweetened with mashed bananas and maple syrup.
This carrot cake recipe may seem complex at first glance, but it's actually really easy. Don't let the long ingredient list fool you – many of the ingredients for the cake are repeated for the frosting, and many are spices! You can also use the thick portion from a can of coconut milk for the coconut cream, so you don't have to buy two separate ingredients.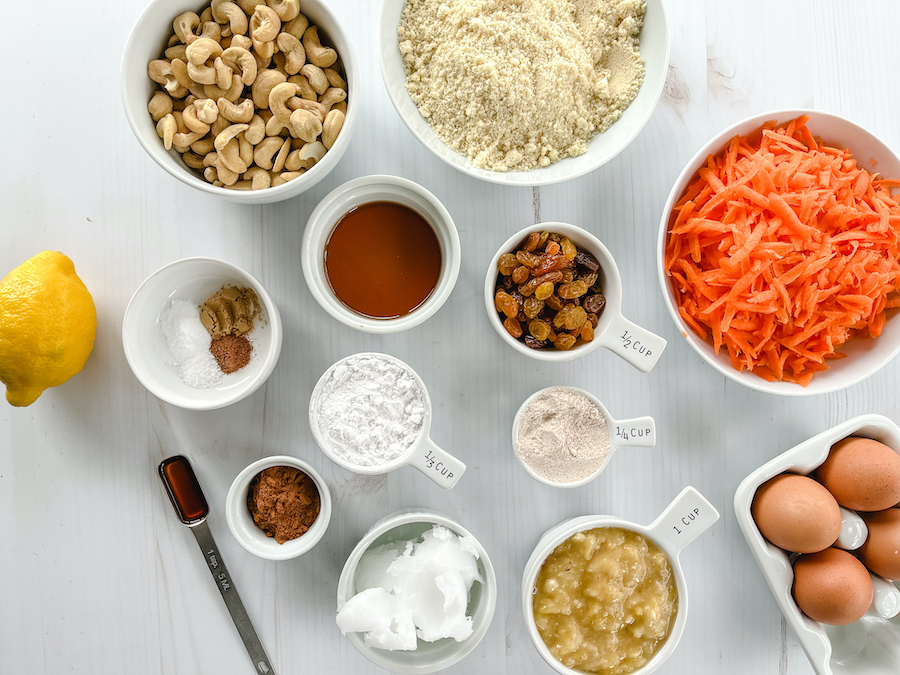 To help save on time (and your knuckles) with shredding or grating the carrots, try putting baby carrots in a food processor, or roughly chop your carrots and let the food processor take it from there. You can also buy your carrots pre-shredded, but they will likely be a bit dryer and less flavorful than fresh carrots.
Start by combining the dry ingredients in one bowl, then beat the wet ingredients using a large standing mixer. Add the dry ingredients to the wet and mix until a batter forms. Gently fold in the shredded carrots and raisins. Tip: You can also add a cup of diced pineapple here, or a tablespoon of shredded coconut for extra flavor.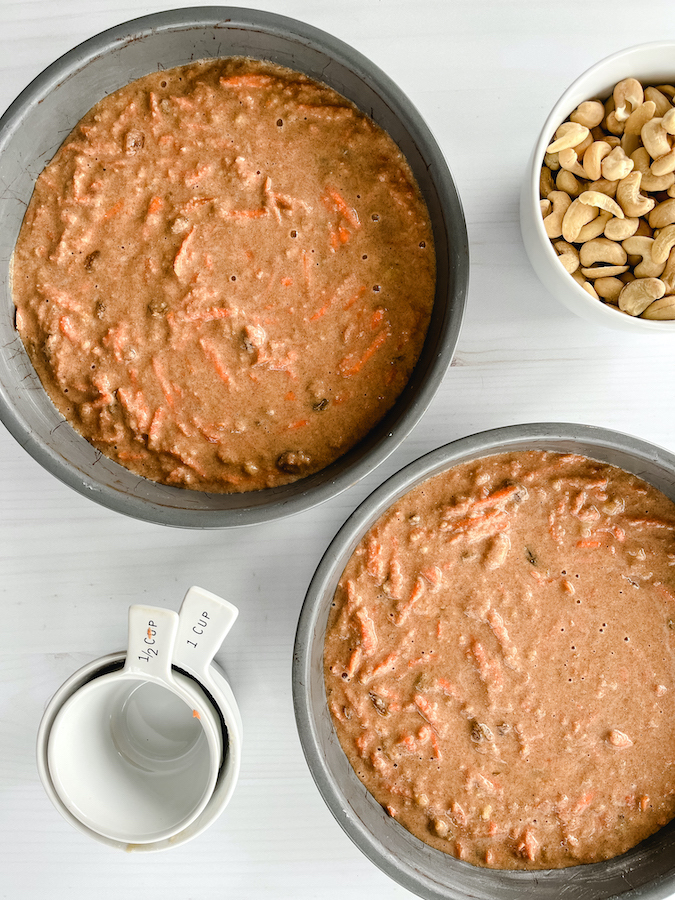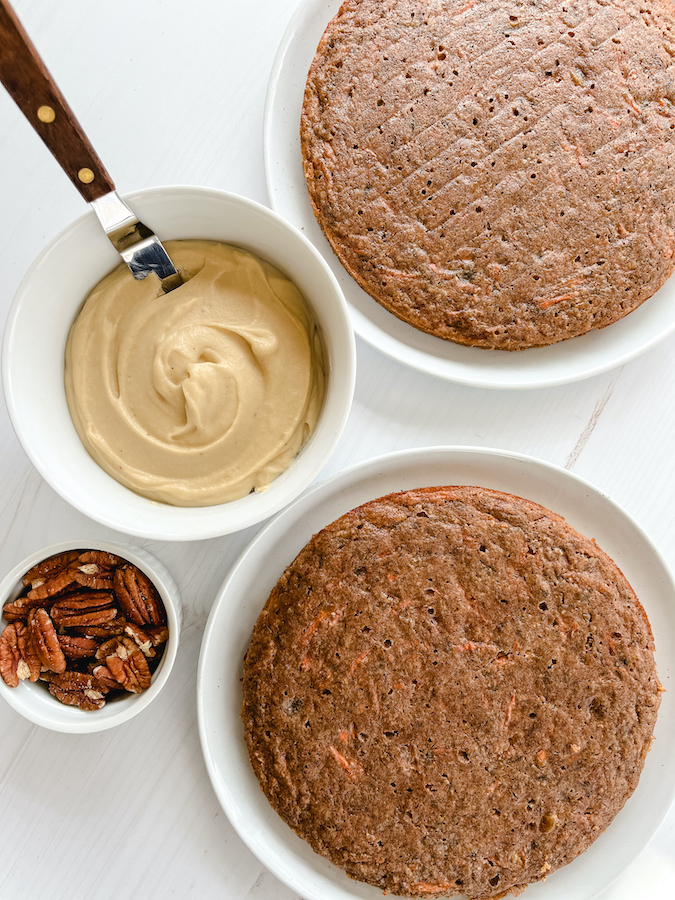 Pour the batter evenly into two eight-inch round pans if you want to do a layer cake, or you can use one 9-10″ cake pan for a single layer cake. Bake at 350°F for 25 minutes. Let the cakes cool in the pans completely before removing them.
Meanwhile, make the frosting. Use a food processor to combine soaked cashews, coconut cream, lemon juice, coconut oil, almond extract, vanilla extract, and maple syrup. The frosting may be thin – let it chill in the fridge for 30 minutes to help it firm.
To assemble the cake, set one of the completely cooled cakes on a plate and top with a small amount of the frosting. Set the second cake on top and cover it with the remaining frosting. Top with chopped pecans, then slice and serve!
Tip: To save time, make the cake a day in advance, then make the frosting right before serving.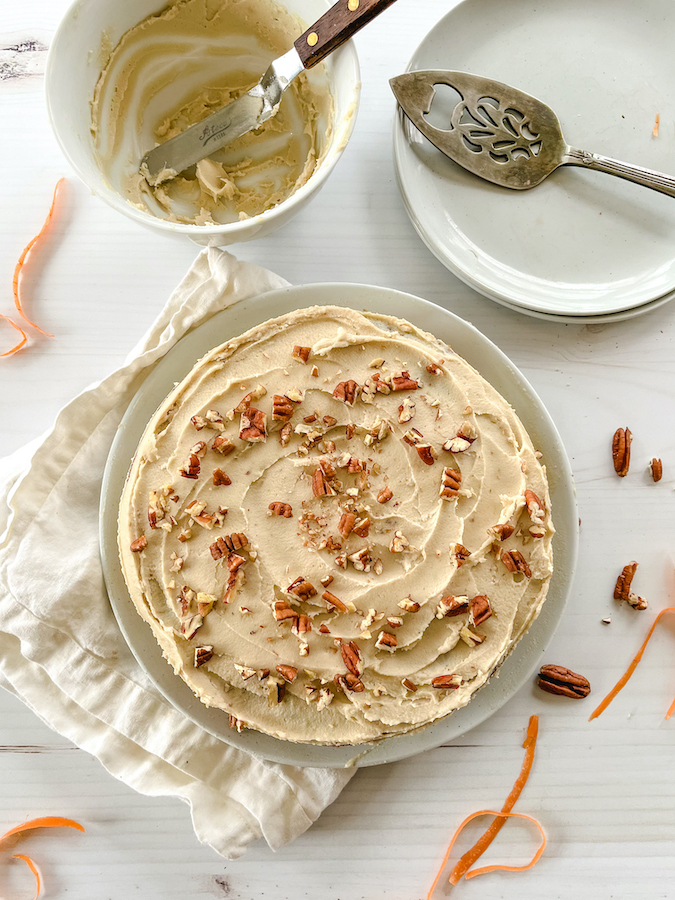 For hundreds of pure Paleo recipes be sure to check out The Real Paleo Diet Cookbook and Real Paleo Fast and Easy.

Details
Recipe by: Jess Case
Serves:

10

Meal:

Dessert
Prep Time:

30 minutes

Cook Time:

25 minutes

Total Time:

55 minutes
Ingredients
1 1/4 cups blanched almond flour

1/4 cups coconut flour

1/3 cups arrowroot flour

1 tsp baking soda

1 1/2 tbsp ground cinnamon

1/2 tsp ground ginger

1/4 tsp nutmeg

1/8 tsp cloves

1 large ripe banana, mashed (about 1 cup)

4 eggs

6 tbsp pure maple syrup, divided

1/4 cups unsweetened coconut milk

1 tbsp apple cider vinegar

1/3 cups coconut oil, melted

2 tsp pure vanilla extract, divided

2 1/2 cups shredded carrots

1/2 cups golden raisins

1 1/2 cups raw cashews, soaked in boiling water for 10 mins and drained

2/3 cups coconut cream, chilled

2 tbsp fresh lemon juice

2 tbsp coconut oil, solid

1/2 tsp almond extract

1/4 cups finely chopped pecans, for topping
Directions
Preheat the oven to 350°F and line two 8-inch round pans with parchment paper. Set aside.

In a medium bowl, mix the almond flour, coconut flour, arrowroot flour, baking soda and spices.

Use a standing mixer to combine the mashed bananas, eggs, 4 tablespoons of the maple syrup, coconut milk, apple cider vinegar, melted coconut oil and 1 teaspoon of the vanilla on low speed until combined.

Add the dry ingredients to the standing mixer and beat on low until a thick batter forms. Use a spatula to gently fold in the shredded carrots and raisins.

Pour the batter evenly into the prepared cake pans. Set in the oven and bake for 25 minutes, or until a toothpick is inserted into the middle and comes out clean. Let the cakes cool for 30 minutes in the pan before you take it out.

While the cake bakes and cools, make the frosting: Use a food processor to blend the soaked cashews until a paste forms. Add the coconut cream, lemon juice, the solid coconut oil, almond extract, the remaining two tablespoons of maple syrup, and the remaining teaspoon of vanilla extract. Blend on high speed for about 4 minutes, until the frosting is creamy. Set in the fridge until it's ready to use.

To assemble the cake: place one cake on a stand or plate and top with the frosting. Set the other cake on top and frost the top and sides. Sprinkle with chopped pecans, then slice and enjoy!