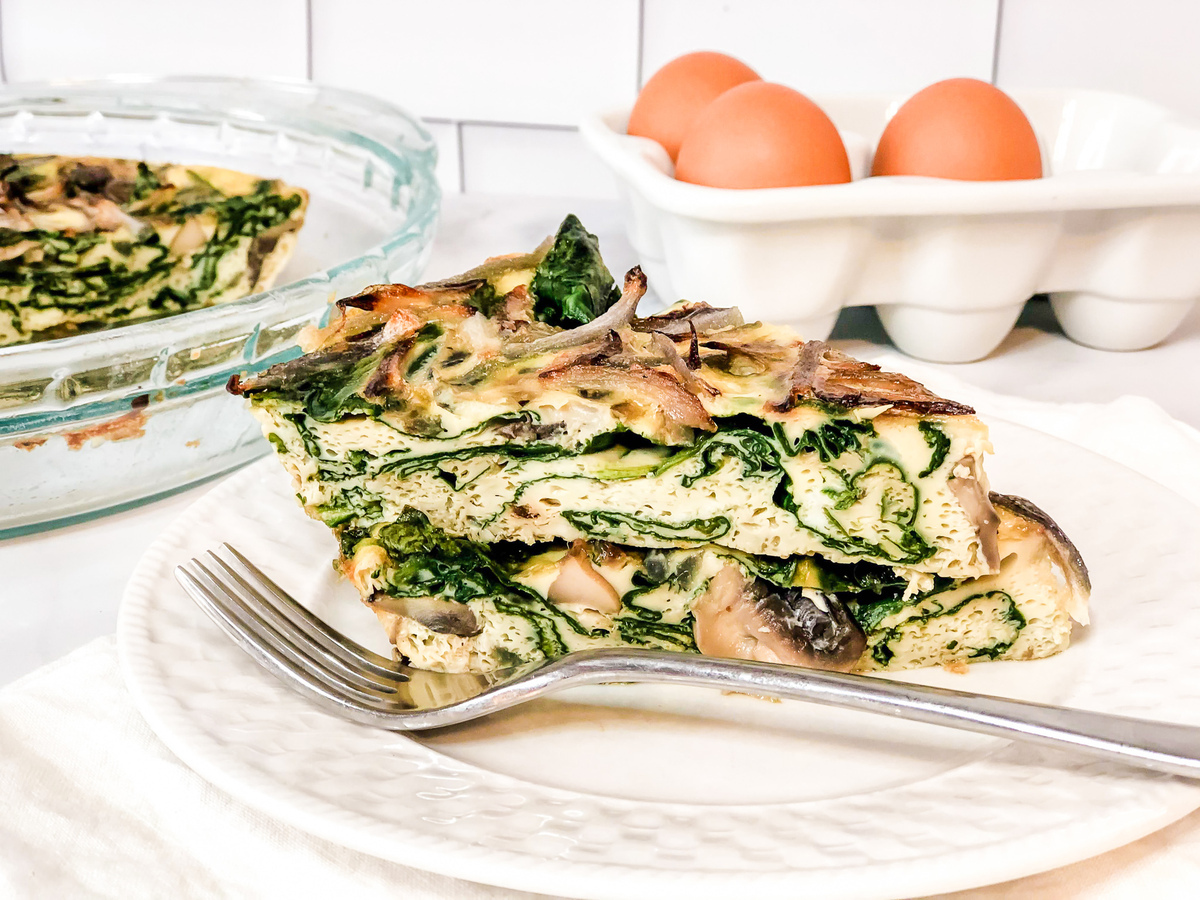 Paleo Spinach Mushroom Quiche
We keep it simple with this crust-free vegetarian recipe. Simply saute the veggies, whisk up the eggs, layer into a pie pan, and bake for a gourmet breakfast!
We start by caramelizing onions for unbeatable flavor depth. Sliced red onions provide a pop of color, but you can also use yellow or white onions instead if you prefer. Cook them low and slow with a bit of coconut oil.
If your onions start to brown or dry out too quickly, simply add a bit more oil, and lower the heat slightly. You'll know they're done when the onions are golden brown and fragrant. Scoop them out and set them aside.
Add more oil to the pan, then add sliced mushrooms, garlic, and spinach. We used plain white mushrooms, but you can use any kind you have on hand. Sauté until the spinach is just wilted.
Next, whisk up eggs with full-fat coconut milk for an ultra creamy base. Arrange half of your spinach-mushroom mixture along the bottom of a greased pie pan, then add the eggs and top with the remaining veggies. This helps create a layered look and keeps the veggies well integrated into the eggs. Bake for 40 minutes, or until set. Let the quiche stand for 5-10 minutes before slicing and serving.
Tip: Try customizing this quiche by swapping in other veggies. Swiss chard, broccoli, red pepper, sweet potatoes, and/or leeks would all make delicious choices!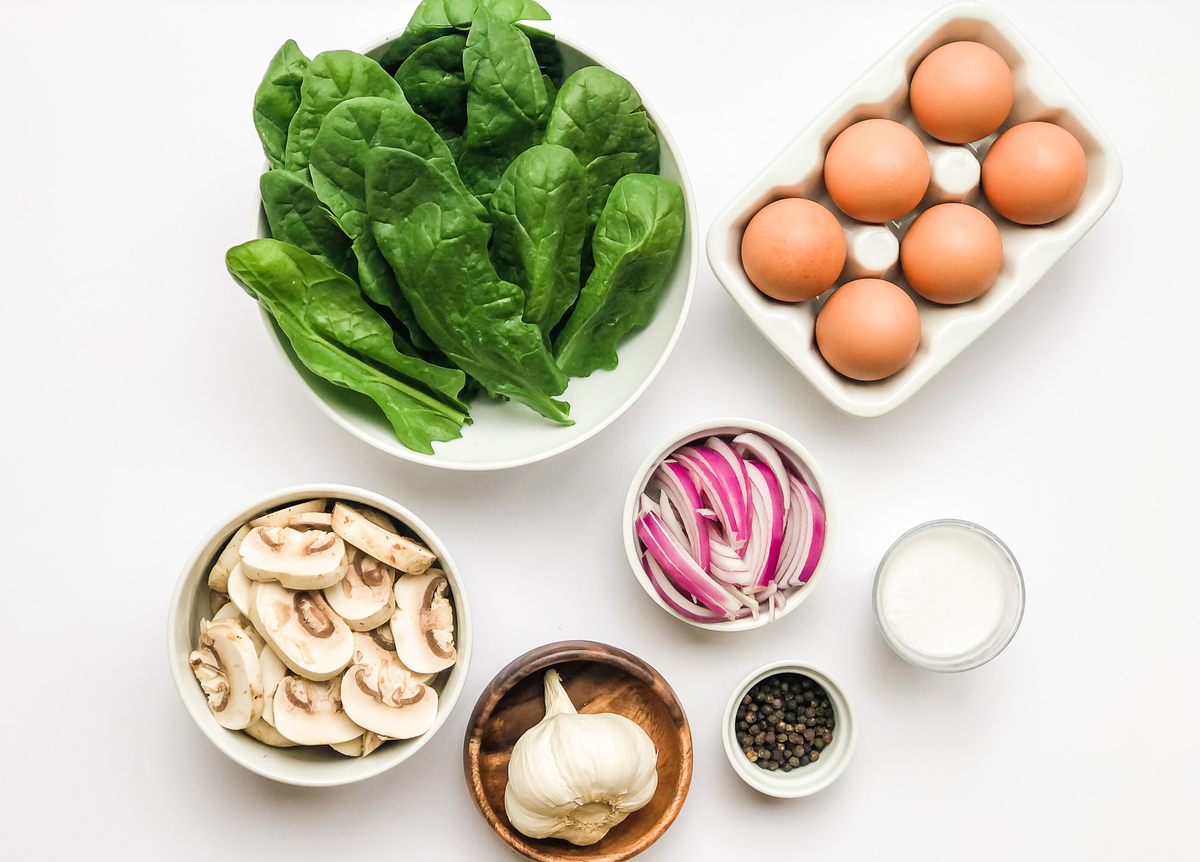 For hundreds of pure Paleo recipes be sure to check out  The Real Paleo Diet Cookbook  and  The Real Paleo Diet Fast and Easy.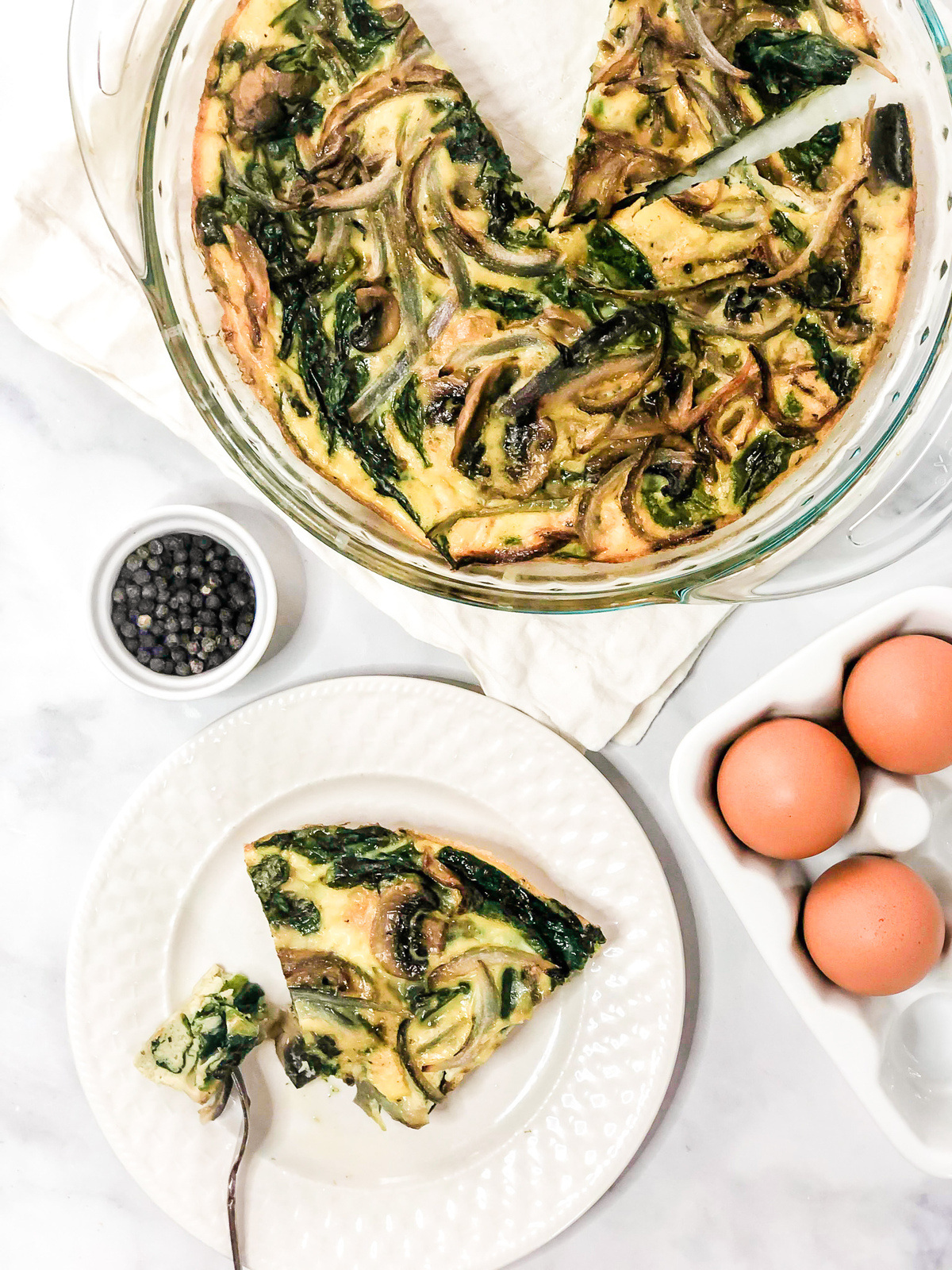 Details
Recipe by: Jess Case
Serves:

8

Meal:

Breakfast
Prep Time:

10 minutes

Cook Time:

1 hour

Total Time:

1 hour 10 minutes
Ingredients
3 tbsp coconut oil, divided

1 red onion, sliced thin

2 cups white mushrooms, sliced

2 garlic cloves, pressed

1 bunch spinach

8 eggs

1/2 cp full fat coconut milk

1/2 tsp black pepper
Directions
Preheat the oven to 350°F and grease a 9-inch round pie pan with oil.

Heat 2 tablespoons of the coconut oil in a large skillet over medium heat. Add the red onions and cook for 15-20 minutes, stirring occasionally. Lower the heat and add more oil if the onions start to dry out.

Remove the onions to a plate and set aside. Add the remaining tablespoon of coconut oil to the pan and add the mushrooms. Cook for 1 minute, then add the garlic and spinach, cooking until the spinach has wilted. Add the onions back to the pan and stir.

In a bowl, whisk the eggs, coconut milk, and black pepper.

Use a slotted spoon to scoop out half of the veggie mixture, and arrange it evenly over the prepared pie pan. Pour the eggs over, then top with the remaining veggies. Bake for 40 minutes, then let cool slightly. Serve warm.