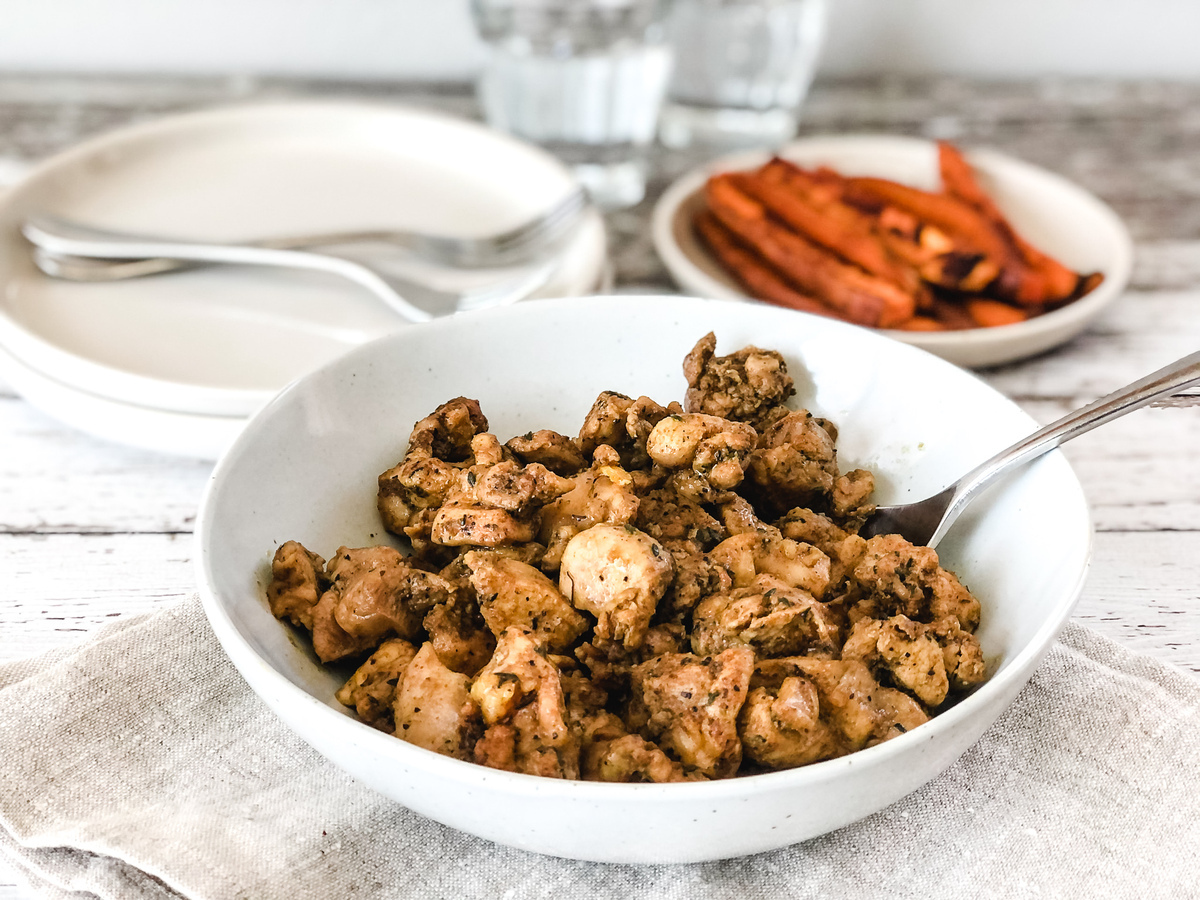 Paleo Jerk Chicken
Jerk chicken is a great Paleo lunch to eat alone, on a salad, or with sweet potato French fries on the side!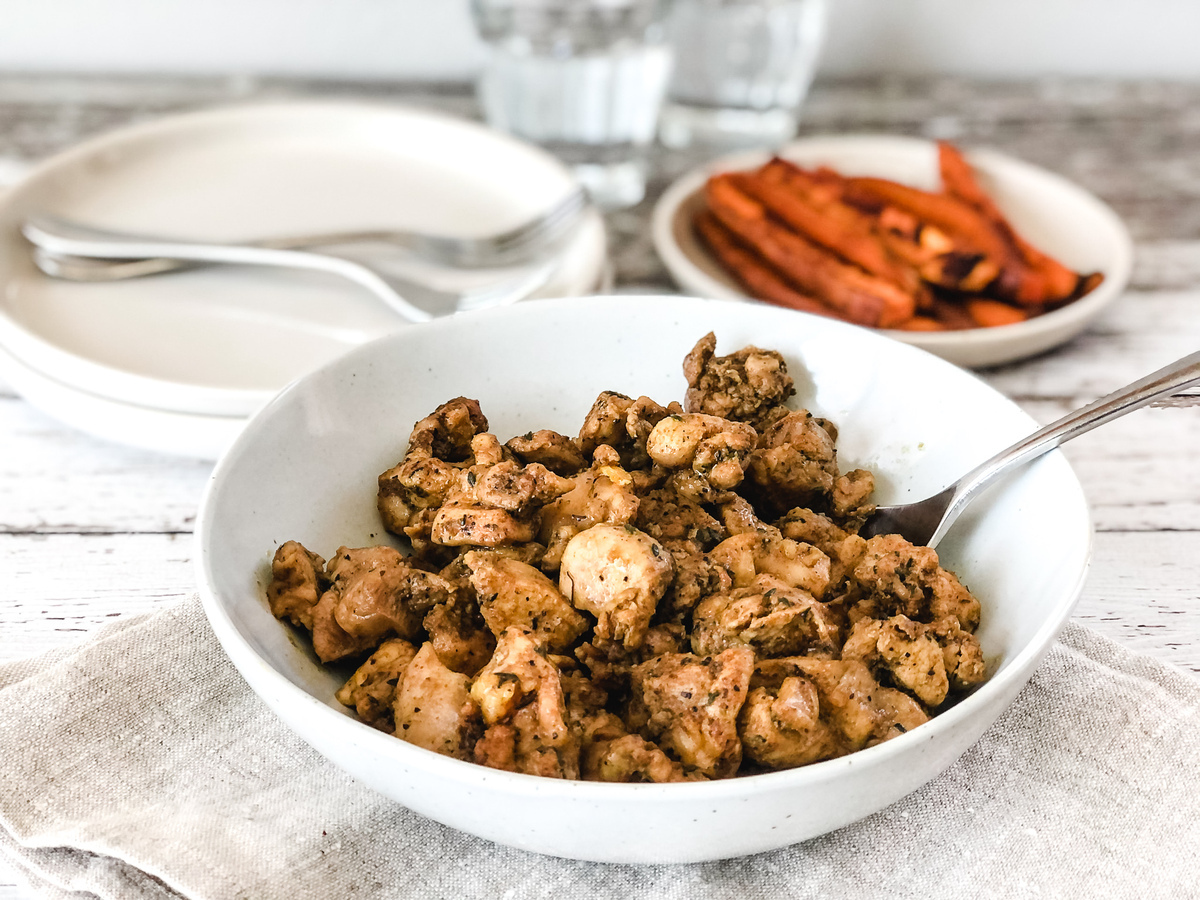 It doesn't get much easier than this healthy jerk chicken. All you need to do is coat chicken pieces in a medley of spices, stir fry in oil, and bake until golden brown. A simple dry rub of spices makes for a smoky, fiery jerk chicken!
We started with boneless, skinless chicken thighs. Chicken thighs are fattier, juicier, and often cheaper than breasts, but you can use any kind of chicken you like. Cut your chicken into one-inch pieces and set aside.
Next, mix your spices together. For a fragrant, smoky combination, we used black pepper, turmeric, cayenne, cumin, thyme, garlic, and smoked paprika. To help round out the flavors even further, you can also add a small amount of allspice, cinnamon, or even Chinese five spice.
Drizzle your chicken with a little olive oil and add the spice mixture on top. Mix well to combine and set aside for a few minutes. Ten minutes will do the trick, but we recommend letting it sit overnight if you have time!
When you're ready to cook your chicken, get a wok or nonstick skillet nice and hot first. Add a bit of oil, then stir fry, cooking until the chicken is browned on all sides. We finished our chicken in the oven to keep it nice and juicy, but you can also cook it on a stovetop a bit longer to help save on time.
Serve your Paleo jerk chicken with your favorite side dish. We served ours with these Air Fryer Sweet Potato Fries that crisp up in the time it takes to make the chicken!
Special thanks and congratulations to Alison Rost, The Paleo Diet Recipe Contest Winner!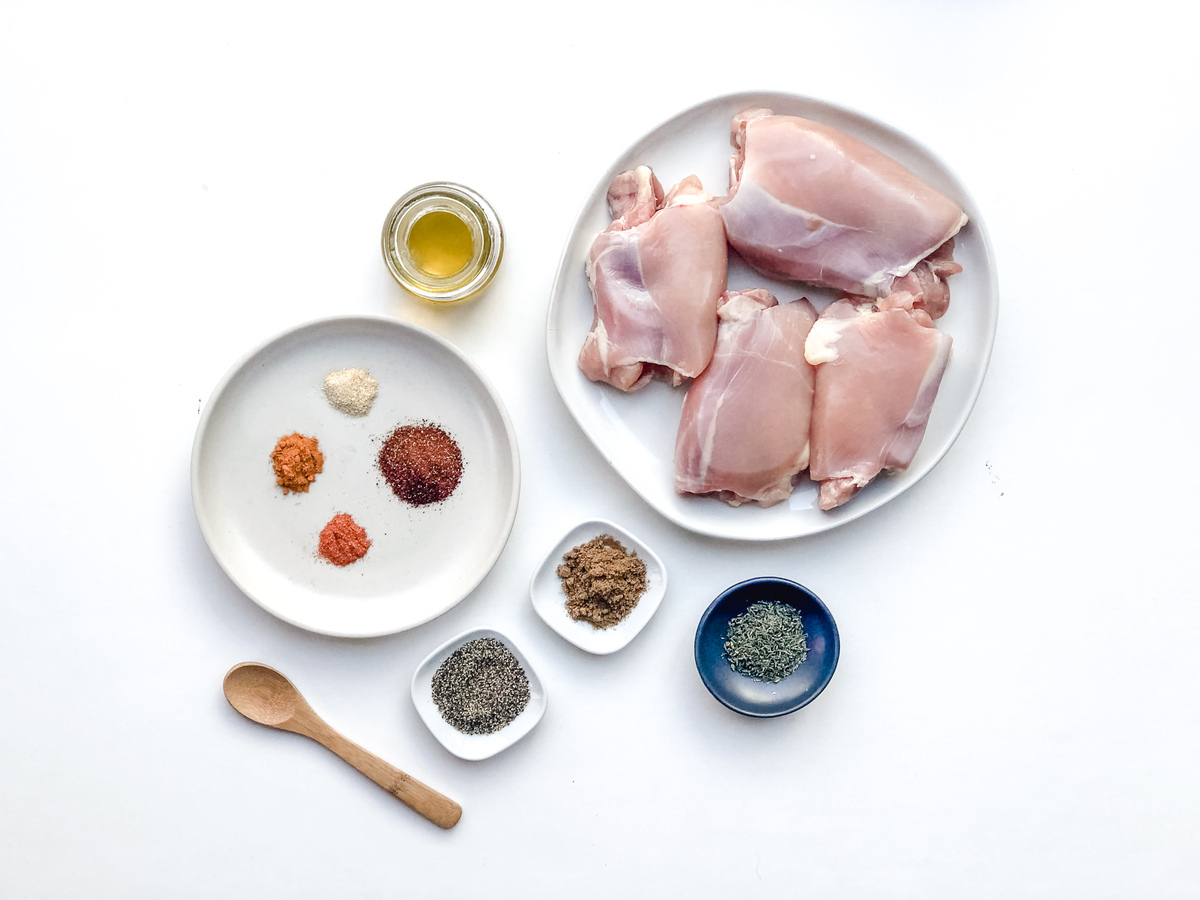 For hundreds of pure Paleo recipes be sure to check out The Real Paleo Diet Cookbook and The Real Paleo Diet Fast and Easy.
Details
Serves:

4

Prep Time:

15 minutes

Cook Time:

15 minutes

Total Time:

30 minutes
Print this Recipe
Ingredients
1 tsp freshly ground black pepper

1/4 tsp ground turmeric

1/4 tsp cayenne pepper

1 tsp ground cumin

1 tsp dried thyme (or ½ tsp. ajwain seeds)

1/4 tsp garlic powder

1 tsp smoked paprika

1 1/2 lb boneless, skinless chicken thighs, cut into 1 in. pieces

3 tbsp olive oil, divided
Directions
Preheat the oven to 350°F. In a small bowl, mix together the spices.

Sprinkle the chicken with 1 tablespoon of olive oil and the spice mix. Toss to combine and set aside for 10 minutes.

Heat the remaining 2 tablespoons of olive oil in a cast-iron or oven-proof skillet over high heat. When the oil is very hot, add the chicken and stir fry until browned on all sides.

Transfer the skillet to the oven and bake for 8 to 10 minutes, or until chicken is fully cooked. Serve hot with your favorite Paleo side.