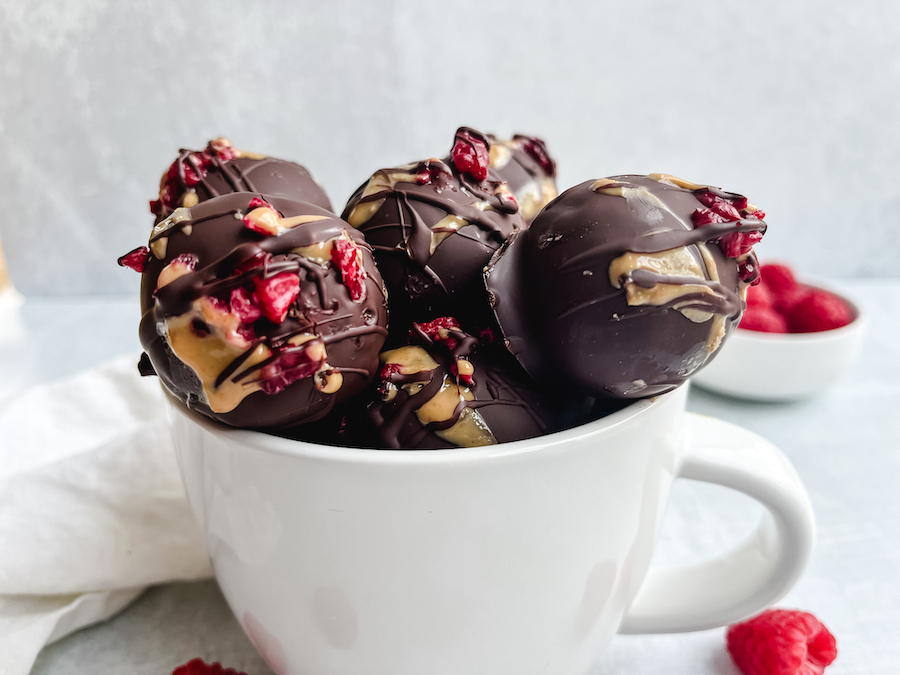 PaleoFLEX™ Dark Chocolate Raspberry Truffles
These chocolate-covered truffles are filled with a nutty raspberry filling for a naturally sweet treat!
You only need eight ingredients and about 15 minutes of hands-on time to pull this easy recipe together. The hardest part is waiting patiently for the truffles to harden in the freezer, so you can bite into them!
The filling is made with a luscious combination of cashews, dates, vanilla, almond flour, cacao powder, and frozen raspberries. Be sure to save some more frozen raspberries to use as a topping for a truly stunning delicacy.
The chocolate coating is made with a combination of melted dark chocolate and cashew butter. It's easier to melt chocolate chips or shavings, but you can use a bar of chocolate if you want. Just be sure to use 80% or higher cacao to keep this in the PaleoFLEX™ range. We used cashew butter here because it's naturally sweet and creamy, but you can always use almond butter instead if you prefer.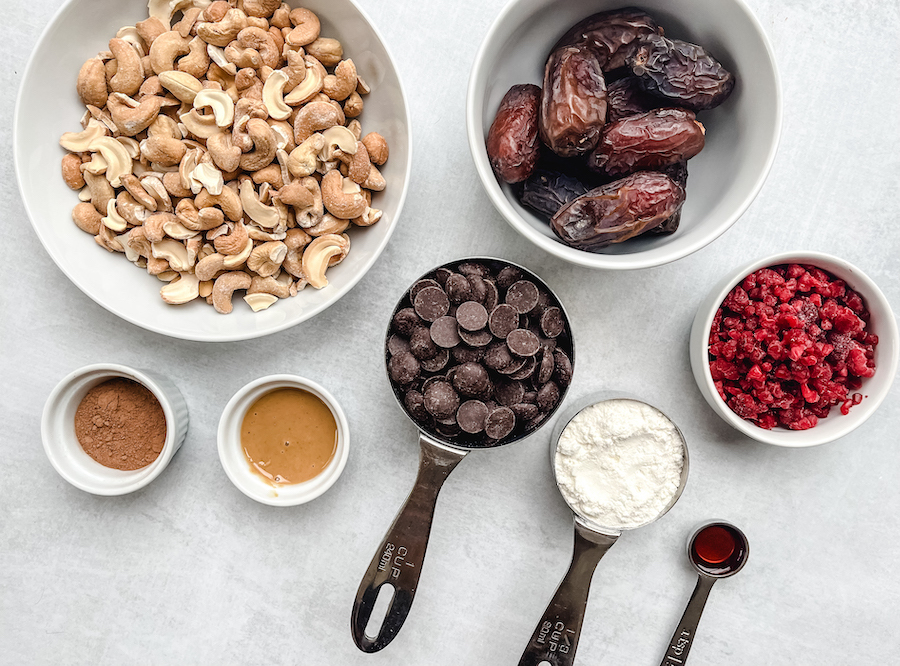 Start by soaking cashews in boiling water for 10 minutes. This helps soften them so they blend well into the other ingredients. Drain the water and add the soaked cashews to a food processor with the other filling ingredients. Freeze for about 20 minutes, or until the dough has hardened but is pliable and easy to work with. Roll them into balls, then set back into the freezer.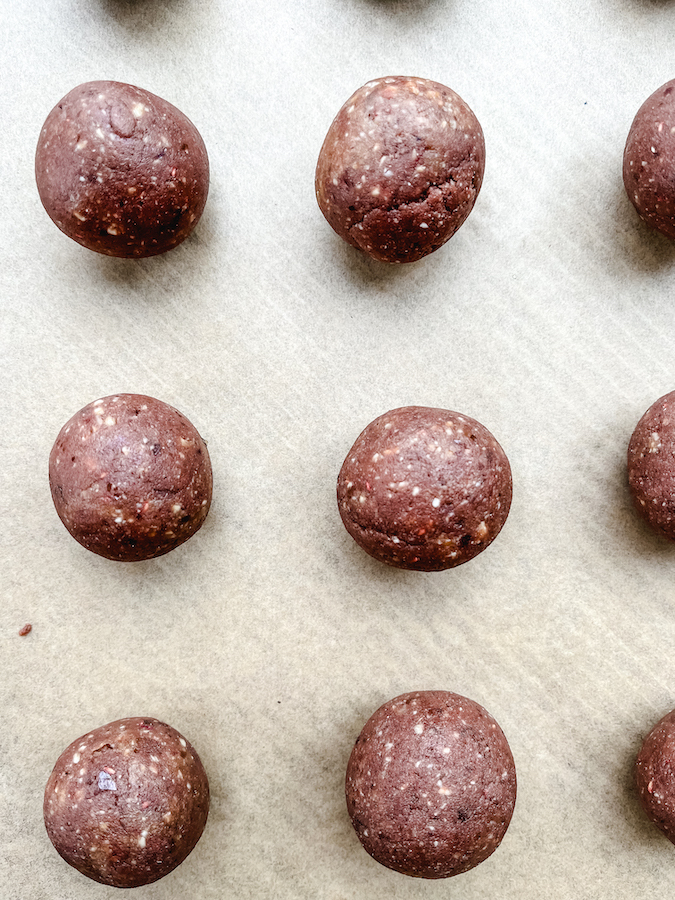 Meanwhile, melt the chocolate and nut butter in a small saucepan over low heat. You can also use a double boiler here to prevent the chocolate from getting too hot. Chocolate can burn easily, so be sure to keep a close eye on it! Once it's melted, turn off the heat. Use two forks to dip the dough balls into the chocolate mixture one at a time, and set on a parchment paper–-lined tray.
Now is time for the fun part: the toppings! We did a drizzle of extra cashew butter and finely chopped frozen raspberries, but you can also add cacao nibs, shredded coconut, or even hemp seeds.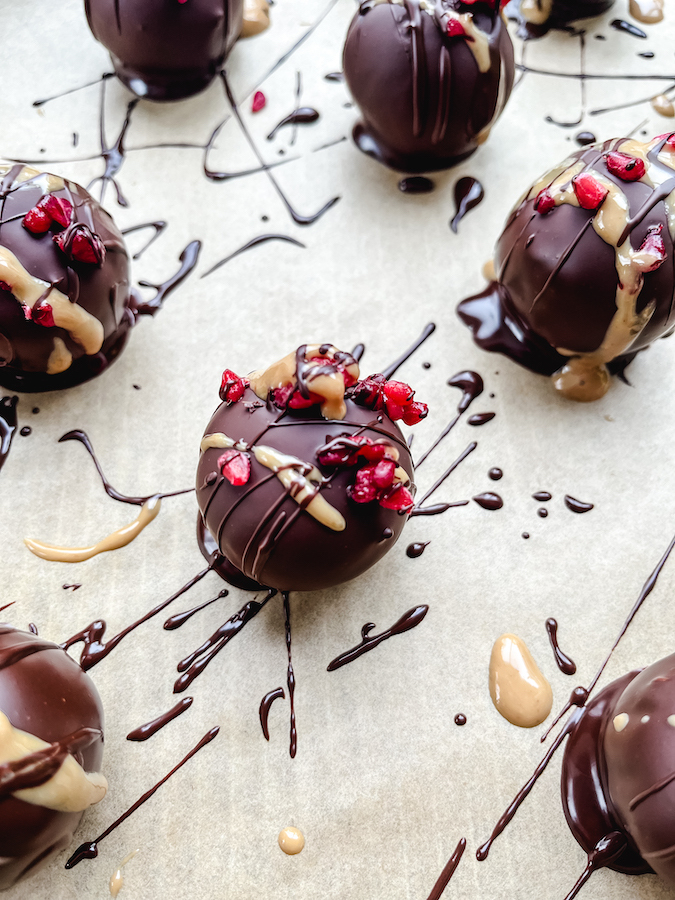 Put back into the freezer until set, and enjoy! You can store any leftovers in an airtight container in the refrigerator, or even in the freezer if you don't mind the extra thaw time.
Tip: Not a fan of raspberries? You can easily substitute frozen strawberries instead!
Did you like these truffles? Then you'll also love our Paleo-Inspired Turmeric Truffles!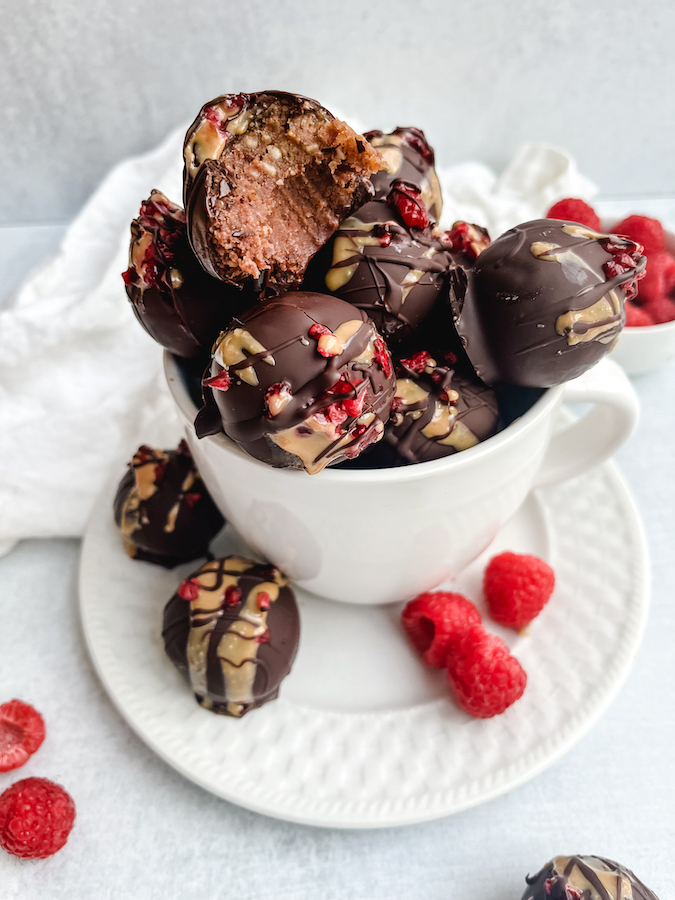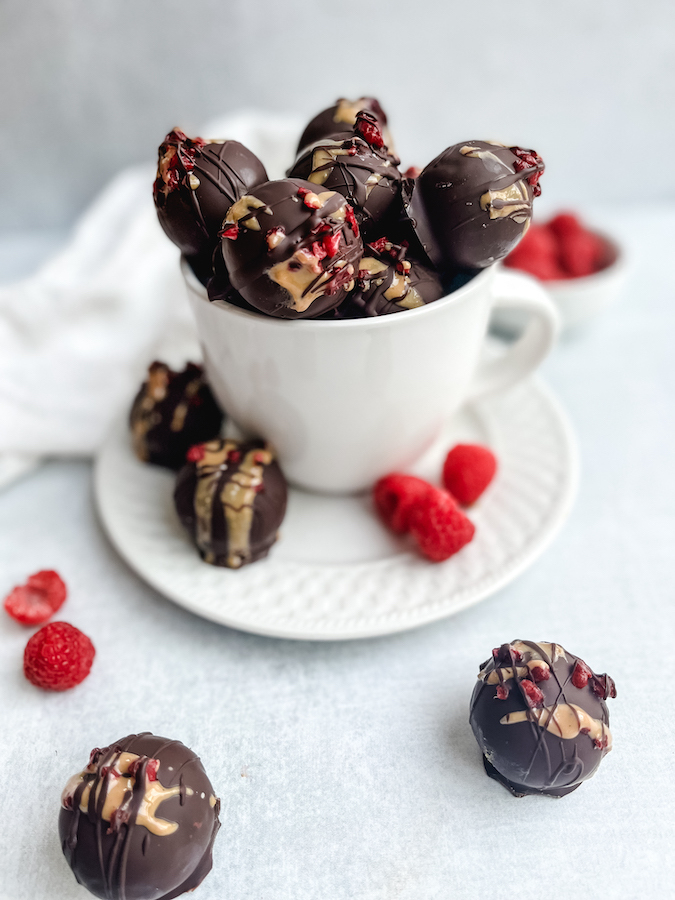 Details
Prep Time:

15 minutes

Cook Time:

45 minutes

Total Time:

1 hour
Ingredients
2 cups raw, unsalted cashews

10 Medjool dates, pitted

1 tsp pure vanilla extract

1/3 cups almond flour

1 tbsp cacao powder

1/2 cups frozen raspberries, plus more for topping

1 cups 80% or higher dark chocolate chips

1 tbsp cashew butter
Directions
Cover the cashews in boiling water and let them soak for 10 minutes. Drain well.

Add the drained cashews to a food processor, along with the dates and vanilla extract. Blend until smooth.

Add the almond flour and cacao powder. Blend until doughy. Add the frozen raspberries and pulse until just combined.

Transfer the mixture to a bowl, cover, and freeze for 20 minutes. The dough should be hardened, but still pliable.

Use a tablespoon to scoop out the mixture evenly, then roll into 16 balls. Set on a tray and place back into the freezer.

Melt the dark chocolate and cashew butter together in a small saucepan on low heat, stirring often. As soon as the chocolate is melted, turn off the heat. Use two forks to dip the raspberry balls into the chocolate one at a time, evenly coating each.

Set on a parchment paper–lined tray and add frozen raspberries or whatever toppings you wish. Freeze for another 15–20 minutes, or until the chocolate hardens. Enjoy!