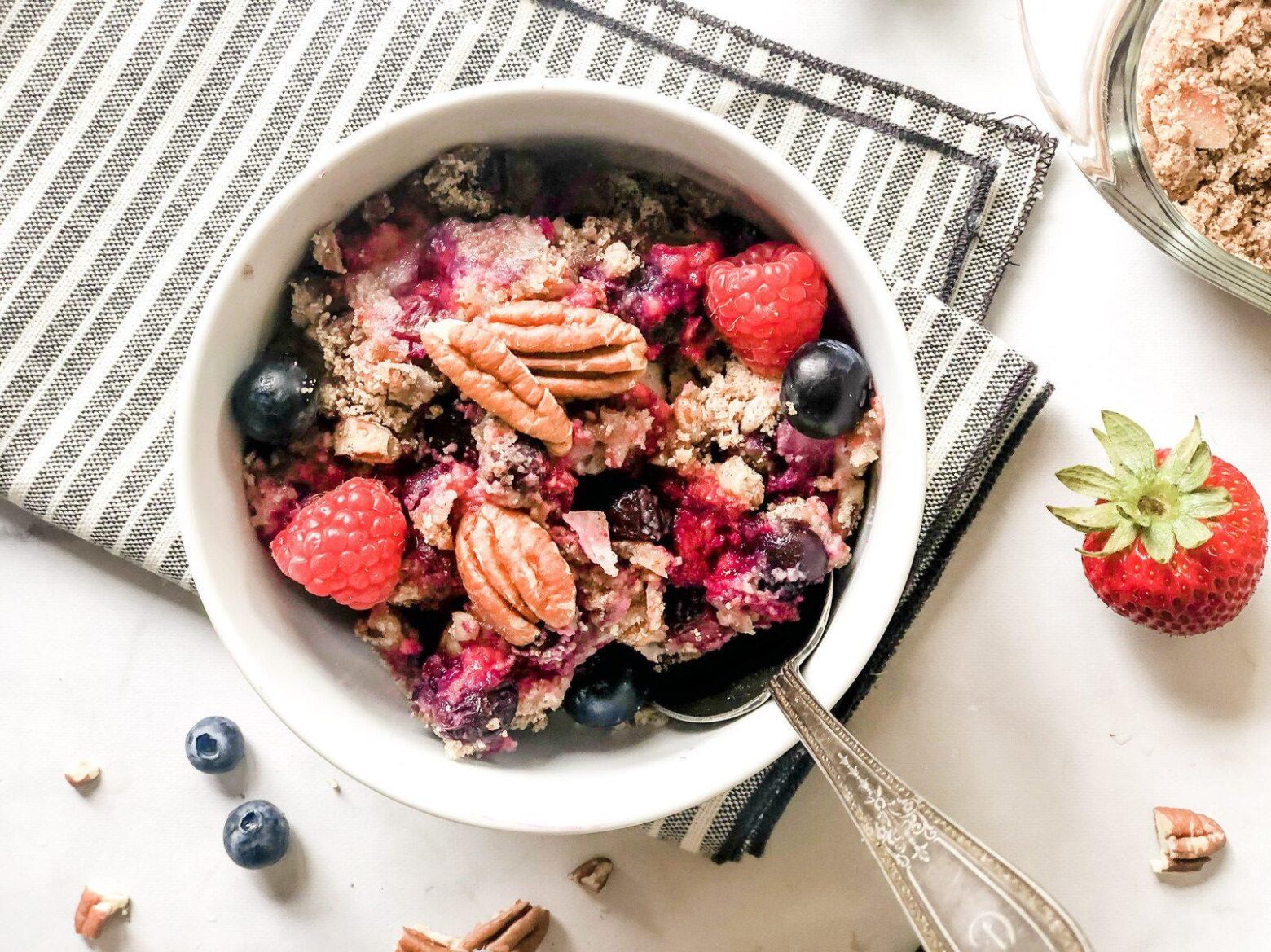 When berries are in prime season, there's nothing better than baking them into a crumble. This PaleoFLEX™ recipe scraps the wheat flour and white sugar for healthier ingredients like nut flours.
Since this recipe includes ingredients we normally wouldn't recommend, like the sweeteners, we suggest following the 85/15 Rule when baking this treat. You can eat your favorite non-Paleo foods 15 percent of the time and still reap the benefits of going Paleo, but we highly recommend that you try Paleo-inspired recipes for those indulgences. Plus, we'd argue that this crumble is much tastier than anything store bought!
To make this berry crumble, start by making the topping. Mix coconut flour and almond flour together with cinnamon, almond butter, chopped pecans, shredded coconut, and coconut sugar. If you want to go low-sugar on this, simply omit the coconut sugar. Mix until crumbly, then stick in the fridge while you prepare the filling.
We used strawberries, blueberries, and raspberries for this recipe, but feel free to add or sub in blackberries or even rhubarb instead. Be sure to chop the strawberries into the same size as the smaller berries to ensure a good mix. Coat your berries with coconut flour, then toss with maple syrup, lemon juice, and vanilla extract.
Pour the berries into a greased baking dish, and top with the crumble. Bake for 20 minutes, then cover and continue baking for another 10-15 minutes, or until bubbly. Serve it hot, and top with your favorite dairy-free ice cream for an added treat!
Tip: Leftovers can be kept in the refrigerator for five days. Reheat if you wish, or enjoy it chilled.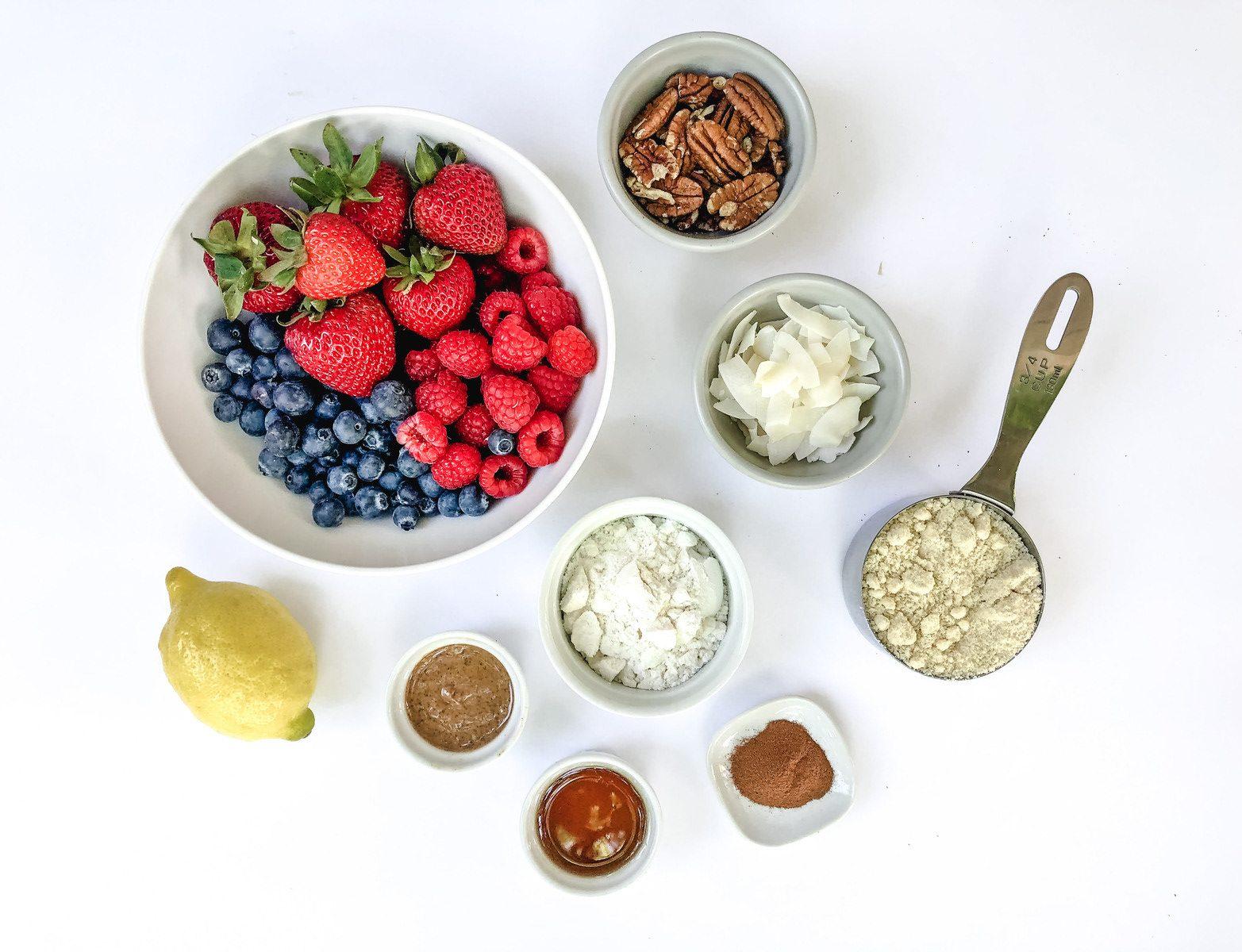 For hundreds of pure Paleo recipes be sure to check out The Real Paleo Diet Cookbook and The Real Paleo Diet Fast and Easy.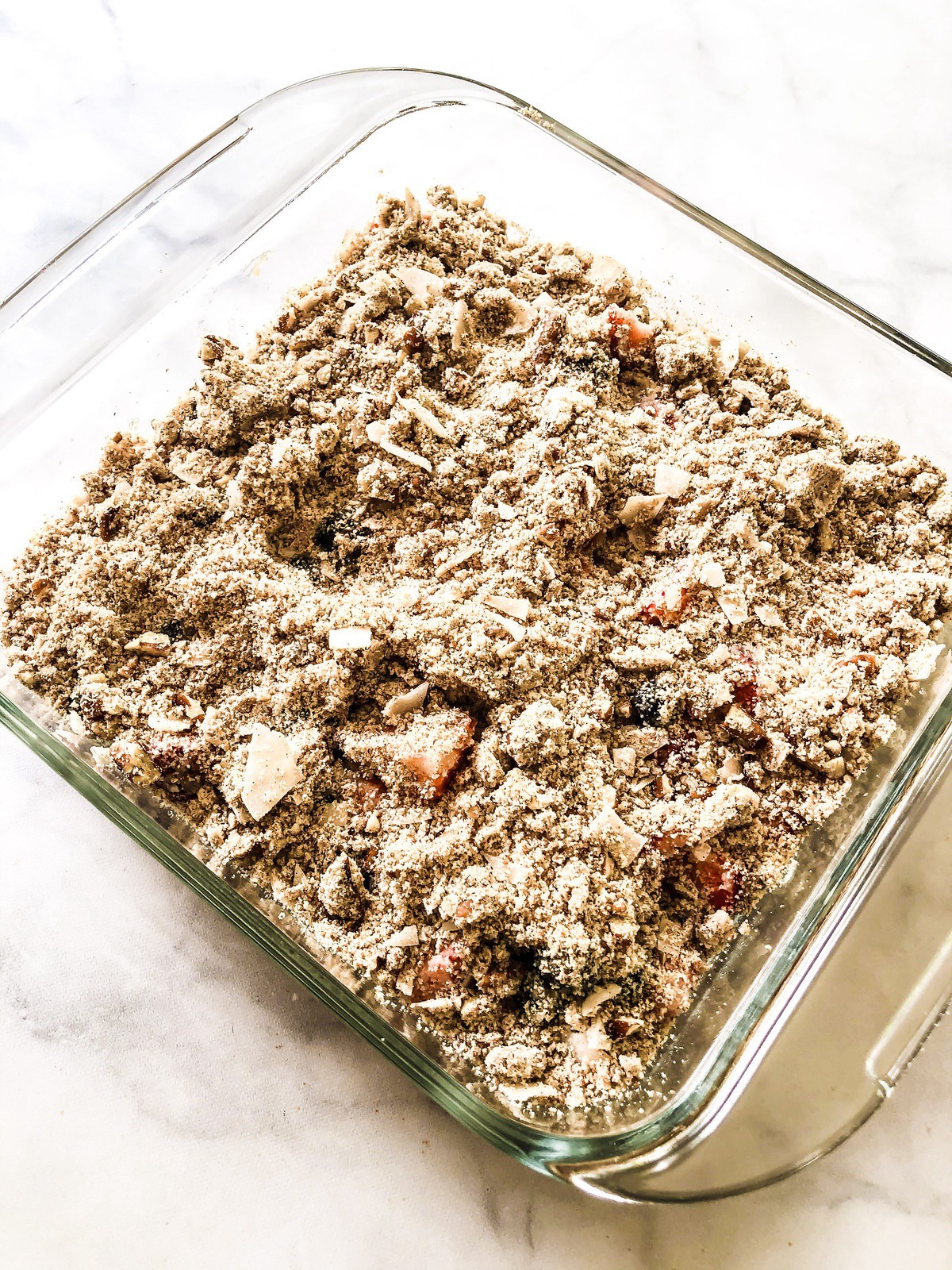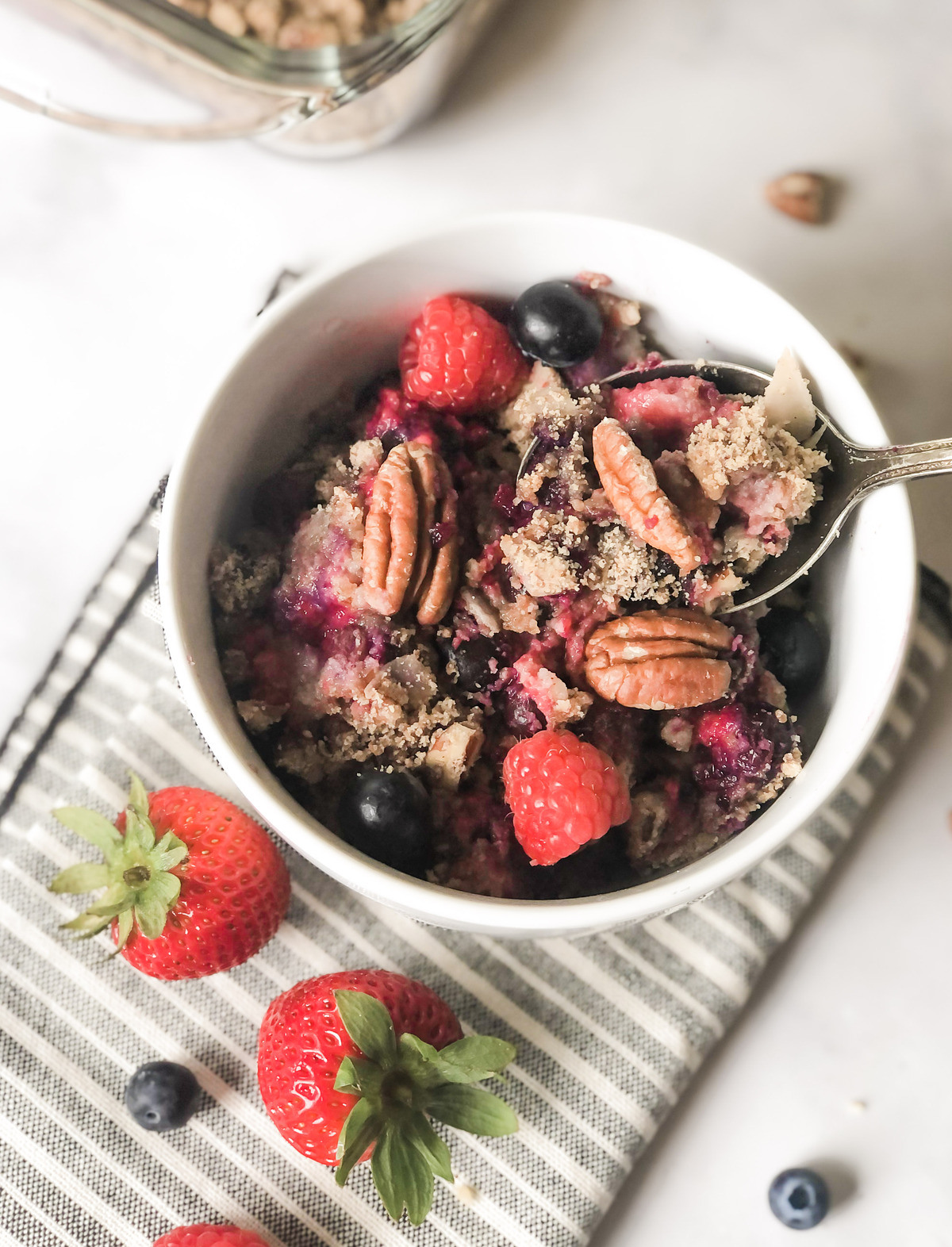 Details
Prep Time:

15 minutes

Cook Time:

30 minutes

Total Time:

45 minutes
Ingredients
Coconut oil, for greasing

5 tbsp coconut flour, divided

1 cups almond flour

1 tbsp cinnamon

3 tbsp unsalted almond butter

1/2 cups pecans, chopped finely, plus more for topping

1/4 cups unsweetened shredded coconut

1 tbsp coconut sugar

1 cups fresh strawberries, chopped

1 cups fresh blueberries

1 cups fresh raspberries

1/4 cups maple syrup

1 tbsp fresh lemon juice

1 tsp vanilla extract
Directions
Preheat the oven to 350°F. Rub an 8x8 inch baking dish with coconut oil and set aside.

Start by making the topping. In a small mixing bowl, combine 3 tablespoons of the coconut flour with the almond flour, cinnamon, almond butter, pecans, shredded coconut, and coconut sugar. Use a fork or your hands to mix until crumbly. Transfer to the refrigerator.

In a medium mixing bowl, combine the strawberries, blueberries and raspberries with the remaining 2 tablespoons of coconut flour, coating well. Pour the maple syrup, lemon juice and vanilla extract over the top and toss to combine.

Spread the berries in the prepared pan, and top evenly with the reserved crumble.

Bake uncovered for 20 minutes, then cover with foil and bake for an additional 10-15 minutes or until the berries start bubbling on the edges. Top with pecans if you wish, and serve immediately.