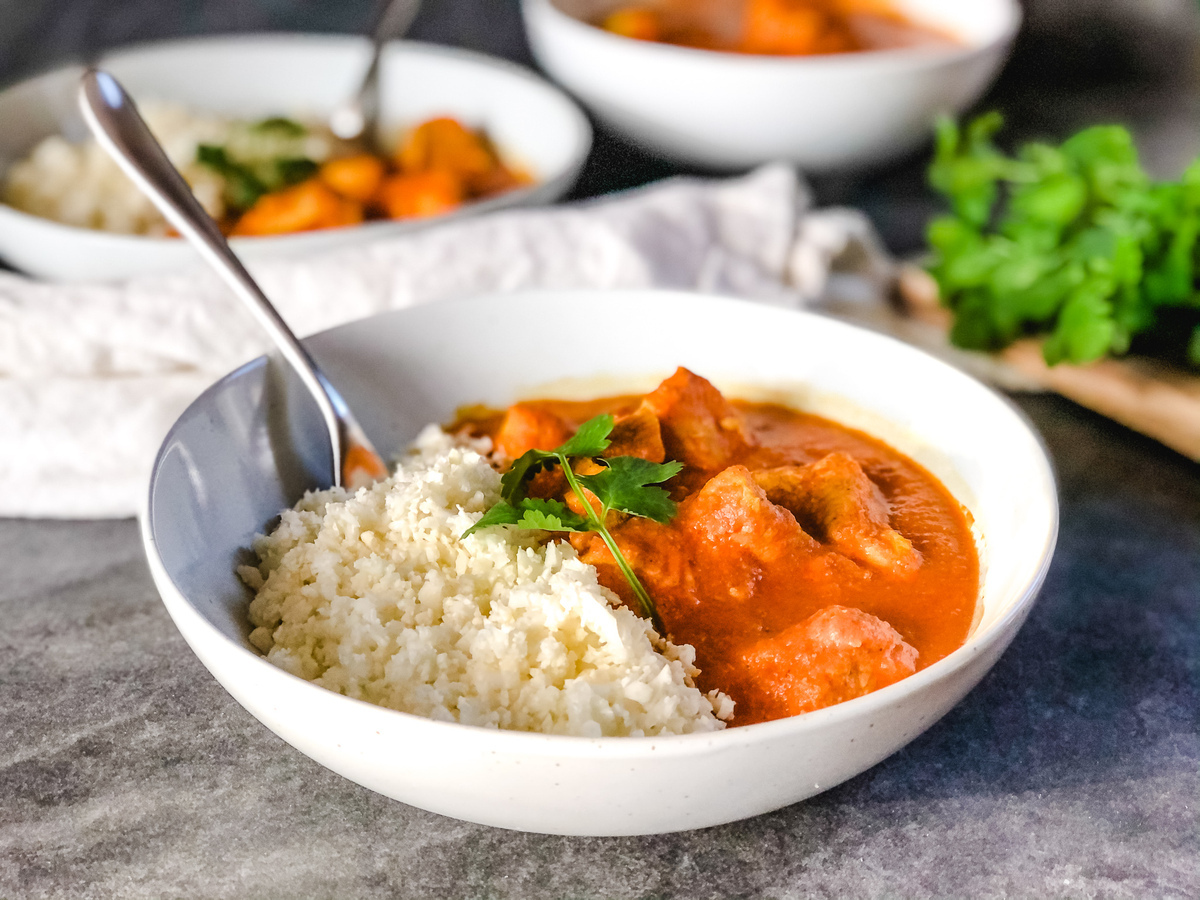 Paleo Chicken Tikka Masala
Skip the takeout! You can have this homemade version of an Indian food favorite on the table in under an hour.
You don't have to slow simmer your tikka masala all day to achieve the rich, satisfying curry you crave. Instead, we use a few key shortcuts: blending up your own spice blend, and marinating the chicken in it overnight.
We recommend mixing up a big batch of one of our favorite spices: Moroccan Blend. You need 5 tablespoons for this recipe, so be sure to at least double the batch. The combination of turmeric, garlic powder, cumin, ginger, coriander, allspice, and cinnamon creates an amazingly well-rounded final dish. Of course, you could also buy a similar blend at the store, just double check that there is no added salt to ensure it's 100 percent Paleo.
The Moroccan blend is a key part of the marinade. Whisk it with coconut cream, apple cider vinegar, fresh ginger, and garlic, and then lemon juice to create a zesty, fragrant sauce. Coat it over slices of chicken and let it sit overnight for best results. If you're low on time, you can just marinate for an hour or two—it'll still help to tenderize the chicken and infuse it with bright flavors.
When you're ready to cook, remove the chicken from the marinade and saute it in coconut oil until browned on all sides. Remove the chicken before it's fully cooked—it will finish cooking in the sauce later. Place the chicken on a plate and set aside.
Use the same skillet to melt more coconut oil, then saute sliced onions until soft. Add ginger and garlic, then sprinkle in even more of the Moroccan spice blend. Once fragrant, pour in tomato sauce and a bit of water. If you don't have tomato sauce, you can use crushed tomatoes instead, or whatever kind of canned tomatoes you have on hand—it will get blended later anyway.
After the sauce has simmered for about 10 minutes, use your immersion blender to puree the sauce. If you don't have a non-coated pan, play it safe and use a standing blender or food processor to puree it in batches. Once smooth and creamy, stir in a bit more coconut cream to the sauce, and add the reserved chicken. Let it simmer until the chicken is cooked through and the flavors have married.
Serve your Paleo chicken tikka masala hot, either by itself or over cauliflower rice. Garnish with freshly chopped cilantro if you like, and enjoy!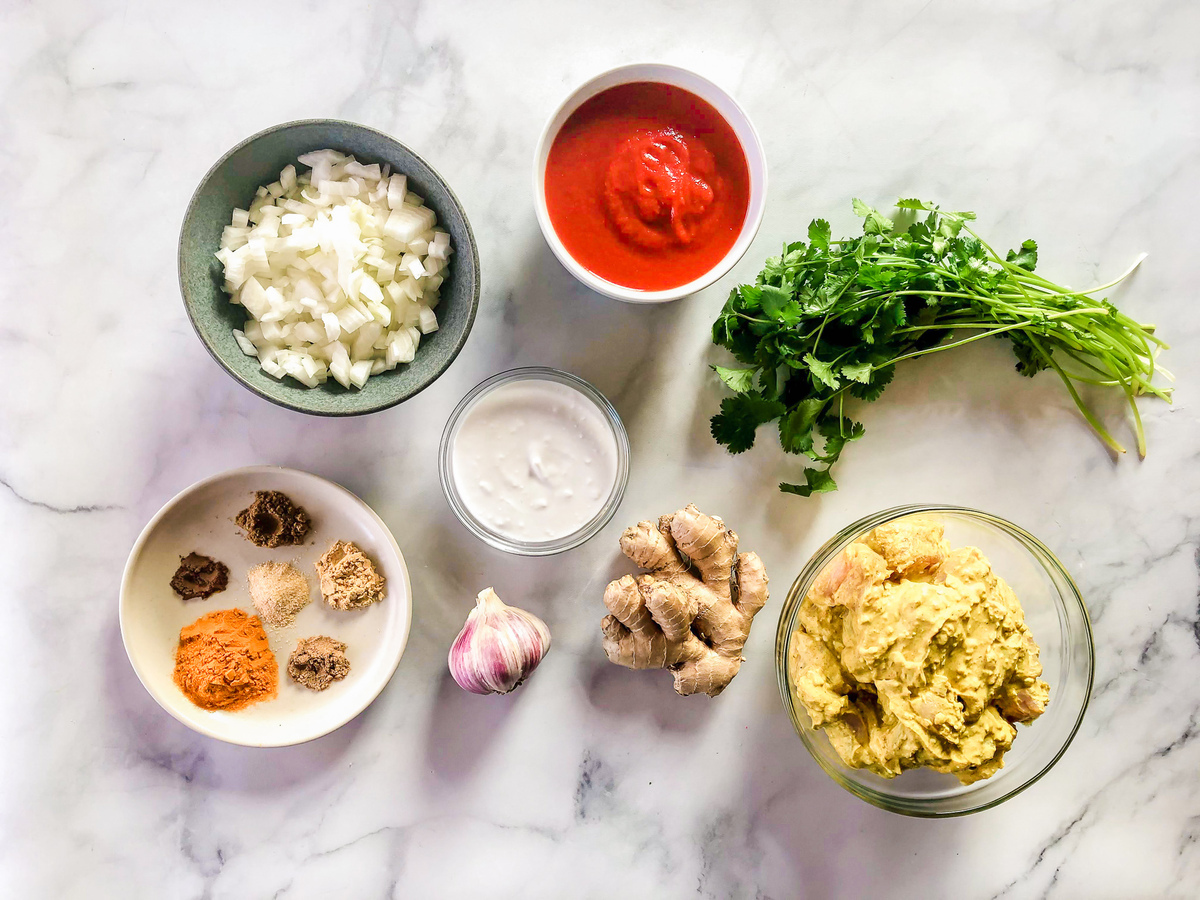 For hundreds of pure Paleo recipes be sure to check out  The Real Paleo Diet Cookbook  and  The Real Paleo Diet Fast and Easy.
Details
Prep Time:

10 minutes

Cook Time:

30 minutes

Total Time:

40 minutes
Ingredients
2 cups coconut cream, divided

2 tsp apple cider vinegar

2 tbsp ginger, grated, divided

4 garlic cloves, minced, divided

5 tbsp Moroccan blend spice, divided

1 tsp fresh lemon juice

1 1/2 lb chicken breast, sliced into 1 inch pieces

3 tbsp coconut oil, divided

1 small yellow onion, divided

14 oz unsalted tomato sauce

1/4 cups water

Chopped cilantro, for garnish
Directions
To marinate the chicken: Whisk together 1 cup of the coconut cream, the apple cider, 1 tablespoon of the ginger, 2 garlic cloves, 2 tablespoons of the Moroccan spice blend, and lemon juice. Pour into a bag, add the chicken, and shake well to coat. Refrigerate overnight, or marinate for at least a few hours.

Warm 2 tablespoons of the coconut oil in a large uncoated pot over medium heat. Remove chicken from the marinade and shake off the excess. Discard the marinade. Add the chicken to the hot pan and cook about 5 minutes, or until browned on all sides (the chicken will finish cooking in the sauce later). Transfer chicken to a place and set aside.

Melt the remaining tablespoon of coconut oil in the skillet, then add the onions. Sauté 4-5 minutes, until soft. Add the rest of the ginger and garlic and cook for another minute. Add the remaining Moroccan spice and cook for 30 seconds.

Pour in the tomato sauce and water and simmer for 8-10 minutes. Use an immersion blender to puree the sauce until smooth. Add the remaining cup of coconut cream and return the chicken to the pan. Let it simmer 10 more minutes, or until the chicken is fully cooked.

Serve hot, alone or over cauliflower rice. Garnish with fresh cilantro and enjoy!