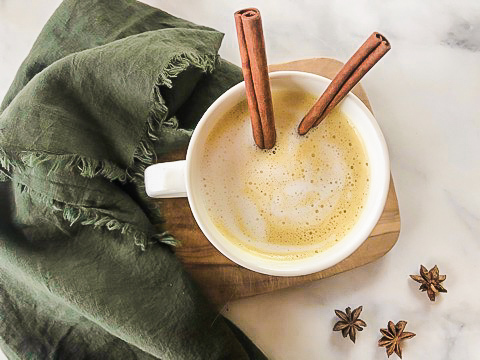 Paleo Chai Latte with Turmeric
You don't need to spend $5 at a coffeeshop for a tasty chai latte! In fact, you can make a tastier, healthier version at home with just a few key ingredients.
Start with a base of dairy-free milk. We used coconut milk, but almond or cashew milk will work just as well. Start by warming it over the stovetop with the remaining ingredients.
For natural sweetness, we used three pitted dates. They also add a nice caramel flavor and help thicken up the chai. Add them to the coconut milk without chopping them up; they'll get blended in later.
Any good chai needs a solid blend of Indian spices. We used grated ginger, cinnamon, turmeric, black pepper (to help with the absorption of the turmeric), cardamom, cloves, nutmeg, and star anise. If you want it even spicier, add more cardamom and ginger.
Bring all ingredients to a low boil, then cover and simmer to allow the flavors to marry, about 10 minutes. Let the chai cool slightly before removing the star anise and pouring into a blender. Set to high speed and blend until smooth and foamy.
Serve your Paleo chai latte hot, with cinnamon sticks for garnish if you like.
Tip: If you have a handheld milk frother, use it to froth up one cup of coconut milk, then pour over the top for extra wow factor!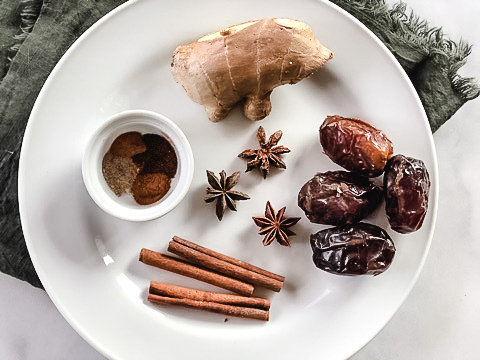 For hundreds of pure Paleo recipes be sure to check out  The Real Paleo Diet Cookbook  and  The Real Paleo Diet Fast and Easy.
Details
Prep Time:

5 minutes

Cook Time:

10 minutes

Total Time:

15 minutes
Ingredients
1 1/2 cups coconut milk

1 cups filtered water

3 medjool dates, pitted

1 inch fresh ginger, peeled and grated

3/4 tsp cinnamon

1/4 tsp turmeric

1/4 tsp black pepper

1/8 tsp cardamom

1/8 tsp ground cloves

1 star anise

Pinch of nutmeg

Cinnamon sticks, for garnish
Directions
Warm all ingredients in a pot over medium heat. Bring to a boil, then reduce heat and cover, simmering for 5-10 minutes.

Discard the star anise and pour the tea into a blender. Blend until smooth.

Pour evenly into two mugs. Garnish with cinnamon sticks and enjoy!