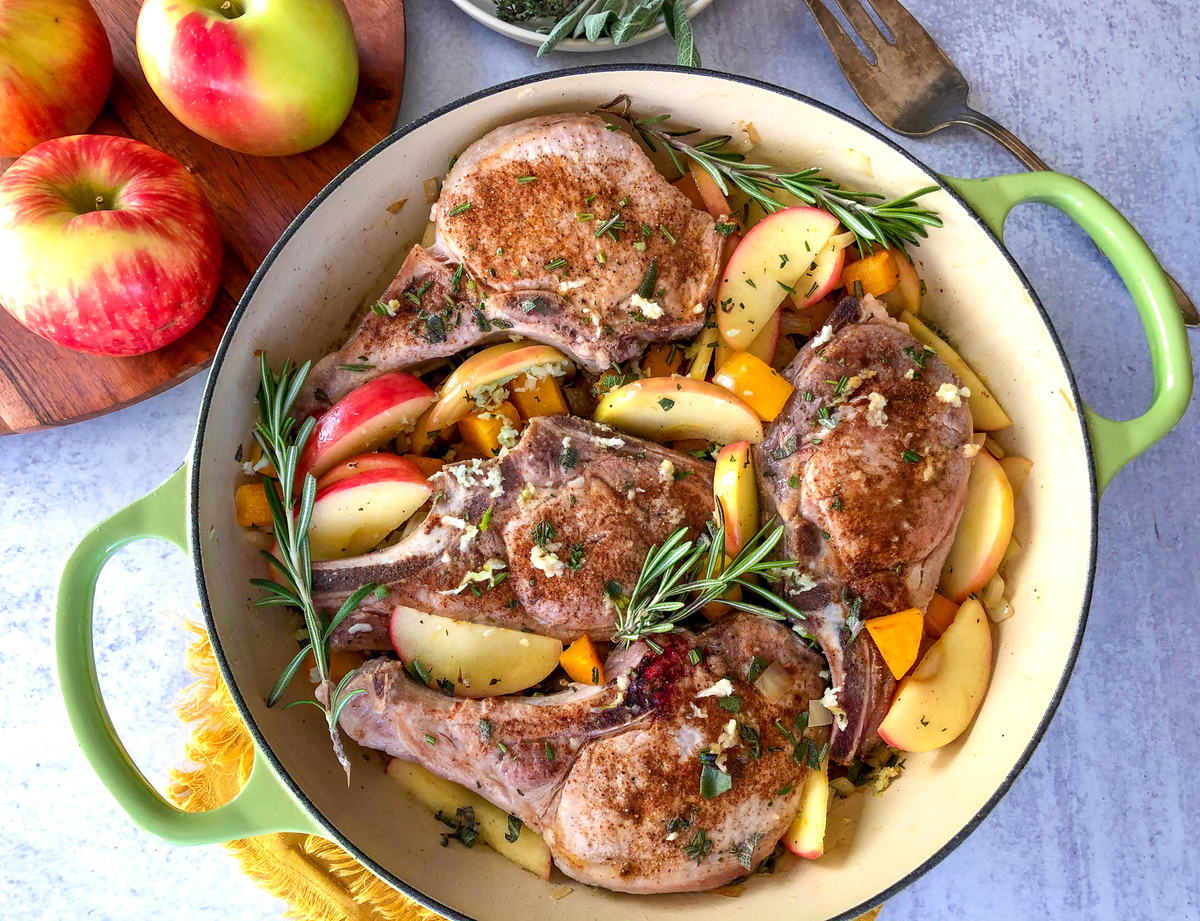 One Pan Bone-In Pork Chops with Apples
Pork and apples are an unbeatable comfort food duo. We round out those sweet-fatty flavors with butternut squash, onion, and lots of fresh herbs for a tasty dish you build right in one skillet.
While it might be tempting to use a boneless cut of meat here, we recommend that you stick with bone-in chops. The bones add extra fat that help keep the meat moist as it cooks. Plus, you can save the bones for your next batch of bone broth.
Speaking of bone broth, this recipe finishes the chops in a savory liquid of bone broth mixed with garlic and dried mustard to help keep the dish moist and flavorful. We recommend making your own bone broth (it's easy!), but you can also use low sodium beef broth in a pinch.
To make these one-pan pork chops, start by seasoning both sides of the chops with black pepper, onion powder, and cinnamon. This is a great combination of flavors that works well when you're eliminating added salt from your diet. Sear them in your skillet until golden brown on both sides, but don't overcook—the chops will finish in the broth later. Remove and set aside.
Next, add the cubed butternut squash, cover, and cook until softened. Since butternut squash can take awhile to cook, we recommend cutting them into extra small cubes to help move the process along. Add the apples, onions, and herbs, and stir.
Turn up the heat and pour in the seasoned broth mixture. Once it starts to bubble, add the pork back to the pan, moving the squash and apples out of the way so the chops can heat up on the bottom of the skillet. Cook until the chops are cooked through, then serve with more fresh herbs and dig in!
Tips:
You can use any apples you like, but Honey Crisp, Pink Lady, and Fuji varieties would work especially well.
Don't have yellow onions? Use red onions instead.
If you don't have fresh herbs, you can swap out for dried herbs—just use about 1/3 of the amount.
If you liked this recipe, try these pork chops with mushrooms in a leek cream sauce next!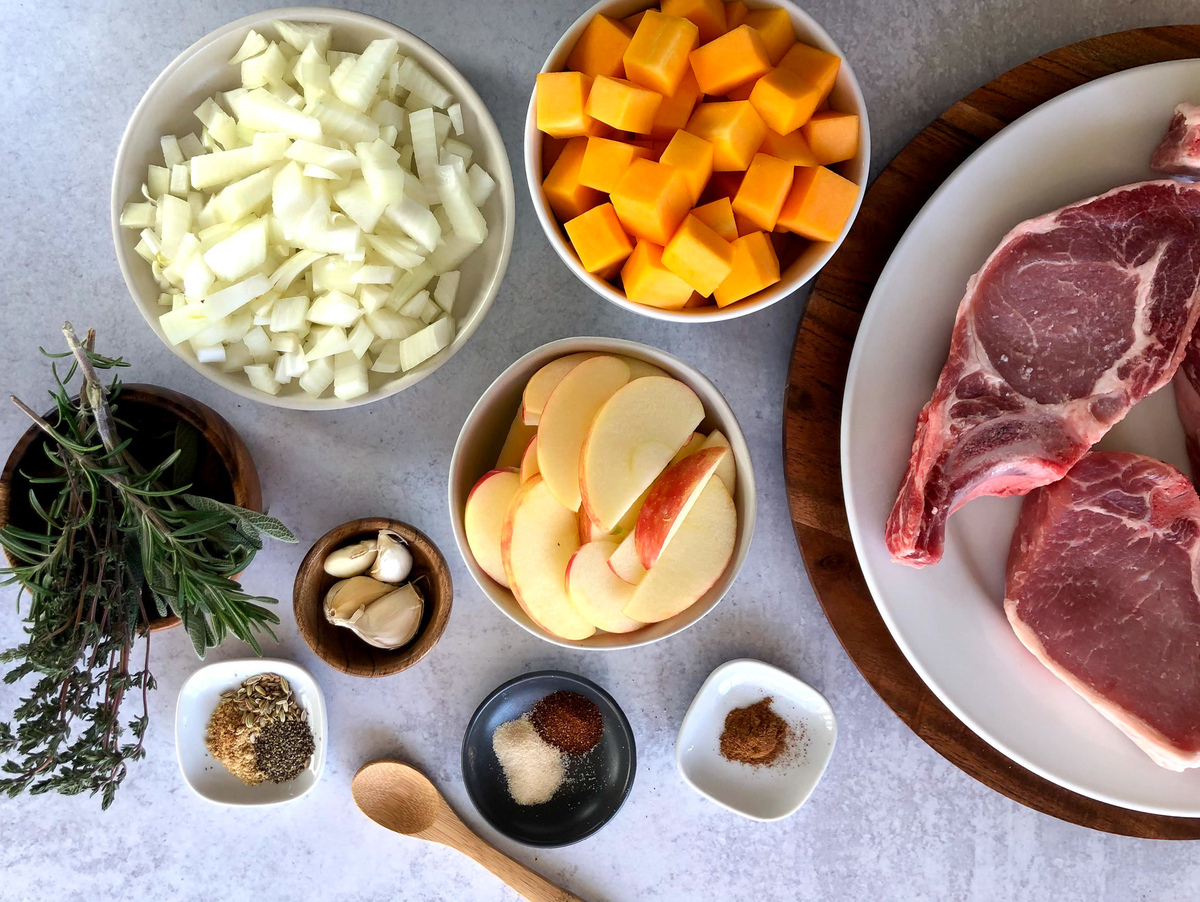 For hundreds of pure Paleo recipes be sure to check out The Real Paleo Diet Cookbook and The Real Paleo Diet Fast and Easy.
Details
Prep Time:

15 minutes

Cook Time:

25 minutes

Total Time:

35 minutes
Ingredients
4 bone-in chops

1 tsp black pepper

1 tsp onion powder

1/2 tsp cinnamon

3/4 cups beef bone broth

2 garlic cloves, minced

1/2 tsp dried mustard

3 tbsp olive oil, divided

3 cups butternut squash, cubed into small pieces

1 small onion, diced

1 small apple, cored and sliced

1 tbsp fresh sage leaves, minced

1 tbsp fresh rosemary leaves, minced

1 tbsp fresh thyme, minced
Directions
To prepare the pork chops, rub spices black pepper, onion powder, and cinnamon on both sides to coat. In a small bowl, whisk together the broth, garlic and dried mustard. Set aside.

Warm 2 tablespoons of olive oil in a large skillet on medium heat. Once hot, add the pork chops and cook about 6 minutes per side, until golden brown. (Don't worry if it's not cooked all the way through yet). Remove pork chops onto a plate, and cover to keep warm.

Add the remaining 1 tablespoon of olive oil to the skillet over medium low heat. Add the butternut squash, cover, and cook for 5 minutes. Add the onions and apples. Cook for 3-5 minutes, stirring occasionally. Add the fresh herbs and stir.

Turn the heat up to medium and pour in the broth mixture, scraping the bottom of the pan with a wooden spoon to release the browned bits. Once hot, make room for the pork chops and add them back into the skillet. Make room for them by moving the apples, onions and butternut squash around. Cook until the pork chops are done, about 2-3 minutes. Serve hot, garnished with more fresh herbs.