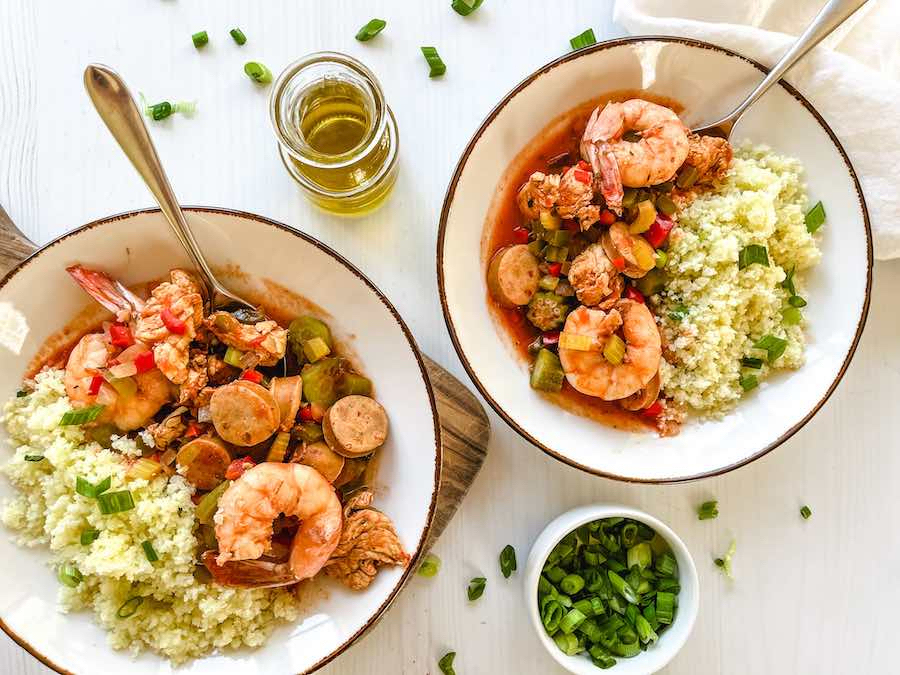 What's better than comfort food you can make it one pot? This savory jambalaya is packed with a trifecta of meat (sausage, chicken and shrimp) and lots of spicy Cajun seasoning for a zesty meal that satisfies!
A good New Orleans-style jambalaya always showcases a bold combination of meat, veggies, and rice. In this version, we stick to low-sodium meats, and use cauliflower rice as a substitute for regular. You can mix it in at the end, or serve it alongside the jambalaya if you prefer.
If you have difficulty finding sausage without any added sodium, you can easily make your own. Just season one pound of ground pork (or even turkey) with garlic powder, black pepper, dried sage, and onion powder. You can also add chili powder, paprika and cumin to make it more andouille-style! Form the meat into tiny patties, similar to slices of sausage, and fry them in coconut oil for 2-4 minutes per side. You can also make this the day before to save time.
To make your Paleo jambalaya, start by rubbing chicken pieces with olive oil and Cajun seasoning. If you don't have a Cajun seasoning on hand, you can make your own blend with smoked paprika, cayenne pepper, thyme, oregano, garlic powder, red pepper, and black pepper. We used chicken breast pieces for this, but chicken thighs would be just as tasty.
Use a Dutch oven to brown the chicken, then add the sausage and continue to cook until the meats are evenly browned and cooked through. Set the meat aside, then use the same pan to soften the mix of veggies: onions, bell peppers, jalapeño, and celery. Add garlic, more Cajun seasoning, crushed tomatoes, and broth to the mix. We used chicken bone broth, but you could also use beef bone broth or veggie broth if you prefer. Homemade is always best!
Let the jambalaya simmer for a bit to fuse the flavors, then add the okra. You can use either fresh or frozen here, just be sure to continue to cook long enough to warm it all the way through. Add the cooked chicken and sausage back to the pan, and simmer a few minutes more, then add the shrimp last.
Serve your jambalaya hot alongside pre-cooked cauliflower rice. You can also just rice a whole head of cauliflower (or use already made cauliflower rice) and add it directly to the pot for a more traditional style. Garnish with green onions, and dig in!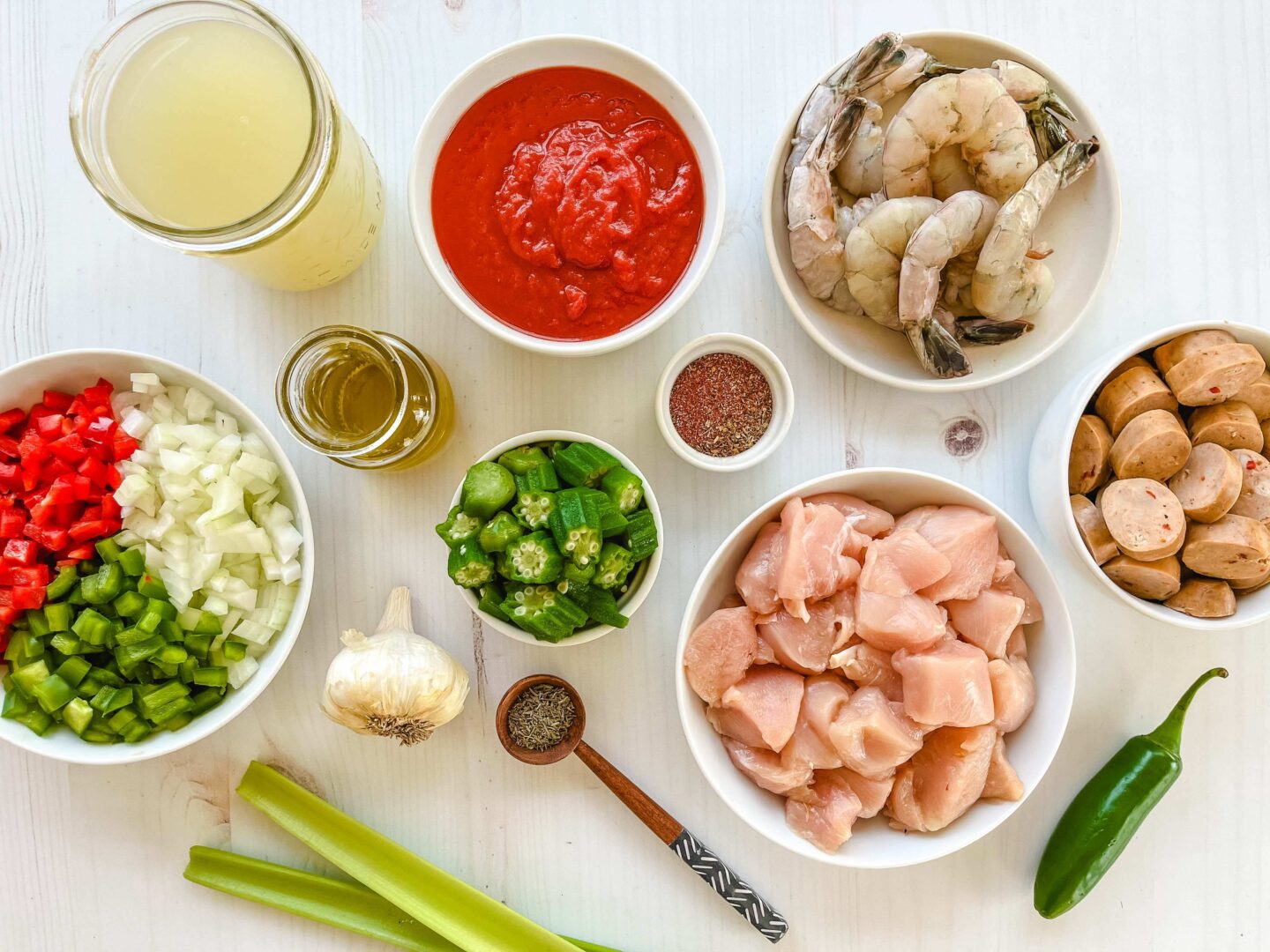 For hundreds of pure Paleo recipes be sure to check out The Real Paleo Diet Cookbook and  Real Paleo Fast and Easy.
Details
Prep Time:

15 minutes

Cook Time:

25 minutes

Total Time:

40 minutes
Ingredients
3 tbsp olive oil

1 lb boneless, skinless chicken breasts, cut into 1-inch pieces

2 tbsp Cajun seasoning, divided

12 oz package salt-free sausage links, sliced

1 small onion, diced

1 green bell pepper, diced

1 red bell pepper, diced

1 jalapeño pepper, diced

1 celery, diced

1 cloves garlic, minced

14 1/2 oz can crushed tomatoes, no salt added

1/2 tsp red pepper flakes

1/2 tsp ground black pepper

1 cups okra, thinly sliced (frozen or fresh)

2 cups chicken bone broth, salt-free

1 lb raw shrimp, peeled and deveined

Cauliflower rice, for serving

1/4 cups green onions, sliced
Directions
Preheat a Dutch oven with 1 tablespoon of the olive oil over medium-high heat. Meanwhile, rub the chicken with another tablespoon of the olive oil and sprinkle evenly with 1 tablespoon of the Cajun seasoning.

Add the chicken to the hot pan and cook for 5 minutes, stirring occasionally. Add the sliced sausage and continue to cook until the sausage is evenly browned. Remove the meat to a plate and set aside.

Using the same Dutch oven, add the remaining tablespoon of olive oil and lower the heat to medium. Add the onions, bell peppers, jalapeño and celery. Cook for about 10 minutes, or until soft and translucent.

Add the garlic, the remaining tablespoon of Cajun seasoning, the crushed tomatoes, red pepper flakes, black pepper and chicken broth. Stir to combine. Add the okra, cooked chicken, and sausage and let it simmer for 5 minutes.

Add the shrimp and cook for about 5 more minutes, or until the shrimp turns pink.

You can add the cauliflower rice right into the jambalaya, or serve it on the side. Garnish with green onions and serve hot!