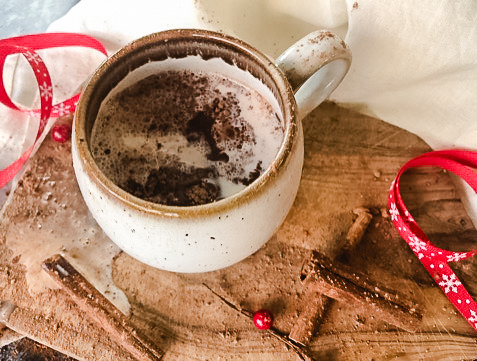 Homemade PaleoFLEX™ Hot Chocolate Bombs
Indulge in this trendy holiday recipe while staying Paleo! These dark chocolate hot chocolate bombs use a dusting of cacao powder and cinnamon for extra flavor.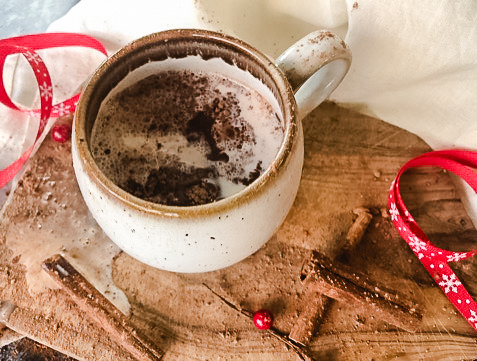 Have you seen those hot chocolate bombs all over Instagram? Don't worry—you can still indulge in the trend while staying Paleo! Here's how to make your own hot chocolate bombs right at home using just a few ingredients.
While most hot chocolate bombs come stuffed with marshmallows and lots of sugar, these PaleoFLEX™ versions are filled with just a dusting of cacao powder and cinnamon—and no added sugar at all!
Start with a good brand of sugar-free dark chocolate, with at least 80 percent cacao. I used Beyond Good brand Pure Dark (80 percent). You'll also need a bit of cacao powder for the inside of the bombs, and a dusting of cinnamon if you like.
You'll also need a silicone chocolate mold to make spheres about 2 ½ inches in diameter. Make sure you use one with six cavities—that makes three hot chocolate bombs when you put them together. Place it on a cookie sheet to catch spills, and to make transferring to and from the freezer a snap.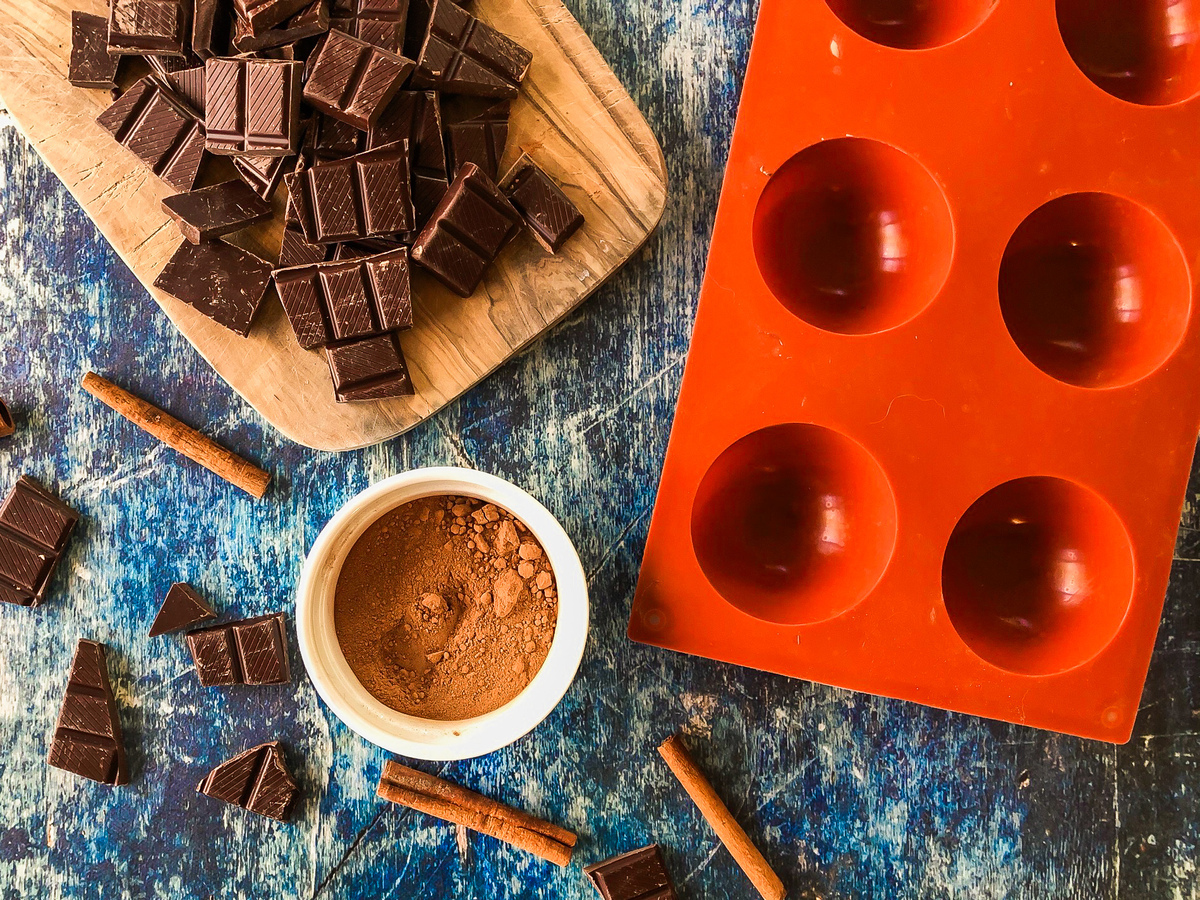 Begin by melting your dark chocolate over a double boiler, stirring until just melted. Then pour the chocolate evenly into each of the six silicone molds, using the back of a spoon to spread the chocolate evenly. Freeze for about five minutes, or until set, then return to room temperature for five minutes. Meanwhile, heat a small plate in a microwave or oven. Sprinkle the cacao powder and cinnamon into three of the molds—these will be the bottom of the three bombs.
Gently set the three top halves onto the warm plate to melt them a bit, then fuse them to the bottoms to form a full circle. You can also use a warmed spoon to try to even out the edges and make the bombs as seamless as possible.
Pop them back into the freezer for another five minutes to set, then serve by setting in a mug. Gently pour warmed almond milk, coconut milk, or other dairy-free milk of your choice over the top. Stir and enjoy!
Tip: These hot chocolate bombs make great holiday gifts. You can store them at room temperature for two weeks in an airtight container. Keep away from the sun or any heaters so they don't sweat or condensate.
For hundreds of pure Paleo recipes be sure to check out The Real Paleo Diet Cookbook and The Real Paleo Diet Fast and Easy.
Details
Serves:

3

Prep Time:

10 minutes

Cook Time:

15 minutes

Total Time:

25 minutes
Print this Recipe
Ingredients
10 oz dark chocolate, 80% or higher

3 tbsp caco powder

Pinch of cinnamon (optional)

Warmed almond or coconut milk, for serving
Directions
Melt the dark chocolate in a double boiler over medium heat, stirring until smooth.

Place the silicone molds over a small baking sheet. Once the chocolate is melted, add a heaping tablespoon into each of the 6 molds, using the back of a spoon to spread evenly. Be sure the chocolate completely covers the entire mold.

Place the mold into the freezer for 5-7 minutes, then let it rest at room temperature for 5 minutes. Turn the mold upside down and gently push down the chocolate hemisphere, while pulling on the edges/sides of the mold to release.

Fill three of the open hemispheres of chocolate with 1 tablespoon of cocoa powder and a pinch of cinnamon. The remaining three halves will become the tops.

Microwave a small plate for about 1 minute, or set into a preheated oven, until warm. Place one of the "top" chocolate spheres on the plate for a moment to melt the rim, then place on top of the cacao-powder-filled side and press together. Another trick is to take a spoon and warm it under hot water, then work the spoon tip around the seam to smooth out the edges and hold the mold together.

Freeze for 5 minutes, or refrigerate for 30 minutes. When you're ready to serve, pour warmed coconut or almond milk over the top and watch your chocolate bomb explode! Stir and enjoy.