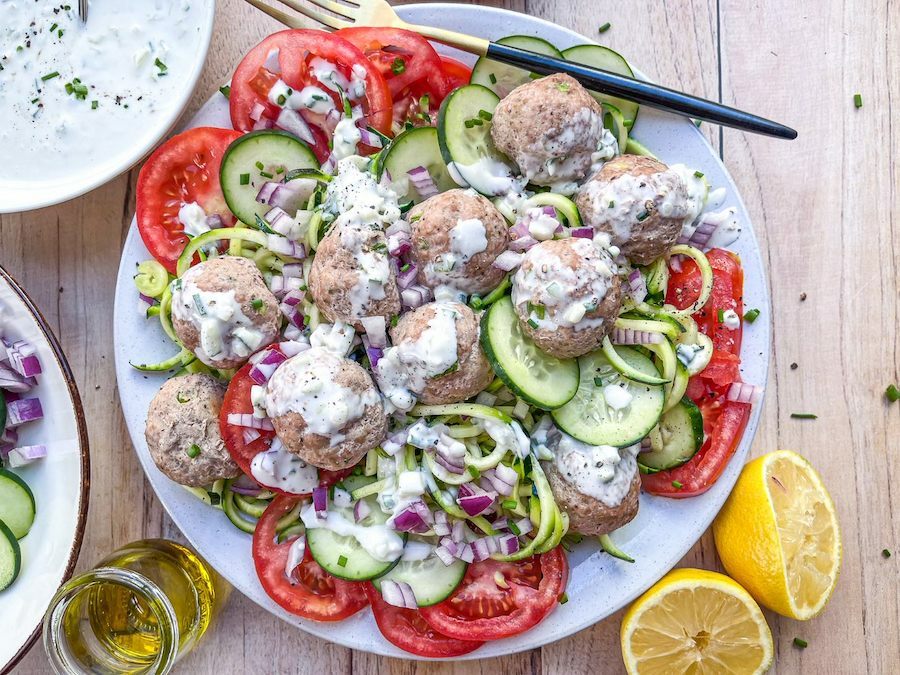 Greek Meatballs & Zoodles with Paleo Tzatziki

Try our fresh take on Greek meatballs by serving them with sautéed zucchini noodles, red onions, and tomatoes, topped with a creamy tzatziki Sauce !
This dish combines the heartiness of spaghetti and meatballs with the light flavors of the Mediterranean. These juicy meatballs are seasoned with garlic, cumin, and oregano for those Greek flavors you crave. We used beef in this recipe, but you could easily substitute ground lamb if you prefer.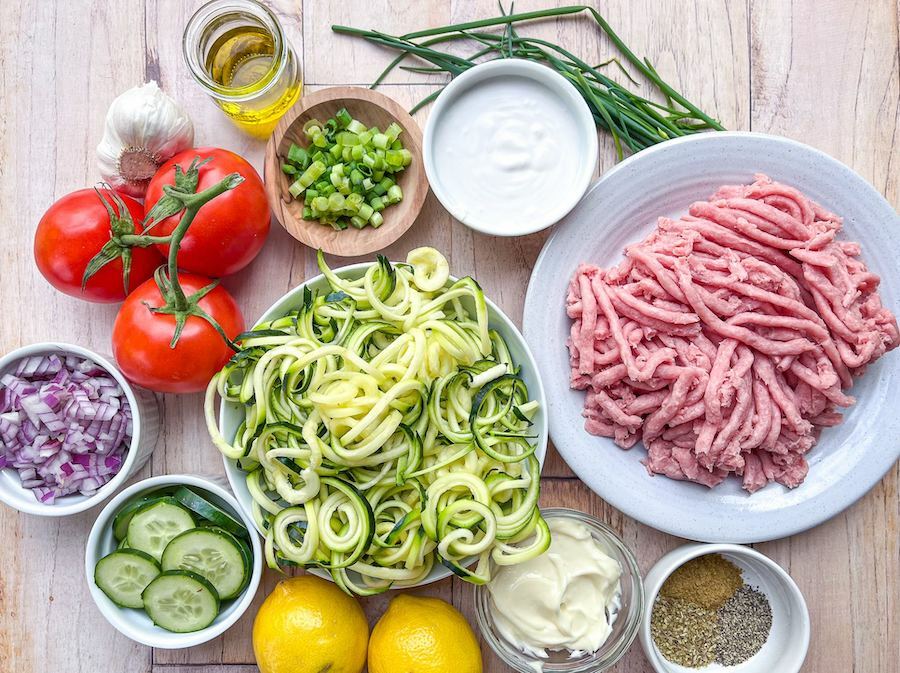 To save time, prep the rest of the ingredients while the meatballs bake. Start by chopping up your veggies, and spiralize three zucchini. Those zoodles only need about three minutes in the skillet—just enough to warm them up while keeping a bit of crunch.
Slice up your tomato, one cucumber, and red onion. Then, prepare the other cucumber for the sauce by deseeding and mincing it. In a bowl, whisk together your tzatziki sauce with coconut milk, Paleo mayonnaise, chopped cucumber, minced garlic, lemon juice, pepper, and chives to make a simple tzatziki sauce.
You should have everything ready to go when the meatballs come out of the oven 20 minutes later. To serve, arrange the meatballs over the zoodles and top with diced red onion and tomato. Drizzle with tzatziki sauce and enjoy!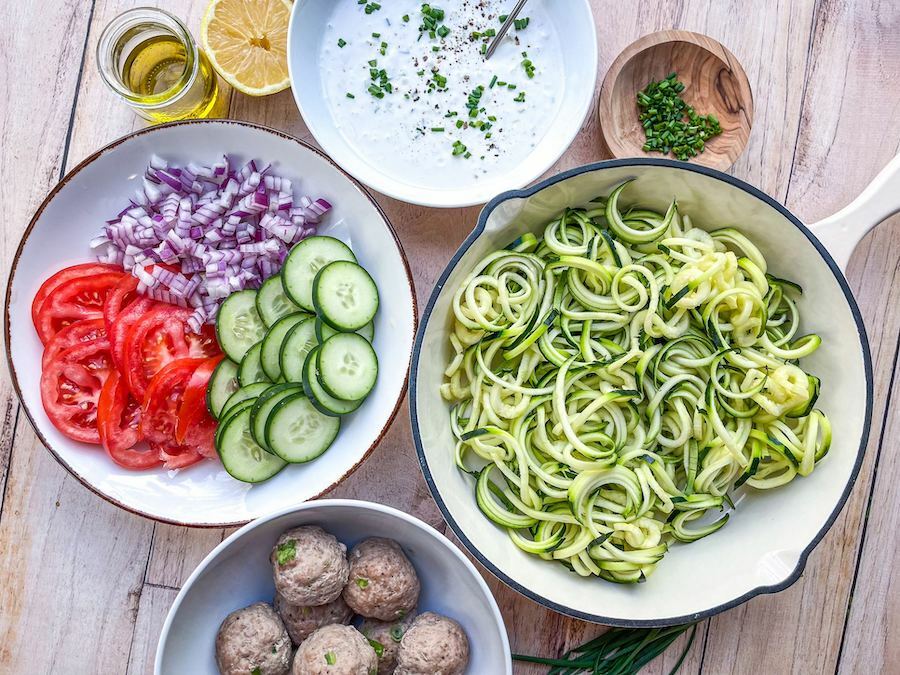 Tip:
If you liked this recipe, you'll also love these Greek Lamb Keftedes!
Swap our chives for fresh dill when making the tzatziki sauce for a different flavor.
Autoimmune Protocol (AIP) omissions and substitutions are listed in the recipe ingredients.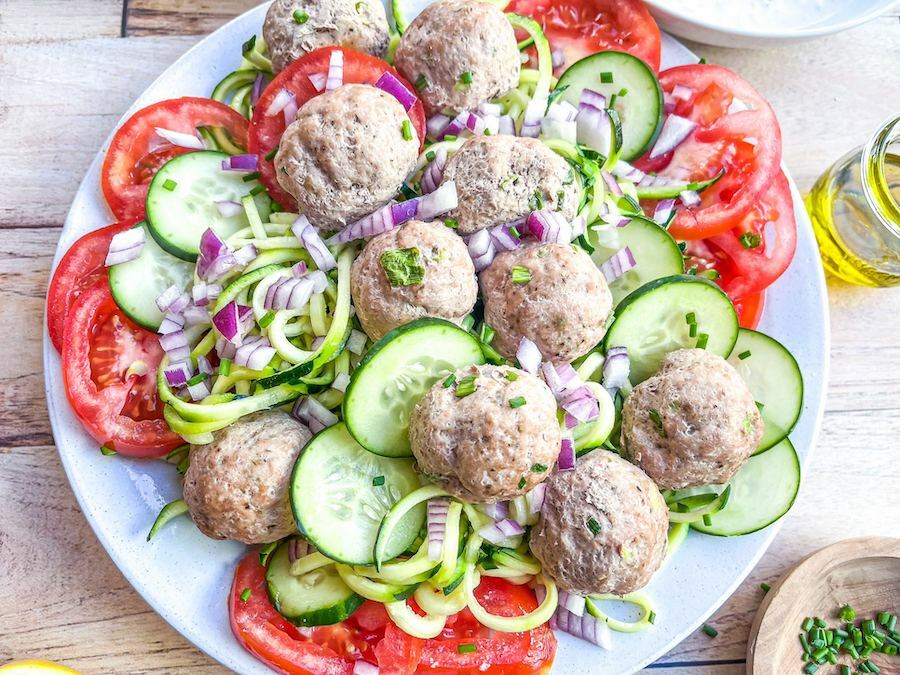 Details
Prep Time:

15 minutes

Cook Time:

20 minutes

Total Time:

35 minutes
Ingredients
1 lb lean ground beef

3 tbsp green onion, diced

2 garlic cloves, minced

1 tsp cumin

2 1/4 tsp ground black pepper (AIP - omit)

1 tsp oregano

1 tbsp olive oil

3 zucchini, spiralized

1/2 red onion, diced

2 cucumbers, sliced

1 large tomato, sliced (AIP - omit)

1/3 cups full fat coconut milk

1/4 cups Paleo mayonnaise

1/2 tbsp lemon juice

3 tsp fresh chives, chopped
Directions
Preheat oven to 350°F.

In a medium mixing bowl, thoroughly combine the beef, green onions, garlic, cumin, 1 tsp of black pepper, and 1 tsp of the oregano. Roll into well-formed balls. Place on nonstick baking sheet and bake for 20 minutes or until cooked through.

Heat 1 TBSP of olive oil in a large saucepan over medium heat. Add zucchini noodles and cook for about 3 minutes until slightly cooked through. Remove from heat and place in large serving bowl. Top with meatballs, red onion, one sliced cucumber, and tomato.

To make the dressing, deseed and mince up the last cucumber. Then, whisk together the coconut milk, Paleo mayonnaise, chopped cucumber, minced garlic, lemon juice, the rest of the black pepper, and chives until well combined.

Pour the tzatziki sauce over meatballs and zoodles and toss mixed well.